seadub1979
Clones from Archive Seeds
Summer 2023 Greenhouse
T-1000 is a 70/30 indica dominant hybrid as a mix of purple urkle and triangle Kush; Strawberry Gary is a sativa dominant hybrid as a cross between Gary Payton & Red Pop. Both are clones, so they will hopefully have enough time this summer to develop and be ready to flower by the fall and be harvestable by October-ish. A bit late to start for the summer, but they are both decently developed already.
T-1000 and Strawberry Gary
Just putting two new photos up of these ladies. It's incredible how both have really taken to the lateral branching that I've been training them for.
2 months ago
These ladies have gone from itty bitty lil clone babies to full, multi cola, lateral branched teenagers that look like they might be pretty dang good when all is said and done. Obviously still a long ways off, but October will be here before we know it! Both plants, the strawberry Gary and t1000 have tight internodal structures, I'm doing some LST and even a bit of super cropping.
2 months ago
Quick update. Holy crap these things are growing like weed!
3 months ago
As you can very clearly see, these ladies look amazing! I've topped once and will again soon, but there's heaps of lateral branching and several new nodes all over both of them. Growing in a greenhouse in the city has some disadvantages, but for now this environment seems to suit them very well. Current feeding/watering schedule has been more or less every other morning, depending on how the medium feels, and I'm using advanced nutrients grow A&B, CalMag, and nirvana.
3 months ago
T1000 looks amazing! Lots of leaves with healthy sativa looking fingers and several sites are developing. Topped two days ago, and they've responded well thus far. Strawberry Gary also looks good, however there are a few discolored spots on the leaves but I think that may have come from the shock of being transplanted into the coco/soil mix. But she's recovering really nicely from that, and is getting tall enough that I will need to begin training very soon!
3 months ago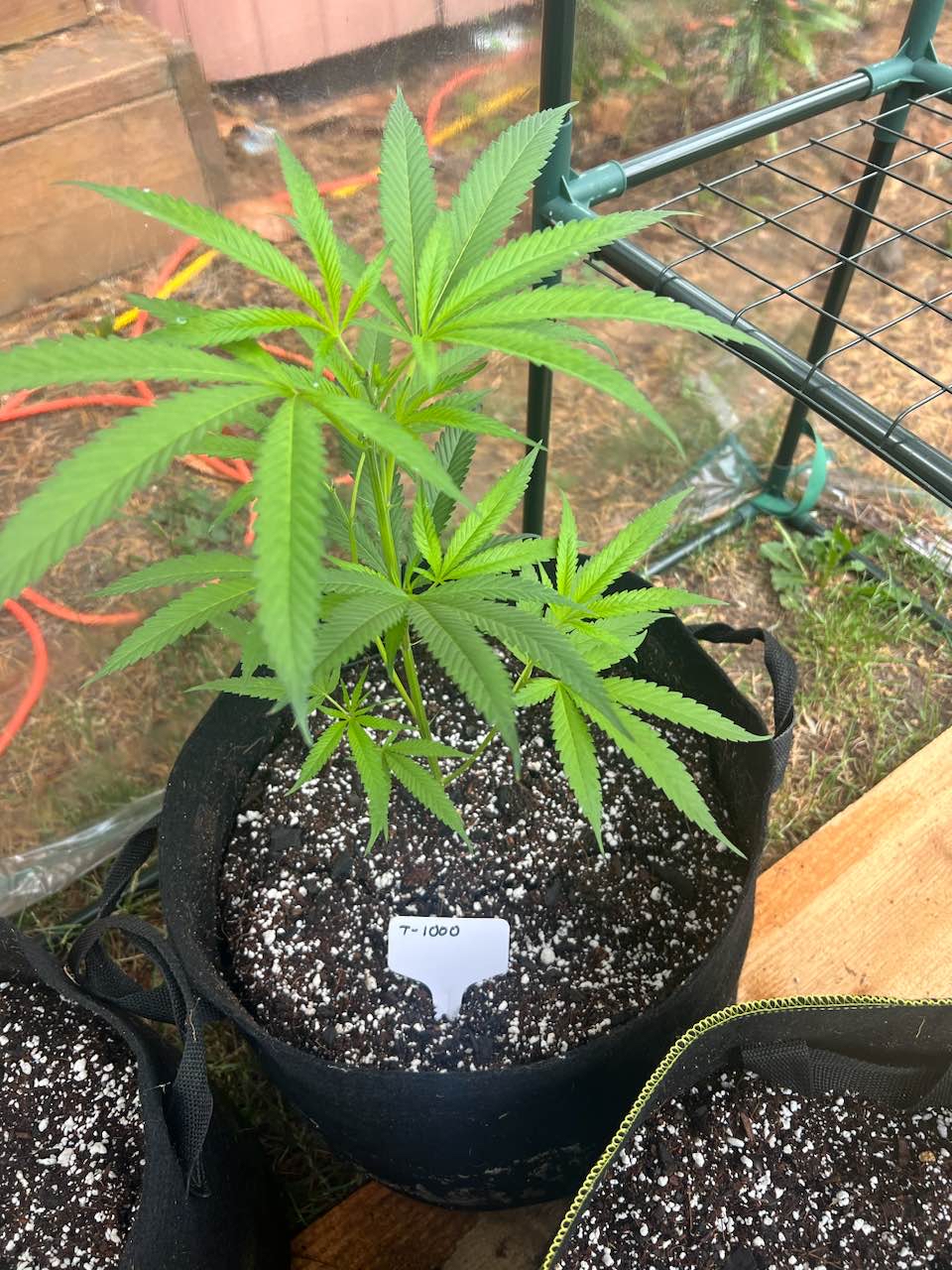 These ladies are going gangbusters (I don't really know what that saying means, but roll with me). They've been home for 9 days and I think they've each easily added 2 nodes or more. I did too them and it looks like they may have already been topped at some point earlier because both plants have multiple colas. Exciting stuff!
3 months ago
Just a short update with some photos. The T1000 plant looks great! But the Strawberry Gary looks like it's in shock from the transplant I'm guessing. I haven't pruned her (or the other one) yet, but by the end of next week, I hope they'll both be in great shape, and I will top them both on the weekend. Never grown either, so excited to see how they go!
3 months ago
These ladies came home on Sunday 6/4, and I've transplanted them to their new homes for now. A mix of coco coir and FoxFarm Ocean Forest (70/30) in fabric 5 gallon bags. Just a bit of CalMag and root zone aid (advanced nutrients) for now.
3 months ago