redd.xmask
BlueDream Feminized - 2nd Grow
Indoor - Fall 2018
-Light: Viparspectra 300w (Veg) -Tent: 80x80x160 (cm) -Soil mix: Promix Soils-Perlite-Vermiculite (50-40-10) -Nutrients: Elite: A-B-C-D & Root Igniter Grotek: Monster Bloom Advanced Nutrients: Candy Bud Rhizoflora: Terpinator
BlueDream from Humboldt Seed
-Bloom day 58 -Flush 12gal of water / pH : 6.5
4 years ago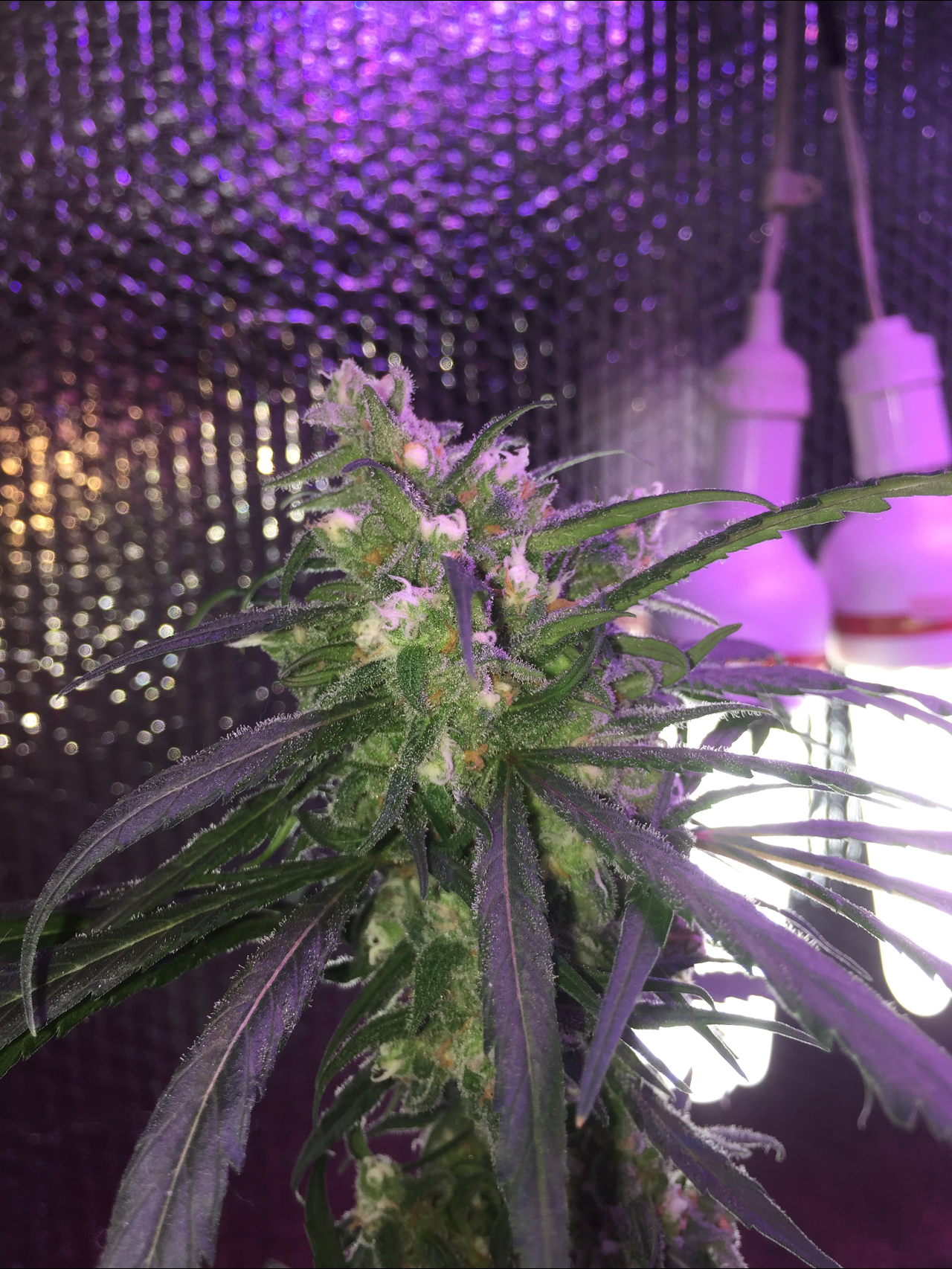 -Bloom day 54 -Tưới dd Elite/Terpinator/BudCandy 3L / pH : 6.0 / 1210ppm
4 years ago
-Bloom day 39 -Feeding Elite/Terpinator/MonsterBloom/BudCandy 3L / pH : 6 / 1520ppm
4 years ago
Redd.XMASK Smell very good, I don't have carbon filter so it fully fill up my room, very nice 😂
View 3 additional comments
-Bloom day 32 -Feeding Elite/Terpinator/MonsterBloom/BudCandy 3L / pH : 5.9 / 1370ppm
4 years ago
-Bloom day 25 -Feeding Elite A-B-D/Terpinator/MonsterBloom/BudCandy 1.5L / pH : 5.9 / 1150ppm
4 years ago
-Bloom day 22 -Watering 3L / pH : 6.2
4 years ago
-Bloom day 20 -What can I say now? She grows better than ever , and this is just 2nd times I grow. But temperature and humidity here aren't good for density buds, so I just do all the bests for trichrome production.
4 years ago
-Bloom day 17 -Feeding Elite A-B-C/Terpinator/Monster Bloom/Bud Candy -1.5L / pH : 5.9 / 965ppm -Tall : 61cm
4 years ago
-Bloom day 14 -Watering 3l / pH : 6.3 -At this strain , she have 70% gene Sativa so she can be take a little more times for stretching phase .
4 years ago
-Bloom day 11 -No watering, nothing gone wrong, maybe it'll take a little bit more times for first flowers, but soon, now she is 40cm tall.
4 years ago
-Bloom day 9 -Feeding Elite/Terpinator/BudCandy 1.5l / pH : 6.3 / 850ppm -She look happy , hope to see beautiful buds in future , actually about next 9-10 days after the stretch of bloom, because this strain got more percent of sativa gene so i think it will stretch much longer.
4 years ago
-Bloom day 6 -Watering 1.5l / pH : 6.3 / 98ppm -Use Lollipop technique to cut-off all leaves under the net -At this time , I think I can't use SCROG technique for this plants because the light is not strong enough to grow fully buds in 2x2 tent, I decide to grow 4 mainlines per plants , I think growing this way will help my buds more dense and thicker with low-watt LED i'm using. 4 big buds is better than lots of tiny popcorn right ? 😋😋😋
4 years ago
Today is day 5 of bloom phase, no watering, just leave she grow 'cause soils still moist, temp/humid are in acceptable rage at 27 'cause I have no air conditioner, no dehumidifier (actually that stuffs will be update at next grow season) so I can't change the temperature and humidity too much. 😒
4 years ago
Seem she grow more faster at day 3 bloom , let see what she got at next week
4 years ago
Today i set the lights 12/12 for first week of bloom phase , and set the net too. I also feed her Elite/Terpinator/BudCandy 1.5l / pH : 6.3 / 890ppm *Hope a fully screen of green tent 😋
4 years ago
No watering today , tent get more heat so i set up 1 more fan to leave the hot air away , more 2 week and it gonna be ready for bloom
4 years ago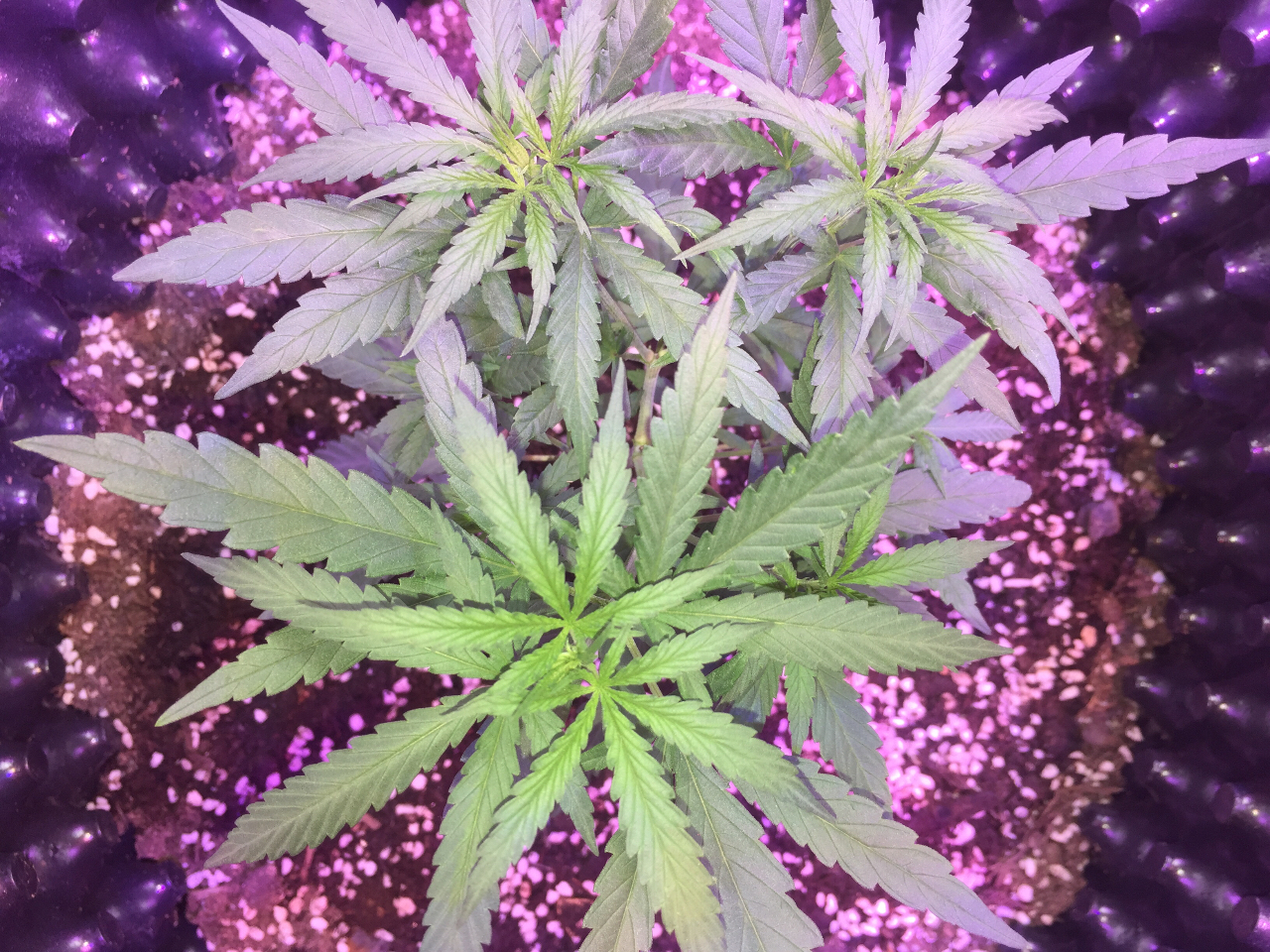 The soils seems dry enough for feeding nutrients. This week is Elite/Terpinator 1.5l / pH : 6.4 / 421ppm
4 years ago
Still no water of feeding today , i'll for soils dryer
4 years ago
Complete LST and topping time , now i leave her growing natural , next week she'll grow bigger , till she got 25-30cm i'll set up a net for SCROG technique. Btw I don't feed her today , 'cause soils still moist , I'll wait till it gets more dry after 1-2 day.
4 years ago
Topped 2nd times at day 29 and do LST today, soils still moist so I don't watered her
4 years ago
Do LST Technique Feeding Elite A-B-C-E 1.5l / pH : 6.7 / 510ppm
4 years ago
Watering with water 1.5l / pH : 6.6 / 98ppm
4 years ago
Feeding Elite A-B-C-E 1.5l pH : 6.8 / 420 ppm
5 years ago
Transplant to 10 gallon airpot Watering pure water 1000ml pH : 6.4 / 98ppm
5 years ago
Start feeding Elite A-B-C-E 250ml pH : 6.8 / 323 ppm
5 years ago
Watering with pure water 100ml pH : 6.5 / 100ppm
5 years ago
Watering with pure water 50ml pH : 6.6 / 101 ppm
5 years ago
Watering pure water 50ml pH : 6.2 / 102ppm
5 years ago
Watering with pure water 50ml pH : 6.6 / 100ppm
5 years ago