moon.unit
Grow19
Early start
Started for an early jump. Will move when grow17 finishes in four weeks
WhiteWidow (selfseed), PowerPlant(selfseed), Zkittlez (blackskull), Lemon🍋venom (cream of the crop), MobyDick(BSBgenetics) DrWidow(DrRay)
24/63–I have thrips . Any ideas?
a year ago
Opinions plz. This was meant to be a feminised Dr Widow. Not grown this strain before . Two weeks in to flower she/he looks like this. Meant to be sativa hybrid. An all out hermi. Sativa through back or a freak male.
2 years ago
Mr.Tee Omgosh 😱 noooo.! Lol I had an exotic mango that was in flowering an I guess it got hermy'd from moving it around too much an the lighting maybe triggered the herm..?🤔😑 idk 🤷🏻‍♂️ when did those seed lookin sacks come in .., an was anything done differently from the others .? Or this is the only black sheep one that's concerning.. maybe it was fem but got contaminated or mixed by mistake.🤔🤔 interesting tho I'd like to see if anyone gets it right on the money for the cause of ur concerned ...
devyn.8 it does look like a pollen sack, but what a weird time to notice it eh? usually you're able to spot them out right around start of flower, but yours are already forming buds too.
Mr.Tee Maybe u should separate it incase it is a make an gets bizzy making pollen or sumthin not wanted .. When i did get the hermy on accident I'll harvest sum seeds at least to play with like to get a male cuz I dappled In crossing a bit by pollinating females with pollen dust collected off the male mangos an hit a hawiian skunk with exotic mango pollen an got a few fat seeds that I haven't tried yet to see if it worked or not .. ps was about 6 years ago don't know if seeds are still good but was kept in the "finger sticks strip" jar tho like a white plastic pill bottle
View 4 additional comments
10/63. Going to skip today's feed. Thought they looked a little droopy and soil still damp from Wednesday.
2 years ago
Girls going 12/12.
2 years ago
Moved to ten hours dark for a week , before flip.
2 years ago
Two more weeks veg.
2 years ago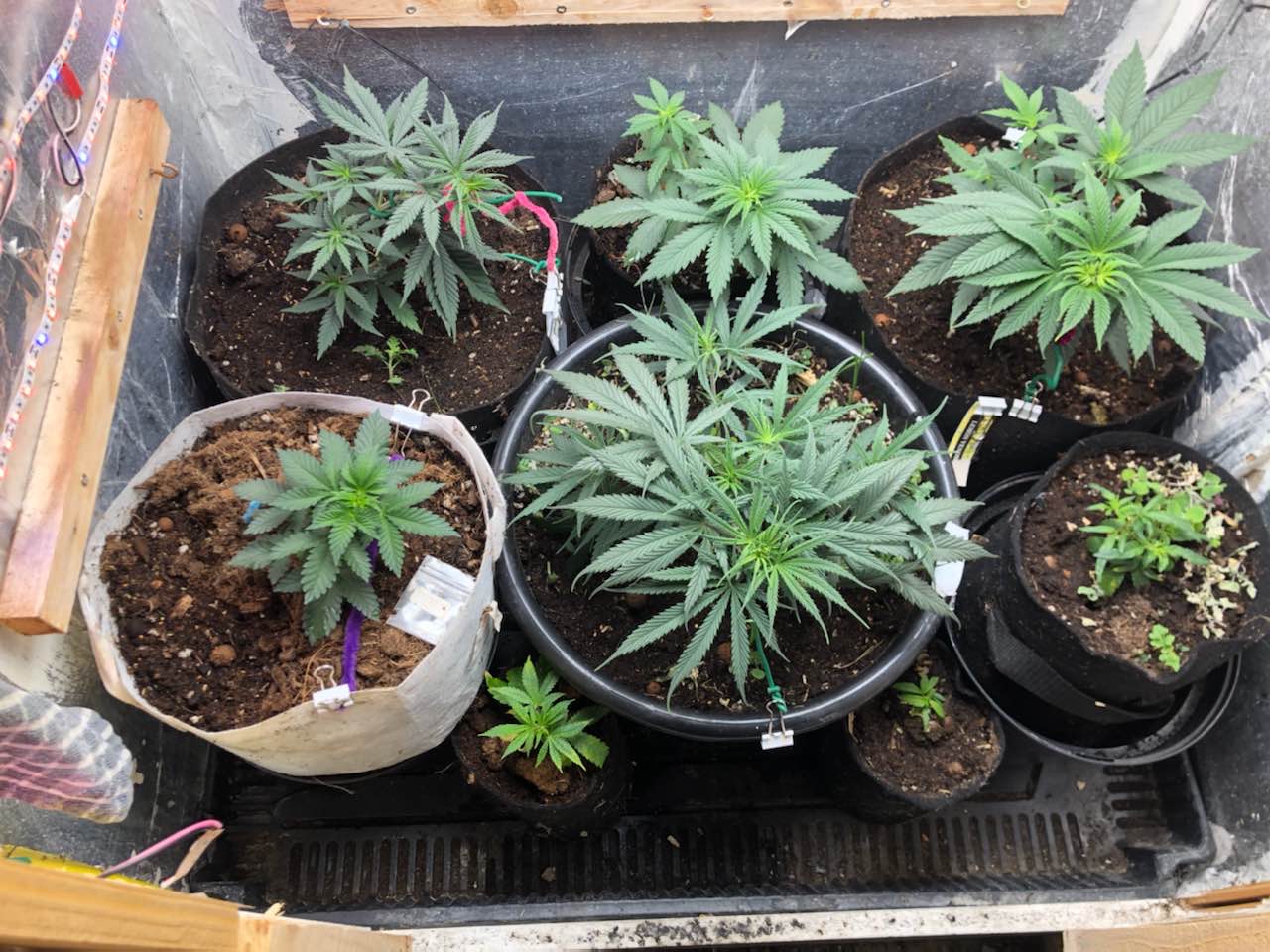 All ok charging rhino growing real slow , and the three little micro clones(gelato )I took off other grow are growing freaky like they are reveg. Two weeks till I have to flower so ready for summer hols.
2 years ago
Responding to a little training
2 years ago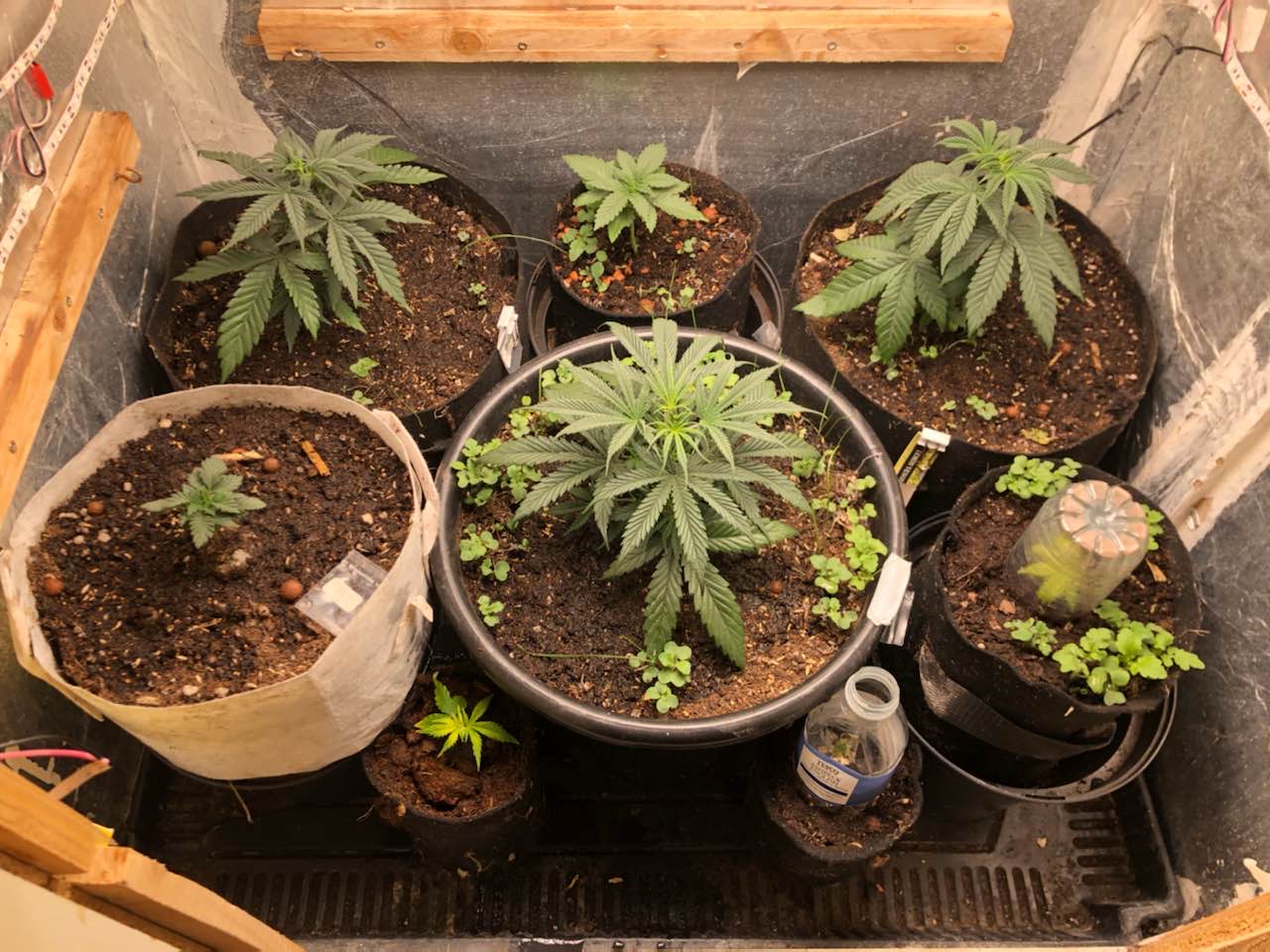 Last gelato clone in 30 days then flower
2 years ago
Moved from starter space. Three gelato clones to joint when they take root.
2 years ago
moon.unit Skywalker and the bag seeds never made it
Be in stater space for next 4weeks
2 years ago
moon.unit Moby dick failed. Other half of next grow arrived today. Started silver leaf charging rhino, skywalker cookies , and critical crack og.