rinfante93
Flowering Plant 65-80 Days Harvest
Spring 2018/May
Received this plant as a gift 2.5/3 Months or so vegged. Ready to begin Flowering. Kept 18-6 Schedule for a few days then switched over to 12-12 Flowering. Started Flower Light Schedule Wednesday May 16th.
Smoked after 5 Days Drying one week curing. Mmmm. The End.
5 years ago
50% or Trichomes Amber rest cloudy: Today is the Chop. Hung and drying for 1-2 weeks.
5 years ago
07/08/18 Placed larger air circulator to help with air circulation. Recommendations for possible powdery mildew? Aside that, plant still growing healthily and cracked stem seems in good condition, nonetheless will leave straw 'til Harvest. Watered with 1/2 Nutes yesterday or 2 days ago. Soil still moist.
5 years ago
07/03/18 Watered No Nutes. Seems to be healthy. Plethora of amber pistles and new white pistles have emerged over those. Seems to be out steadily. 20-30 Days 'til Harvest. Will start flushing With water only on or about 7/14-7/21. Snapped branch is holding up thanks to the straw I placed to help it out. Will most likely leave straw all into harvest. Planning to re-veg plant with skeleton after harvest. Smells very Earthy-Lemony.
5 years ago
07/02/18 Very light water with minor Nutes. Will water again (NO NUTES) tmo. Plant seems healthy and snapped branch seems to be holding up. I hope it is merging well back to the plant.
5 years ago
Entry # 2: Stretched out Branches and Stems to distribute light more evenly on the canopy. All buds getting sufficient light now.
5 years ago
06/29/18 Few days since last watering 4 or 5. Plant seems healthy let dry out completely to add Nutes. Tried bending some branches, one snapped, will tape ASAP. Put straw in the meanwhile lol. Seems healthy and vigorous though. Hoping for August 15th Harvest or before. Added full Nutes FF Extra Strength and FF Big Bloom. *Taped fractured branch, hopefully everything goes well and it's able to reattach to plant by next week, day 52. Will leave straw for reinforcement. *Leaves a li'l droopy cause of dehydration. They should be upright and healthier/rejuvenated tomorrow.
5 years ago
06/23/18 - Soil is moist plants look very healthy. Buds are forming at a nice rate. More white pistles have emerged over amber ones. Smell is very earthy pungeant and lemony. Very green.
5 years ago
06/22/18 Pot still feels a little heavy but topsoil is mostly dry. Watered with 24-Hour prepared nutes. Many new pistles have appeared and new buds forming. Hoping they will have the strength/energy to fully develop by week 8-10. Much amber pistles but newer white pistles have emerged over those, reinforcing the buds with more potency and strength.
5 years ago
06/21/18 New pistles have appeared at some nodes. Don't know if it will be ready by the time harvesting comes around. Going into week 5 of Flowering. Any recommendations/advice welcome. This is my first grow, flowering only. This plant was given to me 2 Months vegged. Many amber pistles. Soil is just about drying out, Will be adding FOxFarm Xtra Strength and Big Bloom tomorrow. Prepare tonight and let it breathe 24 hours. I think the plant is growing beautifully but I am only a beginner. Please lmk what you think. 06/21/18 #2 Prepared 1/2 F.F Big Bloom (Earthworm Castings and Bat Guano) 2 tablespoons, and F.F Tiger Bloom General Feeding 3 Teaspoons in 1 Gallon. Will let sit for 24 hours but if Pot feels too heavy will wait it out 'til it isn't as heavy and soil has dried out more. Looking to influence Bud development and size.
5 years ago
06/19/18 Plant is VERY green. Nearly all redness disappearing. Watered with water Only. Buds/pistles appear to be growing at a nice rate. More amber pistles. Plant is Green, Healthy and Happy.
5 years ago
06/18/18 02:27a.m Buds looking Real Healthy. Nearly all, if not, all buds have pistles with both amber and white. Very piny pungeant lemony smell when you inhale near buds. Not powerful, must go real close to really smell it at all in this stage. A few brown/yellow spotty leaves pruned. Overall seems to be in Good Stellar condition. Stems have shown much improvement with color. No longer too red, but actually more green than red than before. Progress through addition of phosphorus based nute FF Extra Strength. *Watered with EXTREMELY minimal nutes. About an 1/8th of the usual fox farm xtra strength 2-8-4 + FF BIG BLOOM 0-0.5-0.7 Worm Castings and Bat Guano. Next water for sure ONLY WATER.
5 years ago
06/15/18 Misted to prevent heat damage and keep plant cool. Some more pistles turned amber. Pruned to prevent energy going to leaves but rather buds. Watered (Very Minimal Nutes, no nutes next water)
5 years ago
06/13/18 1:38p.m Plant seems in good health. Soil dry. Watered with Nutes. Full dose. Pistles growing. Noticed shiny sparkles when light shines on it, maybe Trichomes making a much anticipated appearance. Many buds seem to be forming. Expecting 30g-45g
5 years ago
06/12/18 02:41a.m Other Plants (Sour D) growing near OG KUSH were Hermaphordite, removed from room before pollen sacks opened. Some pistles amber, very minimal. Normal at this stage of flowering. Soil moist, very. Plant is looking beautiful.
5 years ago
06/11/18 3:30a.m - Will water at 8-10 a.m **Very Light Nutrients** Pistles look healthy. Buds seem to be growing healthy and steady soon within 1.5 weeks. May start to see buds 06/21-06/25.
5 years ago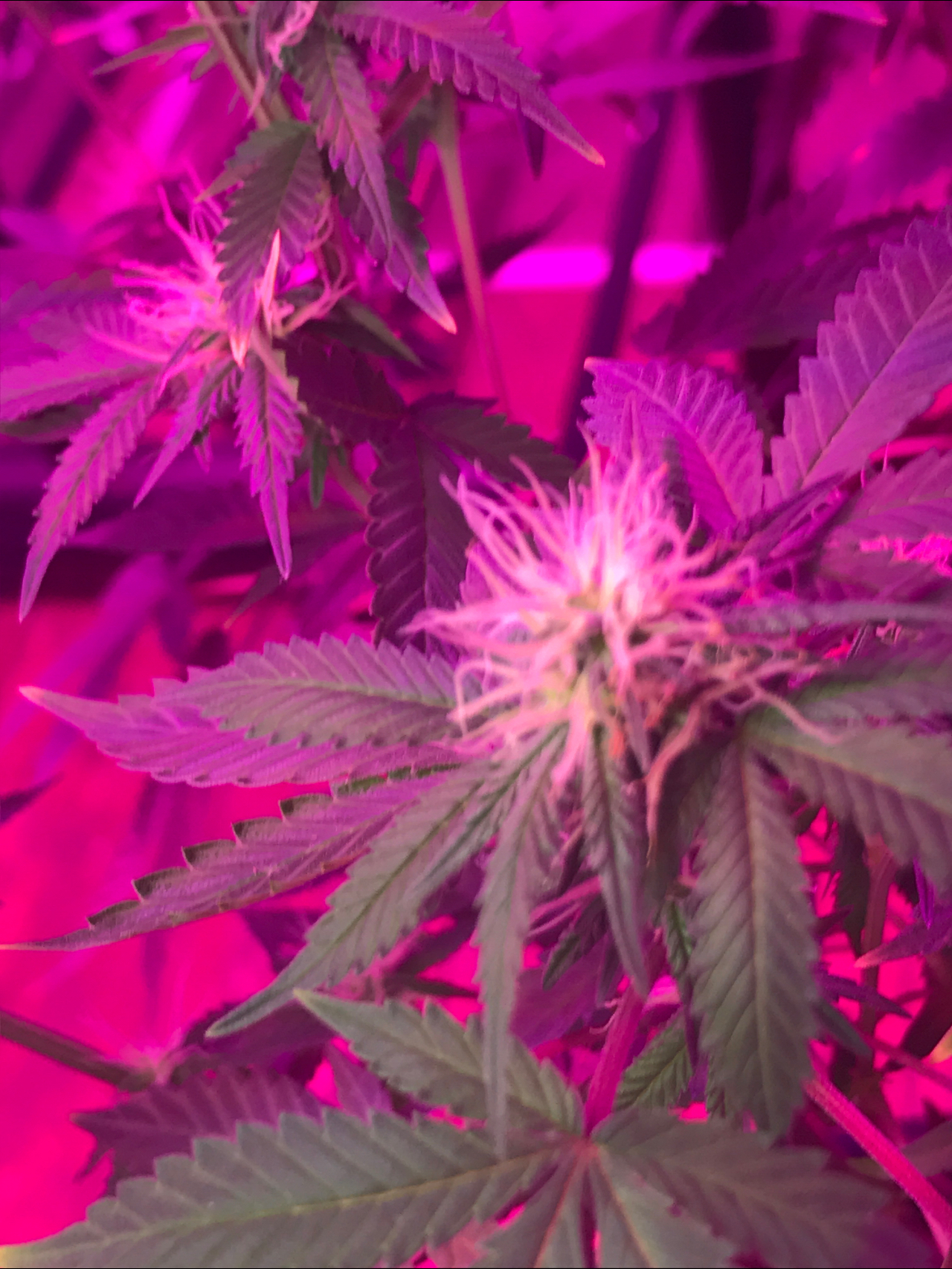 06/11/18 #2 Plant seems to be in good condition. Pruned off 1 yellow leaf. About 2-4 pistles have darkened amber, which is normal, this being about the 3rd week of flowering stage, almost 4th in 5 days. Overall plant is Very Green. Watered with about an 1/8th of usual nutes. Will water next 2 Times Water Only, then continué nutes.
5 years ago
06/09/18 Plant healthy and soil moist. Minor yellowing, pruned yellow off. Buds pistles continué to grow. Should see buds in 2-3 weeks starting to form.
5 years ago
06/06/18 2:33a.m Observed. Pistles looking Beautiful. Tips of some leaves slightly burned yellowish. Will water without nutes. 06/08/18 02:30a.m Plant buds are very healthy and prospering, but some leaves are yellowing and some stems are red. May be phosphorus deficiency. Will add P nutrients at 7:00a.m
5 years ago
06/04/2018- Watered. Pistles looking healthy. Some leaves tiny bit burned at tips possibly from over feeding nutes. Soil moderately dry, watering should help reduce some stress.
5 years ago
05/30/18 White hairs slightly bending. Plant looks well after feeding nutrients yesterday. Soil dried out. May water tomorrow or next day.
5 years ago
05/26/18 - Watered with Nutes. Soil was finishing drying out. 05/27/18 - Observed: White bud hairs are longer and growing. Plant in good overall condition. Healthy and Leaves appear moist. No complications. 05/28/18 Observation 1: hairs are growing and buds seem to be appearing soon. Bottom leaves brownish yellow/ dried out so pruned. Overall seems healthy Observation 2: Soil was dry. Added Nutes. Flowers are forming and generating healthy. Plant seems to be healthy and in good condition overall.
5 years ago
05/25/18 - Clear/White hairs longer. Plant a bit dry will water tmo early morning. Water only no nutes.
5 years ago
05/24/18 - Signs of Bud forming. White/clear long hairs coming from some stems. Fed nutrition yesterday. Fox Farm. Minor clawing but healthy overall. Soil is lightly moist.
5 years ago
Flowering for O.G Started Wednesday May 16th: 12/12 Schedule. Wasn't hip to keeping updates yet. No Pic Available
5 years ago