captainelastico
White Widow Auto DWC November 2018
Winter 2018/2019
1 white widow auto in DWC system.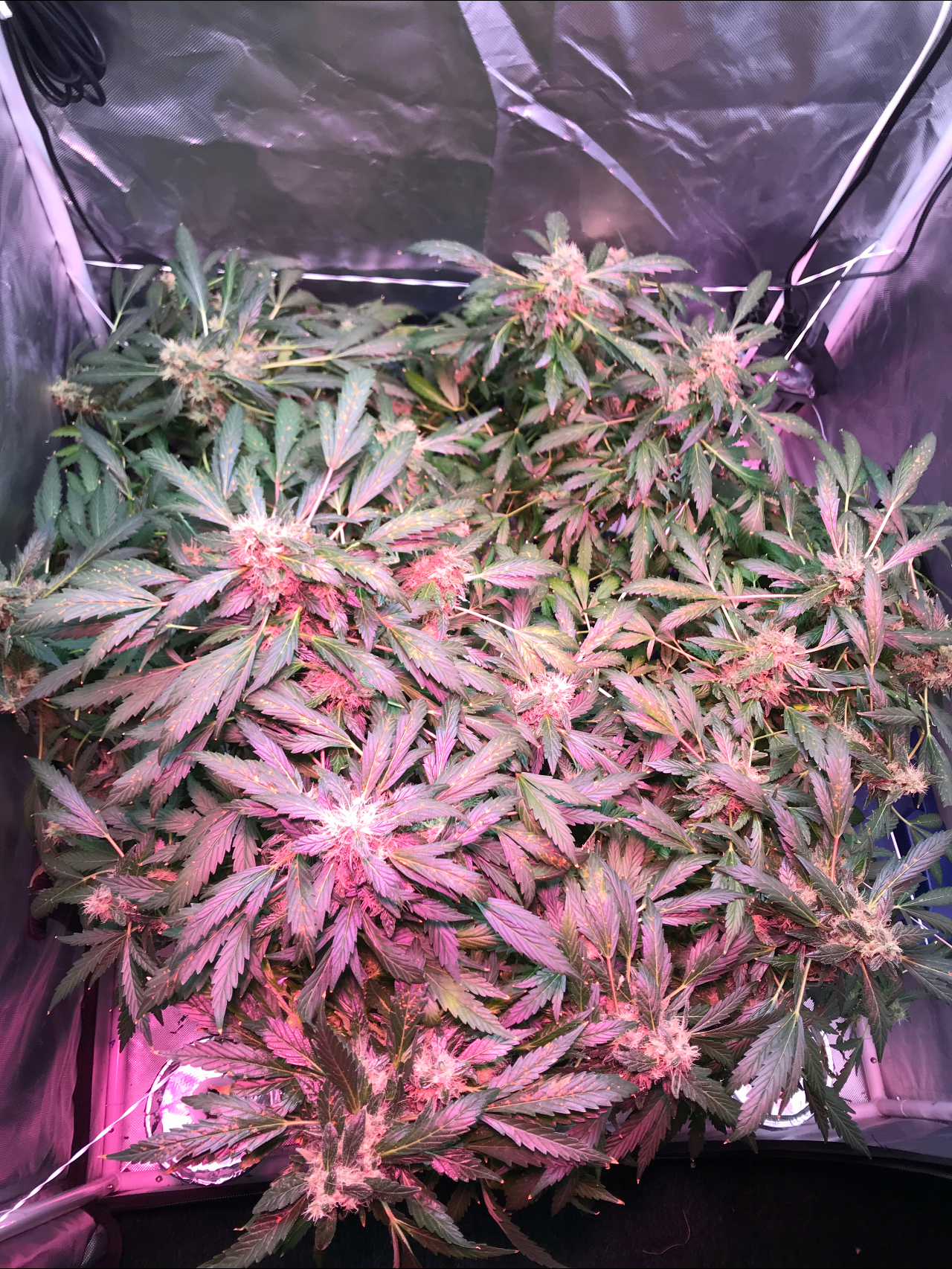 Harvest day! Woo!
5 years ago
Almost done. Mainly all cloudy with the trichomes. Might harvest this weekend we'll see!
5 years ago
Developing some massive buds. Super stinky. Slow growing but much bigger buds already than my last plant. Drinking a ton of water. Some light burn on the top layers. Will have to get better light for the small tent as my next investment.
5 years ago
Really growing now. Lots of buds. Looking good. Drinking 4 gallons a week. Changing the water early so it doesn't dry up!
5 years ago
Lots of buds forming. Frosty coming in ☃️ drinking about 3 gallons a week. Water change day. 😁 💕 🌱
5 years ago
So big. So slow. Grow girl grow.
5 years ago
This lady is really taking off with flowering and stretching. Drank about 3 gallons of water last week. Changed water today. Cleaned up the bottoms. Looking good!
5 years ago
Early bloom for real now. Slow grow. Water change day. Cleaned up the bottom of the plant a bit and tried to expose some colas by removing some leaves. Looking healthy!
5 years ago
Cleaned up some small leaves near the bottom. Big stems developing off the main cola. Ph dipped slightly but still good. Humidity has been very high. Filling the tent 🏕
5 years ago
This plant is such a slow grower. That'll learn me. However it is growing well and is looking so much healthier than my last two plants. I think it's taking up about the same space as the last two I grew. Roots are looking huge and clean. Upped the bloom nutrients this week. Humidity is super high with all this snow so I have been having to keep an eye on it. We'll see how long it takes for this to bloom.
5 years ago
Looking beautiful! Really stretching and growing. Box top is almost completely covered. Removing a leaf or two when I can to expose more colas to light.
5 years ago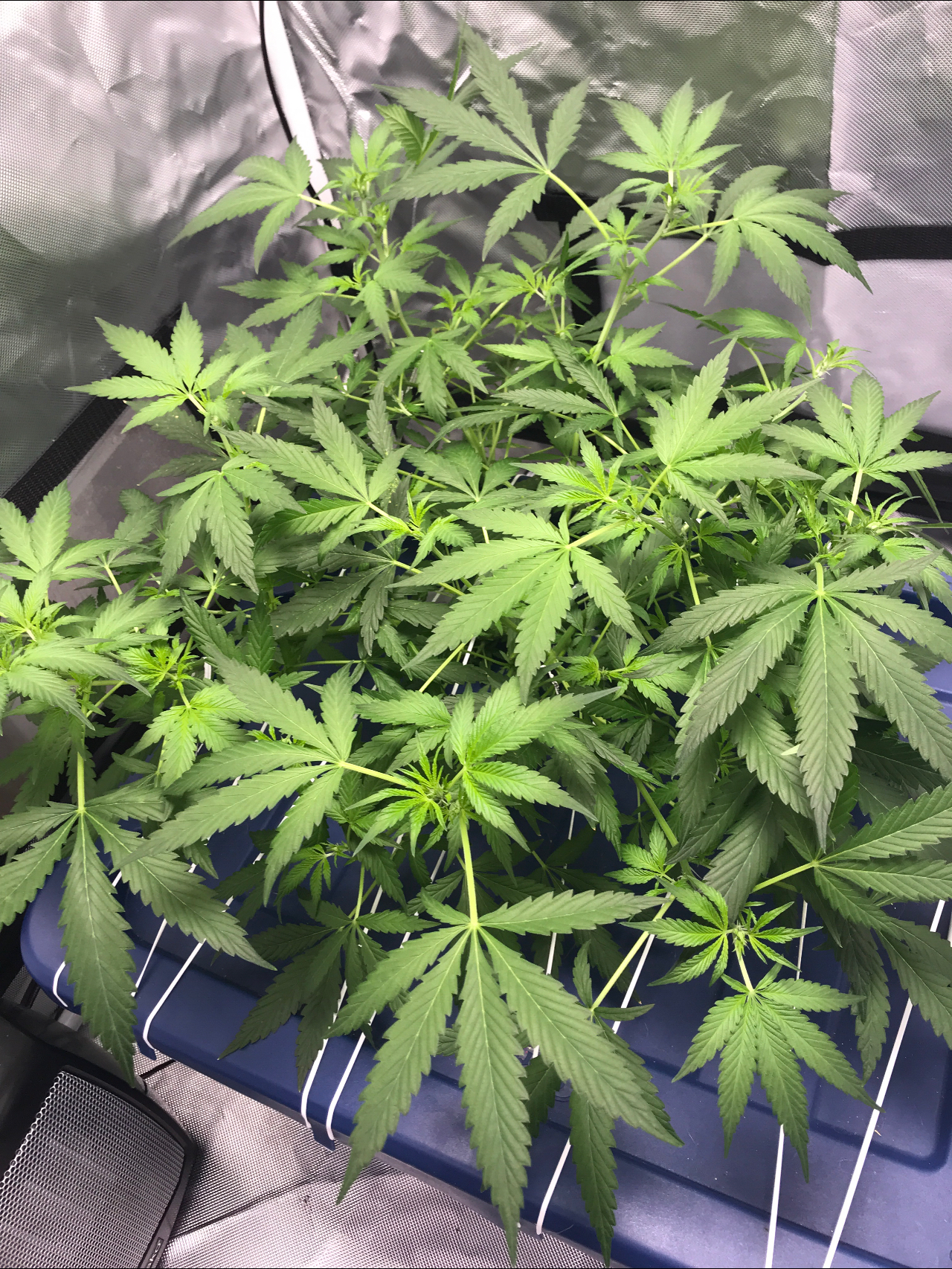 Trimmed some of the under foliage that's being blocked and some larger fan leaves that were covering colas. Roots look beautiful. Looking healthy I'm so happy!
5 years ago
Starting to get bushy! Training the main colas down with twist ties. I am aiming to cover the whole top. Pistils coming in and starting to get that fragrance!
5 years ago
It's getting uuuuge
5 years ago
Finally seeing some real growth. Lots of colas coming up. Since it's an auto I'm letting it grow now with some minor training.
5 years ago
Lookin good! Now under the second strap and growing strong. Ph has been perfection since I started. Loving this system. All the bottom leaves are starting to grow out and get bigger. This is a fun way to grow. Stem About 5-6" long now.
5 years ago
About 4" long. New growth is looking much healthier. We'll see where this goes. Will be adjusting while system when she finishes.
5 years ago
Had some issues the last few days but changed a lot of variables to help. Moved my lights way up. Got a 4" air stone with larger pump for oxygen, the last one I had was way too small for this system. Temp, humidity, ph, ppm, and water temp all great. It's growing in my guided direction which is exciting. Some of the first few leaves are drying up and I think it was light related plus or minus other factors haha hoping this new setup will help. I also halved my nutrients to make sure I wasn't zapping them.
5 years ago
Doing its thing.
5 years ago
Cute! Probably about 1.5" tall. Seems to be doing better with raised lights. Roots sprouting well.
5 years ago
Raised the light. Seems better. Roots are starting to really sprout!
5 years ago
Hmm starting to brown on the leaves! Any ideas what's up w that?
5 years ago
Starting to grow! Added some floralicious plus for the first time into my mix. Changed water. Perfect ph and ppm with no adjustment! Starting to take off w roots, which look clean and white. Keep stretching!
5 years ago
View 1 additional comment
Doing well! Roots looking great. Hooray!
5 years ago
Just moved tent into new room. Done drying so turned off the filter and fan to help w temp and humidity control. Had to move bubbler closer to the roots as it started to look a little slimy but looks better now that it has more oxygen near it. First leaves started to majorly curl but new growth is looking better. Curing grow got about 1.6 oz from it. Not bad so exciting! And today is the day the place down the road from me is selling recreationally for the first time in the East coast. So cool but with those prices I'm still glad I'm growing haha
5 years ago
New system is up and running! Trim of my other two plants went well for the first time doing it. Making tincture from the trim today. See photos of new setup. Very exciting and much easier to take care of. Old system roots were crazy compact and I'm excited to give my next plant room to grow!
5 years ago
Stretching! Tomorrow is harvest day and transplant day for this little guy. Roots are cute.
5 years ago
Stretching! Going to harvest last lot on Thursday. So excited to transfer this lady to her new home.
5 years ago
Growing! Bigger roots. Looking cute!
5 years ago
Roots starting! Will have to transfer on Sunday. Other crop not finished yet will check it out this weekend. Added a photo of the tiny root and one of the current crop for fun 😂
5 years ago
Bending beautifully to the side. No roots yet. Doing well!
5 years ago
Growing and stretching to the right! Perfection! No roots yet. Giving me some extra time to finish up last harvest in tent.
5 years ago
Sprouted and pushed up today! No roots yet. Other crop about a week left. Will be situation tent location at time of harvest and switching this plant into new system.
5 years ago
Starting in AeroGarden while I finish up last WWA grow. Will transfer to new DWC system after start. New water w tablets base 6.5 ph and 55ppm. 6 gallons max.
5 years ago