plantworshiper
Jungle cake/gelato outdoor
Summer 2021
Get about 5 hours of direct sunlight every day limited space as well
Better late than never! Still have more trimming to do. At almost 3 lbs so far off the gelato. Been getting a little done here and there after work/fixing wife's truck. Turned out great!
2 years ago
highgrade Nugs look beautiful and very nicely trimmed! 🔥🔥👌
Caliban Dispensary quality nugs. Well trimmmed
plantworshiper Thanks! Just finished trimming won't know total weight until fully cured
Got the first round of colas off. Up drying in the grow tent with the dehumidifier pumping. Can't wait to be done with all the trimming. Had to pull a bit early due to cold temps and rain. Early buds are better than moldy buds
2 years ago
Happydazzee420 I did the same thing was snowing today so I decided to pull before the rot set in .
View 6 additional comments
10ft monster gelato, colas are leaning hard this morning. Gonna spend some time tying her up after work today. Hoping she finishes fast because it's getting cold aF overnight.
2 years ago
Girls are getting a bit 🥶 frosty! Hoping all the smoke clears quickly don't want bbq flavored buds
2 years ago
Where all the monsters at? Still another 10 weeks at least.
2 years ago
plantworshiper Washing the dishes is a bit more fun now. Takes a lot longer though.
View 5 additional comments
Gelato is almost up to the second story kitchen window😅 jungle cakes are starting to flower.
2 years ago
Added one more layer of trellising (hopefully the last!) pruned a lot of the small growth from underneath. Getting pretty big hopefully don't piss off the neighbors 😅
2 years ago
Mystrain420-@eaegifts Might need to remove the fence and make them lower and wider with lst if height is an issue. Just a thought 👍🏾
Feeding every other day around 400ppm at 6.5ph. Two plants are now taller than me. Have one, maybe two more layers of trellising to install. Might have to build my support system a bit higher. Still have about 2.5+ months left
2 years ago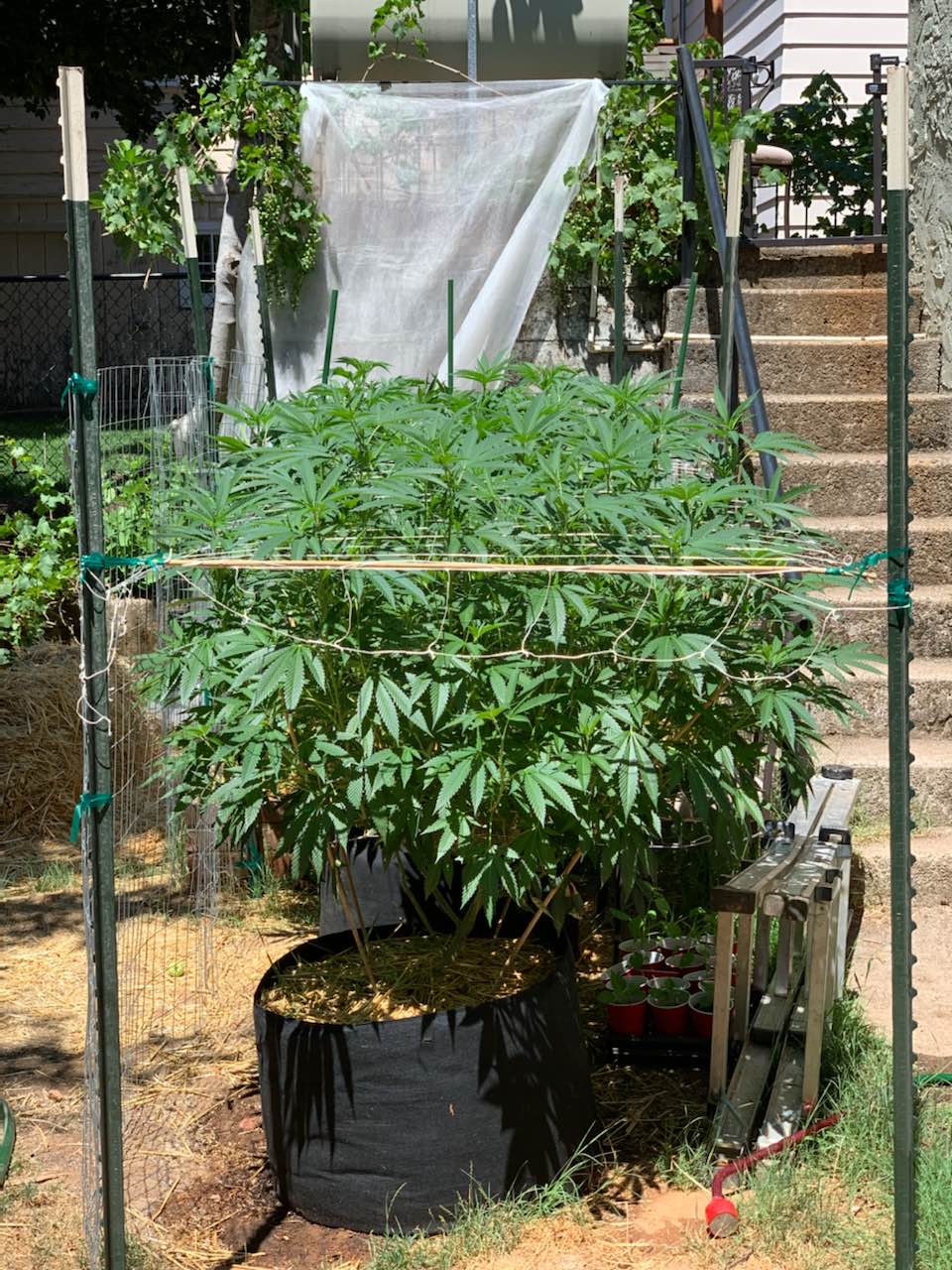 Feeding twice a week around 400/500ppm at 6.5ph. They're about to my head now and have been drinking a ton of water every day.
2 years ago
Added second layer of trellis netting
2 years ago
Caliban Not sure you need it outdoors since the moving sun gives a lot of coverage to the canopy. Looks great though. 👍👍💨
plantworshiper It's not so much about sun coverage and more so about widening the canopy to create a larger plant with more colas. Think of it like an outdoor scrog. Also helps with maintenance having an even canopy. Thanks!
Caliban I'm with you. I understand the SCROG. Which is excellent indoors when lights are unmoving. But outdoors the sun angle changes and a Christmas tree shape is more efficient. 🤷‍♀️. The trellis will help hold those buds up though!!
View 3 additional comments
Just a couple old pics from a grow years ago. First one is the largest bud I've ever grown and the second one is the largest plant I've ever grown with my wife standing in front of it(if you can find her)
2 years ago
Cobe Beautiful jungle🤜🏼 wish I had the outdoor space to attempt this 😌
Caliban Wow!!! Just wow. Wife must be a midget or those are trees!!
plantworshiper Don't have the space anymore, just a small back yard that gets minimal sun. Miss it! And the wife is 5'2 almost a midget lol
Fed NFG and fish at 600ppm 6.5ph
2 years ago
GrassHopper Is that actually day 29? How?!?! Your plants are impressive as hell I could use some tips I'm new to growing 🙏😫
Fed at 430ppm fish,kelp, Herculean. 6.5ph
2 years ago