weed4all
Cutting from Outdoor Plant
Cuttings from unknown plant
Cuttings grown in coco and perlite 4 -1 in material grow bags Single plants planted on 25 Dec Double plants planted on 1st Jan different strain 120x70x160 grow tent Mars Hydro LED light 12/12 hrs 1st LED &Tent grow attempt Changed to a 1800W cob light, huge difference in bud density Didn't buffer the coco, so have slow growth. All the plants planted 2 plants to a bag, are growing better
Harvested 4 days ago
4 years ago
Weed4all Notes Coco is a great medium, No mud when adding water No flooding when adding water, almost impossible to over water Reusable BUT, before use must rinse and then buffer with cal/mag Each bag with2 plants out grew bags with single plant So bigger grow containers, more plants per container Watering is easier, as is flushing at the end Lights more is better The king LED 1000w seemed a bit blue, and not bright enough, good for veg I guess The mars LED 600w seems better larger more light distributed The King COB 1800w seemed an almost instant improvement DIY CO2, yeast sugar warm water. More light can use more CO2
Tbone0716 Hey what do you use to get your plant that big
Weed4all As soon as I added more light the cob it started growing
View 1 additional comment
Flushing every other day Ready to cut this weekend
4 years ago
Harvested a small plant not doing well, the large plants are still showing no signs of brown hairs Still growing
4 years ago
Colas still building
4 years ago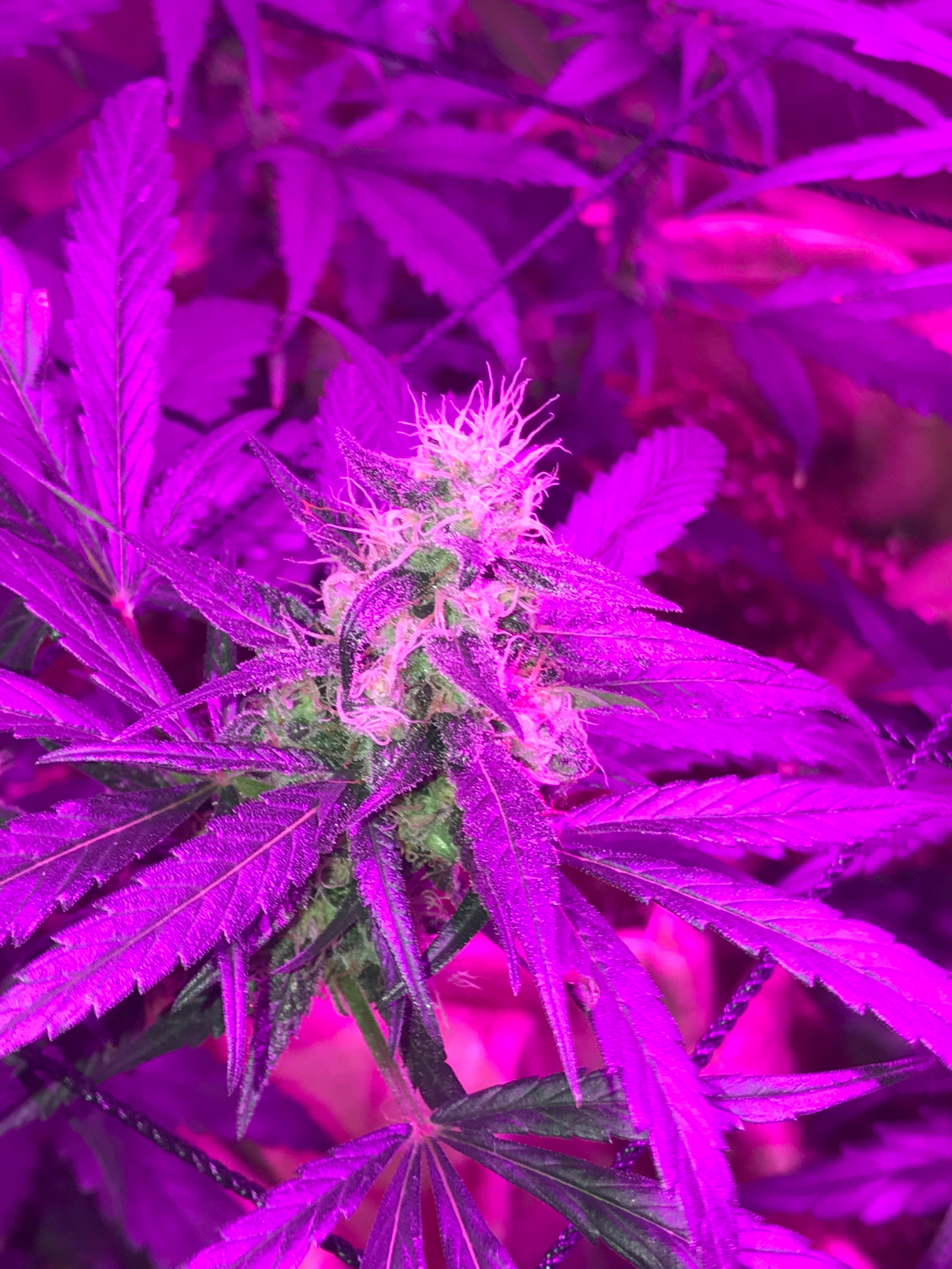 Impressed with the cob light, buds are ever increasing in density The 3 flushed plants are looking better
4 years ago
Flushed 3 plants looking like mag deficiency Coz I didn't buffer the coco
4 years ago
Added a DIY CO2 system, let's see....
4 years ago
Looking great, really solid buds. Trying hard not to squeeze the buds for a smell. The charcoal filters work really well there is no smell in the room
4 years ago
Found some aphids on the plant thought to be nutrient deficient Sprayed with organacide New light arrived up and working King 1800w cob light
4 years ago
Still bending over into scrog net
4 years ago
Plants looking great, the 2 stunted are picking up and young leaves are looking greener. Flowers are developing well
4 years ago
Built a scrog net, some coming through. All are showing flowers now 2 back middle, are a bit stunted, either light too close, or nutrients, moved light higher Liquid fertilizer applied today 15/15/20
4 years ago
Flowers, a beautiful beginning
4 years ago
Time to train on scrog net
4 years ago
Progressing well, 1 plant infected with spider mite. Pulled destroyed, and replaced. Starting to show flowers.
4 years ago
Right bottom cnr,is the largest
4 years ago
Topped showing growth
4 years ago
10 cm tall Going into flowering cycle today 12/12
4 years ago