shelbert008
Cookie Punch, Pineapple Cookie, & (Skywalkwer x Forumstomper) x Samsquanch OG
Summer 2022
Maggie Auto Farm's - Cookie Punch and Pineapple Cookies. Mephisto - (Skywalker x Forumstomper) x Samsquanch OG. ChilLed X6 mini 330W, 2x4x6 tent. Half sunshine mix #4 and half Ocean Forest, Nature's Living Soil mixed in.
Girls got the chop yesterday right at lights on. Have them hung up, 60 RH and 74 F, can't get it cooler than that. The intake and exhaust are still running, there's one fan blowing on the humidifier
a year ago
View 2 additional comments
Pineapple cookies is just about finished, going to give her the chop either today or tomorrow. The other two look like they might have another week
a year ago
Girls are looking good, getting close to harvest
a year ago
Cookie Punch is finally putting on weight, all 3 girls are looking good. Mephisto freebie is showing the most senescence. It'll be time to start keeping an eye on the trichomes soon
a year ago
Mephisto freebie is getting massive, I'm stoked about that one. The cookie punch looks like it might be a little stunted, isn't putting on weight at the same rate as the others
a year ago
The girls are putting on weight and overall pretty healthy. The pineapple cookie is looking like it'll probably be an early finisher
a year ago
It's starting to look like a jungle 😅 the (Skywalker x Forumstomper) x Sansquanch OG freebie is really taking over. The Pineapple Cookies is starting to stack, she was also the first to flower and stretch, but it's definitely the smallest of the bunch. The Cookie Punch in the middle is chugging right along too
a year ago
HeritageSecretGarden Nice set up, plants look great 👍 and how do you like your chilled led I almost got that brand for my room but went with another brand instead but still curious how you like it it seems to be doing it's job
shelbert008 Thank you! I'm pretty happy with this grow so far. The light has been amazing so far, the light distribution is pretty even and runs cooler than my other lights
HeritageSecretGarden Nice I went with the FGI light instead more options but I almost bought the chilled LED for the 4x4
They're all getting big 😅 first time with no LST and they look pretty good.
a year ago
All the girls hermied 😑 must've been the excessive heat when the AC was broke. I'll finish this run out, plucking the balls. Next time, we try again 😂
a year ago
ig:@eaegifts Check for light leaks and check your timers. Excessive heat won't force every plant to herm, if anything excessive heat promotes bad stretch and foxtails 👍🏾👍🏾
shelbert008 Do light leaks affect autos? I didn't think they did. The only thing I can think of is the heat, otherwise the environment has been pretty stable. Considering they never showed any signs of stress, it really surprised me
ig:@eaegifts Yea light leaks affect autos and inconsistent light. Who's the breeder?
View 1 additional comment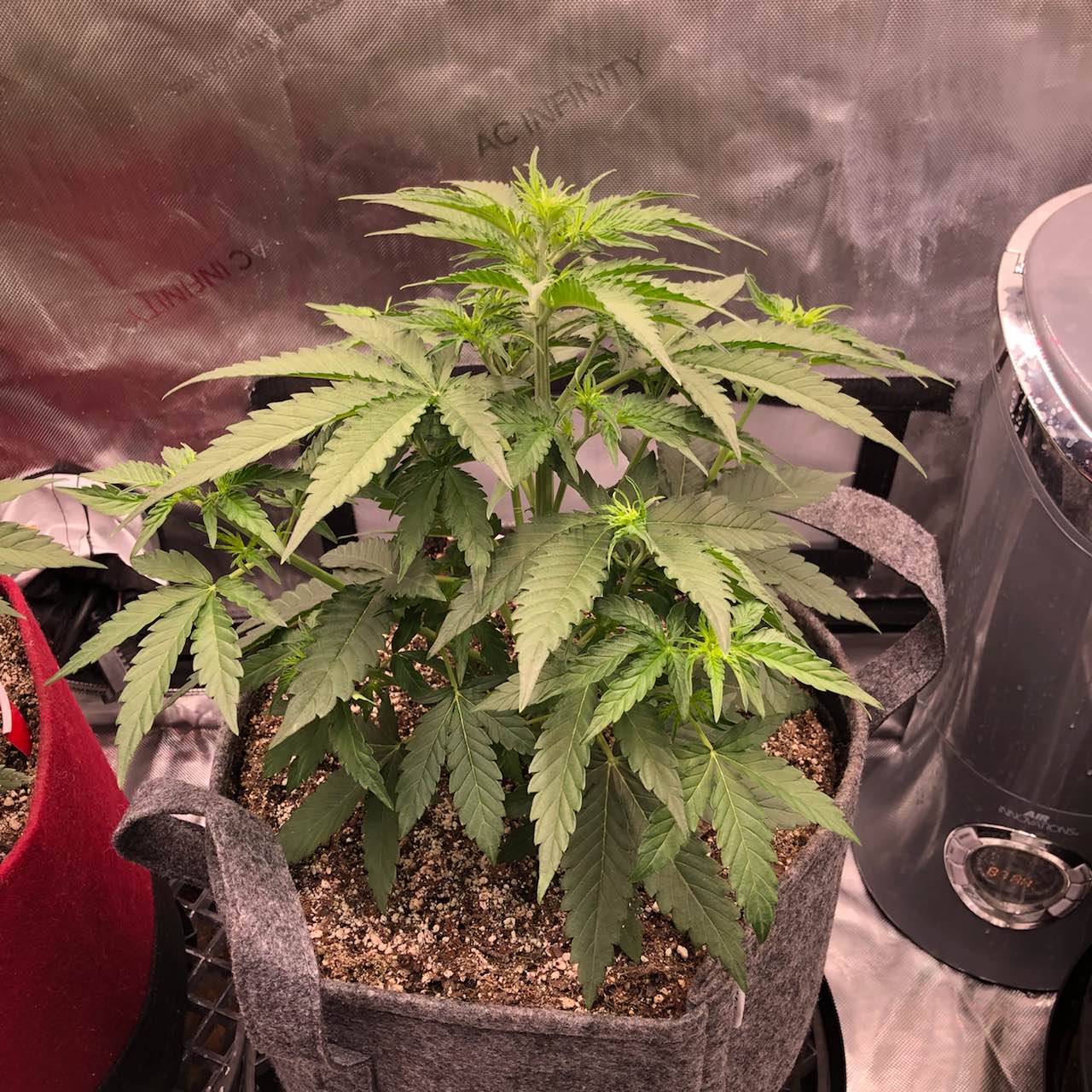 Girls have exploded in growth, all 3 are starting flower. They got a top dress of Gaia green, so hopefully no deficiencies in early flower this time lol
a year ago
So far so good, definitely loving the new light
a year ago
The AC in the house has been broken for 5 days now, the girls seem to be holding up okay surprisingly. The tent is getting up into the low 90s, but I'm afraid of how this may impact them in the long run
a year ago
gpurps Hey shepherd, check out my first grow, I made an ac which works pretty good. Not perfect or pretty but helps keep the temps down.
shelbert008 Luckily my AC is working now and the girls don't look any worse for wear
gpurps Happy to hear it 👍back on track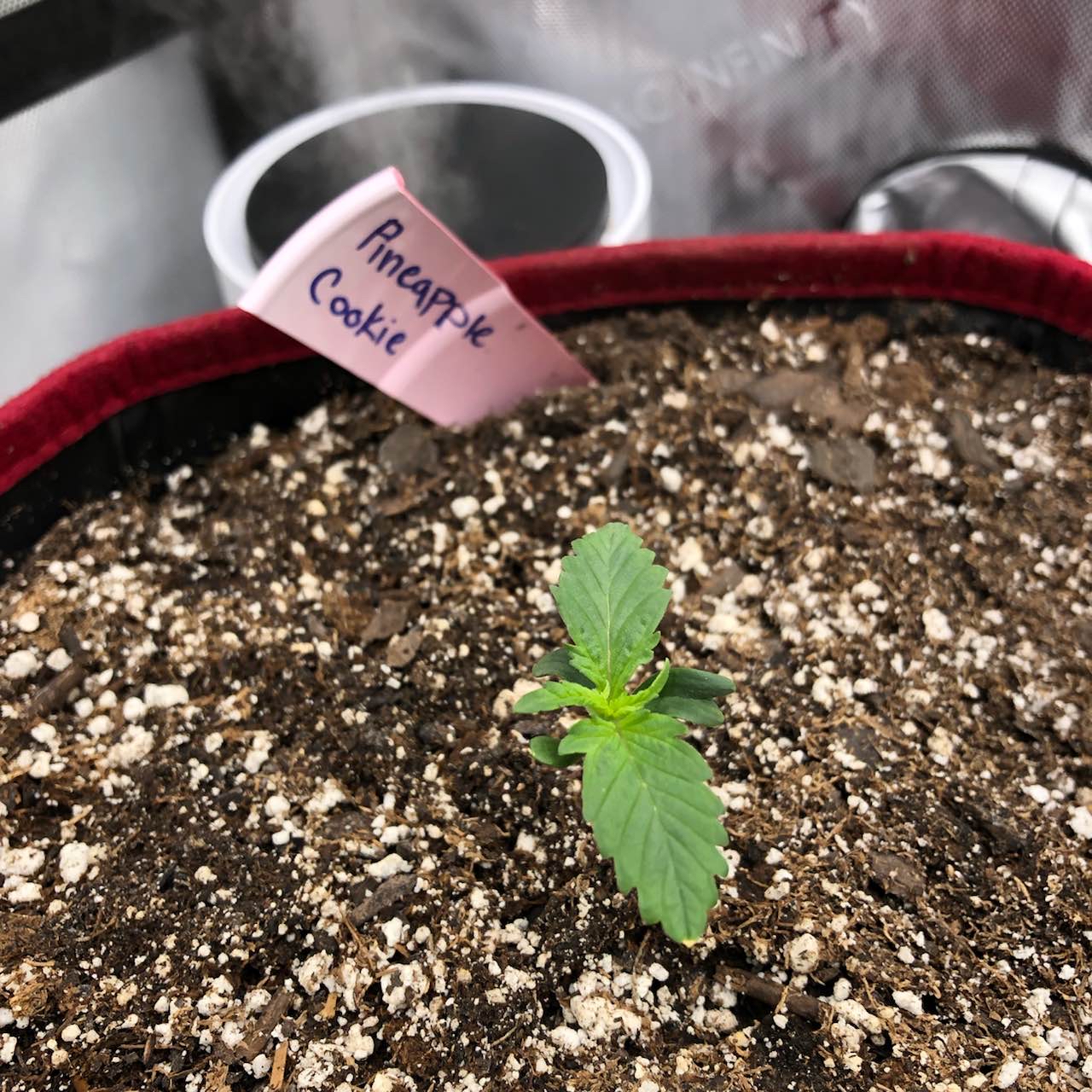 I love this stage, it's like they get a new set of leaves everyday 🥲
a year ago
Girls are in their final pots, new light, super excited to see how it performs
a year ago
MamaSmokes From day of seed to water like how many actual days is this ? Like counting germination
3 of the 4 sprouted
a year ago