mgb3868
First try
Nov 2020
4 plants from clone, Philips MasterColor CDM-TMW Elite 315W/942 CMH Lamp - 4200K, 4x4 tent, bioall soil, duct fan and clip on fan, space heater in room to keep low temp above 65.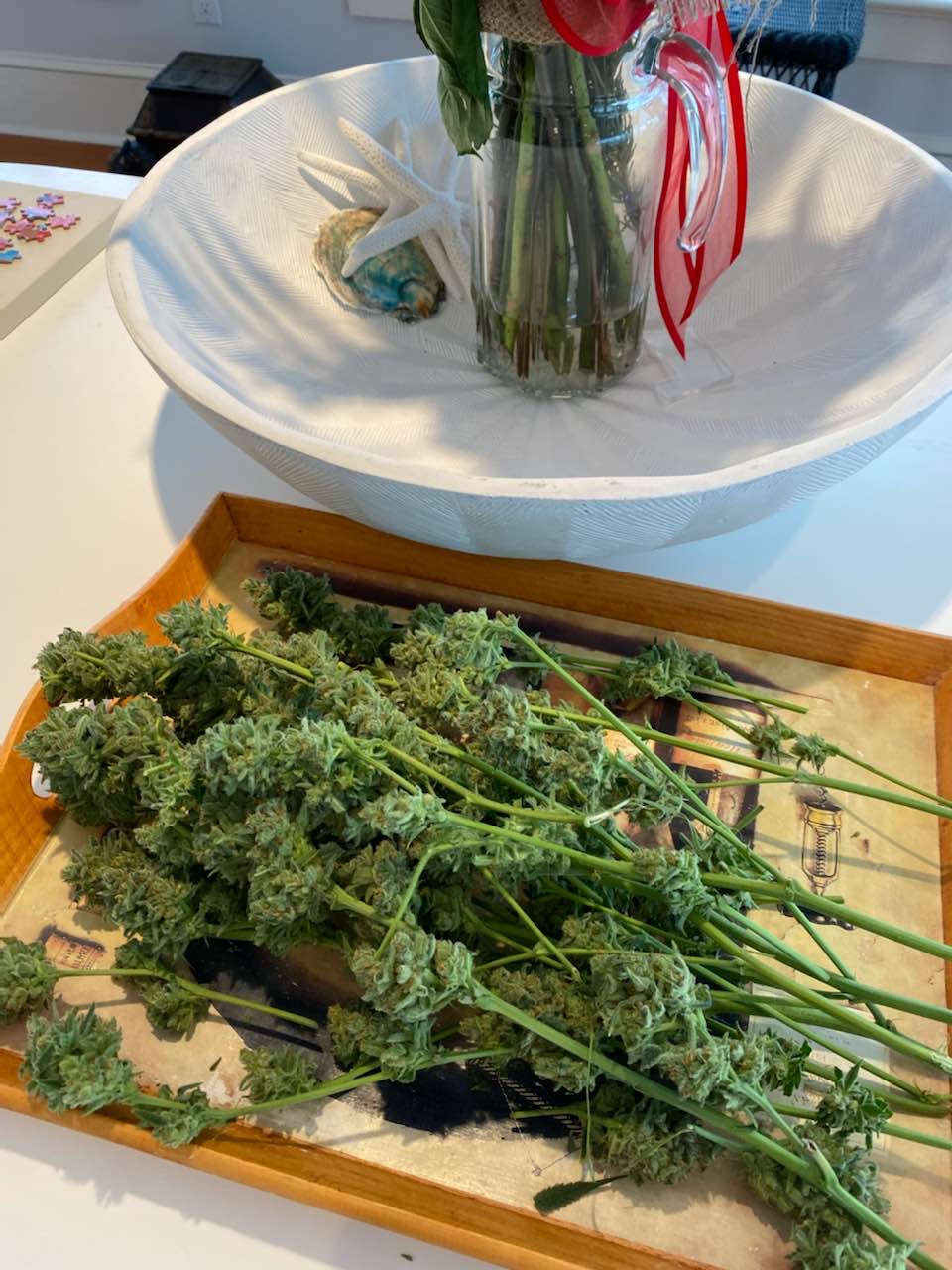 Cut down the top 1/2 of one plant. Yield was 8oz wet (so maybe 2oz when dry. With the other half of plant, I'm thinking around 2.5oz yield per plant. Not bad for first try
2 years ago
Day 53 of flowering. Staring to see cloudy tricomes
2 years ago
41st day of flowering. Pistils turning but tricomes still pretty clear
2 years ago
34th day of flowering.
2 years ago
Day 24 of flowering. Buds popping up everywhere
2 years ago
Buds starting to come in 😁😁😁😁
2 years ago
I really got in there today and trimmed the heck outta the girls. Painful, but from what I understand, had to be done. Filled up a small garbage bag full of leaves and small stems
2 years ago
HELP: 2 weeks into flowering. I tried to thin them out as best I could. What do u think.
2 years ago
scottishstu Looking good! I've read that after wk2-3 you shouldn't really be taking too much off the plant anymore. I quite like taking the growth off the very bottom of the grow, never amounts to very much. Have you been topping your plants?
mgb3868 A bit. But stopped that too
11 days into flowering stage. Girls have grown a lot and are now 40" at tops. I've moved lights up a few times since switching to 12/12. I've also removed a lot of fan leaves and lower stems. The pistels are coming in and bud sites are forming
2 years ago
5 days into flowering. They've grown 6 inches in that time. No space in tent along the sides.
2 years ago
amean0acid Whoa! 😮 6 inches in 5 days? Whats your trick and seed source?
mgb3868 These started as clones...strain is 9lb hammer. And honestly no idea of any trick. This is my first grow. But that being said, I think the tent conditions have been in the sweet spot all grow. ...ph, temp, rh. I trained em as well.
Switched the lights today to 12/12.
2 years ago
Moved the lights up a few inches and it's now 28" above plants...they're about 24" tall and are 30" wide side by side...thinking of flipping switch next week...and thoughts, suggest would be welcomed!
2 years ago
Looking much better than yesterday
2 years ago
Watering on every 2-3 days. Girls are now roughly a ft tall after being LST...they're about 28" from LEC lights. Tent has been stable at 73degrees with lights and 68 in dark. Humidity stable between 48-52.
2 years ago
mgb3868 Cookiesboy420.....yep. Good catch. Looks like I need to go to watering every 1-2 days.
Just shy of two weeks since taking clones from red solo cups and repotting in 1 gallon pots with bio365 soil....girls r doing great...the tent has been stable at 68-75 degrees and 45-55 relative humidity. I've been watering about every 3 days and the LEC light is about 29" above plants (down from 36"....lowered after reading many posts suggesting a lower distance. The 4 plants have been LSTrained and now have many main shoots. The plan from this point forward is to just let em do their thing for the next few weeks or so. ID WELCOME ANY FEEDBACK
2 years ago
All 4 plants have been LSTed. The tent environment has been pretty stable between 67-73 night/day. Lights are 36" above plants. Humidity is between 42-50....it was in the low 30's but I added a couple trays of water and a bowl with a wet towel. Watering every three days.
2 years ago
The girls are doing well and are now roughly 9-10inches tall and filling in...the tent is approximately 74 degrees during the light day and 65 at night. The humidity is ranging from 25-43%. I just put a humidifier in the tent to increase the lower range. I also just started to train them with pipe cleaners and chop sticks.
2 years ago
The clones were repotted Sunday nov 15 into 1 gallon pots. They were placed in the tent nov 15 after repotting. Temp in tent has ranged from 65 at low overnight when lights r off to high of 75. Ph of soil is around 6.5. Humidity in tent is around 35% but dropped to 25% nov 18 morning before watering. Currently plants are approximately 6-7 inches tall
2 years ago