First Grow
July 2021
2 Jacks and 1 SD in 5gal fabric pots, 3x3 tent under 100W Vivosun LED. Using 70% Happy Frog with 30% perlite. Week 4 I added 4 clamp lights with 12W LED bulbs to the corners for a little more coverage
Jack 47 XL and Sour D Autos
I'm calling it, Sour Diesel is getting the chop on Sunday. The Jack 47s ended up yielding just under 3oz between the two of them (82g total).
2 years ago
pawpawsgrow Did you pull your fan leaves towards the bottom,during veg?
joeb909 Yeah cleaned up the bottom during veg and pulled all the lower bud sites early in flower
The Sour D has recovered from her Mg def and is packing on weight. She smells fucking amazing too. You take that deep sniff and it fires the perfect sequence of neurons that make everything feel right. We all know that feeling, I can't wait to smoke her. Meanwhile the Jack 47s got chopped Friday and are hanging in the dry box.
2 years ago
It's time, pulled the 2 Jacks to put in the dark for 48h. Sour D had some pH problems that led to a bad Mg deficiency. I've been giving Epsom salts and the yellowing has stopped, I just hope I haven't hurt her yield too much.
2 years ago
2 weeks since last update.. the jacks are inching closer to finish, trichomes turning milky but still mostly clear. Meanwhile the sour d is way behind but twice their size
2 years ago
Nearing the end of flower and found three lower leaves looking like this. What's it look like guys?
2 years ago
joeb909 Not seeing any other signs, and I only found 3 leaves like this on the whole plant
View 1 additional comment
Haven't updated in a bit. The two Jacks are adding bulk, trichomes still mostly clear with some cloudy. Sour D in the back doing great early in flower with lots of top sites.
2 years ago
Sour D in the back has blown up to the same coverage as the 2 Jack 47s up front. She's in early flower so I'm liking what I see
2 years ago
Starting to see some sugar
2 years ago
Looking good, buds are starting to burst
2 years ago
Top dressed with HF fruit and flower this morning, the stretch is on and the Sour D on the right is bushing out nicely!
2 years ago
So much activity in the last few days, starting to think these babies might actually produce something. Watered this morning, I'm going to top dress with HF fruit and flower in a few days
2 years ago
Everyone seems pretty happy.. EXCEPT I was doing a little leaf tucking on my Sour D in the back and my clumsy ass broke a branch (last pic).☹️ I taped it back and will be praying for healing powers
2 years ago
Gave the girls another day to dry out and they were looking pretty thirsty this morning. Very happy with their growth! Topping of the Sour D looks successful
2 years ago
Topped the Sour Diesel 2 days ago and she's starting to recover and grow again. Continuing LST on the other 2.
2 years ago
LST is doing it's thing, and I'm starting to see some white pistils! I'm going to give the Jacks their first feeding tomorrow with a top dressing of HF all purpose. Hoping to give them a nutrient boost to keep pushing out the new growth! The Sour D has been moving slowly but surely and looks ready to pop. I'm thinking about topping her soon..
2 years ago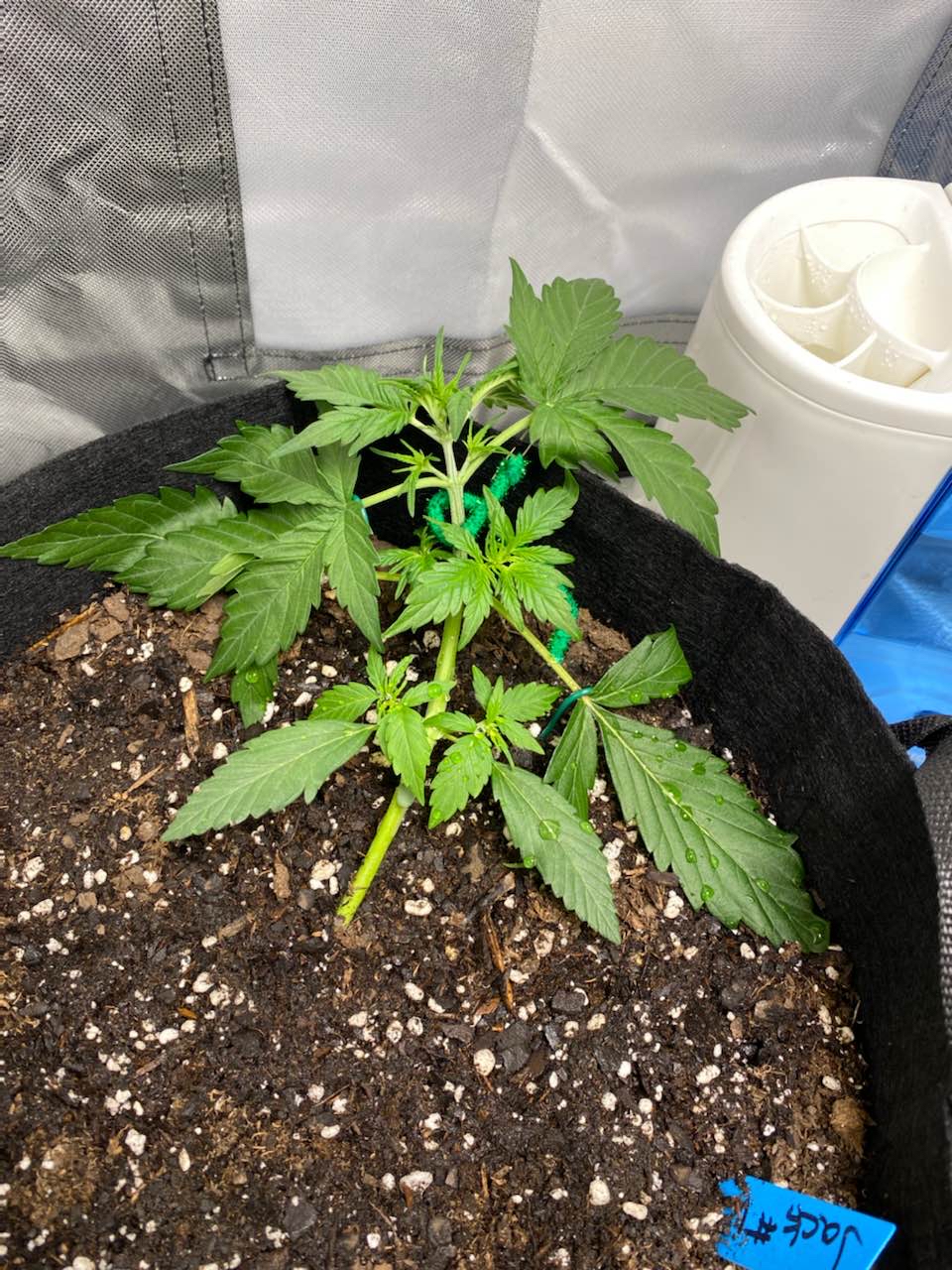 Girls are looking strong so I started some LST today
2 years ago
Wrapping up week 2, watered this evening
2 years ago
It's not looking like the 3rd plant is going to make it. On day 6 it's had little growth and irregular stunted leaves. I don't know if it's the overly dry soil it was planted in or if it's bad genetics but I don't have high expectations. Im going to keep it going for a while but we'll see.
2 years ago
Secman Let her do her thing. I should post a few more pics, but the one of mine that started "special" and "slow" she bigger then her sister.
joeb909 Yeah good call, I'm fighting my urge to overthink it. First grow jitters haha.
Secman Don't throw her out. Just give her some more time. Typical female!! 😝 hahaha
This morning right before watering
2 years ago
The tip over didn't seem to have a big impact on J1😮‍💨. I turned her last night to pull her gangster lean back upright and she seems to be cool with it this morning! On the other hand, baby SD hasn't shown a lot of activity for day 4 so either she got hurt too bad or she's just a lot slower than her cousins. Gonna keep watching. Jack #2 is the quiet middle child just taking care of herself. 🥰 No water today
2 years ago
PM Entry: Beautiful day so I decided to take them out to get some real light. They loved it! Both Jacks took a nice stretch and SD even looks like she's trying to power through.. Back at home I decided to turn their lights up to 75% and raise them a bit to 24" and see how they do.
2 years ago
Jack #1 fell over when I watered last night 🤭 so I added support to keep her up. I can see the damage to SD's first leaves now so I'll be watching closely..
2 years ago
Jacks are looking good, both up to 2 1/4" and leaves getting bigger. Bit concerned about the Sour D, cotyledons opened yesterday but it's first leaves don't look good. I realized my soil had dried out in the tent before I planted her so she's probably needing water. I sprayed her well and put a plastic dome over on tonight so we'll see in the morning. I also realized today that my timer wasn't set right so they haven't had any dark periods.
2 years ago
Sour D baby woke up this morning! The Jacks look happy, watered with pH 6.2
2 years ago
Noticeable growth today, I think the girls liked the changes! Homegirl in the back is taking her time though. No water today
2 years ago
Doubled in height from 3/4" yesterday am to 1 1/2" today! Deeper watering today vs spray bottle previous days. Also added a 6in clip fan and humidifier to the tent.
2 years ago
Day 2, planted Sour D seed last night
2 years ago
Both Jack girls making their homes, still waiting for SD seed to fully pop
2 years ago