graug187
Zombie OG back up plan and recovery
Indoor fall 2019
Zombie OG is my back up plan since my feminized seeds had a major draw back going on 60 days too many issues almost scraped last ditch effort replant 24hrs so far so good I mean they are mint dead lol
Zombie og no femenized, blue dream, 24k gold, and jack harer GSC femanized in recovery
One chopped this one almost ready....ps photos is only a few colas from the first plant rest is still drying
3 years ago
Harvest 1 soon
3 years ago
Week to 2 weeks left flush started
3 years ago
Auto flowers doing their thing
3 years ago
6th week for auto flowers n runts finally growing adding to my other grow to preserve the strains
3 years ago
Autoflowers didn't veg that great buds looking good tho
4 years ago
1st day of flower temps not where I want them more fans and some exhaust tweaking.... starting new journal for flower to keep better track of days will Finnish journal with autos here....autos and runts doing good under the LEDs, just need them closer I guess , buds starting on the autos might be too short idk but I definitely FIM'd one
4 years ago
Flipping tonight HPS bulb in....December 4
4 years ago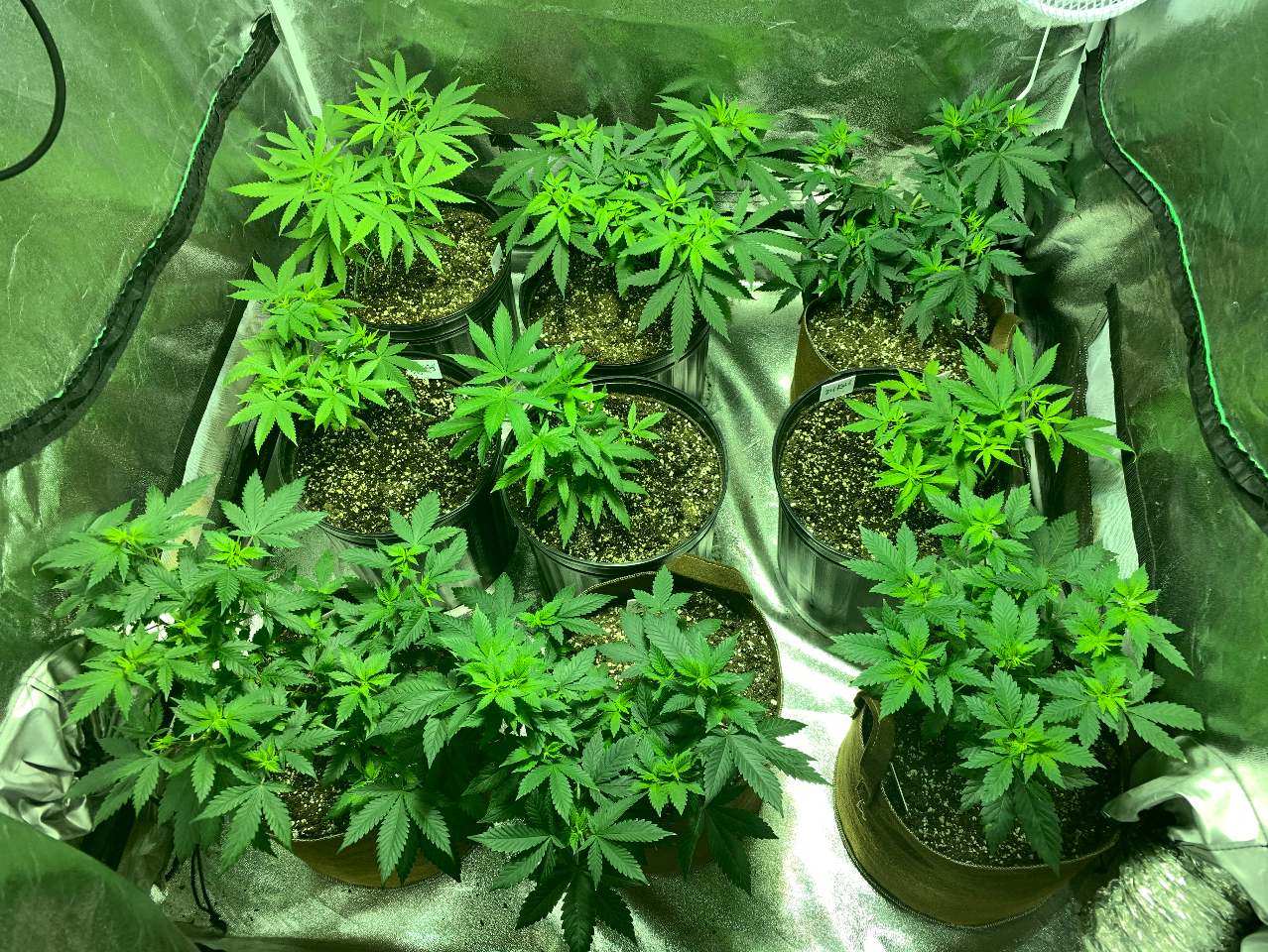 Getting ready to flip maybe next week see how much more we can stretch...... runts and auto in the LEDs tent, but first .....clones!!!!
4 years ago
Autos back in the big tent don't like my LEDs anymore gonna have to invest in another..... filling up the space good
4 years ago
Probably last toping for the bigger plants did some defoliation and dropped the light to 60 cm also put the exhaust on timers during lights of recommendation from a friend see how it goes .....fed the autos to prep for flowers anytime goin on 4th week
4 years ago
Graug187 Forgot to mention I added the autos and Purple gelato feminized to the party a while ago....so there's 3 jack harrier GSG, 2 24k gold, 1 purple gelato, 1 blue dream feminized seeds 3 Zombie OGs regular seed were female and 2 Gorilla glue #4 Autoflower
Transplant final recovery plants n moved the autos to the LED tent....too many plants!!!!
4 years ago
Little bit more LST
4 years ago
More soil!!! Transplanted rest couldn't get more fabric pots tho...
4 years ago
All 3 zombie OGs are female....tent is full of ladies!!!! Looks like FIM went good growing several main stems on most
4 years ago
Training time forgot how awesome it was to train n see it grow in different ways too bad I'm so far behind these should have been flowering oh well at least there's progress
4 years ago
Growth!!!!! Finally getting somewhere, plant loving the new MH bulb
4 years ago
Finally growing overwatering was the issue didn't realize I was saturating them... few still recovering but looking good
4 years ago
Plants are growing just a few brown spots now I have no idea what y I can't get these past seedling stage ph is 6.5 started using bottled water no nutrients temps 77 light is 22 on 2 hrs off humidity is between 40-50%
4 years ago
Graug187 I couldn't throw away the other 6 recovery plants cause they were going green again.....could these be diseased passing to my other seedlings???
Zombies showing more sighs of yellowing starting to thinks it's the root cubes.....started 4 new seeds without cubes starting great time will tell
4 years ago
Road to recovery Zombies OGs growing it of the yellow looking good except a few.... other 6 recovering still showing new grow but looks to be yellowing again scrapping soon for good started my germinating my last good seeds starting with bottle water this time
4 years ago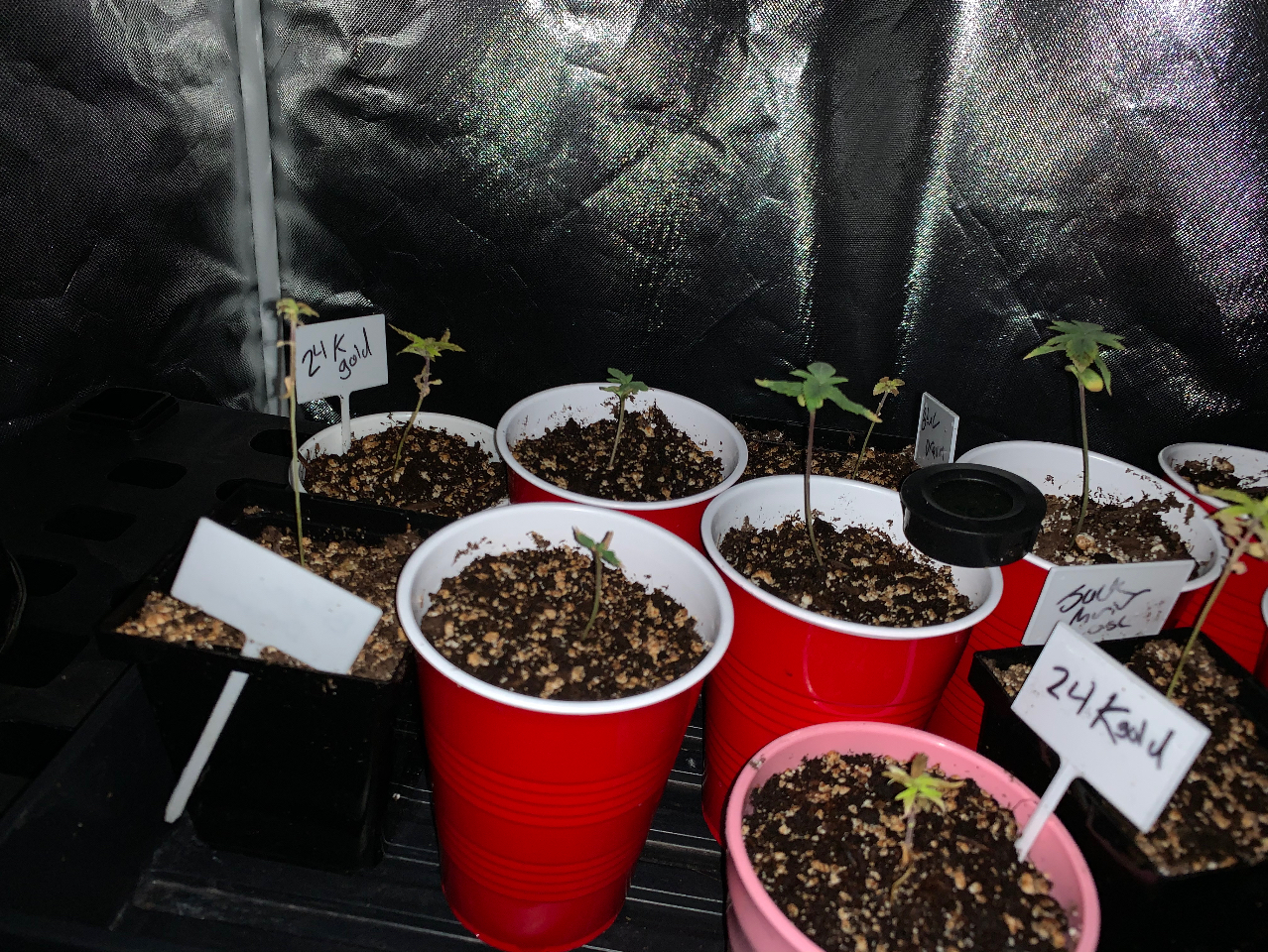 Yellowing still starting in these ones too think i found the problem tho my tap water sucks bottled water for now...as for the recovery ...well their not dead lol
4 years ago
Mystrain420 Get a ppm meter and ph meter if u don't have them already. Are you feeding yet?
Graug187 No feed yet was using tap water let sit for 24 hr ph was 7.3 brought down to 6.3/ 6.5 l.....ppm on the tap water was over 120
Zombie OG seedlings about 2/3 inches tall growing as planed ...recovery seedlings still alive maybe a little greener.....
4 years ago