jocelynm6
ADAm
2021
Will be growing in buffered coco coir and perlite mix. Fertilizer will be advanced nutrients jungle juice bloom,micro, and grow with the helping aids of their cal-mag xtra strength and overdrive ferts.
Honestly haven't updated In like 2 months but they have grown. Just going to keep updates for all of my plants on this ADaM file. They are doing really well and I'm just doing the final tie down(which I should have done a long time ago just didn't have ties). I'm transitioning to bloom slowly with fertilizer. One of my original plants was a male so I lost one plant sadly. They were in 7 gallon pots but the roots were growing out the bottom in 3 weeks so now they are in 10 gal fabric pots. I'm mainlining and they all have been topped to have 16 main colas. I put a shoe in a photo for reference. Please any feedback is appreciated. Thanks for reading this long update if you did. They won't all be like this. I'm planning to update almost everyday when I can.
2 years ago
jocelynm6 Awe thanks 😊 I'm really proud of them tbh. Didn't think the grow would turn out this well.
Mystrain420-@eaegifts Glad it turned out so well for you and them flowers are looking nice. I look forward to seeing them in full bloom
What is wrong with the leafs?:( they don't seem as flexible and flat as my other fan leafs. Rounding up in the middle and getting kinda hard idk how else to explain it. Help pls
2 years ago
Looks good. Has grown since topping yesterday. Has lice thick strong branches.
2 years ago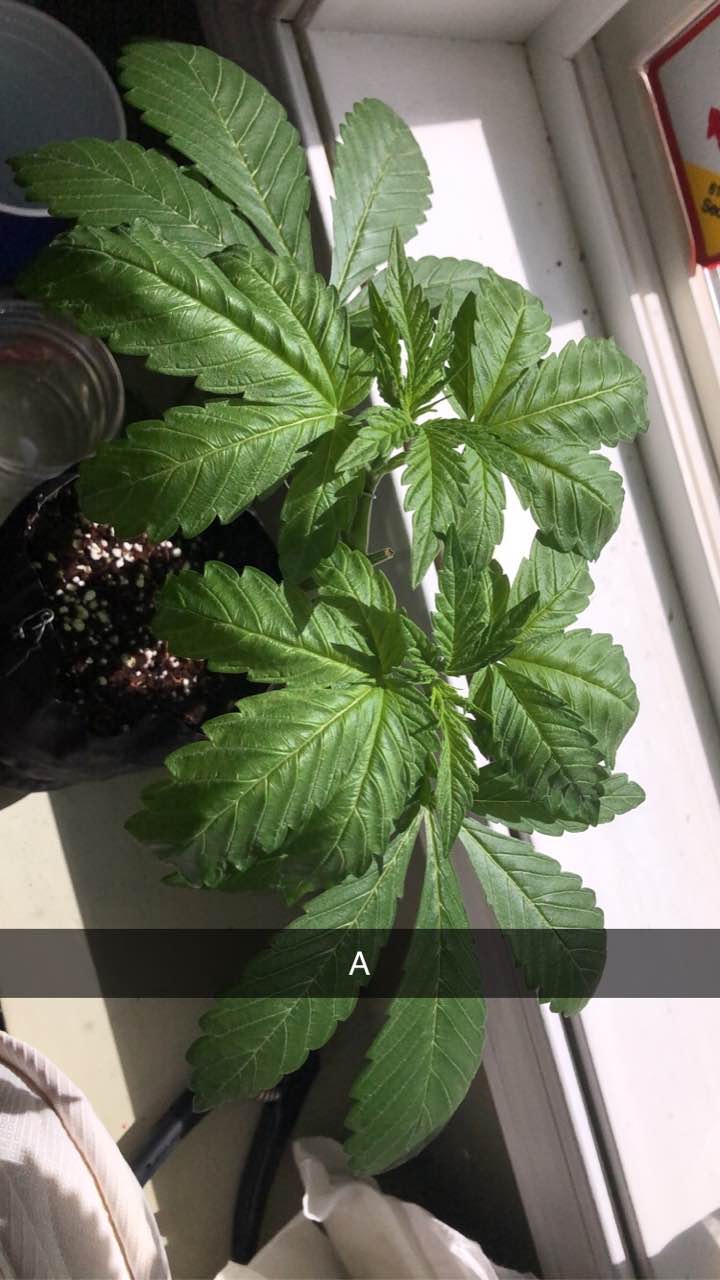 Looks good. Topped this one today. As well as Delilah. I felt like the node was big enough the top and the plant is hella strong 💪
2 years ago
What is wrong with the leafs?:( they don't seem as flexible and flat as my other fan leafs. Rounding up in the middle and getting kinda hard idk how else to explain it. Help pls
2 years ago
cannabisking Some parts of a plant can turn out different especially when there not clones. could be a genetic defect or lack of proper nutrients in soil, under watering, list goes on. Point is I wouldn't stress unless you see the problem repeating.
jocelynm6 It's repeating in 2 more of my plants. Just one plant that I haven't topped yet doesn't look like this. Thinking it's from adding cal mag. Really confused though because would think they needed since growing in coco coir.
Looks good has growth. Stems are really strong and resisting the lst. Will be topping again within the next one or two days if it keeps growing like this. Ppm is between 700-800 like my other plants even with the added cal-mag yesterday so I'm doing the right thing I'm pretty sure. After topping will be transplanting after a few days. Any tips for the next days to come would be very appreciated:)
2 years ago
Looks good. Turning purple. Will be adding cal mag to feeding now aswell
2 years ago
jocelynm6 Lmao right?!?! I was really surprised lmao looks like im doing sum right haha
Mystrain420 So you definitely found a sweet spot, probably was the increase in feed
Looks good, turning a bit purple. Might add cal-mag back into the mixture, took it out a while ago since it was burning my plant
2 years ago
xound Nice lst, do you use only natural sun light ☀️?
View 3 additional comments
Looks good. Upped nutes to full strength today
2 years ago
kermitklein Looking good, why have you tied down the fan leaves?
jocelynm6 They were stretching up too much before I topped it and was just shading the rest of the plant. Also every other video I've watched with mainlining they have done this🤷🏻‍♀️
KermitKultivate I wouldn't bother tying down leaves unless the shade was real bad mate, train the branches that come from the node 👌
View 1 additional comment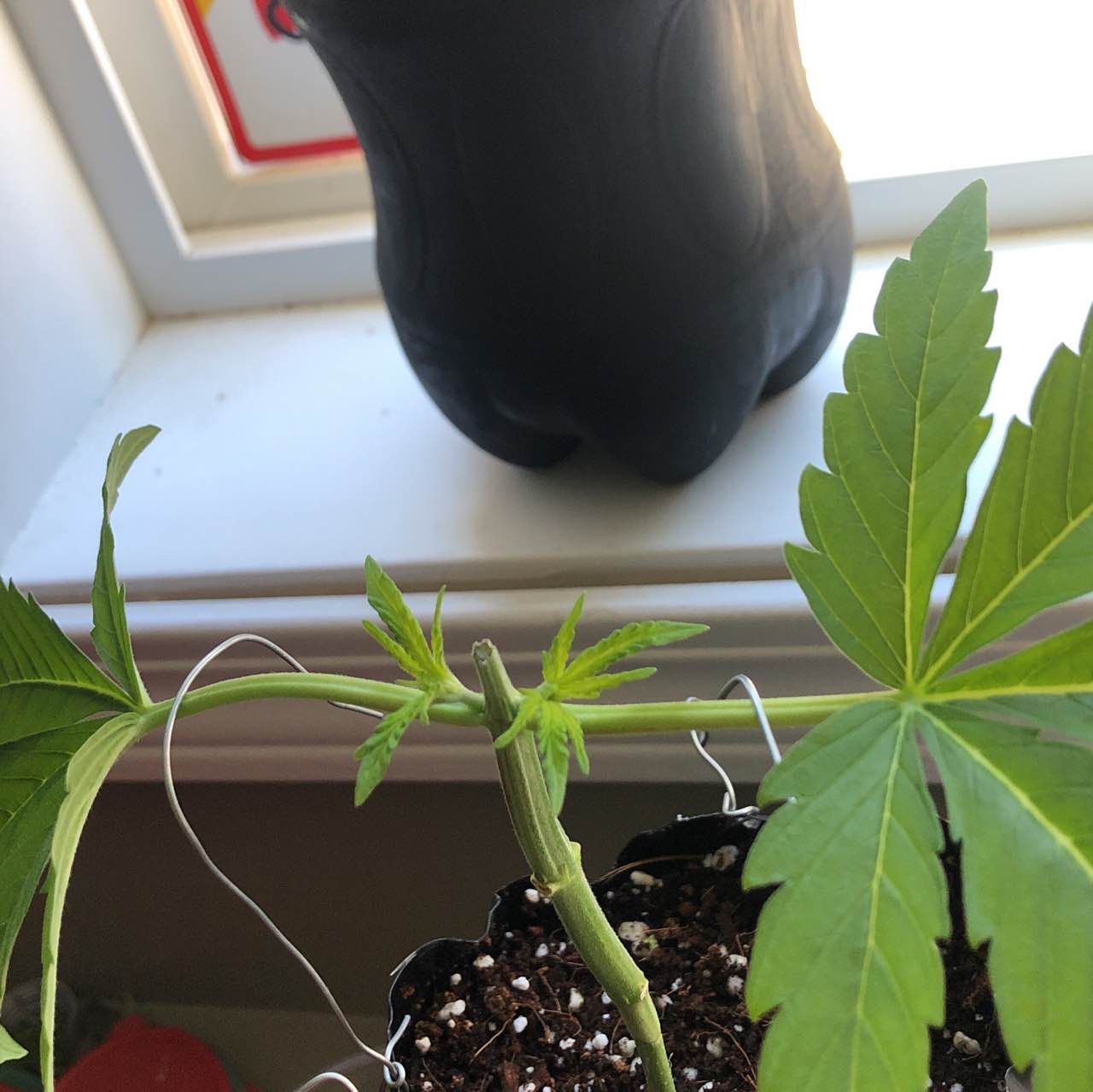 Definite growth I think. Upped the nutes which helped with my growth speed it seems. Looks good
2 years ago
Mystrain420 Definitely grew some. What strength you at with the nutes ?
jocelynm6 I'm doing jungle juice grow at 3ml/l and micro at 2ml/l and bloom at 1ml/l. I put in just a little less (no more then a ml/l) of ferts with all of them since it was such a huge jump. After this bottle is done I'll probably bump it up again to as directed on the bottom. As for my last update on this plant I noticed the roots are showing out the bottom. Should I transplant or wait longer and if so how long? I didn't transplant them that long ago from a solo cup. Thanks for replying!
Mystrain420 If you transplant you should cover some of the stem, it'll give better support for the Lst you'll be doing later. I asked about the feed strength because she looks a bit yellow like nitrogen or light problems. I'm at 50% rn with my youngest plant 22 days old, I don't use the same nutes but I like to try 50% by day 21. I've gone up to 100% before but it seemed unnecessary and cause a little toxicity.
Lmao was too stoned and forgot to update this singular plant yesterday🤦🏻‍♂️ looks good tho since the chop and has growth. Upped nutes today aswell just to help kick start the growth a little bit hopefully ***also I can see the roots at the bottom of all my containers so any tips on if I should wait or just replant into a bigger pot? I honestly didn't feed them yesterday because I wanted the roots to reach to the bottom (I'm pretty sure I was over watering;soil is still semi damp today) and stop 2 of the plants roots from growing up out of the soil. It worked out better then I thought and I can see all roots at bottom now.
2 years ago
Might have jumped the gun a bit but I topped today to the third node after the 5&6th node were visible.
2 years ago
Mystrain420 Look into "mainline". The way you've trimmed her sets her up perfectly for it
jocelynm6 @mystrain420 that's exactly what I'm doing lol. I've watched videos iPod videos of different people trying different things and "nugbuckets" way of mainlining. I'm hoping for the best with this technique
Mystrain420 Oo yea that's definitely the way to go👍🏾, I always promote growweedeasy.com its where I learned it. I'm thinking of trying the dry ice hash they made.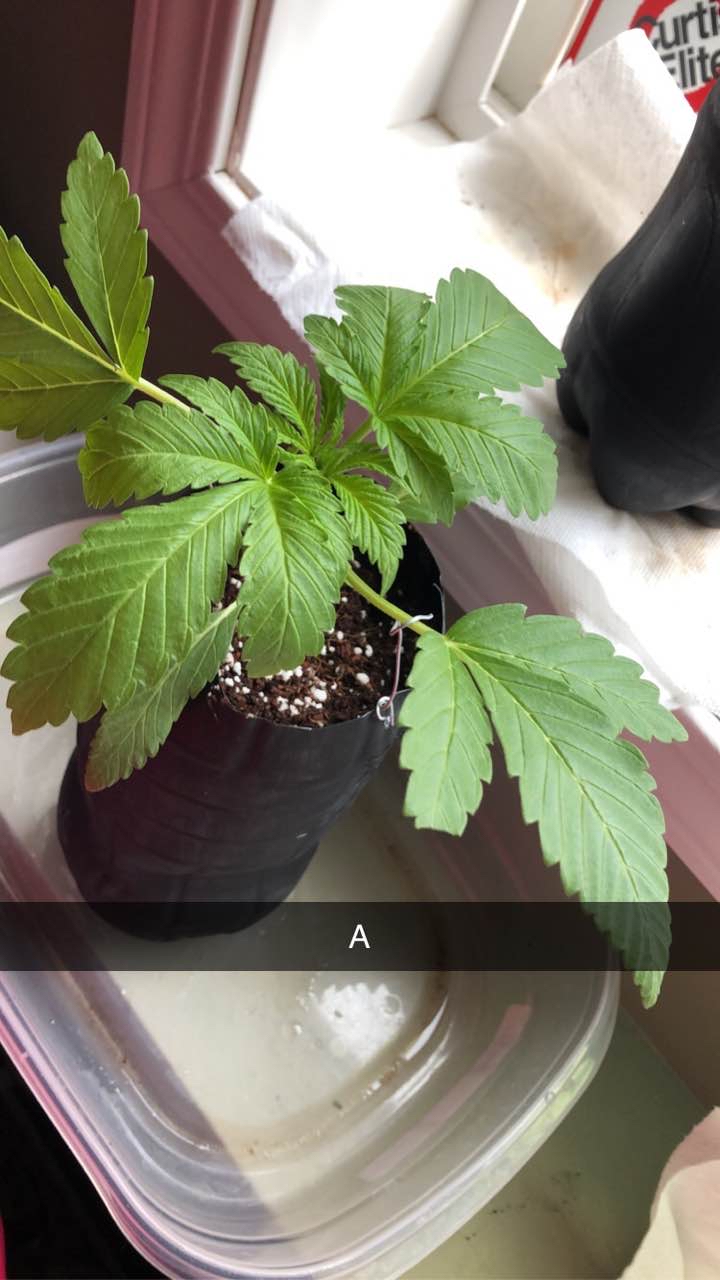 This will always be my best plant it seems lol. Upped nutrients a bit and ties down branches since they were shading the rest of the plant. Ppm yesterday was 542 today is 470.
2 years ago
Looks good. Growth since transplant so that means I didn't mess up the roots too much when I moved the plant. Ppm yesterday was 1042 and today is 904. New fert is def helping with ppm. Also forgot to add that I'm feeding them 165-170ml of fert water. I'm using jungle juice micro, grow, and bloom; micro and grow being .5ml/l and grow at .25ml/l. Was using cal mag since I'm growing in coco coir but was giving off high ppm and slight nute burn.
2 years ago
mystrain420 @jocelynm6 glad to see my advice helped 👍🏾. As they grow just pay attention to the petiole to know if you need to add back in the calmag(they'll start to purple a bit) and contorted leafs w/white veins are also signs. Also as we spoke on before you don't have to give plain water in coco, I think you should water heavier with your current feed or twice a day. The high ppm with all medium is salt buildup, within a few days it'll drop with heavier watering. I'm usually flooding their cups by this size.
jocelynm6 @mystrain420 thanks so much for the help, will definitely keep an eye on the little branches of the leaves. I was also thinking of starting to water them twice daily since they are getting bigger. I end up still getting around 20-30% run off with giving them this much water so should I give them more? I ended up just measuring the ppm of all my plants separately so I can get down to the bottom of my nute prob. Flooding can have its good affects as I read so I'll try it out today and tomorrow to see if it helps the salt build up. Thanks again though, it's great being able to talk to a fellow coco grower
mystrain420 Anytime I can help just lmk, u can comment on my grows or eaegifts on ig. I definitely agree with the twice a day then a repot after about 30 days. The roots are gonna look crazy 😊
Repotted them to 2L bottle lol, the roots were starting to stick out which I didnt think to check tbh. Sitting outside now since it's warm outside today. Redid the fertilizer to only 1ml/l for micro and grow and .5 ml/l for bloom; I took out using the cal-mag as per suggestions. Ph'd the water to around 5.7-5.9 since ph meter is cheap and may not be completely accurate.
2 years ago
zayyy Any tips for my plant
Looks good. Responded to comments 👇🏼
2 years ago
mystrain420 Definitely looking good. Is this Adam or the family? I responded to the other post as well
jocelynm6 This is just Adam but the problem plant I'm talking about I think you can find if you just click on my name and I have 3 more plants other then this one. As to your comment on the other post, I tried to keep the mix 70:30 coco to perlite and that may the problem with the micro; it says it has 5% calcium. Should I possibly stop using the cal mag or micro? Run off for the plants yesterday was literally 1800 ppm so idk what to do. The plants look okay but I'm worried still. I did ended up measuring the past few days exactly how much water each of them drank and it was 45ml, and now in the past 2 days to get around 20-30% runoff I have to add 70ml. I read around I found alot of people just keep giving them nute water throughout the whole cycle, should I stop that then and give them a rinse of ph'd water once a week or so?
mystrain420 I feed every watering personally but I do give ph'd 6.0 water if coco ph is off, I mix my own tho. I think if u compare the micro vs calmag u can cut out the one with less calcium. You'll still get the cal in but with a low ppm. This one looks great, make sure they don't sit in runoff also because it can cause them to burn from drinking at the bottom.
View 1 additional comment
326 in the morning. Looks really good, a bit of growth
2 years ago
mystrain420 Yea definitely grew more 👍🏾. Hey just wanted to apologize if me asking you your setup was somehow offensive to You, anyways adam's looking good. 🌱🔥💨🔥
jocelynm6 Thanks man. Look at my other plants to see if you can see any problems. I have one problem plant and not too sure what to do. Also commented on my last post u commented on
Have grown a bit and I think I perfected the fertilizer for right now.
2 years ago
mystrain420 She's very small for the age. What's your setup as far as lights and distance?
mystrain420 Didn't suggest anything to listen to but ok. Happy growing everyone and she's pretty nonetheless 👍🏾
jocelynm6 Ahh sorry didn't see these comments until now lol i live in Canada and am growing it in my window, moving it around the house to get full day of sun and have a fan blowing for air circulation. I'm actually having problems with the nutrient solution though. I'll put my other plants on public so that you can look at c.
View 2 additional comments
Doing really good. Upped the fertilizer up one dose because I think I forgot to add in the other half🤦🏻🤷🏻‍♀️ ec of 800 now though for runoff instead of 400 like yesterday so hopefully they are doing good.
2 years ago
Doing good trying to figure out what's going wrong with runoff. Ppm of 400 for some reason where ppm for feet water is 1600
2 years ago
Been watering with fertilizer for a day now with ph of 5.8
2 years ago
Going to give first batch of nutrients today. Have been feeding them 1ml/L of advanced nutrients sensi cal mag every day and they seem to be doing fine. Going to give them their first feeding of advanced nutrients jungle juice starting at 3 ml/L of grow, micro and 2ml/L of grow for this week. Bumping up cal mag to 2ml/L for the rest of the grow. I'm growing in 70:30 coco coir to perlite mix outdoors. Not able to put outdoors right now since it's not warm enough; will stay in my window and moved around the house to ensure 12 hours of sunlight. Just got ph and Ec meter in mail today so will be using those aswell from here on out. Please any pointers are welcome. Last years grow didn't go to well and ended up deciding to grow in coco for this year. So far so good!
2 years ago
shiz I usually don't feed until they start the 3 set of true leaves the first set of leaves your plant grows has enough food to maintain your plant for the first 3 sets I'd be careful on the nutrients when there in seedling stage easy to burn them good luck tho
All sprouted today except this one, sprouted last night
2 years ago
Moved into solo cups with buffered coco coir
2 years ago
Just started sprouting.
2 years ago
Started germination today with a plate and damp towels. Will update tomorrow. My feeding schedule I've made up is added also. Any tips?
2 years ago