papabear
Barney's Farm 8 Ball Kush
January 2020
8 Ball Kush from Barney's Farm Seeds-Amsterdam Seed Supply.
I used the AirPot for the first time with this grow. The results speak for themselves. Longer, thicker, and more dense root structures.
3 years ago
Harvest day. Flushed with Flawless Finish for the past week. Began seeing signs of magnesium burn so I cut her down. Very thick short stalks with dense growth down 80% of the length. Now the irritating wait for curing.
3 years ago
On the homestretch with the flowering cycle now. The pistles are turning brown and the THC glands are beginning to turn from clear to milky. A few more days and I'll begin flushing for harvest!
3 years ago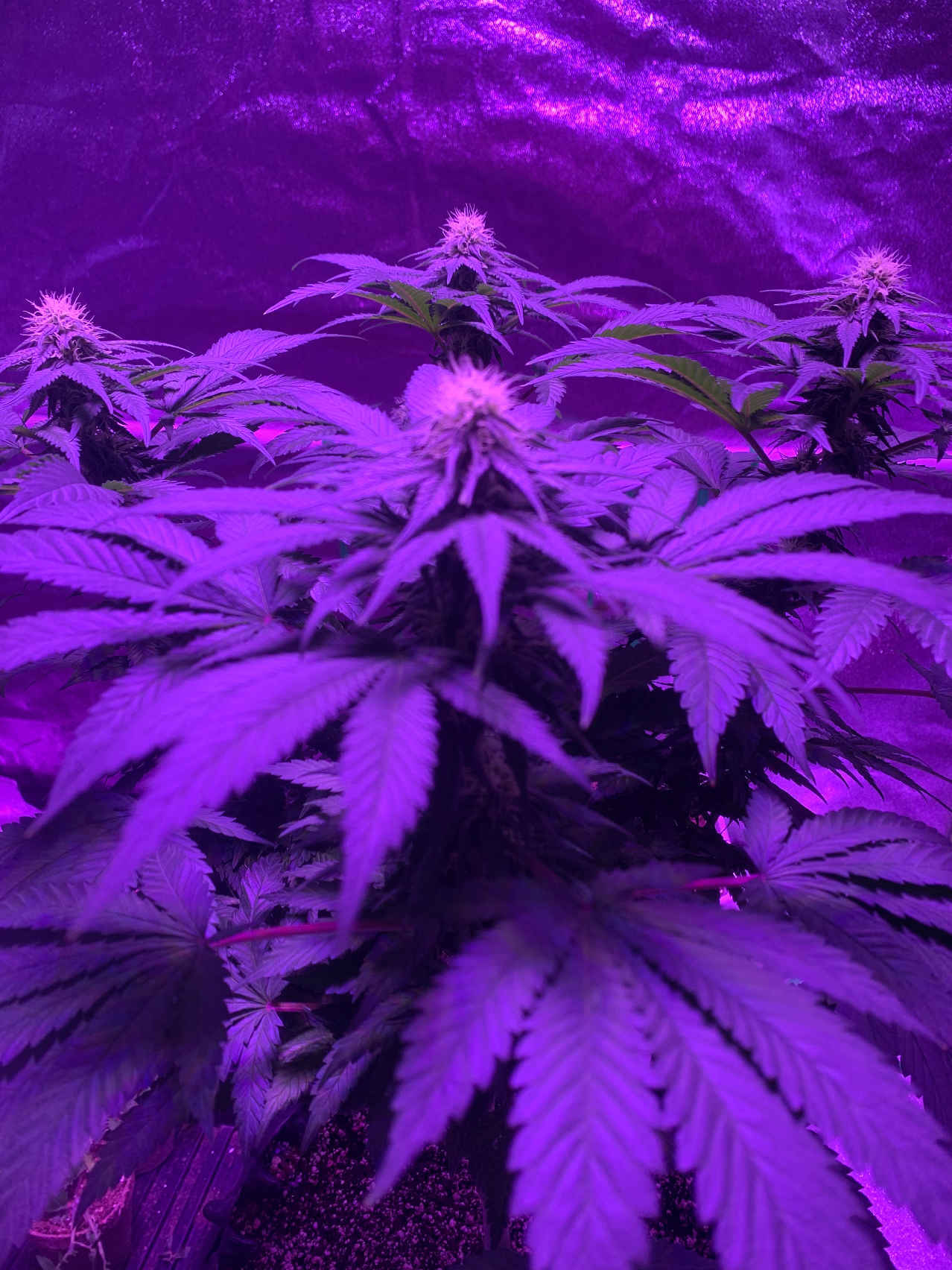 Day 25 of the flowering cycle. Added monster bloom and bud candy for 25 days now. So far the results are positive.
3 years ago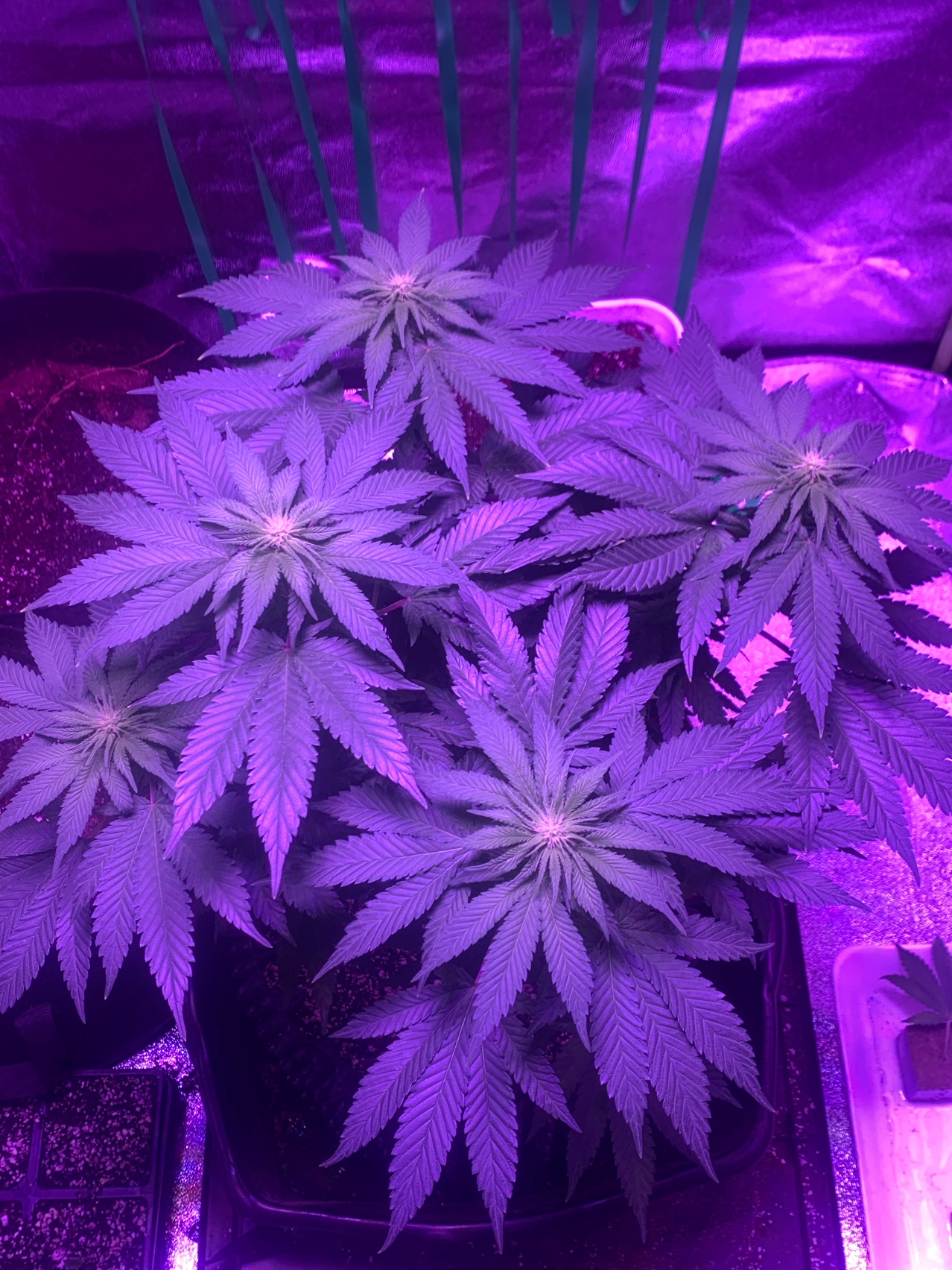 Day 14 of the flowering cycle. Still in the middle of stretching. Stalk is thick but overall plant height remains the same. 5 main colas starting to show pistles.
3 years ago
Day 7 of the Flowering cycle. Took down the stupid trellis I made. Didn't work. Starting to see activity in the center of the colas. Still a short plant but hoping for large results.
3 years ago
Switched over to flowering cycle today. Light to Bloom and nutrients changed with the addition of Bud Candy and Monster Bloom as well. Banking on the stretching phase to increase it to a nominal height since it sits so squat.
3 years ago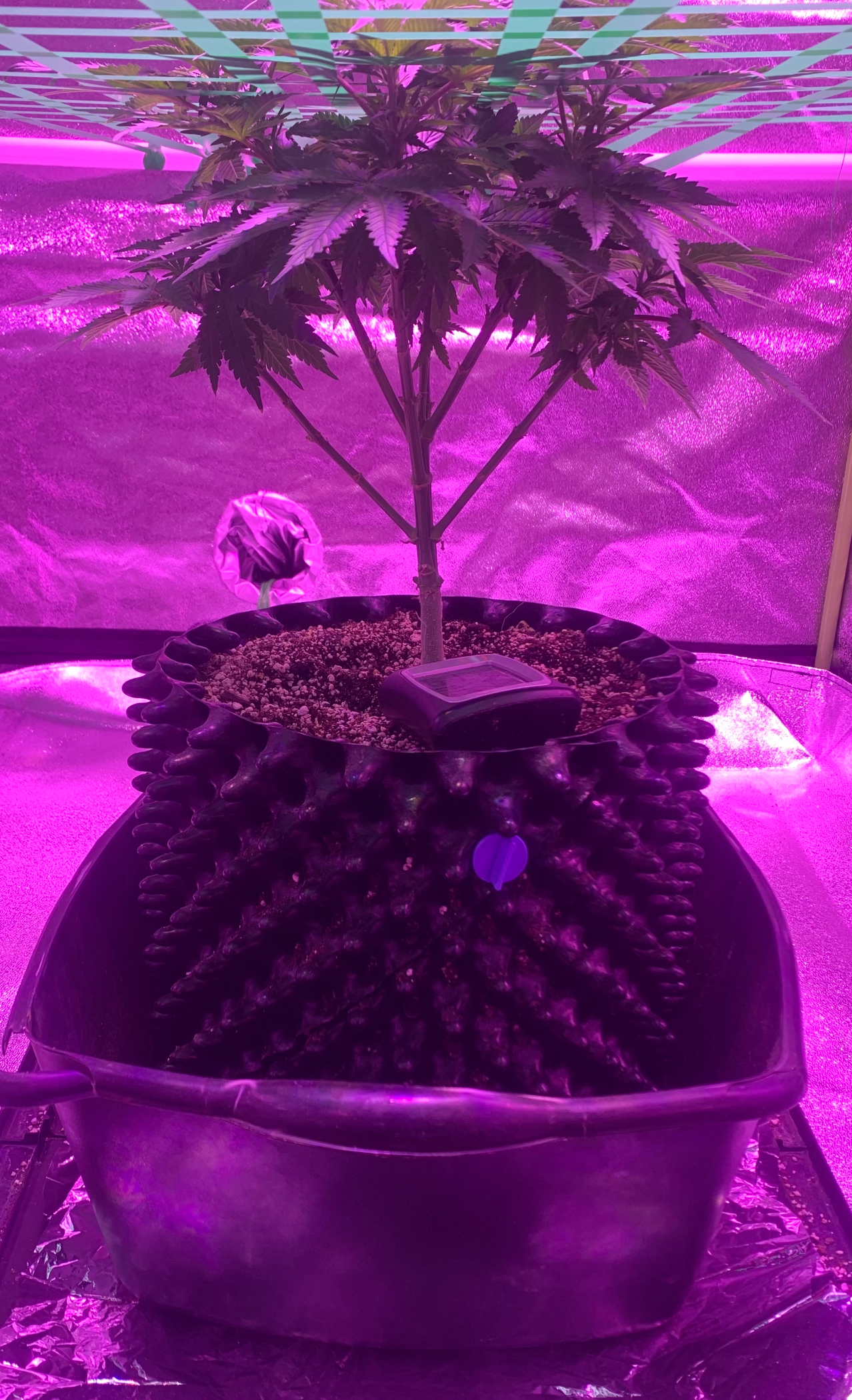 It's been a little over a week since adding the trellis. The 4 main colas have pushed through the netting while the lower 2 have not. Not sure why it's growing so slowly. Will continue with current schedule for another week before beginning the flowering cycle.
3 years ago
Built and added a trellis system to begin training before flowering cycle to maximize yield. Trimmed off excess branches and made it 4 main colas. Will check back in 7 days to see progress.
3 years ago
Plant is currently 9" tall with multiple cola locations coming in everyday. Did some more trimming all around to allow more light to penetrate. Watered with nutrients yesterday.
3 years ago
Did some pruning to remove excess growth and allow more light to the lower colas. This strain is very short for being day 40. Will probably have to extend vegetative cycle.
3 years ago
Measuring 7" tall now. Topped a few days ago and a lot more colas popped up. Removed bottom 4 leaves for air circulation and grooming. The stalk on this strain is very thick!
3 years ago
4" tall today. Feeding every other day since the air pots dry out faster than fabric.
3 years ago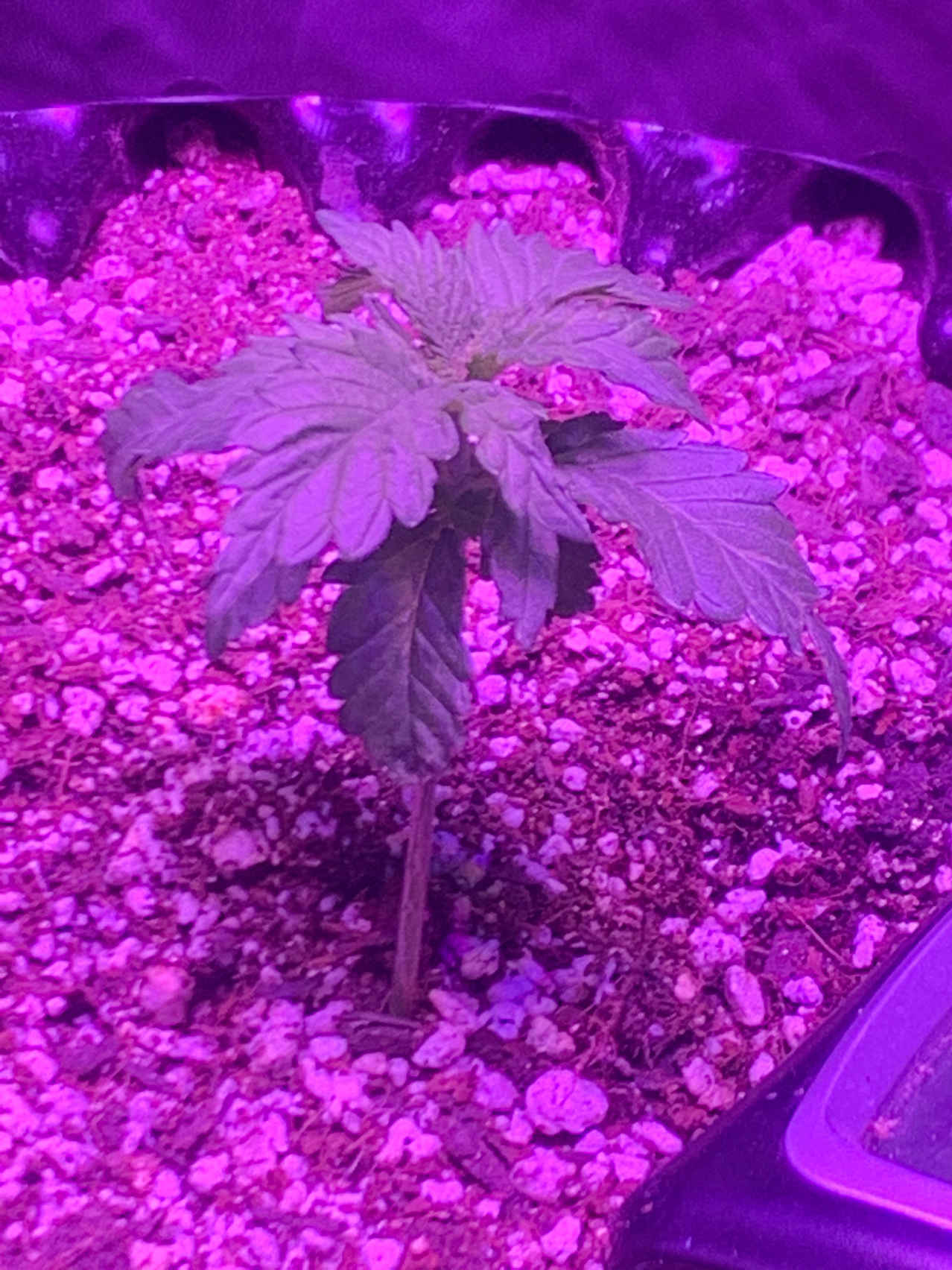 Measures 3.5" tall. 4th nodes coming in on top and very close together. No space in between so still in early vegetation stage. Should stretch out soon. Transplanted from solo cup to 5 gal air pot as roots were getting blocked yesterday. Starting nutrients on next watering.
3 years ago
Better picture today. Leaves aren't as droopy as yesterday.
3 years ago
3" tall and working on 2nd and 3rd nodes. Changed lighting to 24/0 from 18/6. Pure water.
3 years ago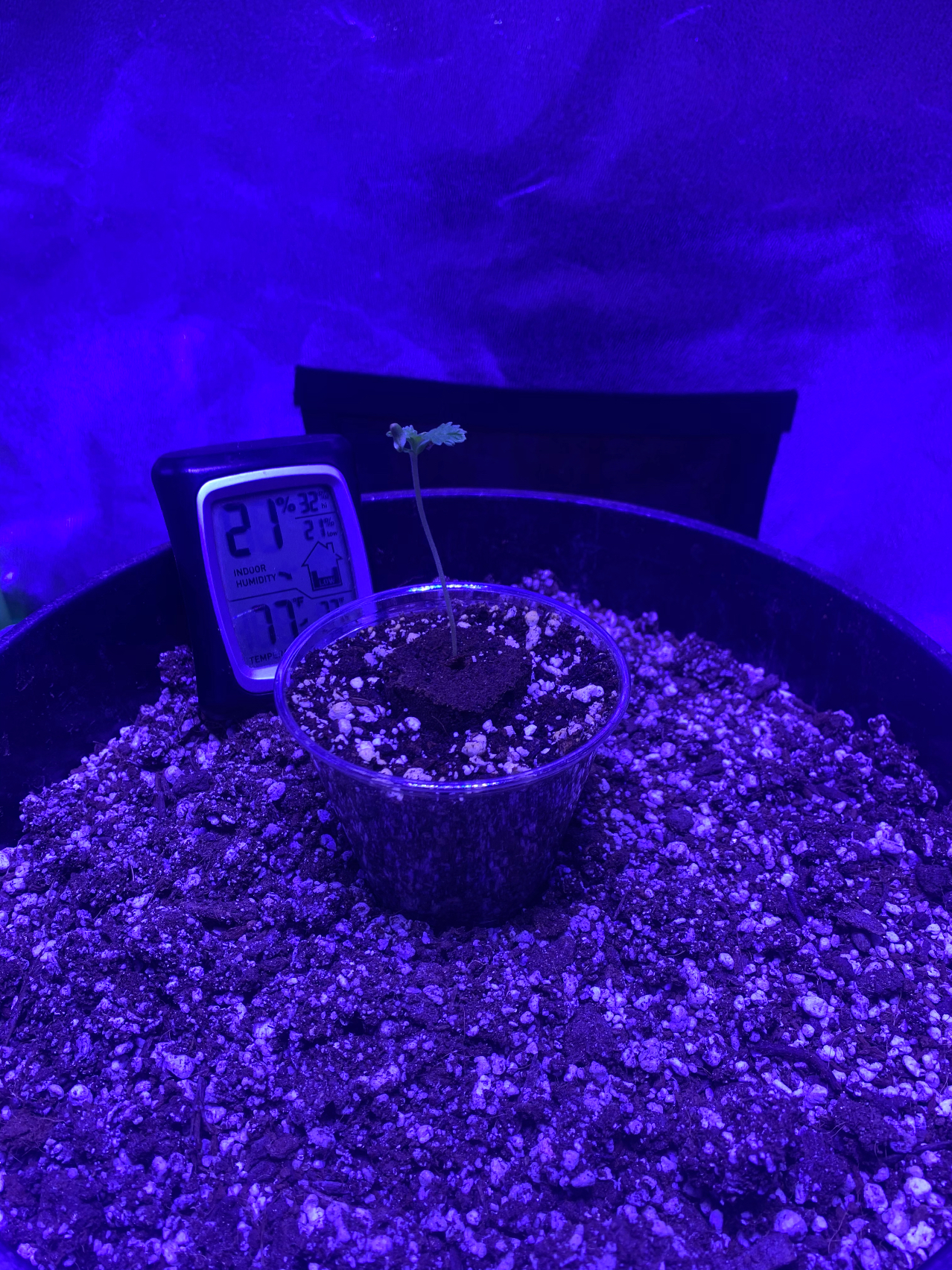 Moved the one plant to the tent to begin vegetative cycle. Began germination of a second seedling today. (Paper towel method)
3 years ago
The plant is currently 2" tall. First leaf beginning to show. Other one is still stuck in the pod lining. Spritzing with pure water daily to maintain moisture.
3 years ago
Seed pod finally came off the new sprout today. Like a baby losing its umbilical cord. All in its own now. 2nd pod is taking its time making its debut, but I can see it stretching ever closer to the top.
3 years ago
First signs of life began today. One so far. Awaiting the other 3 to pop up.
3 years ago