My first grow
Christmas grow
Two Pineapple Express plants under the spider farmer sf-4000
Probably going to wait a week and flush one more time before harvest
3 years ago
mystrain420 I hope your joking lol. She's nowhere near done. Very nice for an auto but nowhere near done, auto flower or photo period you need to check trichomes and all those white pistils. U got another month left for sure
mystrain420 Average auto is 90 days (3months) your just hitting day 60. If you chop now it will literally do nothing for you except maybe give you a headache. My public coco grow has trichome pics in the recent update if you wanna check out how they should look. I don't like auto but Nobuddyatall is experienced with them so I'd take his/her advice if I were you. Good luck with your grow 👍🏾💨
View 1 additional comment
Good bit of new growth
3 years ago
Nute burn mf nute burn 😢😞🤦🏽‍♂️
3 years ago
She still suffering from a lil nute burn so I gave her a good bit of water ph at 6.3. Idk if my TDS is messed up but it read at 3500 ppm😟 and the run offs ph was also 5.6 😢. I know she will make it I'm just glad this happened early in veg so it won't ruin the crop completely. Good learning experience for sure😅
3 years ago
Still no veg pistils yet but she hanging in there
3 years ago
After checking the ph of my tap water and seeing that the ph was right at 7 I decided to flush it out in the shower and I was able to bring the ppm all the way down to 650 and the ph to 6.5 exactly. I'm happy with this method and I believe I will start flushing all my plants out like this in the future 😊
3 years ago
I just did a good bit of defoliation to expose the undergrowth so now I should be good I swear growing bud I such a good learning experience
3 years ago
tseknoujake You should never cut off the main fan leaves. It really stunts their growth as those main dam leaves are solely responsible for photosynthesis. Not the end of the world but it's better to rather just fold the fan leaves away...
twoXfour Not true totally as you put it. Outdoors plants require the fan leaves 100% to aid in protection against the elements. As for indoor, a healthy and properly fed plant that is showing no signs of deficiency, pests etc can actually benefit from removing any leaf that is blocking a bud site. I'm a licensed medical grower for the past 10 years with 15 years experience in the field.
combatmedic81 I always prune some fan leaves and am happy with the timing and product
This one is just now starting to show pistils
3 years ago
This one is starting to brown on new and old growth. I'm bout 100% sure it is because I upped the amount of nutrients. Ima water 3-4 times before I feed again and will feed it a lot less.
3 years ago
This is the nutrient i use right now in veg I'm feeding at a 3:1:2 (n:p:k) ratio.
3 years ago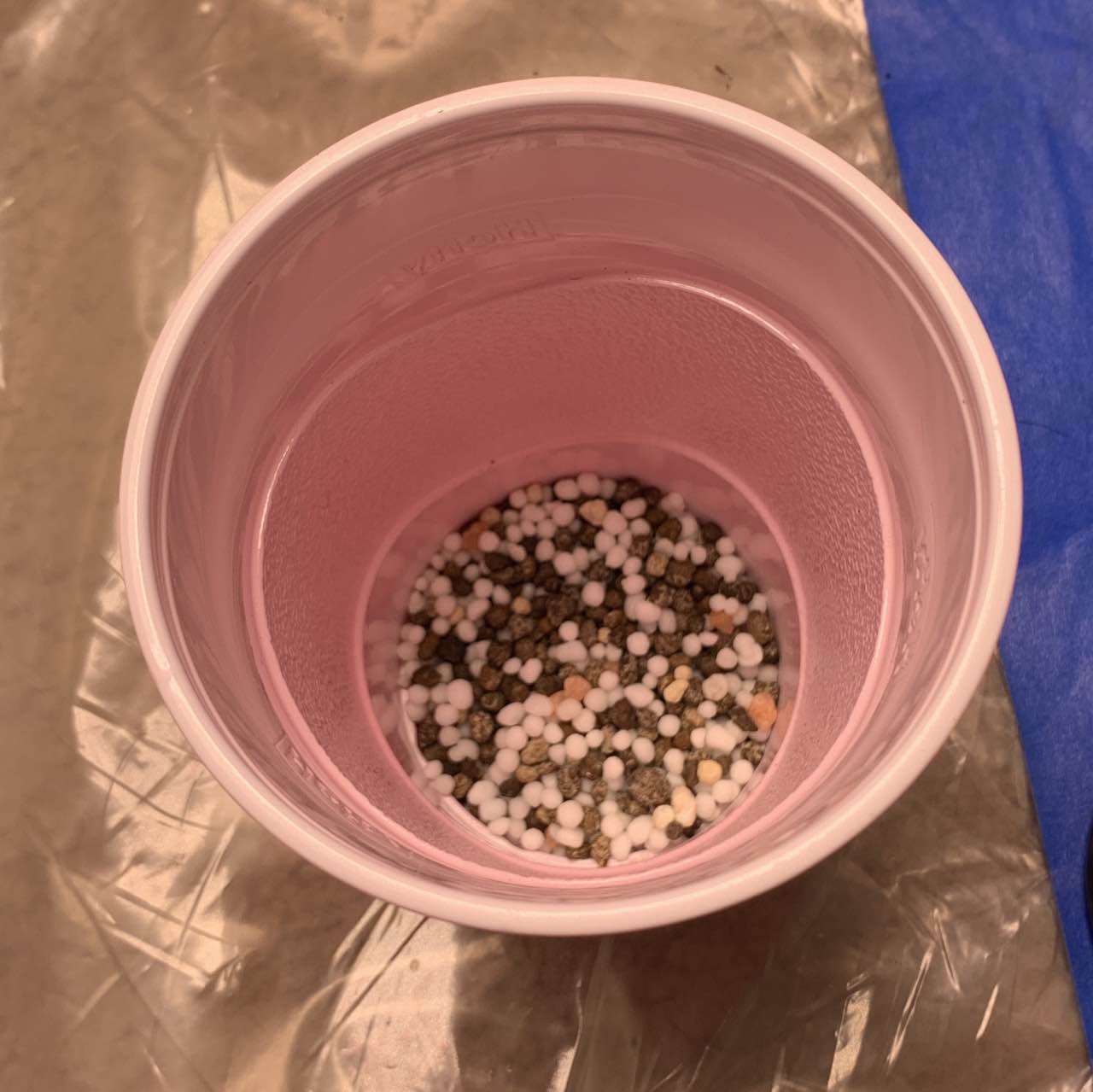 This is how much I use for one plant. I dig the radius of the plant down till I see roots i then pour it in evenly around the plant cover it then I water it with dechlorinated tap water ph at 6-6.5.
3 years ago
This is the water bubbler I use to dechlorinate the tap water I got it from academy for 25 bucks i leave it on 24 hours before use and I adjust the ph to 6-6.5. If I'm not mistaken doing it like this can create a clean oxygen rich water that (if ph right) can be great for you roots at any stage of the growing process.
3 years ago
combatmedic81 Yes, plants like oxygenated water, I run my bubbler 24/7 in my reservoir
I'm only feeding this one because the pistils are showing. This is fast release nutrients so I'm going to feed every 2 or 3 waterings.
3 years ago
Since this one has no pistils I'll continue to just water it
3 years ago
Y'all ever smoke with yo crop 😂😂
3 years ago
kingkush14 Yes i do ! But they feel like it was cannibalism 😝
So ready to smoke this shit 😂
3 years ago
This one already got the pistils showing
3 years ago
CraigBengfort It looks like things are going great!! The only thing I would change is maybe leave a little more next time you top the less you leave the easier it is for it to split. Happy Growing!
Gotta get that co2 in there lol😂😂😂
3 years ago
Transferred girls over to 5 gal fabric pots and watered with dechlorinated tap water ph to 6.3 hope they will start getting tall😅😅😅😅 merry Christmas 🎄🎁 pot heads 😂😂😂
3 years ago
jordancf72 What is the distance from your light to plants?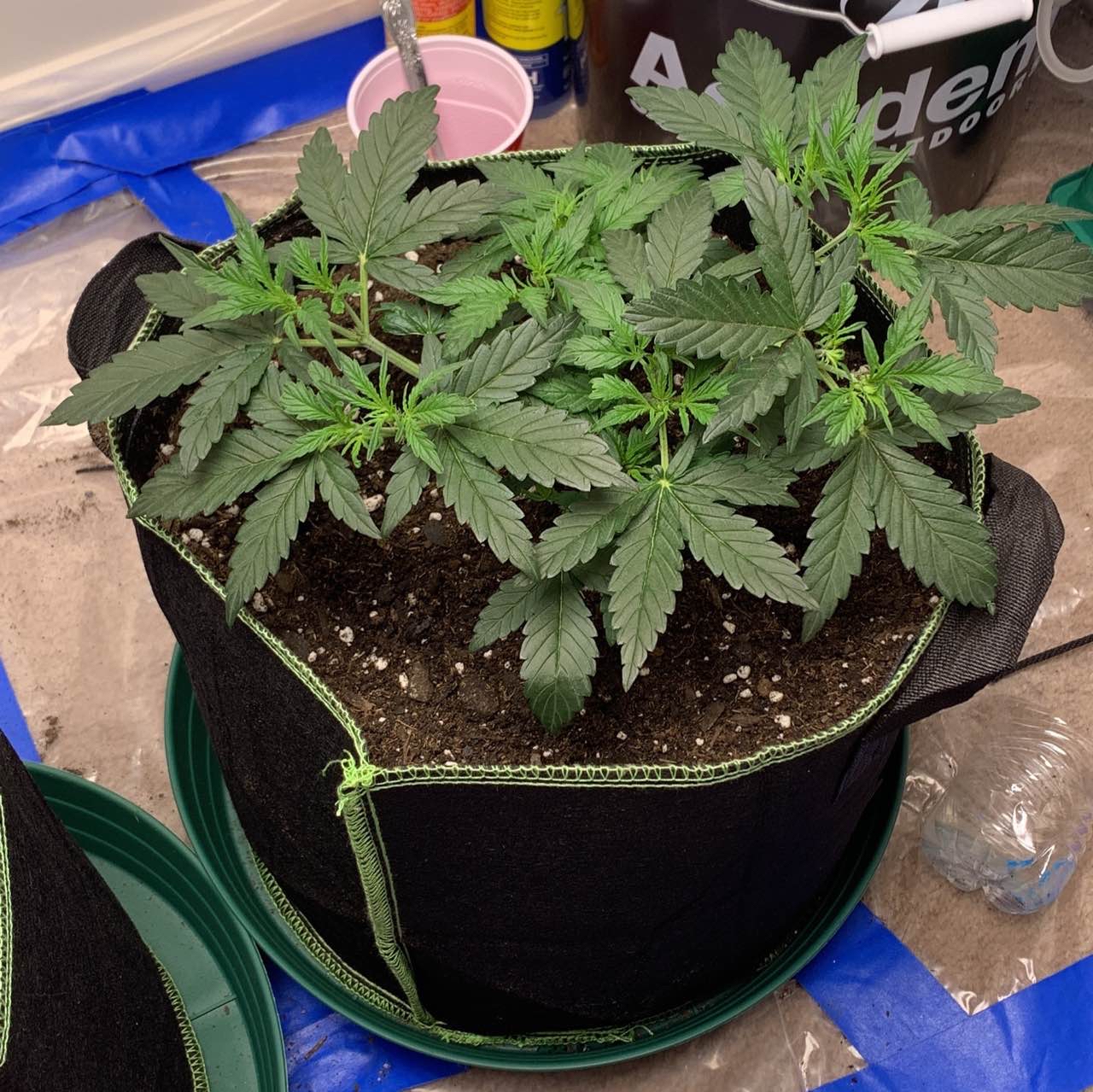 I swear that defoliation was so good for them the fan leaves that grew back got so much more bigger
3 years ago
How am I doing 😅😅✊🏼
3 years ago
This one just needs some love 😘😘
3 years ago
Spider farmer sf4000
3 years ago
I defoliate some of the leaves and trellised again to expose more light to the future flowering spots
3 years ago
mystrain420 Thats called lst not trellis. A trellis is a net like the ones used for scrog and other types of support training.
I'm might start adding a lil calmag
3 years ago
mystrain420 She look great, especially for a first grow 👍🏾
The new growth looks a lot better than what it did
3 years ago
longshadow What strain? Is that a pure indica? I want to grow something with fat broad leafs like that.
They are on 18-6 light schedule
3 years ago
bumper101 Why? They need to respirate, but they don't need six hours. If you can improve anything, it's increasing the growth sites for buds by adding lumens. You'll end up with a lot of plant and less bud. I'd give her a couple hours, and blast it with lumens. Increase the sites and get light through the canopy. Good luck! 👊
This one is sick🥺🥺
3 years ago