Bubba Kush
May 2021
5x5x7 grow tent with led grow lights. Ventilation system , humidifier and fans.
Bubba kush auto flowering
Final week until they get the chop. Flushing for a week, one more to go. Happy with how they turned out.
a year ago
mattekar This is Majestic bro congrats!💪
emd555 Holy crap day 137?!?!? This monster looks great!!!
Going to start a one week flush in a few days then they are getting the chop. Did heavy trimming on all the fan leaves to give the buds more light. Buds are filling out and full of turpentines. Feeding them advanced nutrients 3 part nutrients along with terpinator and monster cal. Also started 4 clones from two different strains of photos.
a year ago
Just under 3 weeks into flowering. Had a thrip problem but used insecticidal soap on the leaves and it seemed to kill most of them. Checking them regularly for any more. Started using terpinator, cal mag and three part nutrients. Seem to be budding pretty decent so far.
a year ago
Plants are blooming nicely. Topped soil with some fresh earthworm castings and going to start feeding terpinator along with my 3 part nutrients. Ph is at 6.8
a year ago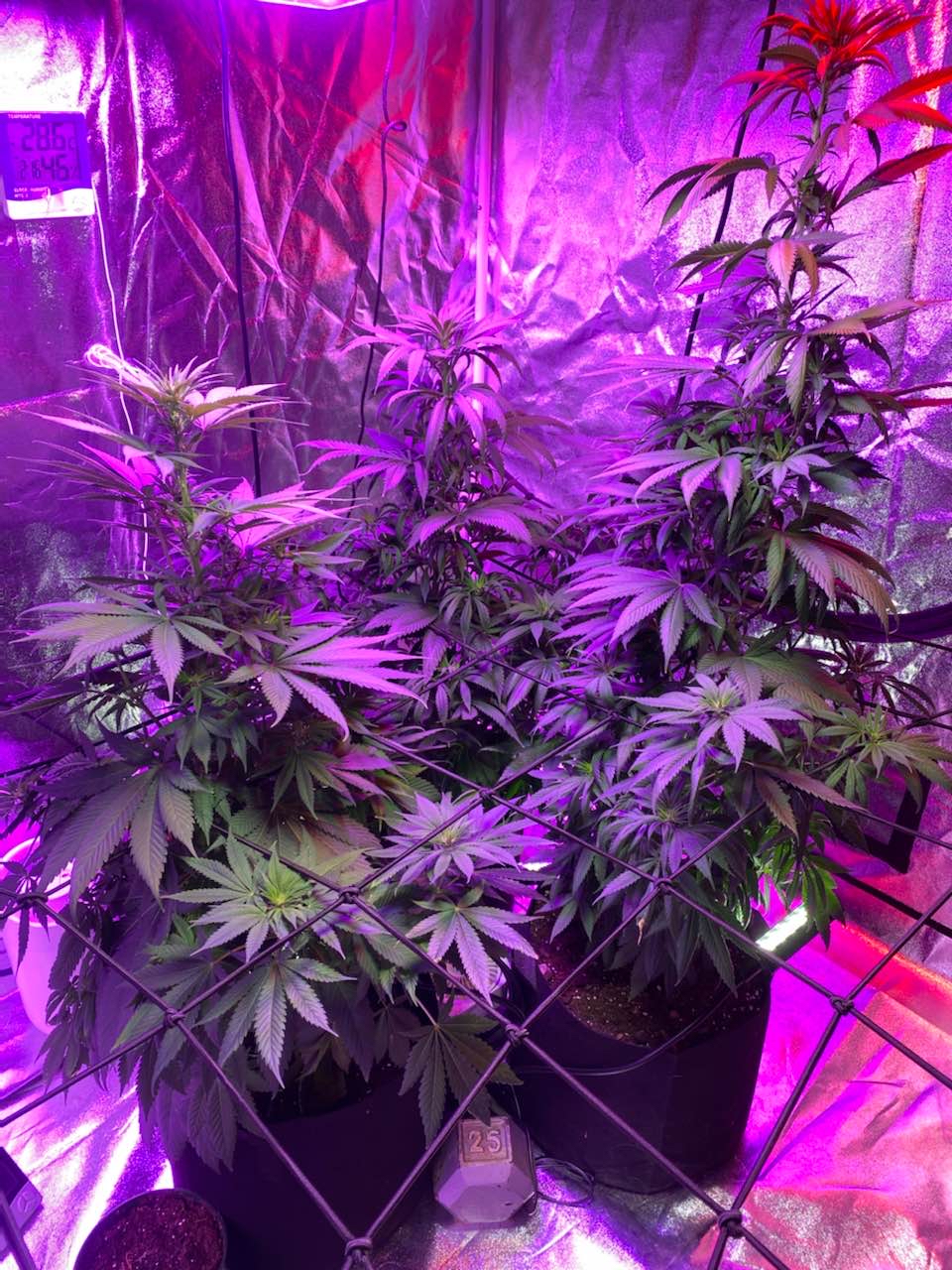 My plants just started flowering. Starting to think they were photos instead of autos because as soon as I changed to 12/12 they started blooming. So another 40-50 days till harvest.
a year ago
alexisr87 What's the difference between auto and photo?
Tanglez Where'd you buy these. I have a purple haze "auto" from 207 Genetics that is not even as far along in flower as yours and it's a week older fml lol
CannabisCaleb Auto flowering means the plant will flower after a certain time regardless of light cycles or temp. Photoperiods will continue to stay in veg until light cycle is switched.
View 3 additional comments
Late to bloom for a auto strain. Just started seeing pistols growing in. Hopefully will get a good harvest with the extra veg time. Tallest plant is 2" under 3 feet. Feeding full nutrients and earthworm castings. Ph level is at 6.9.
a year ago
Growing beautifully in 5 gallon fabric pots, perfect ph nutrients, worm castings and lots of light 🤤
a year ago
The fan leaves are massive on this one.
a year ago
Looking healthy 🌱
a year ago
Starting small amounts of nutrients every 2nd day
a year ago
Mystrain420 That's coco, your supposed to feed from the start since it's inert 👍🏾. Doing good
View 3 additional comments
Two are out of the soil. Last one is almost up 🌱🌱
a year ago
48 hours after putting seeds in soil my first girl is coming up!
a year ago