tokasmoke
Clone Guys OG
Clone
Started this clone at 5 1/2in need soil and 5 gallon pots clone and nutrients rockwoool
We are approaching the end here and the plant is looking super healthy.I fed the plants about a day ago but it was very light .Start recording everywatering and feeding and light cycles
3 years ago
Well we are 3 days into my 100watt led light transfer from outdoors and DAMN ITS LOOKING GOOD last height was 16.5-17 inches
3 years ago
Well now we are indoors under a 100w led .Just one light cycle and I can already tell the difference.Outdoor plants get big but the growth is way way slower.Plant height is 16.5in and we are in the bud flower cycle.
3 years ago
We are at 13.5 inches in height and lots of new kola growth . It's in the perfect stage for cloning but I need Rockwool .Plant is getting very bushy I'm about 10 days I must change light cycle to 12hrs on and 12 hrs off need a pitch black place to put it
3 years ago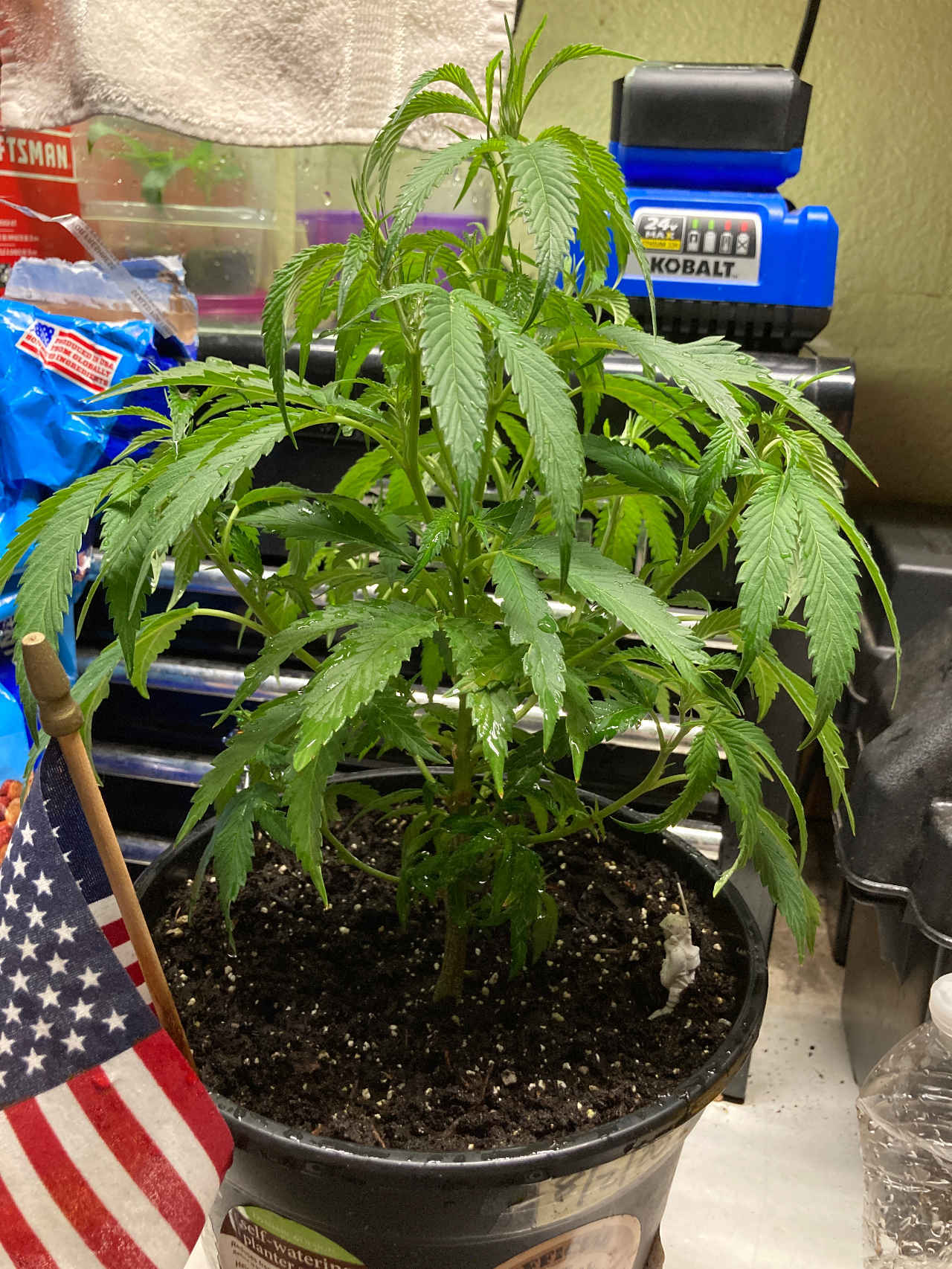 We are in the fast grow stage need a bigger pot and soil .Plant looks to be growing at least a inch and a half a day along with new growth everywhere
3 years ago
Started less water cycle and the plant is doing great now I trimmed and prunes it but what to top it to stress grow it or lollipop the plant
3 years ago
Need bigger pot
3 years ago
Growth is really accelerating plant is sucking water at a good pace need some more soil and liquid nutrients also some 5 gallon buckets to transfer into asset
3 years ago
I took 2 clones on day 30 from the bottom of the plant they look good and plant is starting to grow a lot faster need to buy some more soil and some liquid nutrients plant is around 7to 8 in tall
3 years ago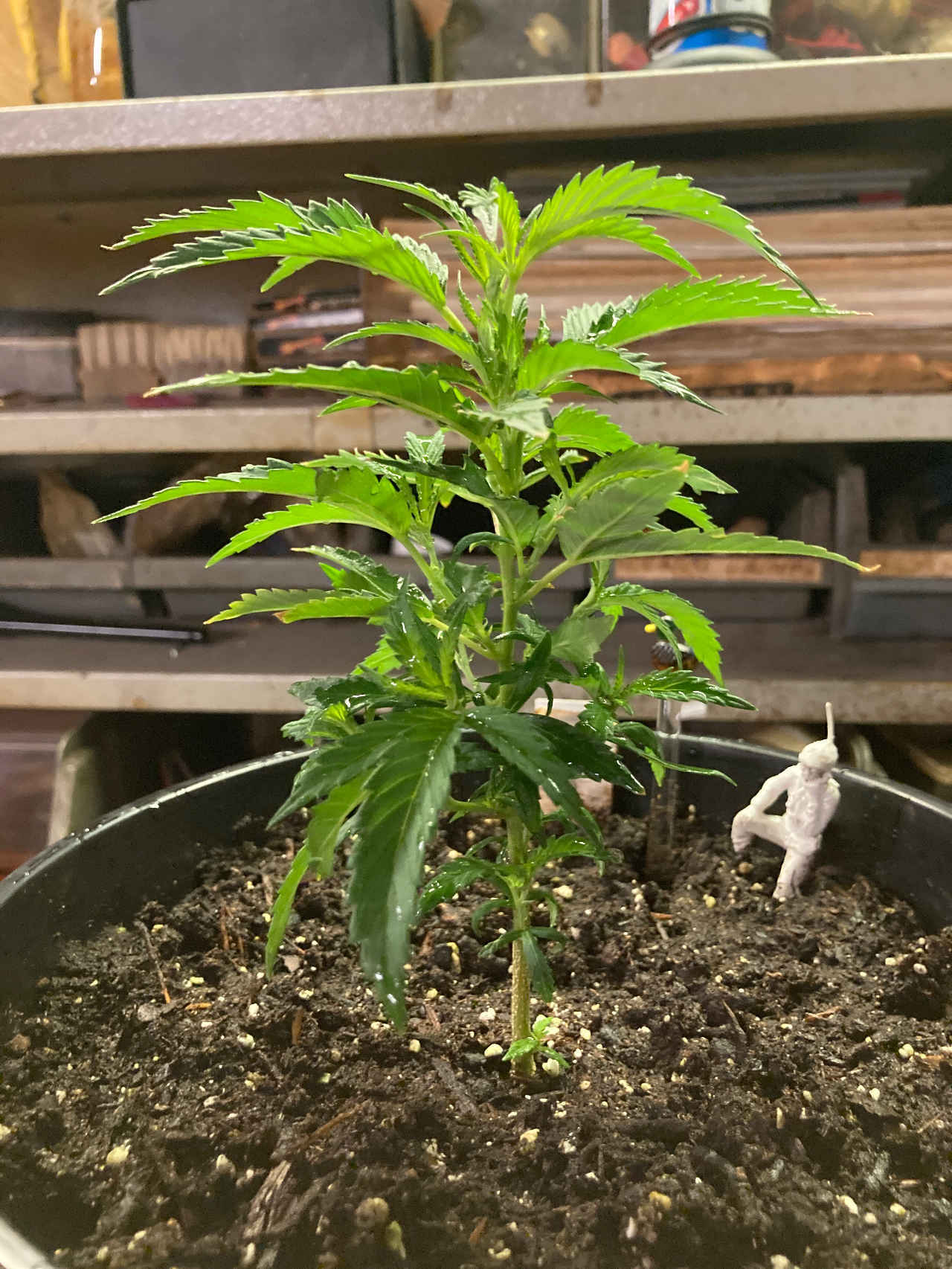 The days are still 💯 plus degrees but close watching and more water has helped .Need to get some liquid nutrients and food for the plant in the next 30 days along with more soil
3 years ago
Closing in on the 30 day mark and everything is looking healthy and great.New growth everywhere with nice dark green colors I can feel all the hairs on the leafs .Also I have a few spots to cut a clone but I am trying to wait as long as I can to not stunt the growth.This should be a max of 90 days but hopefully sooner
3 years ago
Lookin good still hot plus 100 but where making do
3 years ago
IDanielson Looks like she's taking. But Honestly, my $180 indoor set-up from amazon has my seedlings and my clone thriving!
IDanielson Watch on the watering. My clone had a bit of brown on tips from overwatering last week or so
In a current heat wave of 💯 degrees plus some leaves look a tiny tiny bit burned at the tip nothing big and easy fix.I can cut a clone right now but am waiting .This plant is super dark green now .Also I need that growing light
3 years ago
Looking healthy with lots of new growth keep up more water and water in the resivoire
3 years ago
Another very very 💯 plus degrees day plant still good lots of new leaves growing off main stem color looks healthy
3 years ago
Trimmed 3 bottom leaves for better growth the days have been 💯 plus degrees so I need more water
3 years ago
Plant looks like it's recovered from the dogs tiny mishap .The days have been very hot need to get water schedule better .Lots of new leaves growing out .Need to trim bottom leaves it looks like they are going to fall off soon
3 years ago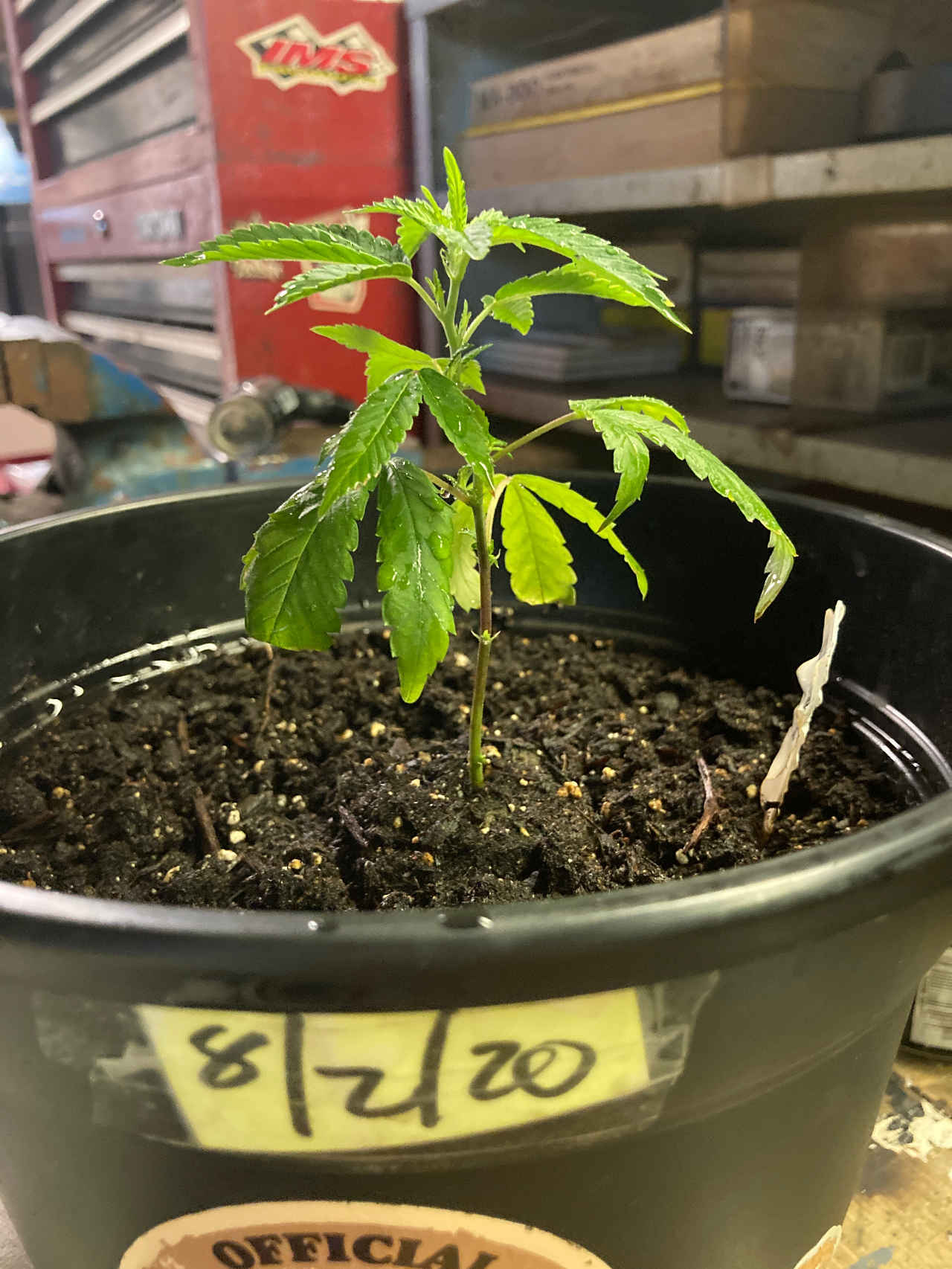 Plant is taking way more water my bottom 2 leaves are about to fall off I should trim them.Still at 5 in but becomeing way more bushy.Need to start getting liquid nutrients to help growth
3 years ago
We have some new healthy growth more leaves .Soon I need to trim/clip the main stock for a clone but it's still to early .I feel like I have been under watering the last week and now since I see more growth the watering is being used fast bu the plant.Also I have been filling the resivore half way on the bottom and in 5 to 8 hours it's gone .Hopefully my light comes soon so I can explode the growth
3 years ago
Plant is about 5in lots of new growth and plant is taking more water now.Little leaves are popping up everywhere .Maybe soon I will trim and clone .
3 years ago
More and more chutes growing ,bottom or lowest leaves seem like they are about fall out .All new growth is very dark green .This OG STRAIN is a 3 LEAF STRAIN.It finally seems like this plants growth is speeding up .Next few days should be interesting must get my light and tent
3 years ago
New chutes dark green leaves .Soil looks good root growth seems slow maybe get some liquid nutrients mix with the water. The assoible 600w grow light on the way with tent I need some 24 hr sun and some fox farm soil
3 years ago
Looks healthy still a slow growth but new shoots and dark green firm leaves look great 1st leaves are drooping but they should be trimmed
3 years ago
Day 6 slow growth but transfer was ok must keep in sunlight longer with a cool breeze.Maybe switching to indoor with new light TBC.Leaves are dark green
3 years ago
1st after transfer to SOIL also the BASICALLY DEAD MARATHON SEED IS ALSO PLANTED BUT NOT DOING GOOD .Water schedule under way 1st watering isn't 7am with 6 to 8 PZS 9f water.Plant is looking healthy with no shoots coining out .SOON AND I MUST TRIM T OK MAIN STOCK TO GWT BETTER GROWTH.👌🌱🌱🌱🌱🌱🌱🌱💰💰💰💰👏👏👏👏👏🙏
3 years ago
Transplanted clone into soil pot soil m.grow 2xperformence organicas .Water schedule coming plant is stable I think
3 years ago
Need to transfer clone from grow cube to 5 gallon plant pot .Everything still very healthy
3 years ago
Still no soil transfer roots very good DAY 2.5
3 years ago
Roots looking healthy ready for transfer
3 years ago
Day 1 no soil yet
3 years ago