rinfante93
Cheese AUTO Seed-Harvest
ILGM Cheese
Two white widow seeds germinated/sprouted in rapid rooters. Will be using either 2 or 3 Gallon Pots as Final Resting Pot. Any help is Greatly Appreciated. Beginner Grower. 1st Time Seed to Harvest, have only grown from Clone stage before.
Today's the Chop. My Goal is to use 14 Grams to make 4 different types of THC/Canna Vape E-Liquid. 1: 100% Vegetable Glycerin 3.5G Flower 90 Days 2: 100% Propylene Glycol 3.5G Flower 90 Days 3: 50% Vegetable Glycerin 50% Propylene Glycol 3.5G Flower 90 Days 4: 30% Vegetable Glycerin 70% Propylene Glycol 3.5 Flower 90 Days Propylene Glycol is believed to have a harder throat hit. Vegetable Glycerin is known to produce more vapor. Let's see how everything goes.
5 years ago
Ducatiboy Just smoke it the way god meant it to be all flower. Decent grow, excellent yield make sure you fix the deficiency next round buddy. Ima sub up!
rinfante93 What deficiency, Sir? Potassium? It's really cold where I'm at now high 40's early 50's.
Ducatiboy The cold explains the purple, could be cal mag and nitrogen just not enough it happens a lot with indoor grows. Could be the plant didn't have enough food or wasn't being fed enough. You'll see in my threads my plants are usually green even after a flush for a week. Once i chop then they'll go yellowish because its draining all the good stuff out.
View 4 additional comments
11/08/18 Drying has Begun 8-14 Days 'til Jars. 11/16/18 - 11/22/18 ✅ *Smells Very Nice =.] Space Heater on 78 placed behind running 8p.m - 8:00a.m Fan on Low running all day.`-_-' Outside temp for upcoming days 40-50. Will be Making THC Oil from Popcorn Buds Only. This Round with Pure Vegetable Glycerin.
5 years ago
Soil still damp but it is cool now so that seems right. Cheese smell is pungent. I've flushed with water and bat guano last week, not sure if I should flush once more? Don't think it's needed. All pistils are amber, & absolutely no sign of white pistils except on baby buds.
5 years ago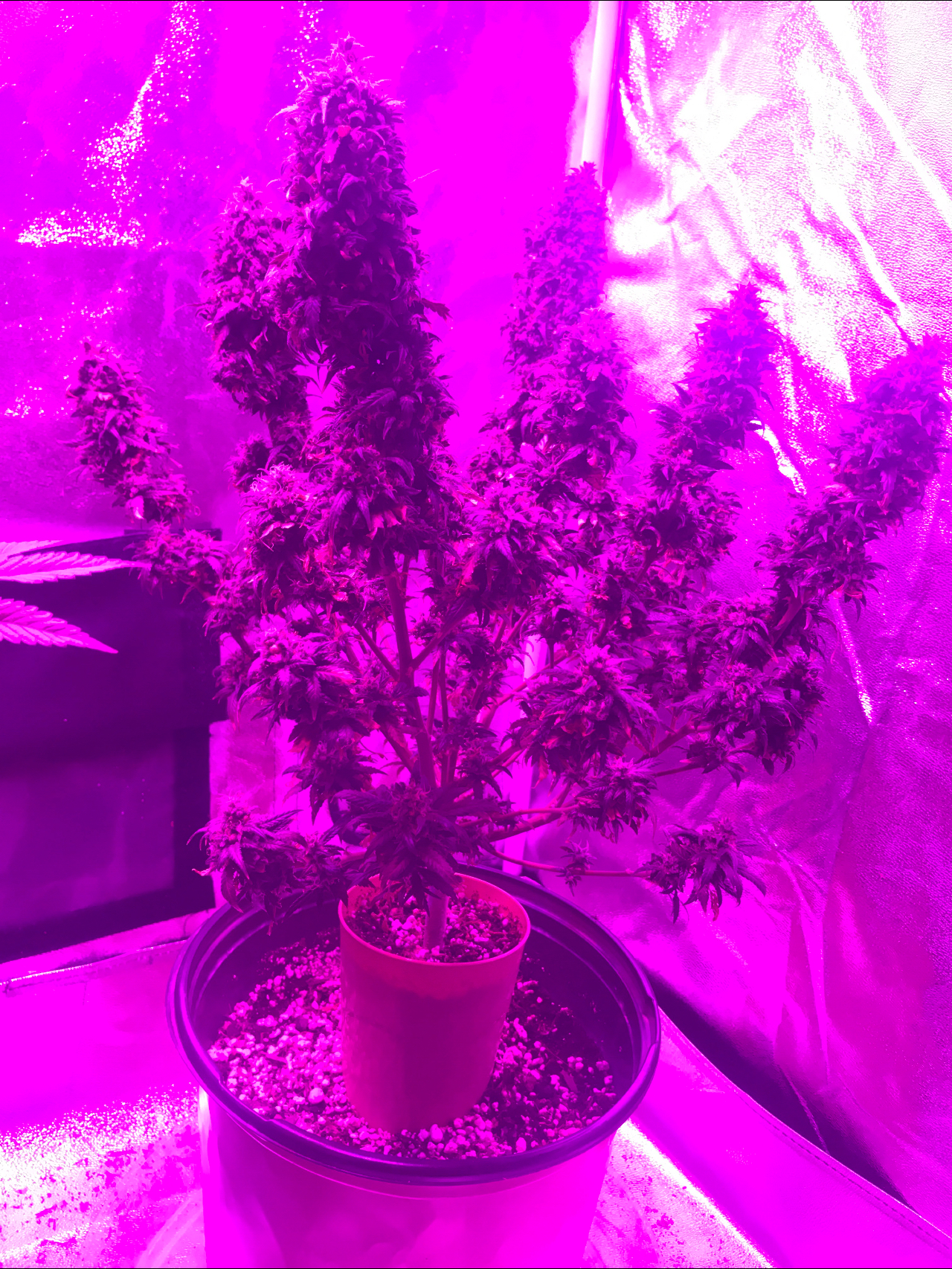 Must check trichomes. Another 10-12 days 'til Harvest. Maybe 1 more watering if before 11/10. MAYBE.
5 years ago
Buds looking frosty. Looking to pull 11/10-11/14. Flushing begun today with a 1.5 Tablespoon Bat Guano-Water PH'd (6.0) Solution. Added Bat Guano to improve and enhance trichome production. Only water 'til Harvest. MUST LOOK AT TRICHOMES.
5 years ago
Will water tmo: Tmo begins 2-Week Flush. 11/13/14-11/14/18 - Harvest.
5 years ago
HendrixKush How many times do you flush your plant during veg
Ducatiboy You shouldnt have to flush in veg at all haha. Unless you want to do that before you start giving it flowering nutes
rinfante93 I have never flushed during veg. Beginner.
Watered Full Nutes. Last Nutes. 1-2 More watering WATER before finishing it off. These were 10-Week Plants and going on it's 14th week now. Should be done within 15 days. 10/24/18.
5 years ago
Plant looking nice. Will check trichomes tomorrow to know if she's ready. Will water from now until harvest water only. 10/22/18
5 years ago
Watered 1/4 Gallon with Nutes. Hoping buds fatten up in the last 2 weeks of flushing. Next check up will be checking trichomes. Smells very dank. Just in time for Danksgiving. 10/20/18
5 years ago
Been very careless with it. One of the plants was badly injured and had decent sized buds so it's been drying for a few days now. Might be going on 2 weeks. Just watered, water only. About 10 days since last watering. =.[ Hopefully she has enough Lige and I will treat her with Love and she can make a speedy recovery! As for the plant still intact. Watered about a gallon water only. Nutes tmo. Should dry out since it's been thirsty all these days.
5 years ago
Colas looking Nice 08/28/18 Nutes Watering tomorrow. Will prepare tonight.
5 years ago
Plants seem very healthy & thirsty. Lol. Was away for work couldn't attend but they seem pretty much in good shape and it smelled Super Green when I stepped in. Will be feeding with Nutes ASAP. Most likely Sunday. 09/22/18
5 years ago
Fattening lengthening.. watered. Water only. 09/17/18
5 years ago
09/14/18 Have spoken with fellow connoisseurs and they've advised me not to worry as the plant cannibalizes itself in it's final stages. These babies should have 2-5 Weeks 'til Harvest. Watered with full Nutes.
5 years ago
09/13/18 I believe plants are self-cannibilizing and recovering from light burn. PH may be off and soil may not be absorbing nutrients. Last time watered only no NUTES, will water with Nutes now hoping it will strengthen the plant. *No Ph Meter Will be watering with Nutes tonight.
5 years ago
Plants need to recover from light burn but supposed to be ready for harvest soon. Hopefully everything gets better. Watered Only Water 09/07/18.
5 years ago
09/01/18 Watered - Full Nutes
5 years ago
Watered plant with full Nutes. Seems to be growing vigorously as I had hoped.
5 years ago
Leebobo This is about same size as min. Mine has been grown from seed since july5-10 and is in week 2 or 3 of flower .
rinfante93 I wasn't able to have it on 18-6 Light for like the 1st 3 Weeks... But to me, she seems good. This is my 1st Auto. Please do elaborate if you see any improvements I should make.
rinfante93 They're just now starting to Flower. =.]
Plants seem to be growing at a nice and timely rate as seed company predicted, may be 10 Weeks Harvest. 70 Days.
5 years ago
Watered plant with full Nutes. Plant looks well fed, leaves upright color dark green. Before and after pic. Sprayed with Neem Oil to prevent pests/infection.
5 years ago
Top plant growing bushy. Bottom plant has/had small grasshopper-like insects. Will be spraying both with Neem Oil once again in 3 Days at day 41.
5 years ago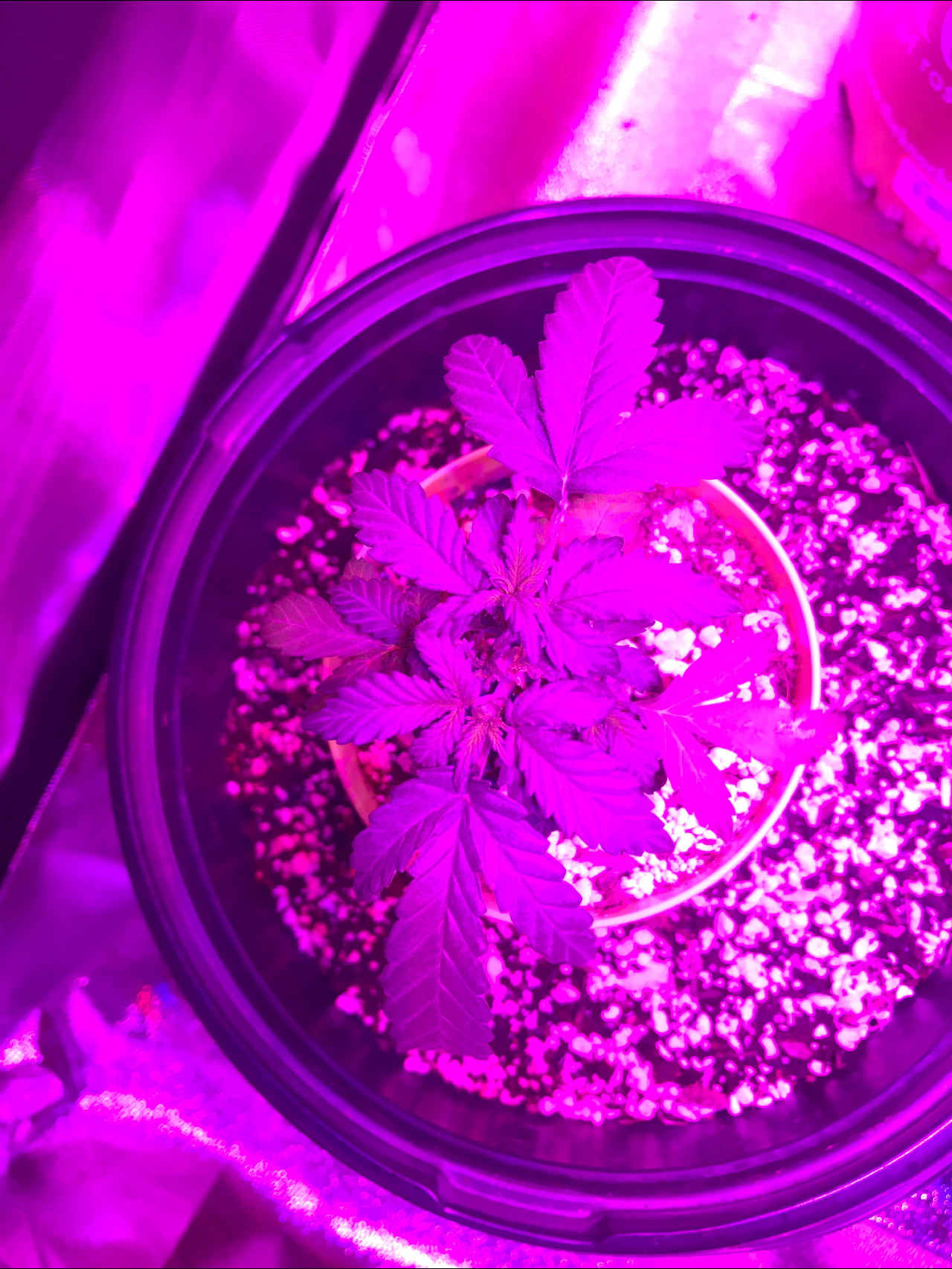 1st Plant: Added full Veg recommended Nutes, hopefully vigorous growth soon. Within 3-5 days type of growth soon. Speedy growth. Looking full as can be though. 2nd Plant: clean/organized grow. May be recooperating from spider mites, which I highly doubt. Most likely baby grasshopper. *Sprayed Neem Oil+ Insecticide Soap to prevent/kill pests. Added full recommended veg Nutes.
5 years ago
1st Plant:Had it on 12/12 for about 1 Month because of elec. bill. Now on 18/6. Feeding 1/4 Nutes. Will be feeding 1/2 Veg Nutes soon until flowering. 2nd Plant:Same. But upon checking I noticed a small Grasshopper-Like creature, green and all. Some white spots on plant have worried me. Plant fully matured at "70 Days" Almost 1/2 Way there hopefully see rapid vigorous growth soon.
5 years ago
Began feeding Veg Nutes Fox Farm + Bat Guano. 6 Nodes On each plant. Began watering second pots for root expansion. Upward growth is steady. Will no longer be an outside grow. Under 90W Light 12/12 for now.
5 years ago
Plants seem to be growing steadily. Hopefully vigorous growth soon. Started watering second pot on bottom, hoping for rapid root expansion to expedite upward growth. One of the plants had a white hair on it and I went to grab it and ripped a piece of leaf which shouldn't negatively effect the growth given it's got three other full leaves. *Top 1: Bigger Bottom Pot
5 years ago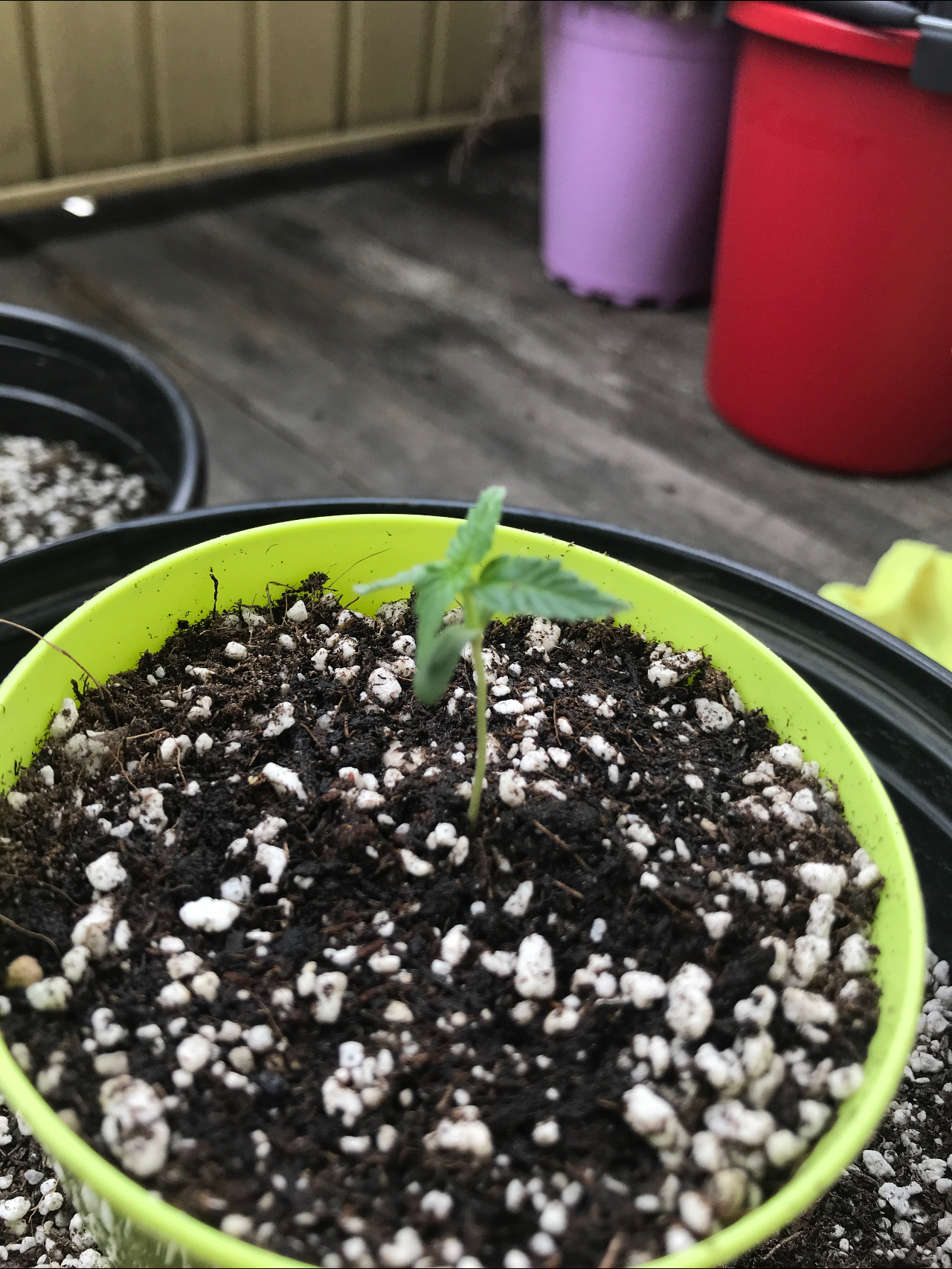 Plants now have 4 Leaves each excluding the 1st set. No nutes yet. Most likely/maybe tomorrow.
5 years ago
Plants are growing steadily. Seeing steady growth. Slowly but Surely. Move inside/outside: Sun & Fluorescent Light. No light schedule. No nutrients until 2 weeks.
5 years ago
I have placed rapid rooter (rootball) in Organic Medium filled Pots. I am doing this method because it promotes root growth and expansion. *Will water green cup only for about 2 Weeks. Then will water bottom pot in 3rd weekish. *1/8th Veg Nutes applied.
5 years ago
The one in the purple cup's roots are dashing upward. Xfer to FRP ASAP.
5 years ago
Both sprouted but the pink cup one was kinda bent or idk stuck in the hole so I helped it out and came out like that so far.
5 years ago