Tropicanna Poison F1 Fast Version
Sweet Seeds - Red Flowers
F1 Fast version with faster flowering cycle. This is a hybrid 60% Indica and 40% Sativa. THC: 24% with extremely high terpene levels. This is a cross between Tropicanna Cookies (Girl Scout Cookies and Tangie) with Red Poison Auto.
Tropicanna Poison F1 Fast Version
Final weight dried and cured: 13.25oz of Bud and 8.5oz trim. Have to say this strain is not my favorite to grow. Tiny buds, not much weight. Have to see if it's strong enough to be worth the weight loss.
2 years ago
Harvest is just about complete. Will cleanup this last bit tomorrow only saving what I'm willing to trim at this point. Always my least favorite thing to do. So far I'm in about 9 hours to get this almost all pulled.
2 years ago
steezykayla Check out bowl trimmers! Takes hours out of trimming and let's you do ounces in minutes. Beautiful color buds btw
ryikk Thanks. I have considered going to a bowl trimmer.
Day 100 and I'm starting to see some color around bud sites. Using a loop you can see some of them getting a reddish purple color. This gives me high hopes for this run. Only a percentage of this strain end you with red flowers, so crossing my fingers.
2 years ago
This canopy is already thick as a jungle already. Guess I'll have to do a little more thinning this weekend.
2 years ago
Things are looking good. Had a slight rise in TDS yesterday but seems to have returned to normal.
2 years ago
NopeQQ What are these two white sensor Things? 😄
ryikk The white square that is hooked to the light is a Bluetooth controller (doesn't work as their software changed and it's been broken since) but the blue square is the temp/humidity sensor that generates the graphs I post
View 2 additional comments
Canopy is recovering after my massive thinning exercise the other day. Took 4 pounds of fan leaves out. Always do that once a grow and it always worries me if it will rebound but it always does. Starting to get some colas forming and based on initial coloring I'm hopeful for some red flowers.
2 years ago
Plan to do a lot of canopy maint this weekend. Time to thin things out so these shoots can get direct light. Also plan to clean up below the net as well.
2 years ago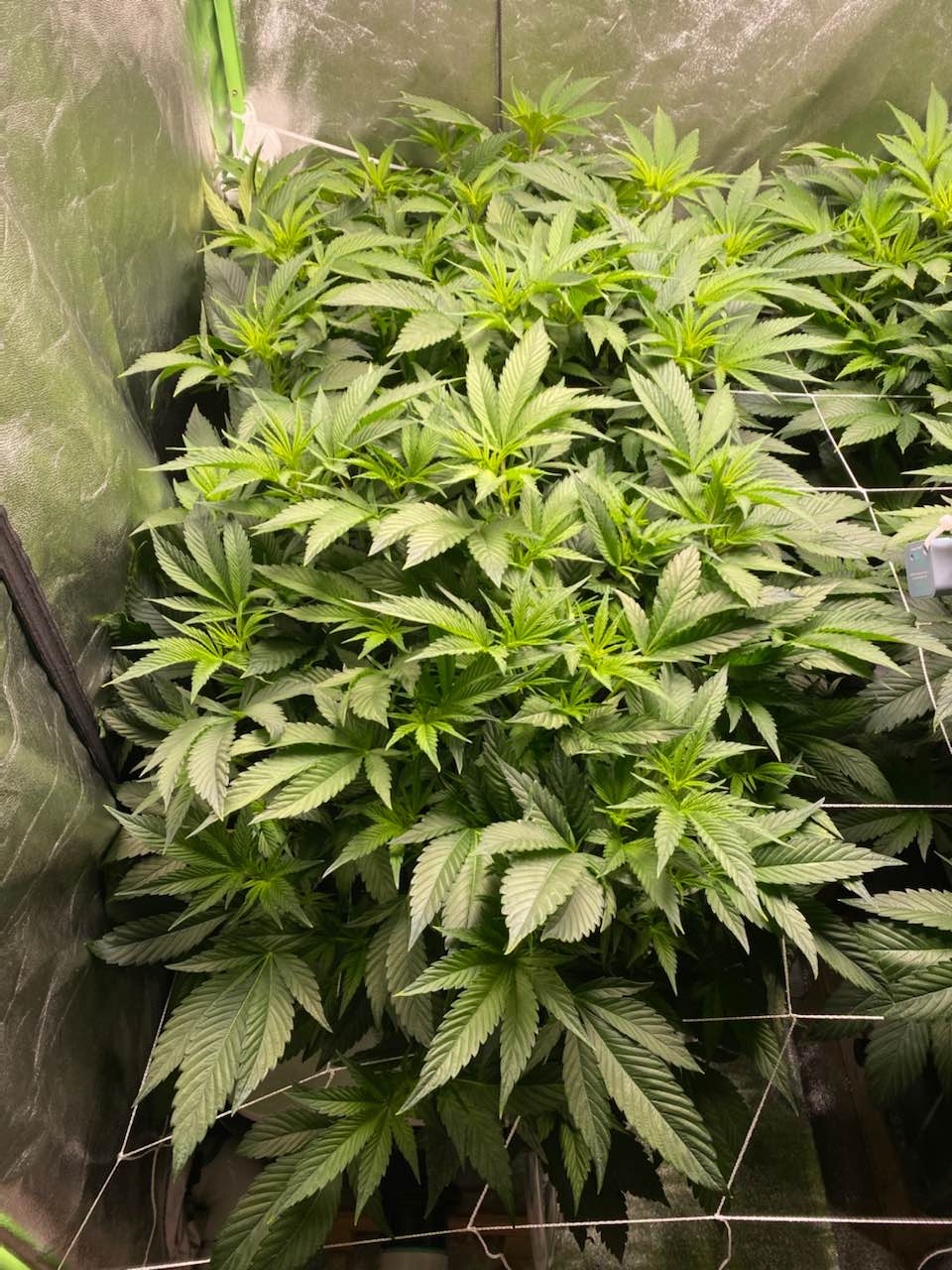 Water temps are up today (had to run the dehumidifier in the room with days and days of rain). Despite the climate changes the water parameters are holding nicely and canopy continues to fill in. Looking forward to doing some major pruning this weekend to really get the canopy opened up and some air flowing through it.
2 years ago
Things are moving right along. Training has been going great and the canopy is almost filled in. When that stretch hits this is going to be interesting! Water stats have been rock solid as well; steady ph with steadily declining TDS and my auto top off res is in steady decline (about 30 gallons this week). Thirsty girls!
2 years ago
ryikk Ph: 6.35 Water Temp: 65 TDS: 793
The end of week 3 of Veg and things are coming along nicely. This strain really was slow to start in Mother, Clone, and Veg stages. Really funny given this is an F1 "Fast" variety 😉. I'll either cut to flower today or next weekend, still haven't decided. Need to check some previous grows for tent saturation as I don't want the space under or over grown.
2 years ago
Finally up and running with the new Current Culture containers. This grow has been a long time in the work. Now to see these through the transition.
2 years ago
ryikk I run GH plus other stuff. It changes throughout my grow based on the week. Have a specific feed schedule I work from.
GreenBoy From Alabama Bet bet.. any advice you would give on this setup.. I'm about to get started myself..
View 3 additional comments
Cloning Day! So I decided to start a new grow log for this grow because I made mistakes on creating the mothers and root bound them in tiny pots, then had issues with my cloning machine (2 parts broke) so had to source parts. I also pulled the trigger on new Hydro containers (Went with Current Culture). So lots of changes happening! So here we go!
3 years ago