Sour Kush Auto
1st time grower
Air pot with coco coir mix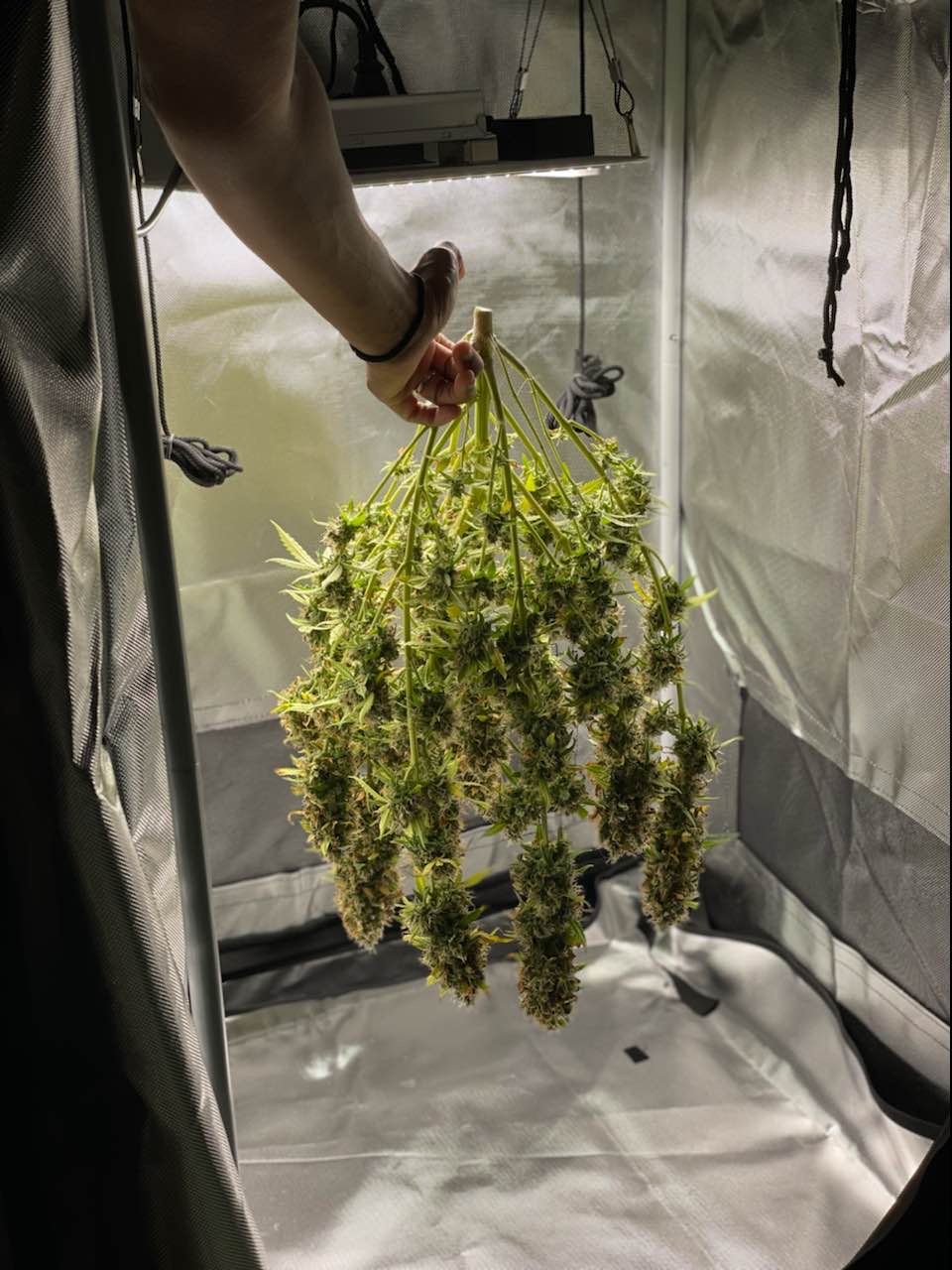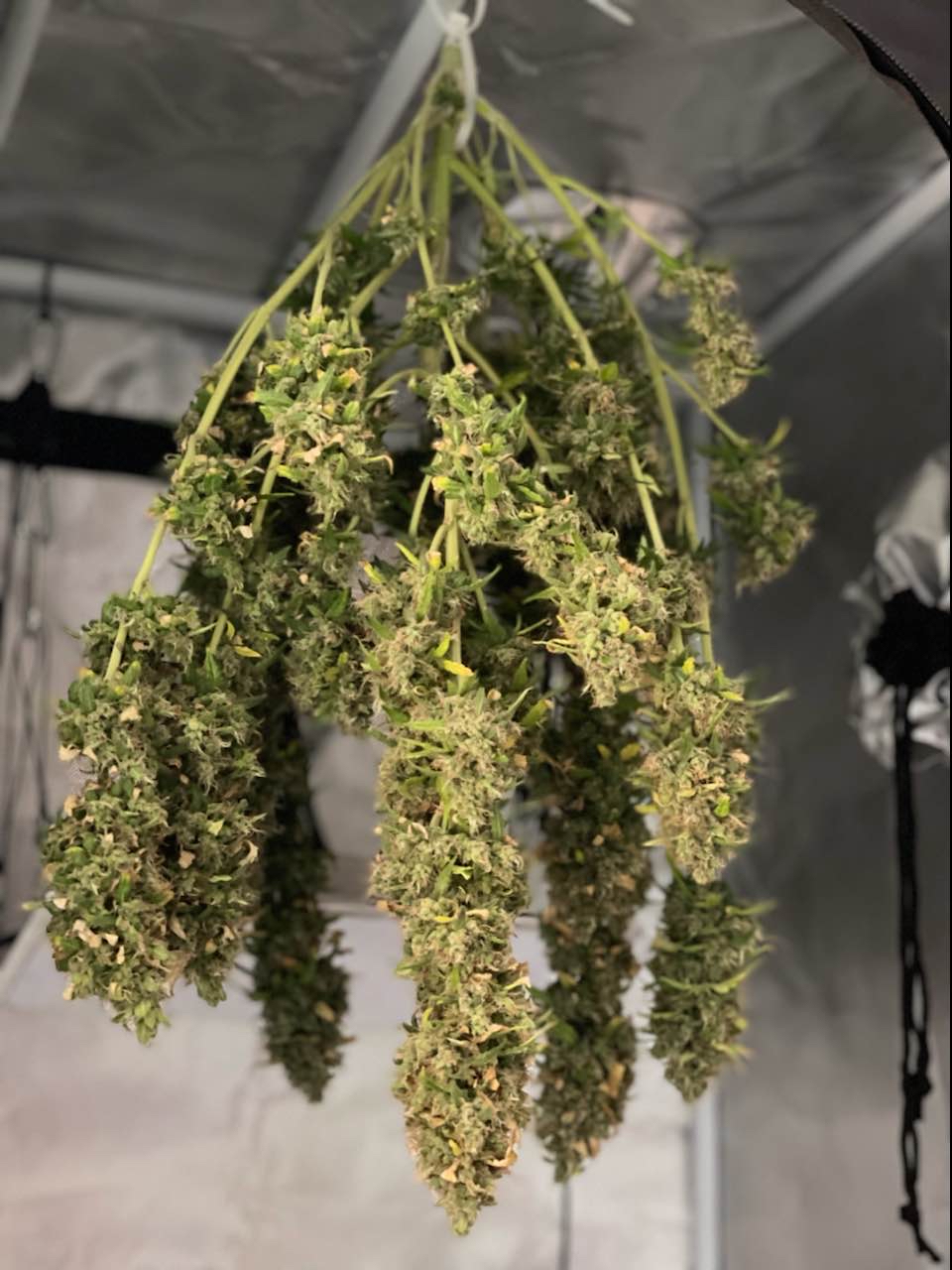 Hello 👋🏾 Harvest!!!
a year ago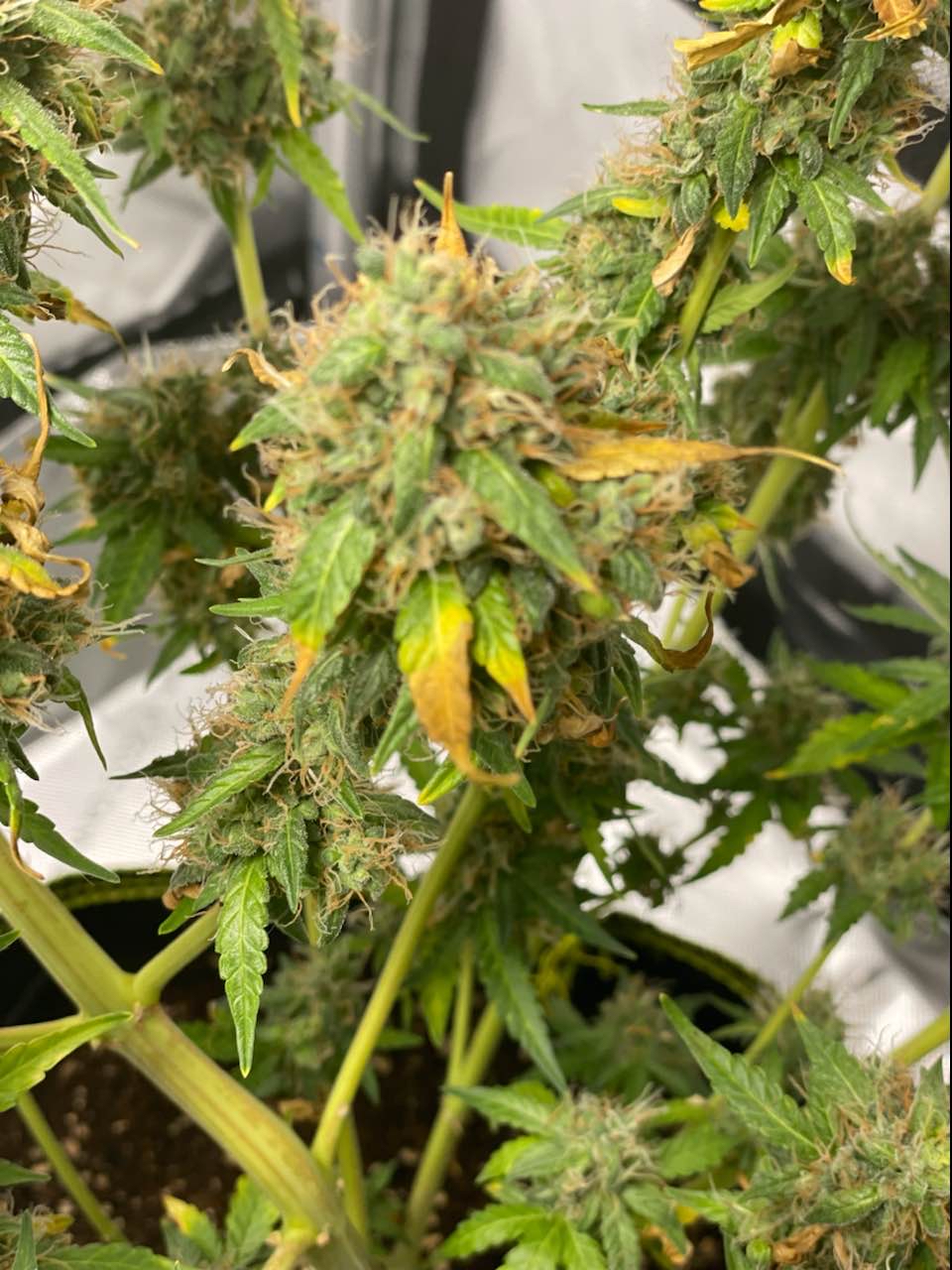 I'm currently flushing her right now to prepare for harvest!!
a year ago
I believe my ladies frosting 🥶 up nicely!!!
a year ago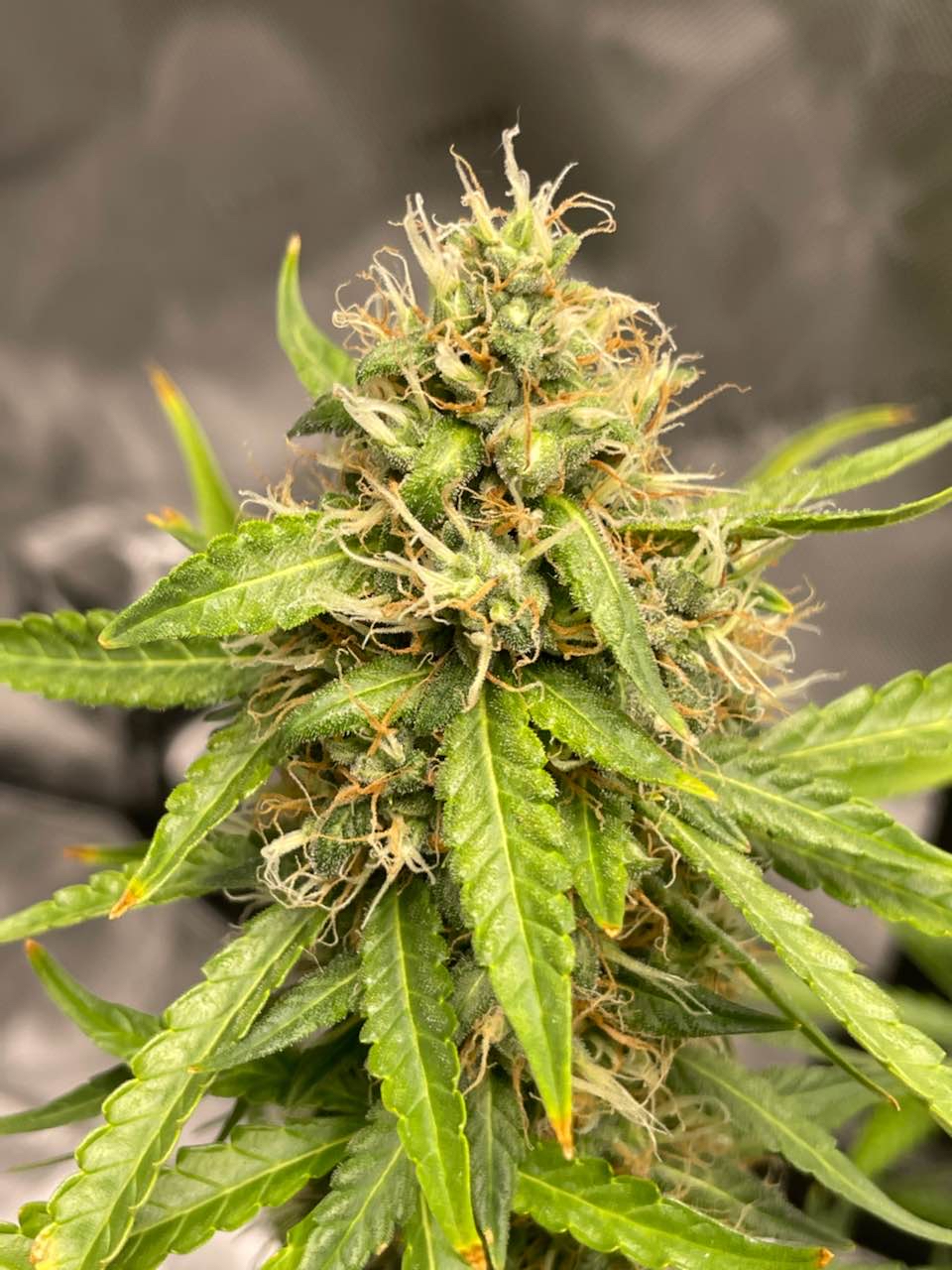 She's looking really good 👍🏾…I'm proud of self!! Patience is a virtue….Frost 🥶 on up love!!!
a year ago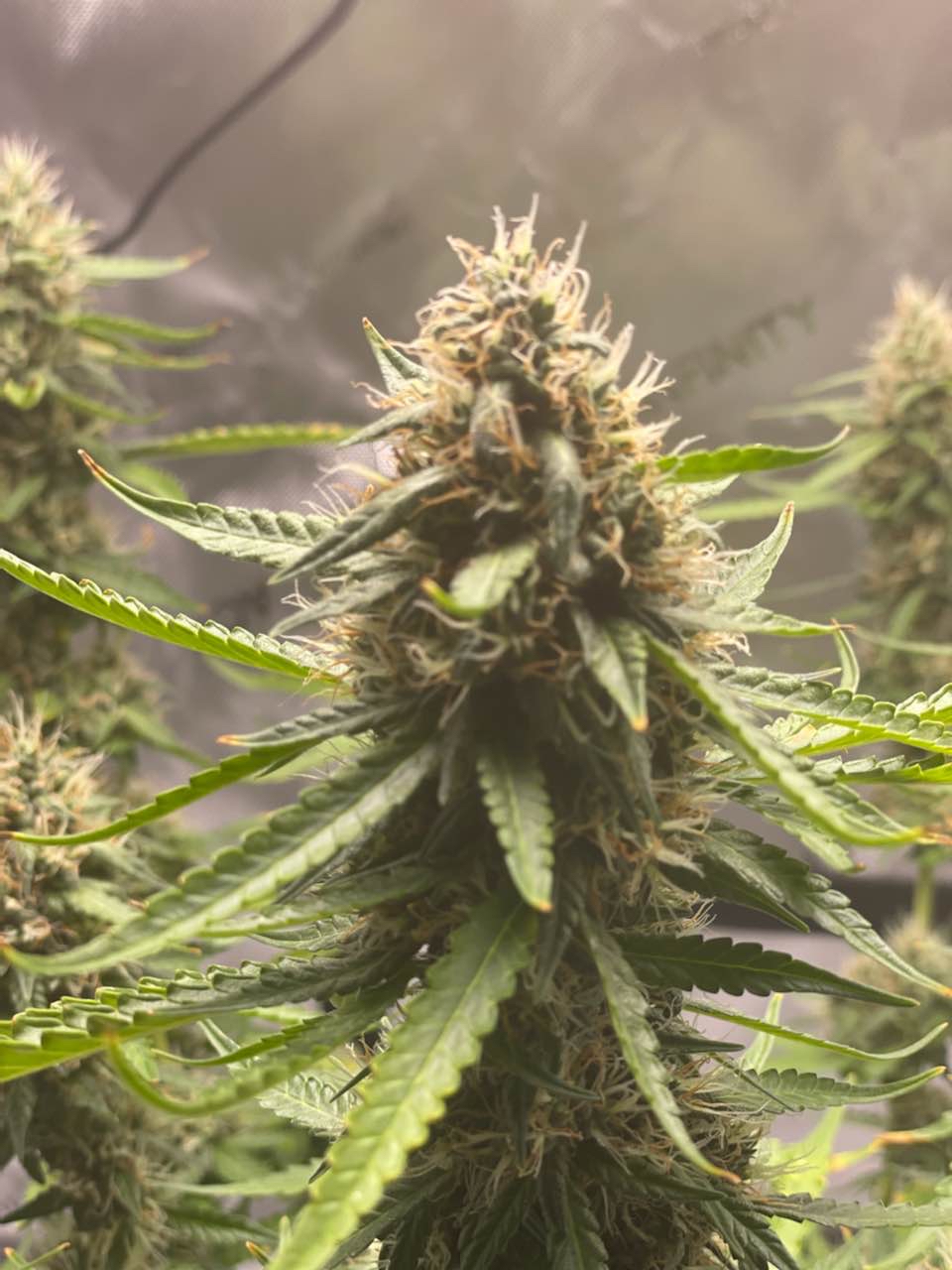 Just enjoying my baby continue to get more and more sooouuuuuurrrrr!!! The smell is an absolute delight!!!! And the friary is just packing on….I love ❤️ it!!!
a year ago
I'm enjoying watching her shine ✨ and her smell is soooooooooooo extra sour kush!!!!
a year ago
Thickening up nicely!!! Time is on my side…Just watching her do her thing 🧐
a year ago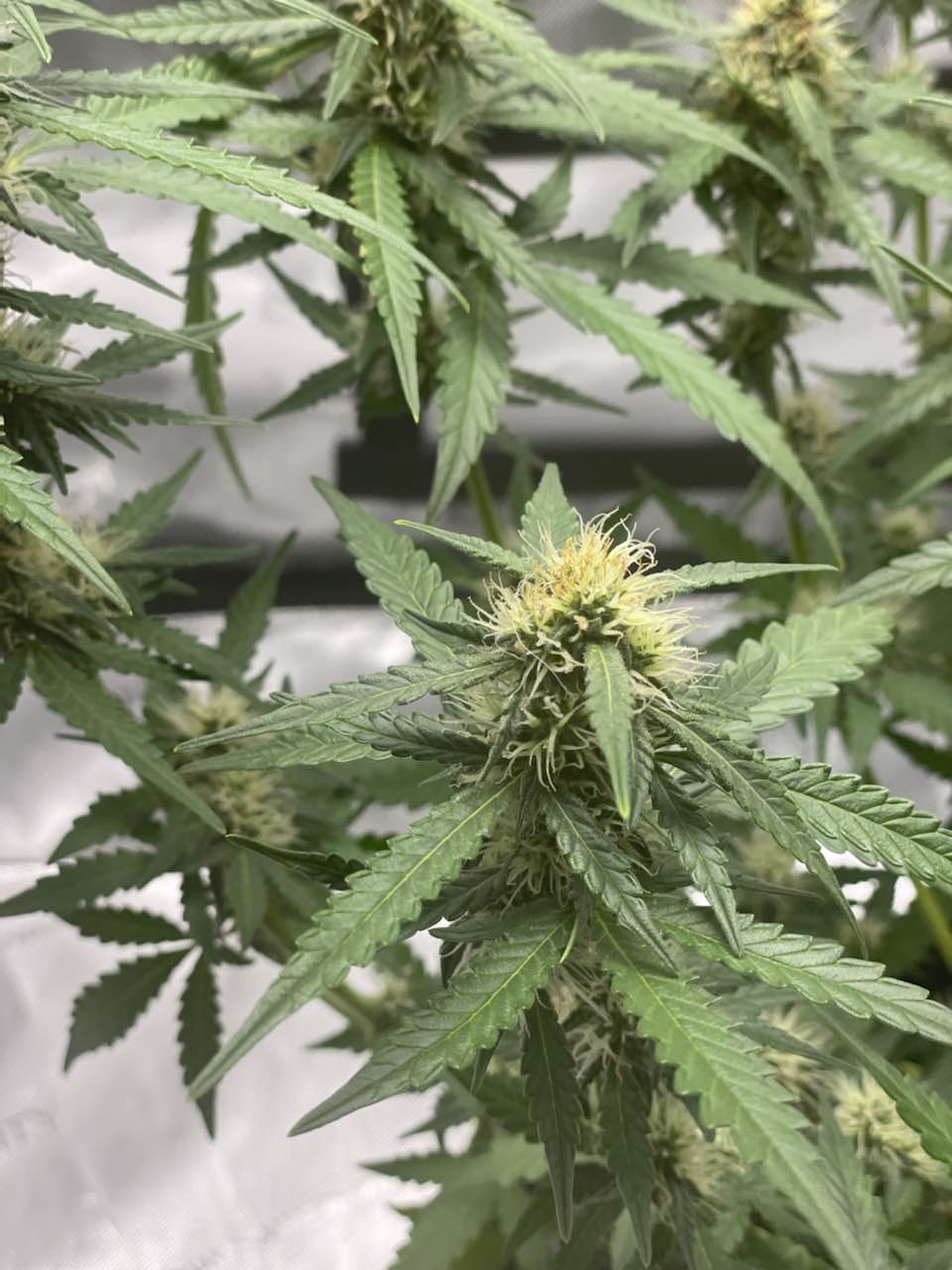 She's getting thicker and beginning to get some amber…I'm really really hype…any recommendations at this point are welcome…just currently watering with humboldts secret nutes…
a year ago
I think 💭 she looks pretty good for a novice grower half way thru my grow!!! I'm super excited about my progress!!!
a year ago
Prodigy She looks good for any grower! She should fatten up more closer to harvest too, she's a beauty!
Sauce1285 Thank you 🙏🏾…I'm hoping she continues to show me favor!!!
Prodigy If you can (strain depending of course) you could always drop your Temps a little lower top for flowering
View 4 additional comments
She's looking pretty good…I'm kinda proud of myself!!! Before and after I defoliated her
a year ago
My first auto baby is pre-flower!!!
a year ago
only1juice420 What was your feeding like at this point ? Did you still give a decent amount of nitrogen or did you cut back on it and bring in some bloom nutes ?
Sauce1285 I was using Humboldt's Secret nutes!! If you like additional info I can drop you the link to get a discount on them also
Sauce1285 https://www.HumboldtsSecretSupplies.com/?rfsn=5757997.fc8578 Use code: autosauce12
View 1 additional comment
Continuing my LST…all tips welcome 🙏🏾
a year ago
Open to any tips on my grow…let me know what y'all see!!! 🪴🌱
a year ago
auto active Looking good bro, you could chop a few big leaves off that's blocking sites but if it's your first grow I suggest you just leave it as it is and learn for your next grow
Sauce1285 I have pulled a couple off…didn't wanna pull them all and gonna try to get my LST going today
auto active Yh I see on your page, that's exactly what I was looking at good job. She should start to transition into slower soon, hopefully it's female
View 4 additional comments
Bring on the LST!!! At least my attempt 🙃
a year ago
Did a little tucking to allow light to access to smaller areas…seems to be working out so far!!! 🪴🌱…gonna try LST sometime next week
a year ago
Grow baby grow!!!
a year ago
Did a little bit of leave tuckin to get som additional light in to smaller areas…looks to be working pretty good so far…also received some nutes today!!
a year ago
Little lady strecthin out nicely!!! Enjoyin watching my babies grow…🪴🪴
a year ago
Night time 💤 photos be like!!! When's the best time to start LST!!! I don't wanna start to early and don't wanna start to late either! Help Me Please!!!
a year ago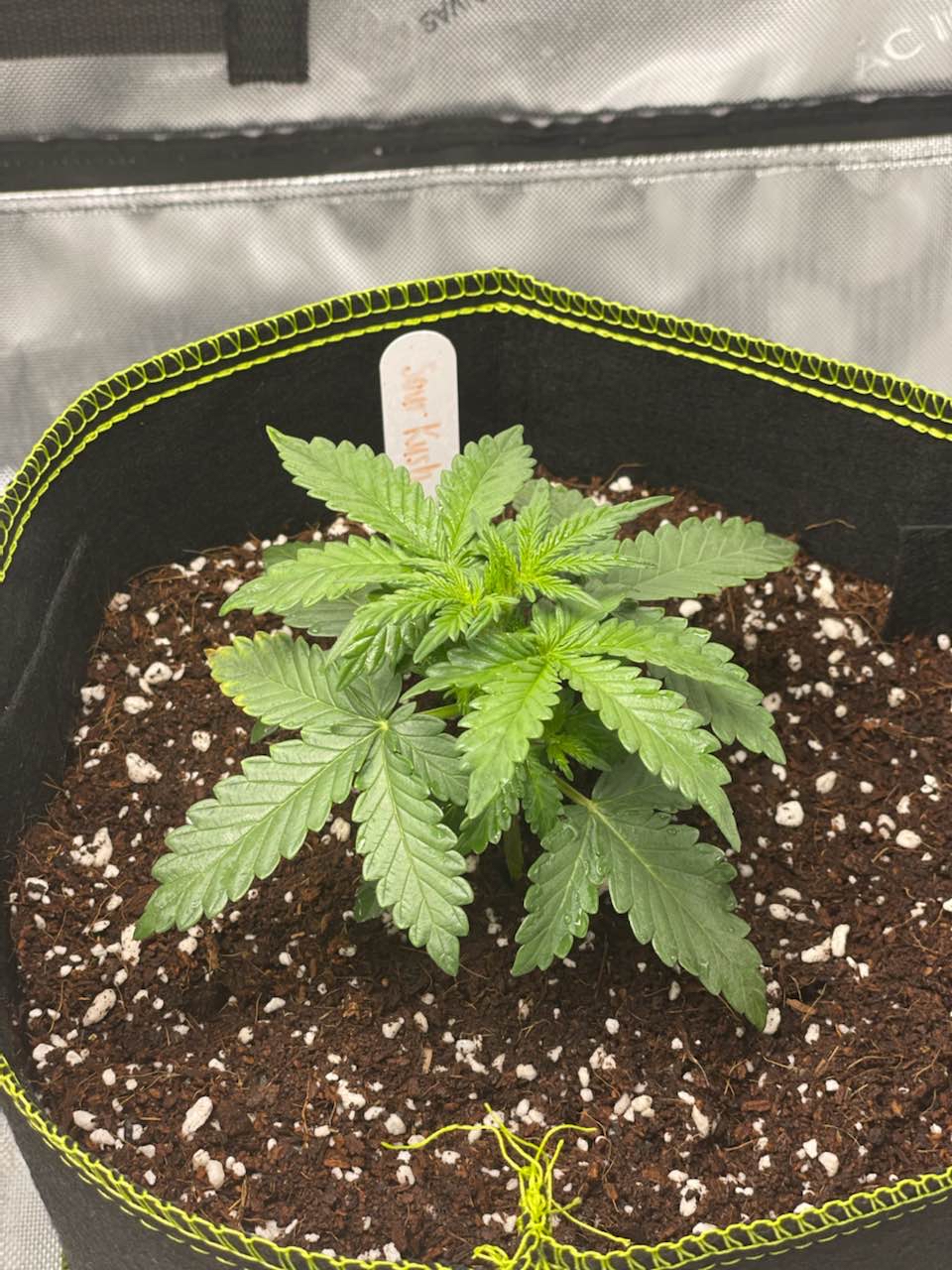 Day and night differences!!! Let's go!!
a year ago
2 wave of nutes today….I noticed my girl has a little burn one of her leaves…hoping that the nutes will correct that!!! Fingers crossed 🤞🏾 (Humboldts Secret)
a year ago
Good night from 1 of 2 of my ladies!!! 💤
a year ago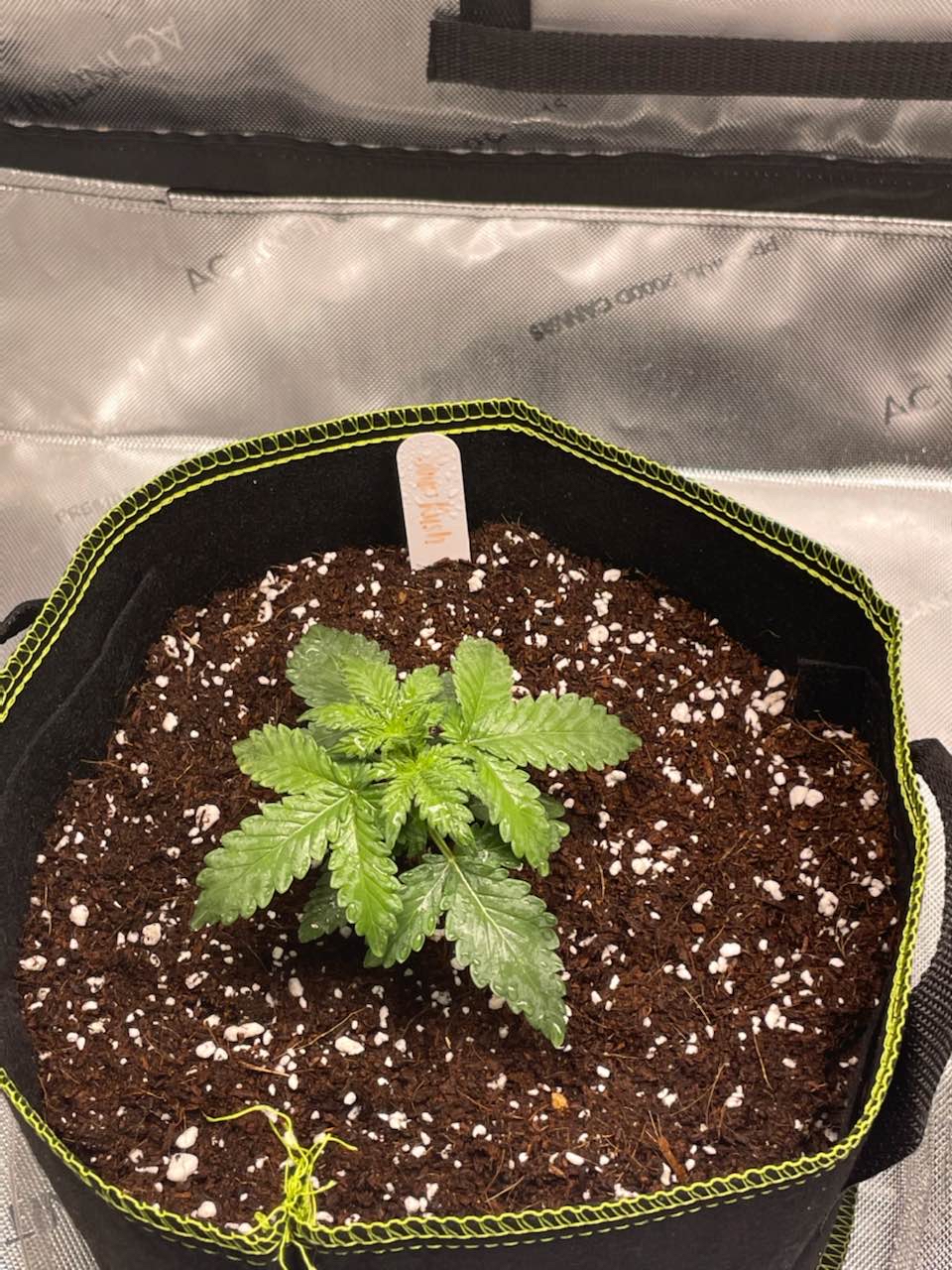 This morning after a little water 💦 to this evening after coming home from work before getting watered 🌱
a year ago
Ladies had their first dose of nutrients! It they seem to like Humboldt's Secret very much!!! 🌱🌱
a year ago
vegasques Water towards the edges of the fabric so the roots search for water
Sauce1285 Okay…I actually just gave them nutes yesterday and this is what it looked like this morning after being under the light 💡
vegasques Should be good but if it like fox farm soil that already has nutrs you may see a little burn but it looks good
View 5 additional comments
Experience growers!! How does my light height look on my girls…young veg stage???
a year ago
cannabisking From top of plant to light: Seedling 24inch Veg 18-24inch Flower 12-18inch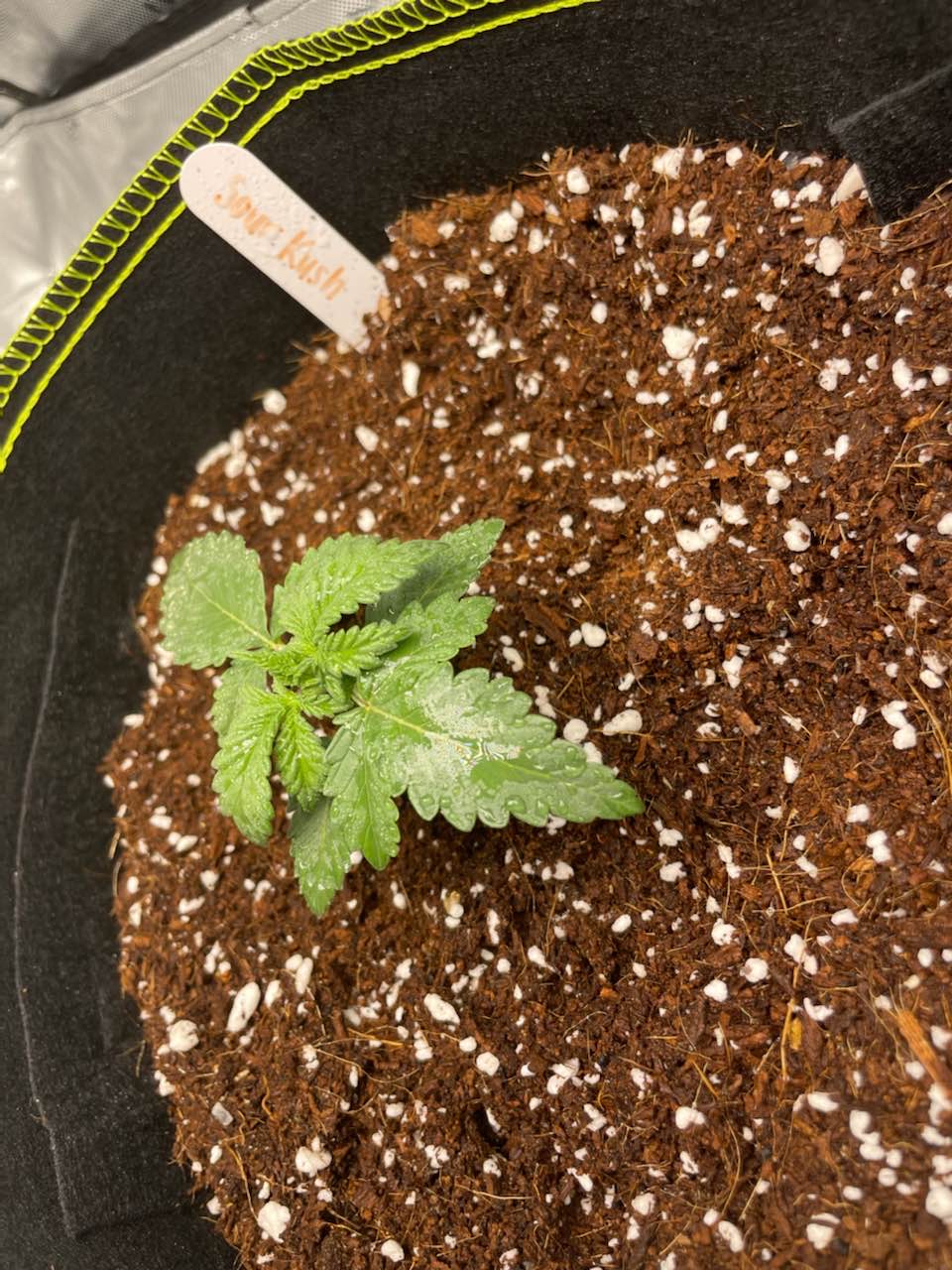 Nice tight formation of Kush leaves!!!
a year ago
Looking nice, healthy, and happy!!!
a year ago
The difference that only a few hours make!!
a year ago
donotgrowlikeme Those broad leaves are an absolute flex💪🏻 I love kush genes🧬
Sauce1285 Thank you…she is really doing her thing…
Just continuing to do her thing
a year ago
Looooooookkkkkiiiinnnngggg good little Kush!!! Gonna start giving some nutrients tomorrow
a year ago
Evening pictures of my ladies!! Can you spot the changes from this morning til now?
a year ago
Officially 1 week old today!!! Looking good little boo!!!!
a year ago
Second set of leaves are still coming in nicely!!!! I just keep growing growing growing!!!
a year ago
Gave her a light mist this morning and she is just living her best life….first leaves looking very healthy!!! I'm loving it!!!
a year ago
As a first time grower wanted to know if I need to change the placement of my current fans! Any tips or advise
a year ago
Looks like a new set of leaves are emerging!!!
a year ago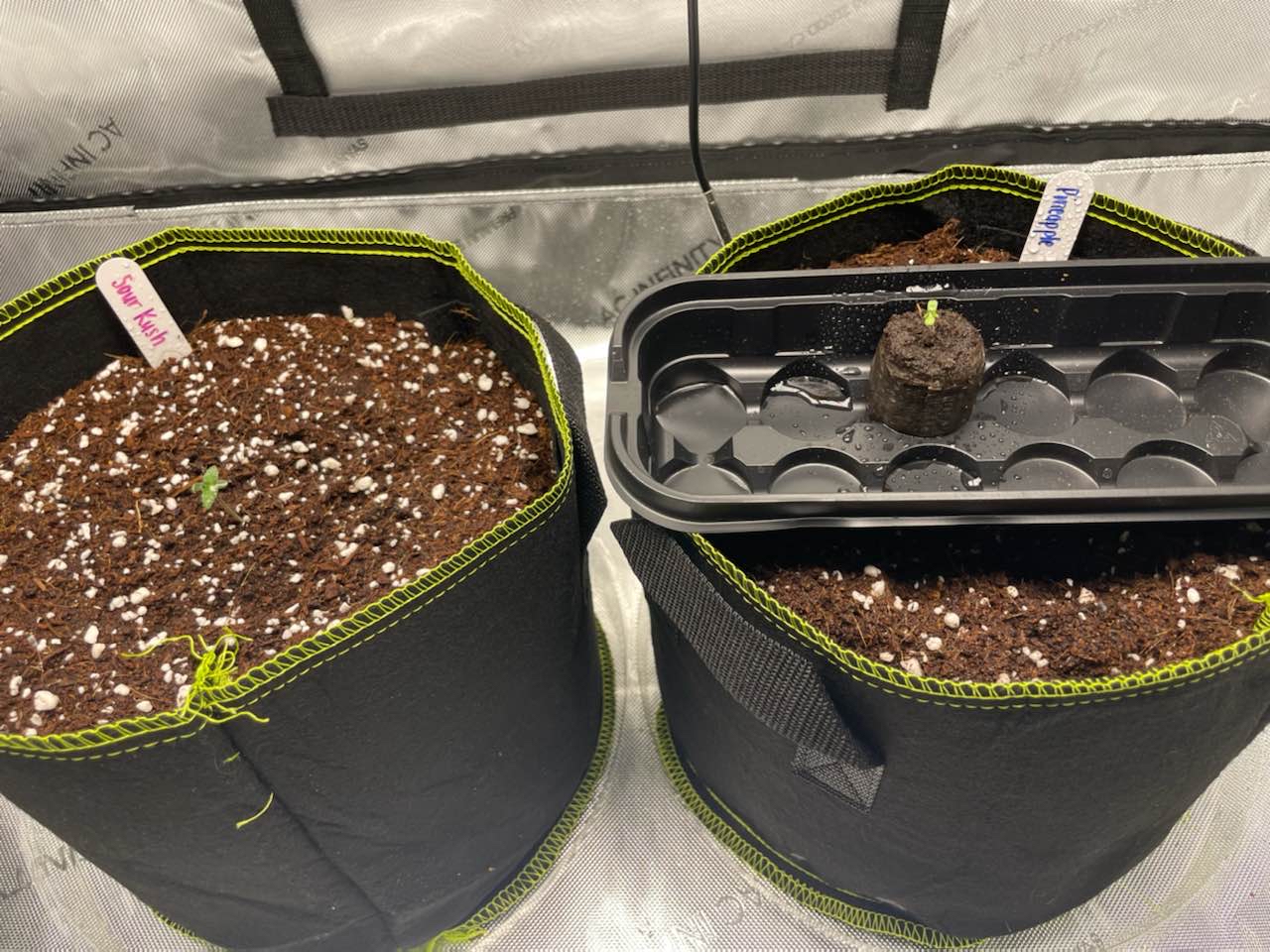 Added a little fan action for my girls to sway in the wind to begin creating a strong foundation for them
a year ago
She's continuing to grow and stretch out
a year ago
My little baby on the move!!! She's definitely looking UP!!!
a year ago
I officially have a new baby
a year ago