Anvil Auto by Gnome Automatics
Subject #5
Growing an Anvil Autoflower by Gnome Genetics using Fox Farms Ocean Forest soil and their trio of nutrients. Soil is about mix between gardening soil, FF OF, and 20% perlite. Will be following the Fox Farms feeding schedule, but at about 1/4-1/3 the strength. Have had a couple failures so not hoping for much.
Anvil Autoflower by Gnome Automatics
Been a while since an update. Figured today would a NICE day for one. Ran into what I believe to be a ph problem coming back. Gave up on nutes and went straight water again for awhile. Seems to be clearing the spots out. Other than that, how much longer y'all think? Another 20-30 days?
a year ago
Gave her some TB and Cal/Mag. Seems to be making her happy. Could also be the two days of awesome weather and being in the greenhouse. 🤷🏼‍♂️
a year ago
Almost night time…Think I got a bit of a Cal/Mag issue so got more on the way to start feeding her that soon. Will post pics of the issue in question on her tomorrow.
a year ago
A few shots in the greenhouse and one right before light outs, looking a little droopy.
a year ago
ExoticBudz Looks healthy nd strong can't wait to see more 😁
Caliban Looking good. See some sativa in the phenotype!
Gave her some more plain water to runoff. Took her outside in the greenhouse for a sunbath while watering her and a good 70 degree afternoon in the sun for her. Seemed to love it.
a year ago
Seems to be responding well. Water tonight or in the morning.
a year ago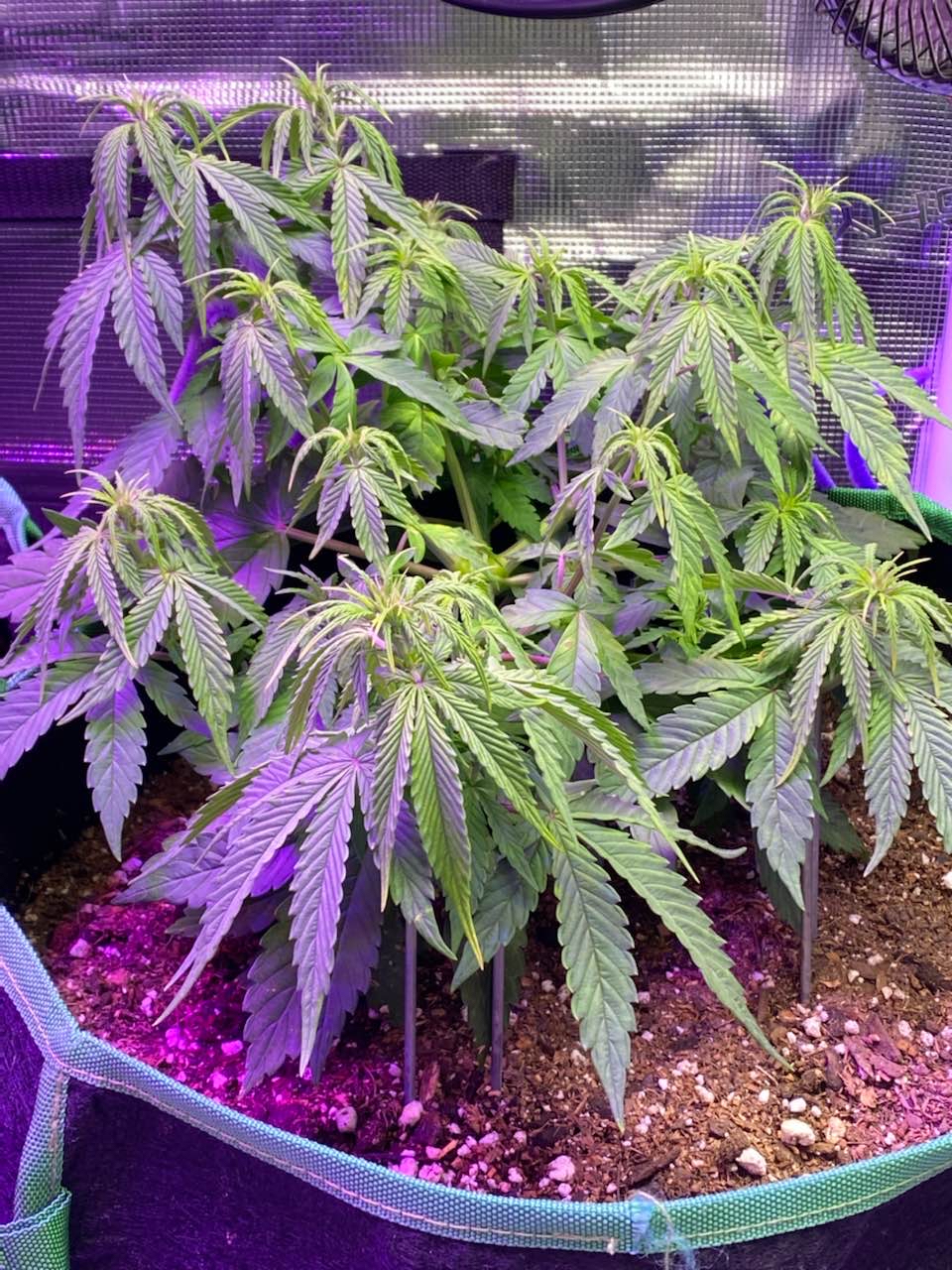 Gave her half gal of water with a little Epsom salt mixed in. Gonna go straight water sometime in the next few days and then give her some Tiger Bloom and see if that evens out everything. Plan will adjust accordingly. Seems to be developing a bit of a something, so tinkering is called for. 🤣
a year ago
Getting closer by the day! I mean, that's how this works, right? Lol
a year ago
Alrighty, guys, what I am missing? Or have too much of? Lol she's just starting to shoot pistils out, so wanna figure this out before too much damage is done. Time to invest in CalMag maybe?
a year ago
ThisGuyIsHigh What's your runoff's ph? I just noticed that one of mine and learned its ph was lower than desired.
CrizzlePope's Grow Wars Watered to runoff last night and clocked in at around 5.5-5.6. Assuming a bit of a nute burn but I've never effed with PH before. Just gonna straight water with the PH around 6.8 for a few days and see what happens…
Shenzu nothing is wrong just an auto being an auto
View 2 additional comments
Definitely slower than the Goo but I ain't complaining. Showing hairs now finally! 🤞🏼
a year ago
Pulled the pipe cleaners out as they weren't doing much anymore. Finally seeing pistils develop on a few of the tops. Seems to really be stretching right now…
a year ago
Still veggin' out, no preflowering that I can see. 🤷🏼‍♂️🤞🏼Here's hoping soon!
a year ago
Whitewidow83 what type of lighting are u using? i use a full spec led but i read that UVA can boost terpenoids and create higher thc but it's difficult to get the correct amount without harming the genetics, yours look like their under a black light? thanks in advance:)
CrizzlePope's Grow Wars I have 1 full spec 1000w(105w) LED and 1200w(240w) LED with Veg/Bloom switches. Currently the full spec stays about 50% and I alternate between the veg/bloom both being on and just one being on. 20/4 light schedule. Maybe a little higher than they should be until I get a higher velocity fan to cool things down in there.
You can still tell she got trampled but her shoots are growing like crazy!! 🥰
a year ago
Pics are 6 hours apart. She seems to be recovering rather well. Just playing the leaf tuck game now.
a year ago
She got stomped on by my chihuahua. She jumped into the tent and went crazy. Hopefully she makes a quick, full recovery.
a year ago
donotgrowlikeme Before I read the description I just thought to myself "damn that plant look like it got fucked up" 😂 I hope she bounces back!💚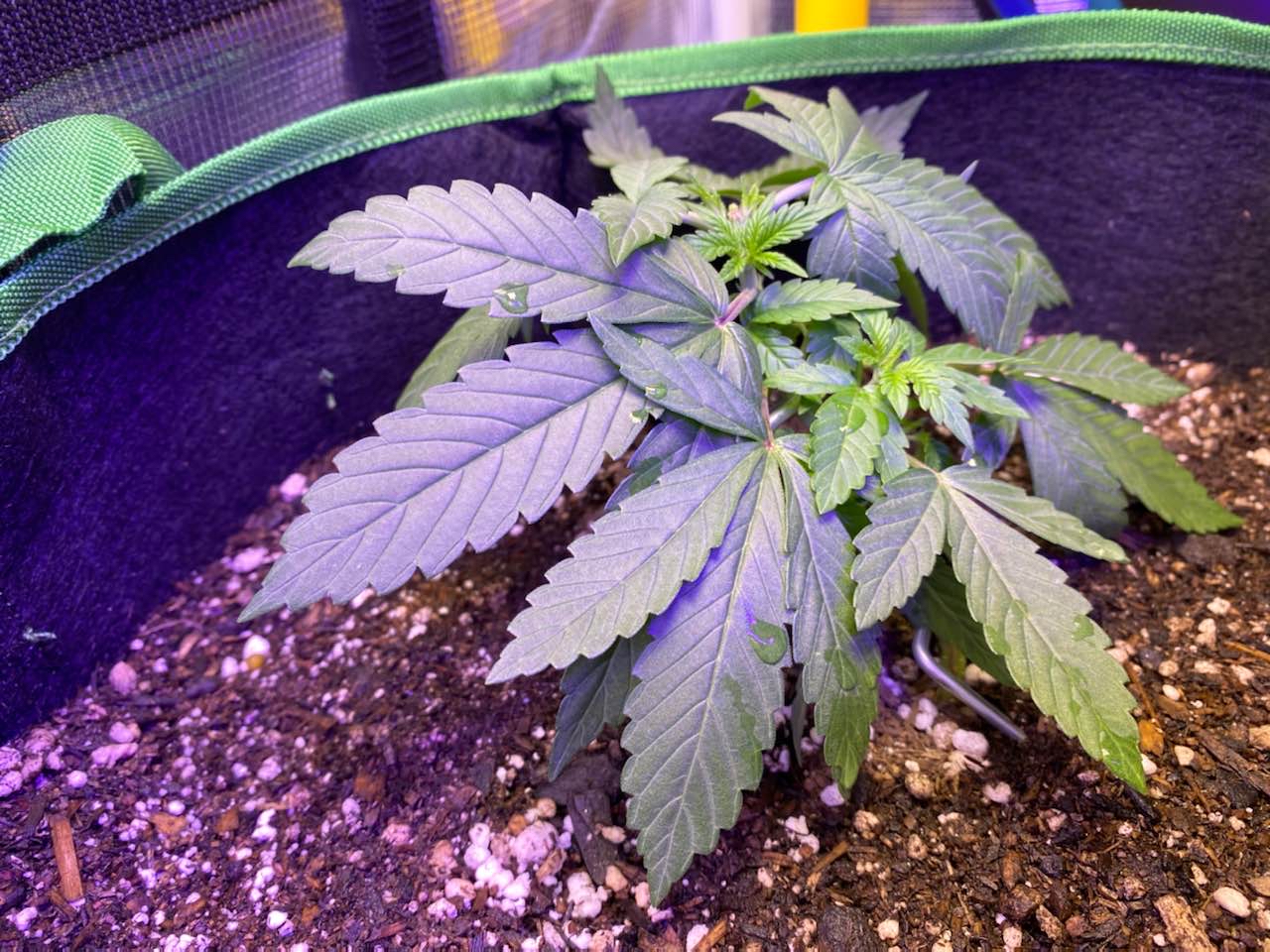 Here's the Anvil after my low stress training break. Did have a bit of a snafu and broke the left second node off(newbie issues), but other than that, she seems good. I did also top her as well to see how she reacts. Will not be topping the next Anvil or the Sour Bear OG, only LST, to test final harvest results.
a year ago
Top the Anvil and then LST next week? Or just LST next week? How do you all feel about topping autos? Experiences?
a year ago
Starting to get a smell to her. 🥰
a year ago
The Anvil is clearly the strongest plant yet.
a year ago
Still chuggin'
a year ago
She's just cruising right along. Gave her just tiny bit of nutes for the first time today.
a year ago
She did great while I was out of town at the Tool concert…happy to see her doing well!
a year ago
Took the transplant like a champ. Barely any disturbance to the plant at all, smooth as butter. Even seen signs of growth since the transplant yesterday. Hope to Goo goes just as well.
a year ago
Gave her the first "real" watering at 30ml about 24 hours ago. Cup still has a little weight to it so will water again in the morning.
a year ago
Had a bit a lean to her so I have a little pipe cleaner to ensure she wouldn't lean too far over. Added another grow light with veg switch, hence the blue. Did kick up the PPFD on the left side of the tent to 240 under the veg light and only 170 under the full spectrum LED(which is dimmed for seedlings).
a year ago
Just look at her grow! Really enjoying watching this Anvil develop. So many grow journals I've clicked through getting excited for this plant! 🤣🤣
a year ago
Really loving the growth on the Anvil by Gnome Automatics. A little worried as the tip of the leaves seem to be slightly developing something, a second opinion would be awesome. Could also just be paranoid from Forgotten Delights failures.
a year ago
Peng That crusty bit? It's just a bit of the seed membrane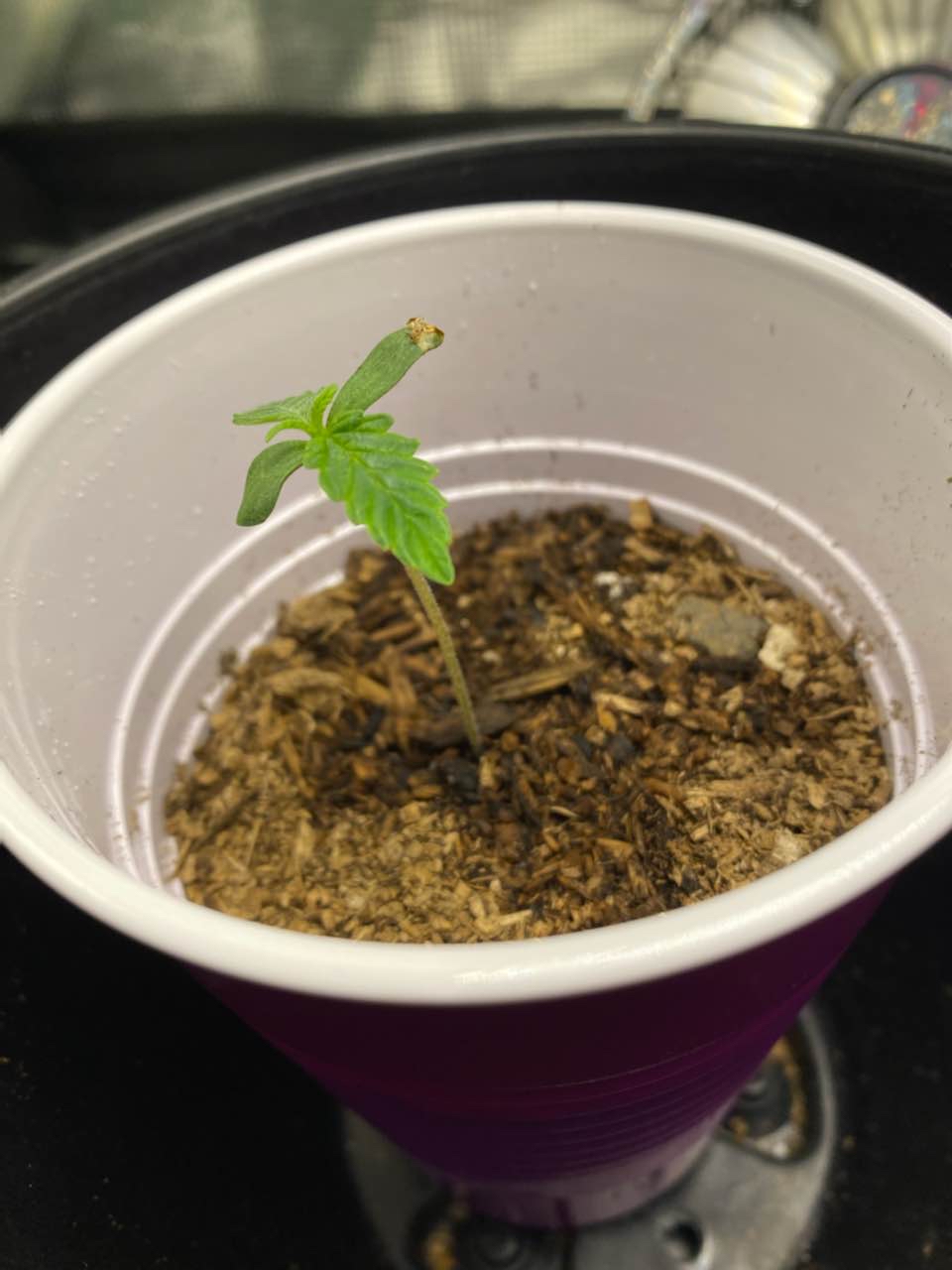 Got a bit of a lean. Turned her away from the light to hopefully correct, but may use some pipe cleaners to straighten/support her if she can't correct herself.
a year ago
Just early stage growth. Not a whole lot to see here.
a year ago
Came to check on her this morning, was delighted to see her progress. Kind of chuckled when I saw her serrated leaves hugging the cotyledon still.
a year ago
Not quite there yet but she has broke soil and is starting to lift straight up, seed still on. 😌
a year ago