kunu
First Grow - White Widow (feminized)
Birthday Bud
Feminized White Widow seeds. Indoor grow. 5x4x2 tent. 600w "blurple" LED.
March 11 - Growth Day 25
3 years ago
Walk8771 Look good! Love the consistency. Keep up the nice pics.
March 10 - Growth Day 24
3 years ago
March 9 - Growth Day 23 I put a little water circling around the plant a few inches from the base to have the roots start spreading out.
3 years ago
March 8 - Growth Day 22
3 years ago
March 7th - Growth Day 21 The girls are looking much better today over their droopy state the my were in yesterday. Separation between Nodes and more coming in. Trying to keep the humidity down.
3 years ago
March 6 - Growth Day 20 Today was a big day for the girls. First transplant. #1 and #2 went to 5 gallon pots for final potting. #3 and #4 went to 2 gallon pots to do one more transfer to 5 gallon at a later date. Just experimenting to see if there's any difference when doing that. Split up the two stronger ones (#1, and #3) and the ones growing different.. #2 which has been more spread out but still growing okay so used her for the big pot .. #4 which has been a little smaller and shorter than the others. So kept her in one of the smaller ones I did not use any nutrients for the first water as to not disturb more during any transplant shock. But I'll be using nutrients on the next water. pH the water to 6.2 #3 was a little droopy prior to the process and they were all thirsty. After the process of transplanting they all drooped a little. Soil used: Happy Frog by Fox Farms
3 years ago
March 5th - Growth Day 19
3 years ago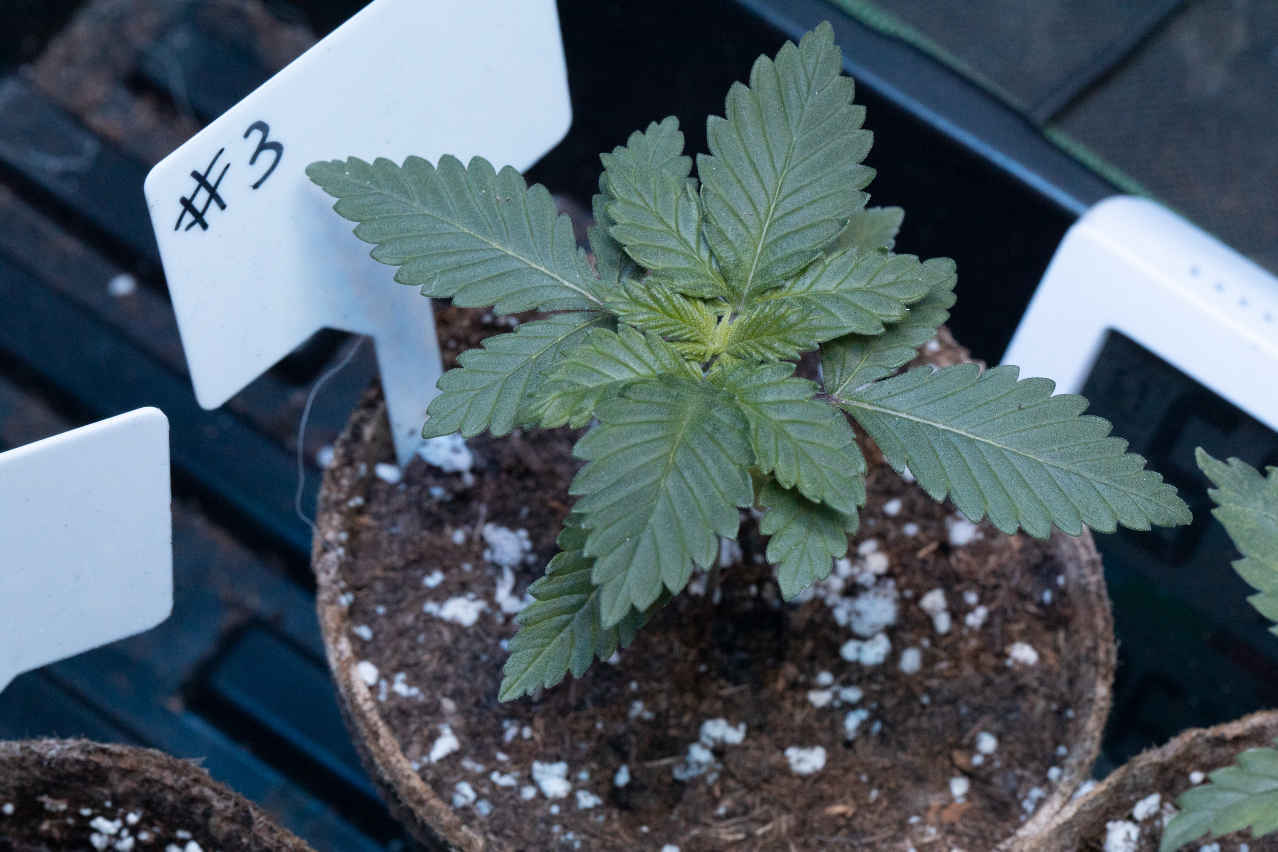 March 4th - Growth Day 18 Watered today - lowered the light to about 20" also 6.2pH 486ppm
3 years ago
March 3rd - Growth Day 17 Top off a little water tonight since they are light but prefer to water tomorrow . These girls are getting really close to transplant to bigger pots.
3 years ago
March 2nd - Growth Day 16 Watered today 6.2ph 460ppm
3 years ago
March 1st - Growth Day 15 I'll be topping off a tiny bit of water for the night but will likely fully water them tomorrow
3 years ago
Feb 29 - Growth Day 14 Progress day #3 starting to out-grow #1 #2 looking like a freak but I love freaky ladies so we good #4 is the runt of the litter but she's still got strong leaves coming in ......I'm clearly tired
3 years ago
Feb 28 - Growth Day 13 Last night I topped off a tiny bit of water because they felt light but I didn't want to water overnight before the lights went out. Today I watered but slightly less than normal. Ph 6.2 ppm 450
3 years ago
Feb 27 - Growth Day 12 More leaves really starting to push through. I'm starting to wonder if #2 is a different strain or what. It's definitely looking a little different than the others but maybe it's just got a weird growth issue. It used to be one of the stronger ones early on but even #4 while smaller and slower or day behind seems to be growing better. Or at least just different. They're sucking up water almost every other day at this point. I may have to water today.
3 years ago
Feb 26 - Growth Day 11 Progress day. No watering
3 years ago
Feb 25 - Growth Day 11 Watered today 6.1 PH 485ppm
3 years ago
Feb 24 - Growth Day 10 #2 is struggling but the others are looking good. Soil is getting dry and not as heavy so may have to water again soon
3 years ago
Feb 23 - Growth Day 9
3 years ago
Feb 22 - Growth Day 8 Feeding day. PH at 6.2 Ppm 500
3 years ago
Feb 21 - Growth Day 7 Slowly but surely they are progressing. I lowered my light a few inches to see if it would affect it and not noticing much of a difference Watering tomorrow likely as they are almost dry.
3 years ago
Feb 20 - Growth Day 6 Second set of true leaves starting to form. Read a review on this light that the light was best at 22-24 inches at this stage. I've been at 30" per another recommendation because I was getting some light reaching from a few of the plants at 40" (manufacturer recommendation). This stopped the reach . May try and lower to 26" to see if there's any improvement.
3 years ago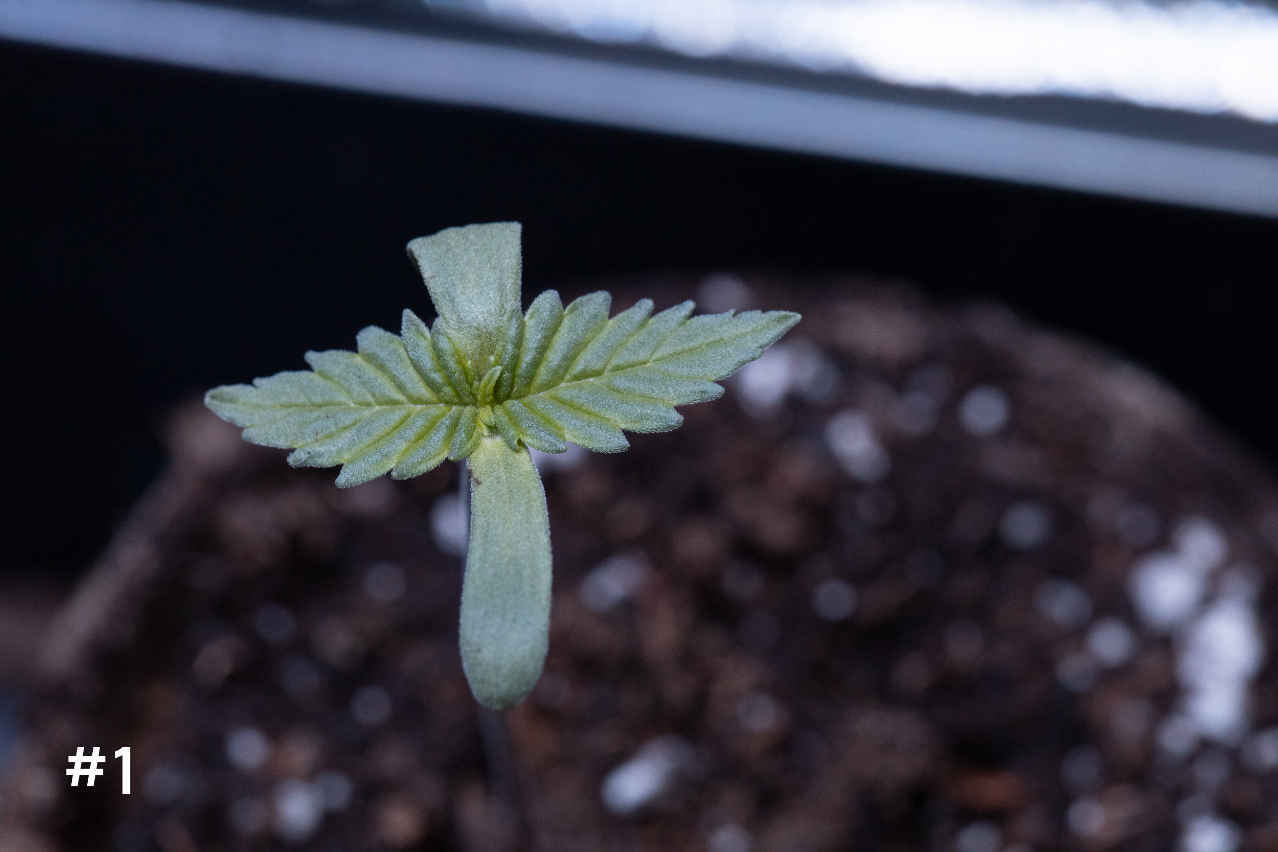 Feb 19 - Day 5 since breaking soil. I watered them today as they were pretty dry. Finally also used my camera with a macro lens instead of my phone. Looks like the second set of leaves are coming through on a few of them.
3 years ago
Feb 18 - the girls love the humidity in the room now. They seem to be getting stronger and while not a ton of growth there is some showing and the weaker one definitely got some bigger leaves ever since I put the humidifier in there.
3 years ago
Feb 17 - not much of a change overnight. Besides the soil really getting dry so they are getting a little water around the edges now and installing the humidifier to get that humidity to around 70% .
3 years ago
Feb 16 - Morning - checked on the girls today and noticed they grew about an inch overnight. One of them started to drip over from stretching so Iowered the light and added soil to the pots to help stand them up. Also starting to see some roots climbing through the bottom of the pots. Going to pick up a fan to get some circulation and get the girls dancing a little to strengthen those stems. I also decided to dig through the other pots that never broke soil to see what was going on with those seeds since some time had passed. I couldn't even find the seed in one of the pots. But the other plant in the other pot had started to grow but was blocked by a stick in the soil. So I moved the stick and gave some room for it to see if it can be revived. The leaves were yellow, it's in the middle of the last photo.
3 years ago
Feb 16 - evening - I figured I'd snap a pic before the lights go out for the night. After dropping the light, and adding the fan they started to stand up straighter and stronger already. One of the girls (top left) got a little dirty when i topped the soil and she's been slowing growth down compared to the others. Hoping she recovers a bit.
3 years ago
Part 2- Evening - they grew quite a bit in just 12 hours since I had checked them this morning. Might switch light cycle from 24 hours to 18-on / 6-off .
3 years ago
Part 1 - Feb 15 - "DAY 1" - 4 out of 6 broke soil! I was hoping to get at least 4 plants so this was a nice sight. I've been told the seedlings need very little water right now so I'll just be misting the dome and covering still until they get a few inches taller. Keeping the light at about 40" above
3 years ago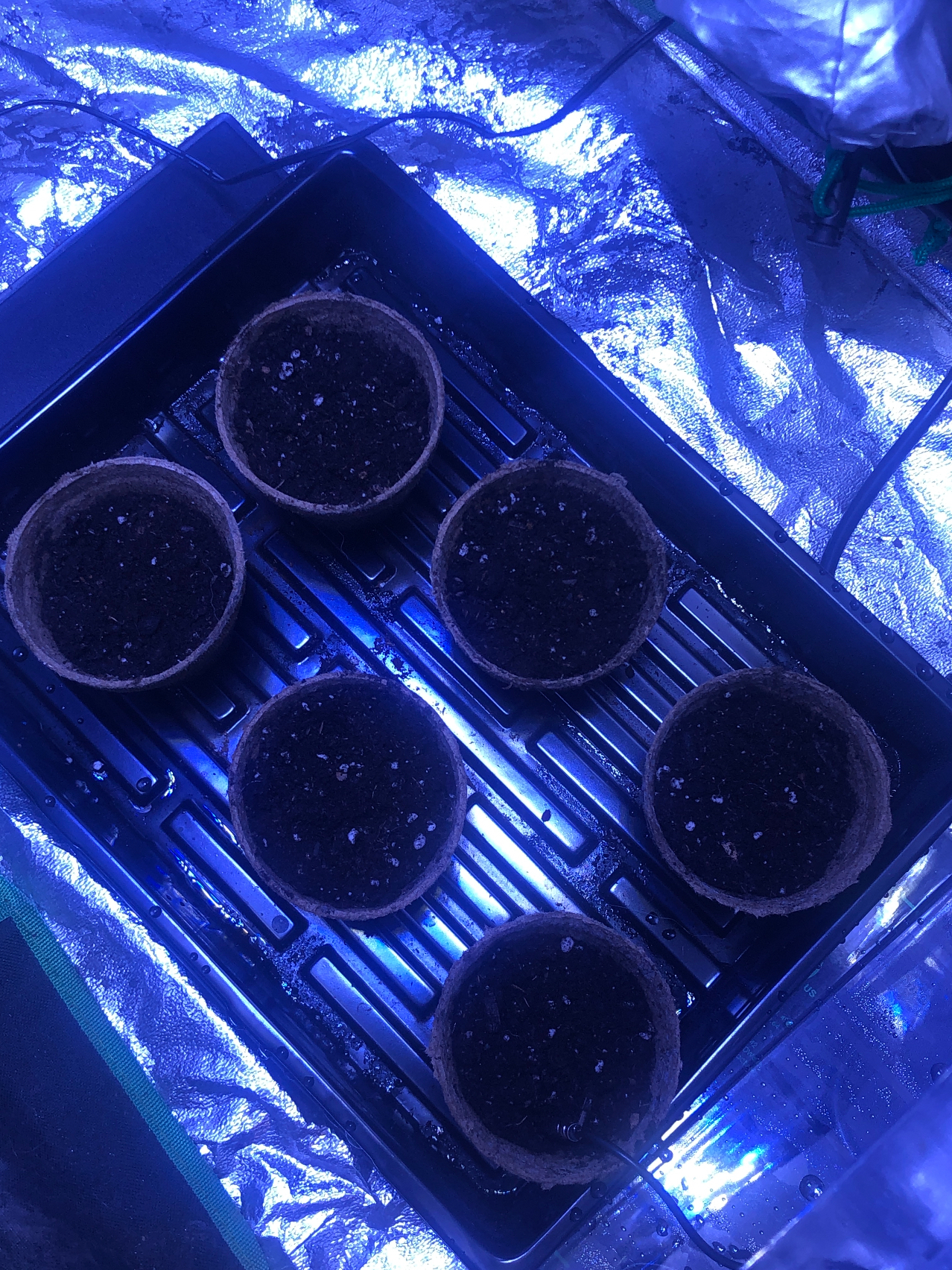 No change - still hiding under soil
3 years ago
It's been over 40 hours and they haven't popped through but I'm going to start adding light now. I have the LED about 42 inches above the plant (recommended early stages of this light 40-44). Hopefully this helps them come up.
3 years ago
Room has been staying at about 69/70 degrees F. The heating pad is keeping the soil at about 71-75 at any given moment. Still complete darkness
3 years ago
Feb 11 - Planted 6 seeds into soil, after sitting in a cup of water for almost 24 hours (until they sank). Setting on a heating pad in dome. Light only on to take photo.
3 years ago