rbuck
Wonder Woman - Harvested
Summer/Fall 2018
Soil grown in fabric pot under CMH 315. 4K for veg, 3K for flower. Vegamatrix nutes.
Done drying. Trimmed and curing.
4 years ago
LOV|LED Nice! Congrats 🎉 looks pretty good from what I can see. Do you have the final weight?
RBuck Yeah it was about 25g. Harvested early obv. But delicious buds.
Drying is done on some so I attempted a little trim job. No more hay smell. Was the fan leaves 100%. Arid here so going to keep plants intact to dry as much as possible. Smells amazing in the jar.
4 years ago
Drying now. Smells like hay. Stems are so tiny... I think a small root ball and small structural stems caused this lady to be finished early. We'll see.
4 years ago
Leebobo Yeah that was what was wrong with my first one is the root ball with just wouldn't get big enough this time I made sure that I planted it in a smart part very very early. And it will smell OK until you cure it ! In glass jars for about two weeks that's the least amount of time you can get away with it! Also looks pretty good but our use Terpinator! It makes the blade smell so good and makes it so frosty a really recommend you picking up some of this!
LOV|LED Yeah it'll smell hay-ish until the chlorophyll gets dried up. No biggie, it'll go away.
LOV|LED The leaves are the main culprits of the smell.
Day 47 of flower. Trichomes are about 30% amber. Time for harvest.
4 years ago
LOV|LED Nice, congrats on the harvest! How close are your others to finishing? Maybe consider getting some bubble hash bags and making some hash with the trim. No point in wasting good trichs. I plan on doing just that, free hash!
RBuck Def will do something with the trim. Either hash or tincture prob depending on strain.
Week 7 12/12. Compost tea and weak bloom nutes.
4 years ago
Friedumpling How do you like your cmh 315? I just ordered one and my first grow with it will be Wonder Woman!
RBuck I love it. Couldn't be happier. My Wonder Woman smells like skunky grapefruits so we'll see if it's good medicine.
Week 6 12/12.
4 years ago
Week 6 12/12. Looks like it's only a couple more weeks. Added 1 tbsp of molasses to 2.5 gal water.
4 years ago
Week 6 12/12. An experienced grower told me they're ready, what do you think? I only see a few amber trichs and it's only 40 days of flower.
4 years ago
Week 6 12/12.
4 years ago
Week 5 12/12. Cleared out almost all remaining lower branches to increase airflow and remove whatever larva is on them.
4 years ago
Week 4 12/12. Some kind of larva under leaves. Carefully sprayed with FTB.
4 years ago
Week 4 12/12. Watered with compost tea to runoff to flush.
4 years ago
LOV|LED Do you use the full line of vegamatrix? Also, how often do you feed with it?
RBuck Yeah, I bought the starter pack from Amazon. Very happy with it. Watering every other day or so. Very arid here so it can vary. Have started using compost tea as well.
View 3 additional comments
Week 4 12/12. Staked all colas. Fed 2 cups of compost tea. Will flush further over next watering cycle.
4 years ago
Last day week 3 12/12
4 years ago
Week 3 12/12. Looking good. Water and half nutes. Noticed some brown tips.
4 years ago
Week 3 12/12. Living up to her name so far.
4 years ago
Week 3 12/12. Water + nutes
4 years ago
Week 2 12/12 no issues. Has a wild growth pattern but the main colas have evened out pretty nicely.
4 years ago
Switched CMH 315 bulb from 4K to 3k for flower. 18" above canopy.
4 years ago
Week 2 12/12. NSTR
4 years ago
Week 2 12/12.
4 years ago
Looks good. Water/nutes today. I bent a limb while watering. Will be a good chance to see if she can handle super cropping during flower.
4 years ago
Leaves are soft. Growing wild. Week 2 12/12.
4 years ago
Week 1 12/12. Water/nutes at lights on tonight. Big and Sticky foliar spray started today.
4 years ago
Looking fine. Week 1 12/12. No flowering pistils yet.
4 years ago
Flipped yesterday.
4 years ago
This WW is crazy. All of a sudden she's covered with new growth and feels spindly. Pruned a little today. Flower tomorrow if she looks recovered.
4 years ago
She's gotten crooked but I think it's gonna be fine. New growth everywhere.
4 years ago
1 week til flower
4 years ago
More LST trying to get her to spread out a little. Planning about another week before the flip. Water and nutes today.
4 years ago
Foliar fed Hard 'n Quick today.
4 years ago
Battling some white aphids but she doesn't seem to notice. They came into the grow room on her and haven't jumped to any other plants so far. Drenched in neem oil spray today.
4 years ago
LST going well. Loving the light getting closer.
4 years ago
Started LST. Lowered light to 3' above canopy. First foliar FTB application.
4 years ago
Lowered CMH to 3'
4 years ago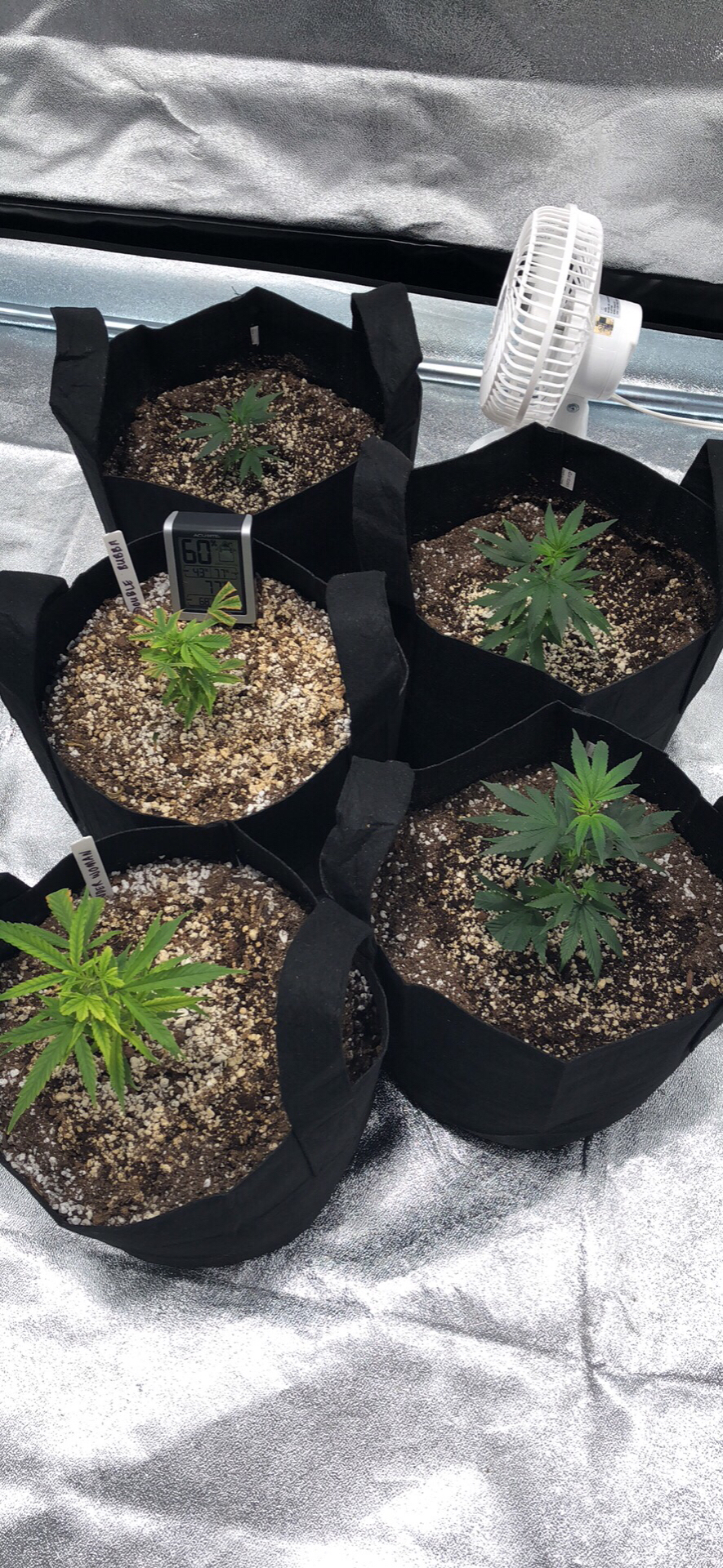 Topped today. Looks to be recovering from heat damage.
4 years ago
FIMmed today. Under 315 CMH over night.
4 years ago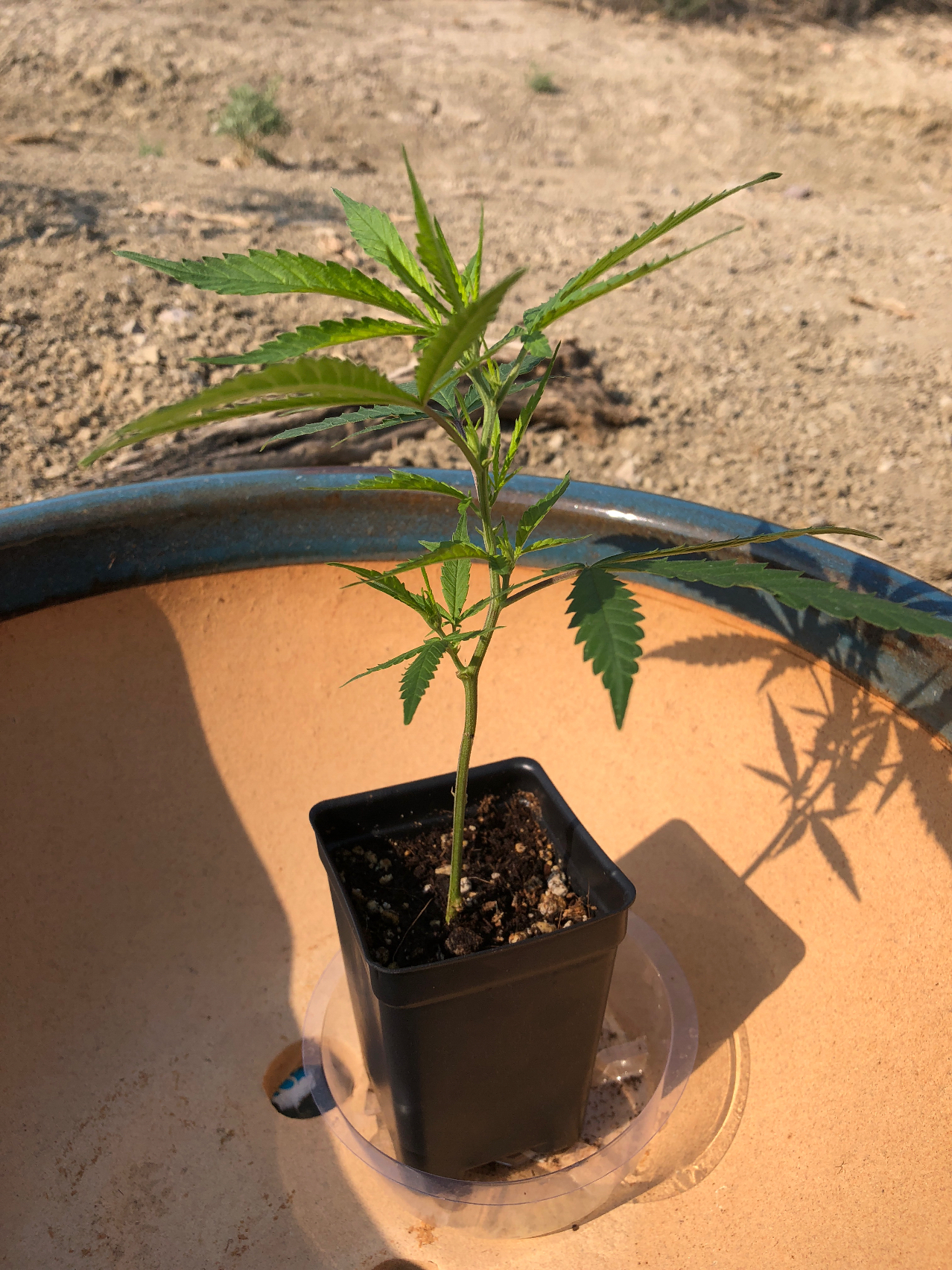 Plant is 7" tall and still in cloning pot. Using natural light in windows or outside. Water ph tested at 6.7. Letting dry out before watering.
4 years ago