Red Delicious
5th Grow
4 Red Delicious feminized. In 5 gallon buckets. Hydroponic DWC. Spiderfarmer 4000 LED. General hydroponics flora trio and Cali mag nutrients. Topping and LST will be incorporated.
There was 4. Now there are 3. All 3 showcasing different phenos. 2 are similar but genuine in their own way. The 4th was removed last week due to complications. She still produced some lovely solventless rosin tho. One is showcasing some deficiencies, but will still have some eye candy after the clean up. Each pheno starts with a picture and the breeders box. The following pics are closer ups. I start flushing on Sunday
a year ago
Bout 2-3 weeks from flush. I ended up with 4 phenos off 4 beans. First 4 pics showcase phenos. Pics 5-6 are lights on lights off. 7 is a close up. Pic 8 is the lady that won't make it to lung heaven. I had an air hose go dead. She never fully bounced back. But I'll be putting her in the edibles and oil program.
a year ago
organic_grower Lol lung heaven 🤣🤣 other then the one things are looking frosty!
grindhard508 Yea I was really rooting for her in the beginning. The rest are on little 2 inch lifts with wheels. But that ones on another 5gal and some wood planks just to reach canopy height. Would have really liked to have seen her finish up. I've pressed some goofier looking shit than this and came out with some decent dabs. So she'll be good for something.
Sorry for the delay. Nothing really spectacular has happened since the last update. Bud sites are forming all over. I had an air line go dead on me from my pump, thank god I noticed it changing the water last time. I had a bs mini pump im using till the new one arrives. The last 2 pics showcase the extent of the damage done due to the lack of oxygen. Shes still not getting enough. But she's been a fighter since the beginning. She's also the one that is hiked up on buckets and blocks to meet the canopy level.
a year ago
seadub1979 I just had an Apple Fritter clone that turned out really really well. I'm interested to see what kind of colors you end up with on these ladies.
grindhard508 Apple fritter was big last year out here. I'm pretty amped to see the end results. 2 separate phenos going at the moment
The first pic shows how many pieces of wood I used to elevate the one lady that is showcasing different pheno from the other 3. I think she's leaning more toward the apple fritter side of the DNA. Pic 2 is of her foliage. She's bottom right in pic 6. Pretty excited to have 2 different dances at the same big show.
a year ago
The stretch wasn't as bad in this tent. Apple fritter is one of my favorites. Which is why there's more of this strain than the other. The last 2 pics show the 2 different phenos going on right now. Can't wait to see the side by side at the finish line. This tent also has additional nutes to offer a difference in flavor. Gonna see if they actually make a difference or if I'm saving money by not grabbing them next rotation.
a year ago
I'm a week behind schedule. But a extra week of veg is good for structure. Had some humidity issues I wanted to negate before heading into flower. I'm now down to 45-53RH from a whopping 70-75RH. The roots are all looking amazing. Kinda one of my favorite things to see when opening up the reservoirs. Well until the flowers start to bloom. Because I have 4 of the same plants in this tent. I did add some flavoring to the cycles to see if there is any actual difference in smell and taste. As stated in many posts before. There is one plant showcasing different phenos from the rest. The last picture highlights some of that. 1 is short bushy while the rest are elongated and tall. As said before. I look forward to seeing both genes flourish to the end
a year ago
Last pics before the ladies go to the big dance. Flipping lights tomorrow. Did some LsT and HsT with a very light defoliation. Mostly tucked the fan leaves than remove. The second half of the race is about to begin
a year ago
bud*babe.niina Those look beautiful,how do you know when you need to switch the light🤔
grindhard508 I'm veg cycle you can flip the lights whenever after 4 weeks but you won't yield as much. I usually run 2-3 months in veg. Make sure I have a solid canopy. Which is what that flat bushy look is from. Then I flip them over. Most seeds will have a recommended flower cycle. But I usually average between 8-10 weeks in flower.
grindhard508 @bud.babe.Niina your in the beginning stages. Your gonna make mistakes. But as long as your next grow beats your current grow your doing the right thing. It's a never ending educational point. Growweedeasy.com gave me a lot of great pointers when I first started
View 1 additional comment
A great day of LST and defoliation. Pre training to post training. 1 out of the 4 is showcasing different phenos. look forward to the contrast at harvest. I will add photos later of them. They are already back up and thriving. Last 2 photos are post training
a year ago
Before and after LST. I'm a little heavy handed. So I did have to tape up 2 branches. But she is thriving. Changed the reservoirs 2 days ago and today she had a 3rd of water depleted. She's definitely the strongest of the 4. I've also noticed another 1 of the 4 is showcasing different phenos.
a year ago
grindhard508 35 days from germinating. I believe Day 1 would have been the transplant from paper towel to these 5 gallons but I could be off a day or so
View 6 additional comments
4 red delicious moving along nicely. Top/FIM with some LST. 1 lady was left alone to mature more. But she'll be at the salon and yoga in a day or so. There's Some before and after the training provided.
a year ago
Someone is loving the second stage of nutrients. 15 days from planting. She's almost ready for training. The other 3 are doing well. Just a little behind this one.
a year ago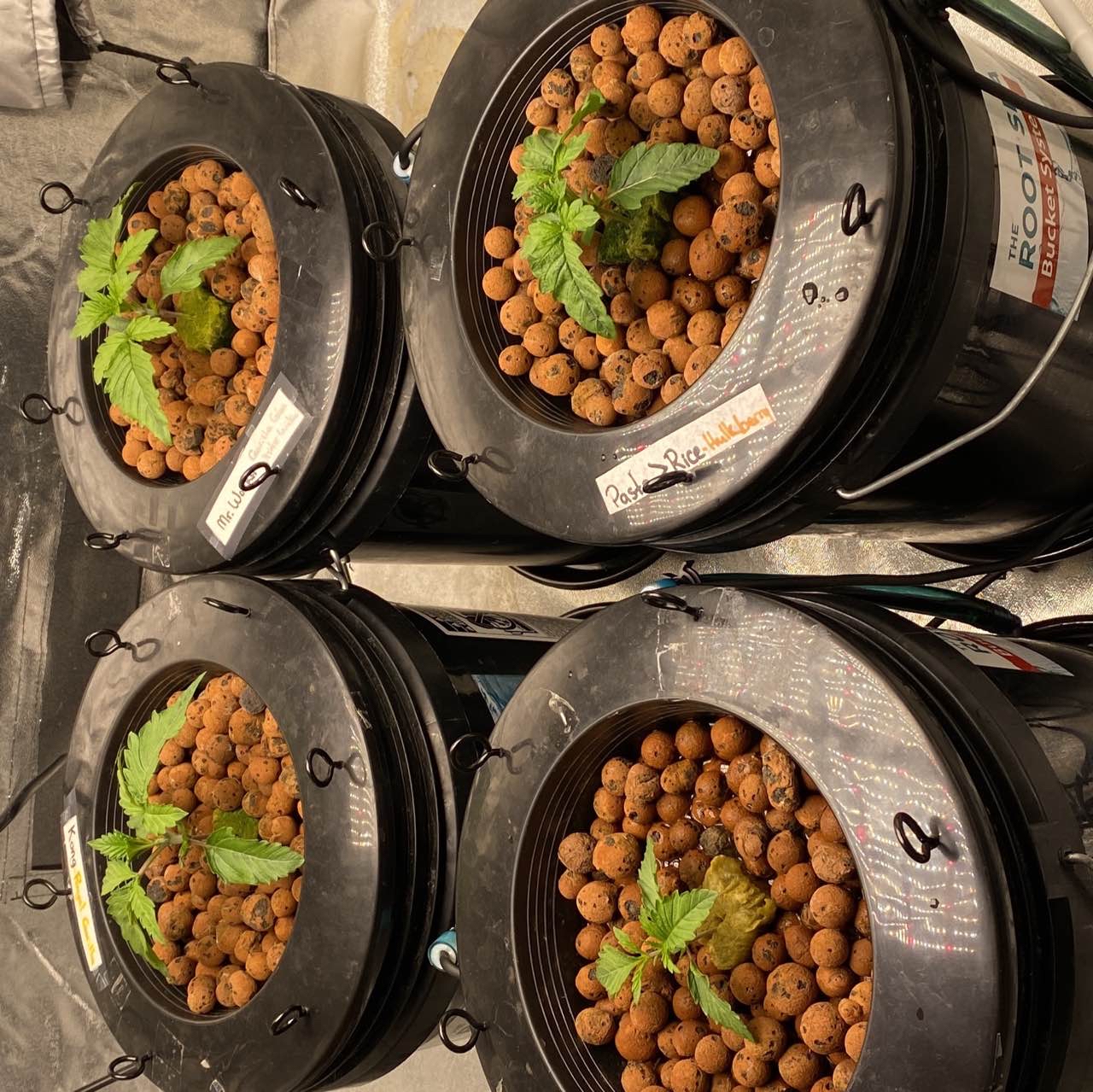 Just changed the reservoirs. 3 are healthy as ever. 1 is a little behind on size. There was a leak in the bucket and it wasn't getting enough water. I was top feeding it to maintain it until I could do maintenance on the reservoir.
a year ago
All 4 ladies have successfully broke through yesterday. They are completely opened up now and will begin their journeys. . 1 was a little slower than the others but not by much.
a year ago
4 feminized Red Delicious we're just transplanted to 5 gallon DWC buckets after germinating. Using the spiderfarmer4000 LED lighting
a year ago
Currently germinating. Will be transplanting to 5 gallon buckets tomorrow.
a year ago
zdgrows37 Real genetics 🔥🔥🔥 love my chocolate chip from exotic
grindhard508 So looking forward to seeing these genetix. I watched the Runtz and rainbow chip lineups and was mad I didn't get into them. But I'm finally apart of the team. 3 different strains out of the red pop lineup running. I got 6 more flavors on standby.