Dwc grow
Winter/spring
Ladies starting out a bit rough but should bounce back and start to take off quick
BD, cherry rozay and ph skunk #1
Just flushed yesterday ph 5.7 ppm 1250 temp 69 will flush for final time Saturday and not Nutes back in. Ladies looking sooo frosty
2 years ago
bamen0825 Yup love my current culture 21 buckets set up
View 2 additional comments
Ph 5.9 ppm 1120 temp 70 ... ladies coming up on week 6. Looking beautiful!!
2 years ago
Ladies got their last full defoliation last Saturday. Coming up on end of week 3 and looking frosty. Ppm 1210 ph 5.9 temp 71
2 years ago
Ph was at 5.5 this morning but gotta top her off with water leak that I'm fixing again today. Ppm was 1350 but with water added will be lower. Week 2.5 in flower already got nice bud sights
2 years ago
Ladies got flushed today normally I do it every 7 days but holiday messed me up. Ph 5.8 ppm 1110 temp 70 not sure if ppm might be to high but seams like they much happier this afternoon we shall see
2 years ago
Ladies got defoliated and trimmed up from the bottom. Will do same again in 3 weeks and then she in cruise control until finish. Ph 5.8 ppm 880 temp 70
2 years ago
Flipped the ladies to flower today! 300 ml of bloom a&b 300 mlidbud boost, 300 ml cal mag. Won't know number for at least an hour once it all mixes in. Also used sea green the last two days of veg I think it greened them up and got them ready for a great flower. Defoliating finished today and then again in 3 weeks.
2 years ago
Ph 5.8 ppm 770 temp 69 ... these ladies will be flipped Saturday or Sunday. Might add a little sea green for these last few days see if it gives them that last little boost they need before flower. Then defoliate them Saturday or Sunday as well.
2 years ago
Ladies looking great! I might add just another 50ml of cal mag bc just a few have slight yellow and that's usually the issue. Gonna add second layer of net and bend some of the taller ladies over a bit. Probably flip them in the next 7-10 days.
2 years ago
Flushed on 3/13 added back 300 ml of all Nutes 10 of power si. Ph is 5.8 ppm is 800 temp is 70
2 years ago
Ladies already through the first layer of net probably top a couple again today. Maybe another 2 weeks in veg and then they will flip. Ph5.8 ppm 600 temp 69
2 years ago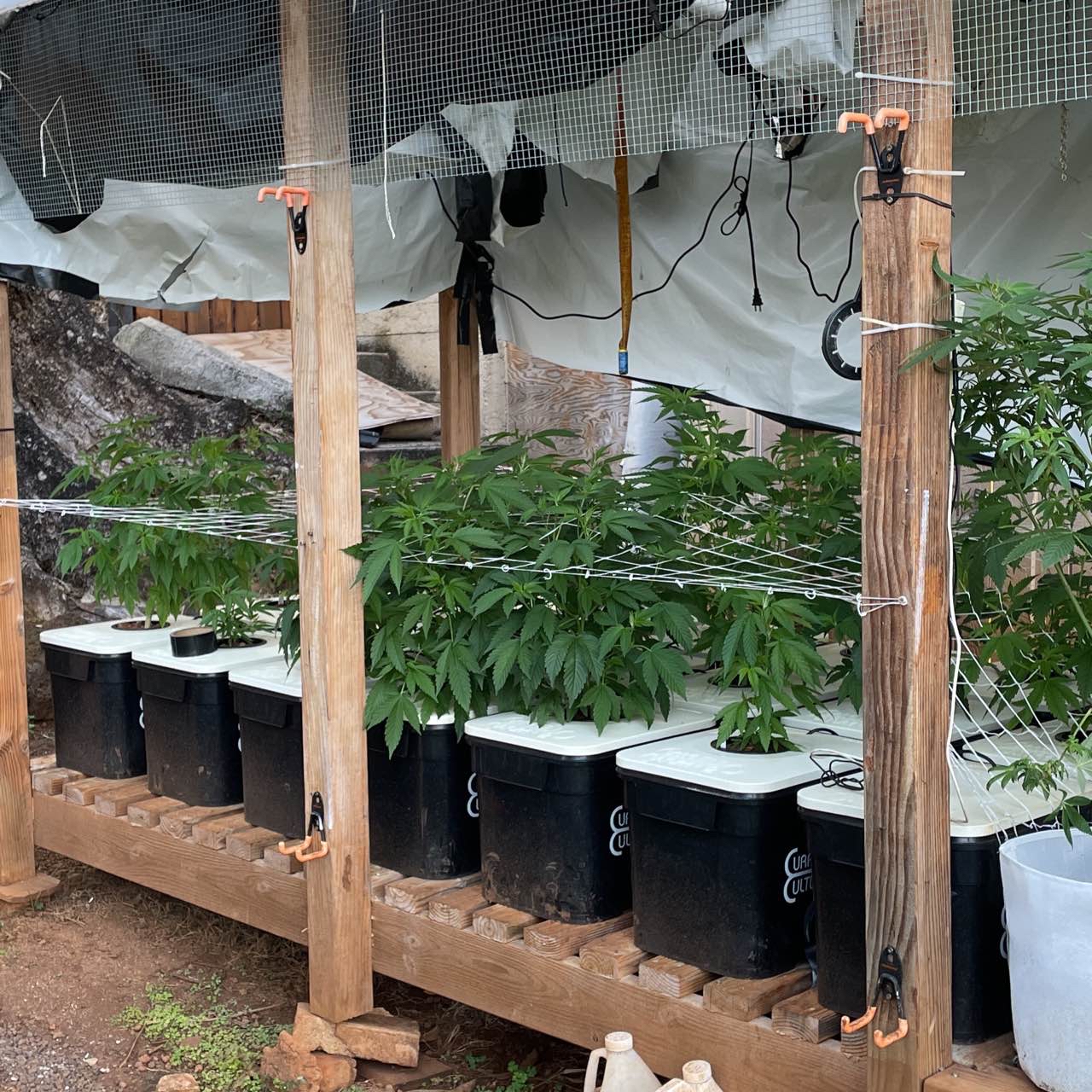 Ladies are really taking off got better up and almost all are through the net I have topped a few of them couple times already. Ph 5.7-5.8 ppm 620 temp 71
2 years ago
Just flushed the water yesterday, added back in 200 ml of all Nutes and 7ml of power si. Used 200 ml of ph down and for once hit that 5.8 right off the bat. Ppm is 660 and temp is 70. Going to put up first layer of net later today or tomorrow.
2 years ago
Ph 5.7-5.8 ppm 490 temp 70
2 years ago
Ladies just hanging under lights yesterday and today due to windy and rainy conditions. They grew a bunch yesterday can't wait to see if same today.
2 years ago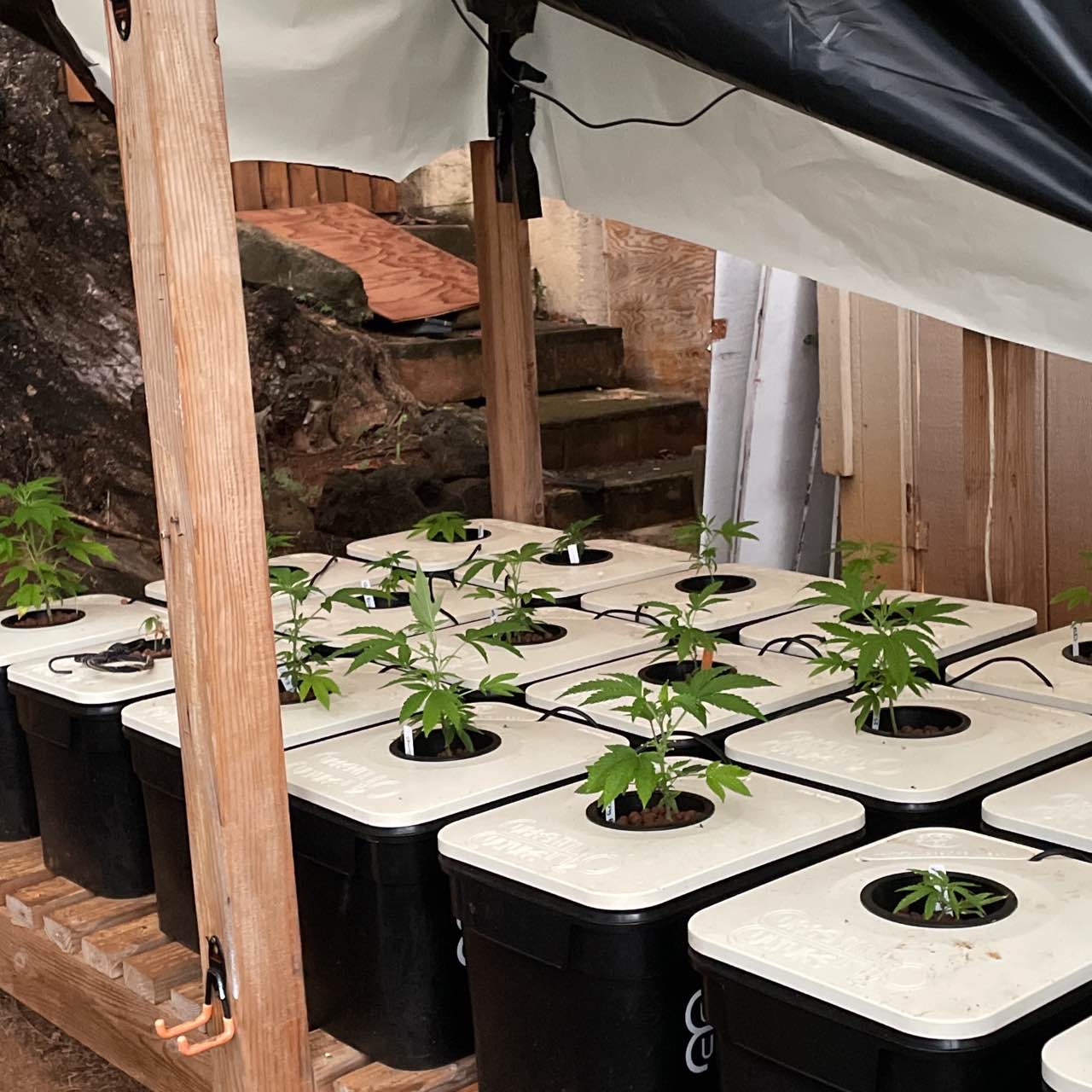 Ph 5.8 ppm 490 temp 70 ladies looking happy a little more light green then I would like but I think that's bc when I first filled I didn't put cal mag in. Just flushed on 2/13 and added in this time.
2 years ago
alwaysonfuego We used it at our licensed cannabis facility, but ended up scrapping it due to it being too time consuming to maintain. We grew some fantastic plants though. Do you Veg & Flower in the same buckets? If not, curious to know how you transplant?
bamen0825 I love the system once I get it going. It's takes off like crazy fast. I veg and flower in same pots but I have seen guys trans plant. Looks risky but can be done for sure
View 2 additional comments
Had to add a little ph up this morning, was at 5.5 and I want 5.8. Will flush the water tomorrow or next day. Usually after first flush these ladies take off.
2 years ago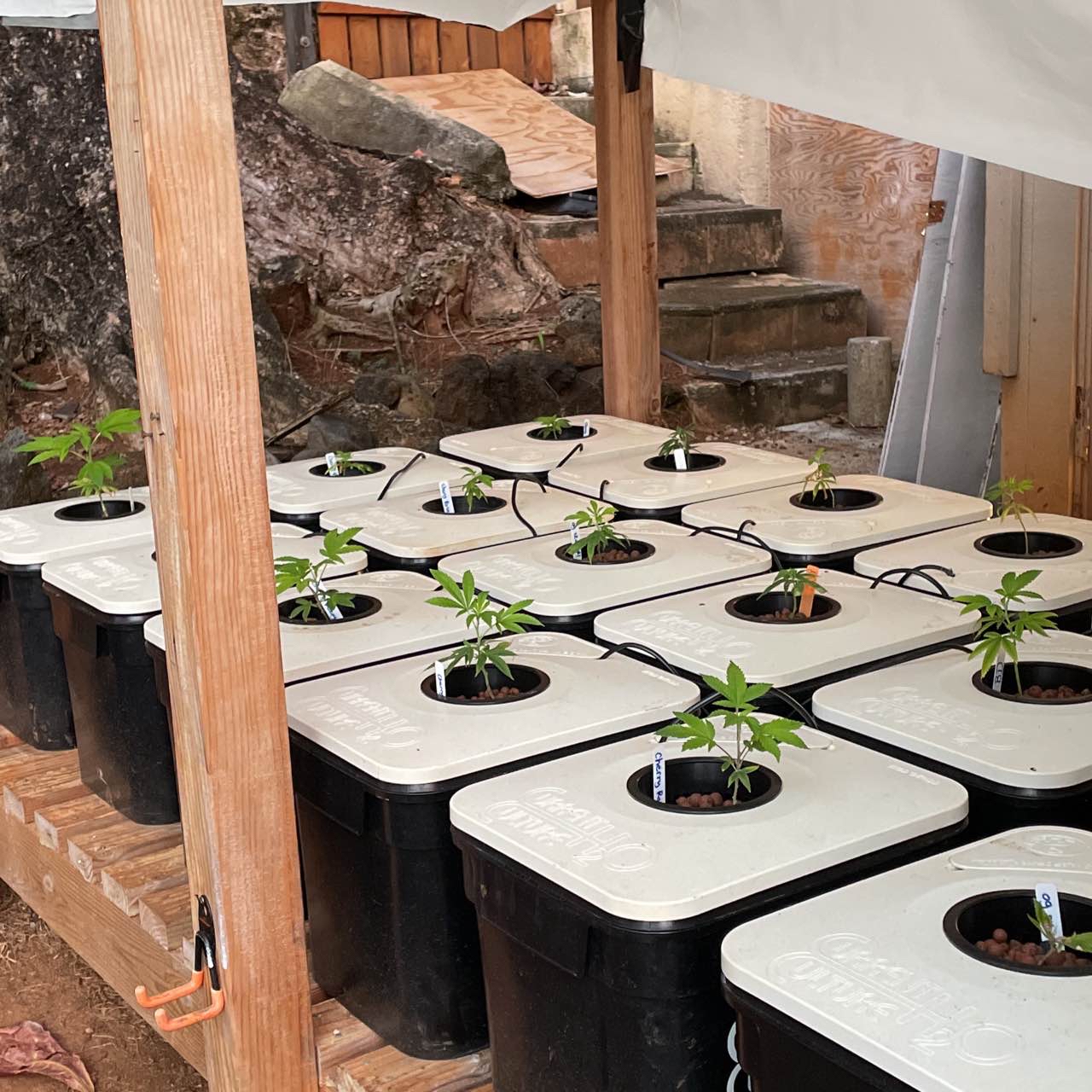 Ph hovering around 5.7-5.8, ppm is 390-400 and temps low this morning at 66 but by afternoon will be at 70 again. Looks like almost all have roots so hoping they kick into overdrive this week. A few have started already for sure.
2 years ago
Ladies doing ok most have roots touching the water now. Will change water in 7 days and usually that kick starts them if they haven't already went into full grow mode. Ph at 5.4 right now but I just dropped some more ph up, ppm is 400 and temp is a cold 63 this morning
2 years ago