seanokama
Critical Purple Auto: Jolina
Summer 2021
Starting off in budget IKEA tent in basement. Black Gold/ Ocean Forrest/ Natures Own Auto Super Soil•77 degrees • Popped 7/12/2021 • Seattle, WA • Daily Updates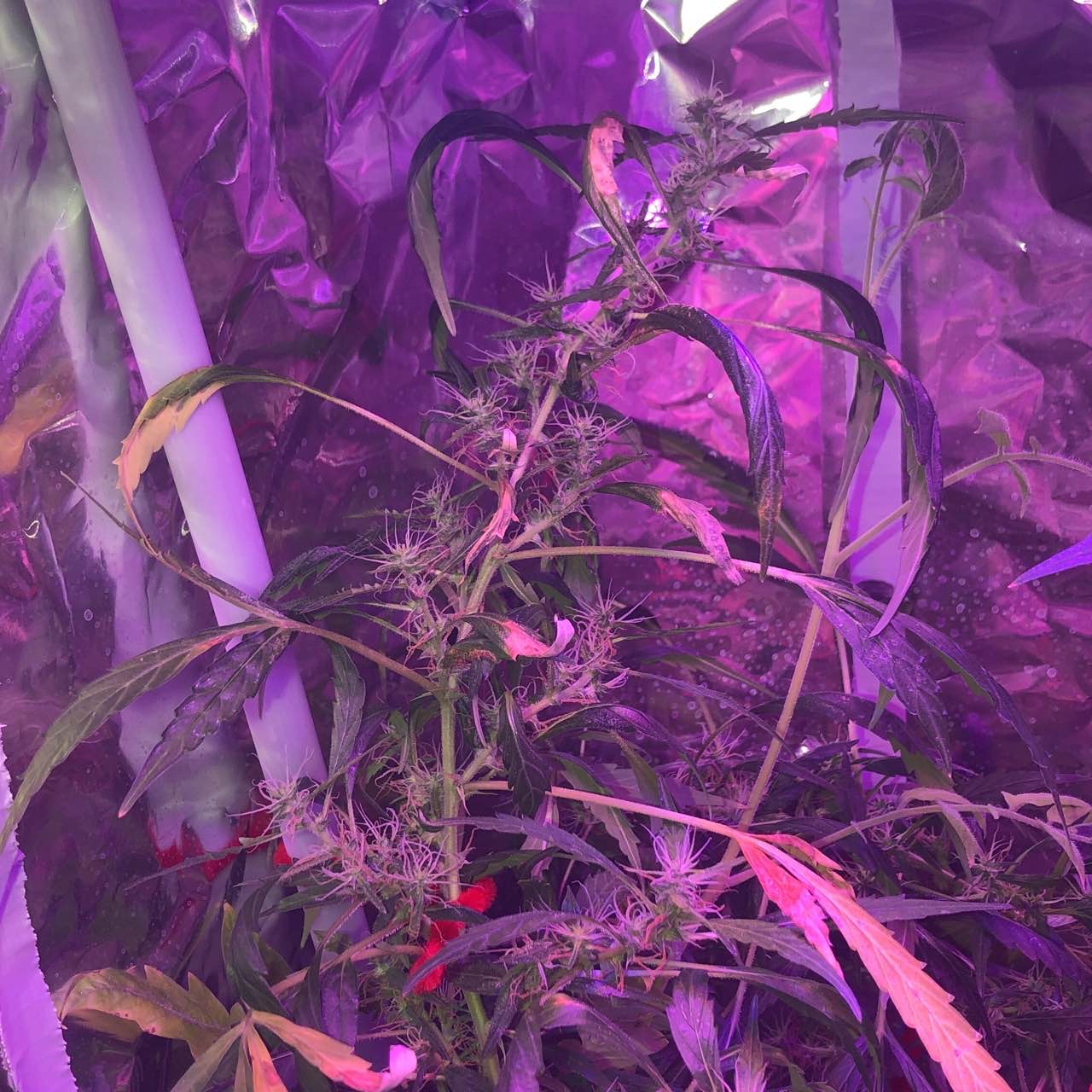 Nitrogen tox and Nitrogen Def. Fuuuuuuck this grow. Turned on the veg lights to see if it does anything
a year ago
Small case of nitrogen toxicity. Flushed out a few days ago. Buds looking good! Started trichome production last week!
a year ago
Been a while… Just watering, Clipping leaves and energy draining offshoots, and training her to target smaller branches.
a year ago
Welp. Solved Jolina's Nitrogen Defic a few days ago. Perfectly healthy thank God. Fungus gnats=gone. leaves dying at bottom: gone ✅ and guess what? She's starting to flower 😎 Gave her flora bloom and I guess she likes it. Note to self: Don't fuck with the switches. Leaf= Veg Flower = flower. You can't rush nature. Use A grow series for bytes from now on
a year ago
Mystrain420-@eaegifts 👍🏾 looks amazing growmie. I'm in the same page with u no point in buying good lights to strip the plants leafs that uptake it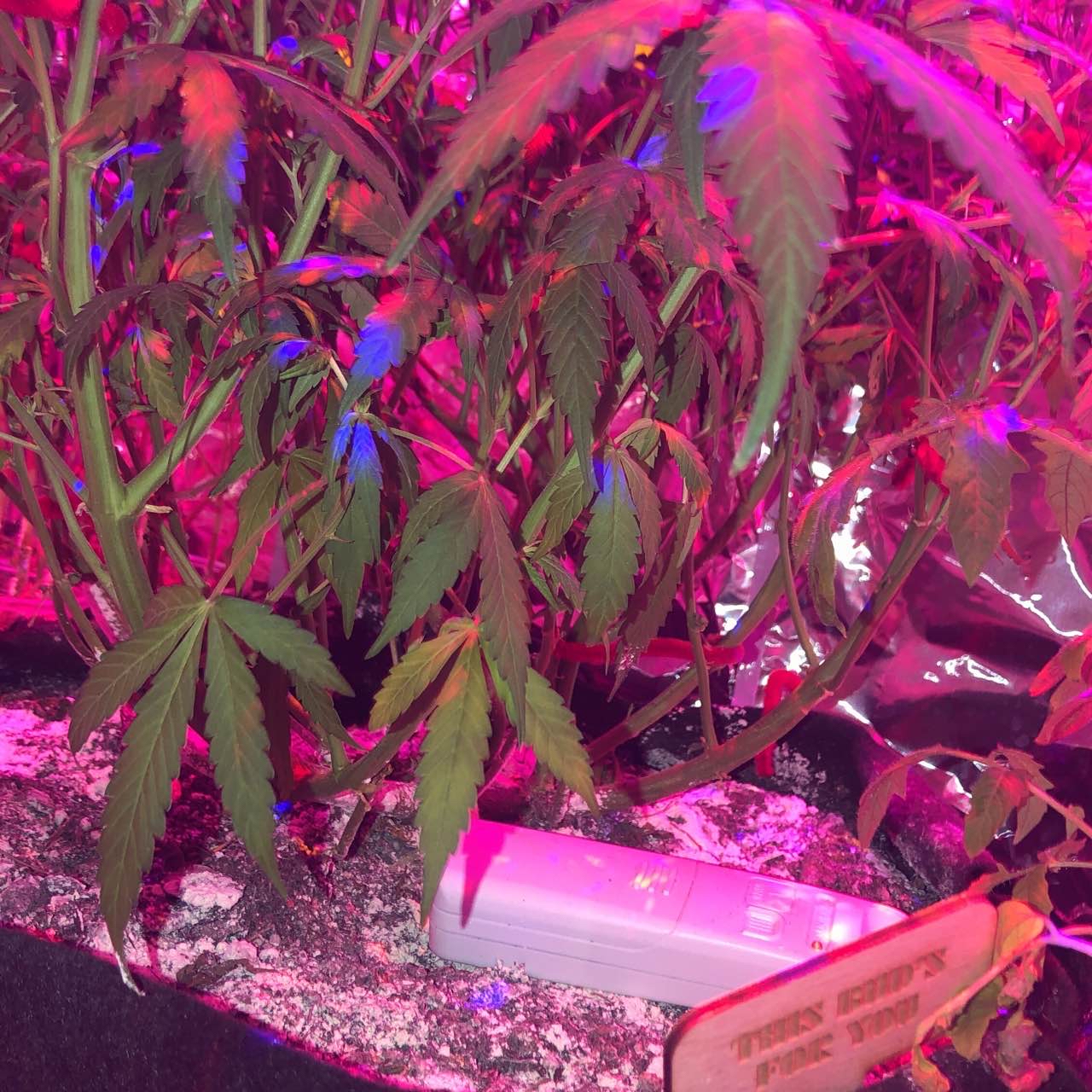 Day: Too damn long. Should have harvested by now. Fungus gnats larvae did some real damage to lower branches. Switched to 12/12 like 2 weeks ago but still not flowering. Switched light to bloom only. This can't be an auto flower. Good thing I don't pay for electricity here.
2 years ago
Watered yesterday! Defoliate Today! Man look at all those TOPS! 🔝🔝🔝😍😍😍 Confirmed fungus gnat infestation in soil. Bought D. Earth on Amazon, should be here Friday. Also bought some Trichogramma eggs! Natural predators of fungus gnats! :) must kill them all. Also tilted light towards the side closest to door to see if I can get this side to even out the canopy
2 years ago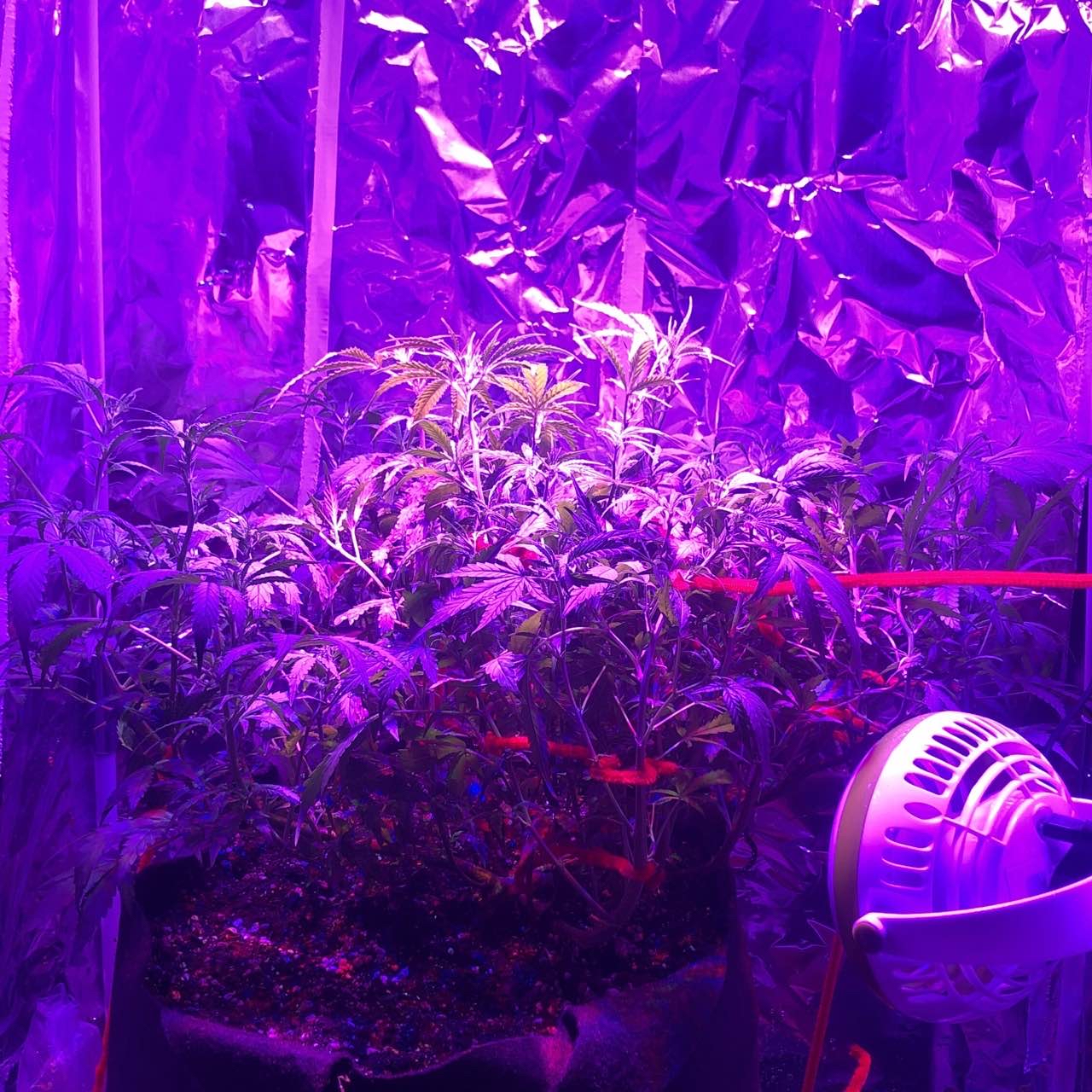 Watered today. Can't find Cal Mag so I hope that doesn't haunt me later on. Side closest was falling behind and since I absolutely refuse to get a trellis net I'm using the pipe cleaners to bend and stretch Jolina. 3 Weeks till flower 🌹
2 years ago
Caliban Use Epsom salts for cal/Mag
Gave up on defoliating right side of Jolina as her growth was apparently stunted by my defoliation and lateness of the tie down on that side. Untied most stems. Little growth except fan leaves.. Moved the pot up towards light so it's 15 inches away 4 Weeks till 🌹
2 years ago
Watered a gallon with CalMag and peppered soil with cinnamon for possible fungus gnats! 5 weeks till FLOWER 🌹
2 years ago
She said I lick lick lick lick like a lollipop 😜🍭
2 years ago
Defoliation Day! ✂️🍃🌹🍁
2 years ago
Watered a gallon w cal mag two days ago! Added a CO2 bag into tent as well! Hope it works! :)
2 years ago
Only LST training for now! Looking great. Accidentally cut the middle budsite off… feel like I'm gonna regret it. But at least I'm cloning it. Split in half today. Can't wait till she fills up the tent :)
2 years ago
Tied down fan leaves out of the way of Bud sites today! Exposed as many bud sites as I could to the light
2 years ago
Eventful few days! Accidentally snapped 2 of her main branches while LST'ing :/ but taped together and I think they might make it. Watered a gallon today 👍 perfect runoff percent. Decided not to tie down 360 and instead LST TILL lower branch is equally big as main stem.
2 years ago
LST'd and Watered w half a gallon of water yesterday and day before! :) lookin good! All 4 nodes that I wanted up are now equal w the main cola!
2 years ago
Growing huge! Fed half pitcher of non chlorinated tap water today and also LST'd her! ❤️❤️❤️ can't wait to see her start turning towards the light!
2 years ago
Looking amazing. Growing amazingly. No signs of overwatering or defect. Had a few cases of fungus gnats but I let soil dry to ward them off. Working on 5th node! :) might give her half bottle of RO water
2 years ago
Responding well to 24/7 lights! Beautiful tight nodes coming in. A few more days till I switch her back
2 years ago
She's very much responding to the 24/7 light cycle in a good way! Soil is starting to dry up and leaves are showing no light burn symptoms! Looks like she's going to make it. Currently working on her 2nd tight node. 👍👍👍
2 years ago
Not good! Had a little accident where the entire grow room fell over so now everything smells like piss manure. Also over watered the pot so she's not appreciating that right now. Hopefully she survives 🥲 I'm gonna run the lights 24/7 so hopefully the soil dries up
2 years ago
Secman A dehumidifier might help
superstarmma1 Take her outside if it's hot and sunny. Get the soil dry soon or she will not make it.
Transplant day! Hopefully I don't stress this auto girl too much. When I transplanted, I noticed she was pretty dry so I included a bottle of RO water after watering down fabric pot. Bottom of soil is Living Soil: Autoflower. The rest of it is Ocean Forrest.
2 years ago
Mystrain420-@eaegifts Not sure if you use real growers recharge or mycorrhiza but both are great for transplant and the recharge you can water in since you already transplanted 👍🏾
Currently watching the creation of Jolinas first node right now! There are 6 little leafs sticking up, but the 2 in the middle will become the stem leafed for the 2nd node. Also bought a humidity reader. I've been growing in around 50% humidity which is why this girl is a bit slow. Should have kept the baggy on longer. Supersoil comes Friday
2 years ago
This girl just keeps growing and growing! Second pair of true leaves are half the size of her first ones! She was a bit lanky so I think I'm going to re introduce her to the fan for them roots to grow
2 years ago
Ending the week strong with both true leaves doubling in size overnight. Crazy. I put the bag back on because I looked at my other grow and realized that my plant looks stunted and the only thing I did different is keep the bag off this time.
2 years ago
Awesome week for this girl! All light burning has stopped and her 2nd true leaves are getting bigger and bigger! I ordered some super soil from Amazon yesterday and can't wait to transplant! Also, removed fan from directly blowing on the girly
2 years ago
Oh no! Switching the flower lights on made the tips of Jolinas first true leaves burn a bit, so I turned them off last night. Second set of true leaves coming along fine 🥰🥰🥰
2 years ago
Looking perfectly healthy! Wrapped cup in black electrical tape for root health. Switched the flower lights on. Curious if they'll care or not. No new noticeable growth
2 years ago
Quick update! She's starting to grow her second set of true leaves!
2 years ago
Big true leaf growth! Took off the ziplock baggy last night and aimed the fan straight at her to promote strong root growth. Watered a tiny bit with RO water to help from drying out from the fan. Will transplant soon into 7 gallon fabric pot.
2 years ago
Goooood Moooorrrning Vietnammmmmm! Getting taller! True leaves are getting longer! No signs of mutation! Want to take the plastic bag off but I think I'll keep it on for one more day. Saw a fungus gnat yesterday in tent so started zipping tent up. Average temp 80 degrees. Hopefully gets colder soon. Dropped my gf off at airport today. She will be flying to Mexico and staying for 2 weeks. Jolina is a product of both our names together 😂
2 years ago
Caliban Love them into non clear cups. The light will harm the roots. 👍
medisweetzfemnautogrows If your going to transplant your autos be very very careful I'd cut the solo cup I recently transplanted my auto from solo cup to 3 gal pot the next day my plant was droopy after another day my auto had sprouted back up
View 1 additional comment
Good Morning! Woke up and Jolina's True Leaves have started showing! Added fan to tent. Average temp is 77. Bought A DOCS option for $80 today expiring Friday. Currently up $10
2 years ago
Jo just sprouted this morning! Was impatient so I went down to grow tent at 3AM and removed some soil from above seedling to help her out. Edge of leaves look light green. Will be on 18-6 light cycle
2 years ago
After 24 hours germinating in water. This girl is ready to GROW!
2 years ago