joshin_yah
Bubble gum auto
Little mess
I originally started this plant in roots organic soil and had it in a half gallon pot and it was doing wonderful, until I decided to transplant it and cut the soil with living super soil, so I got some young nutrient burn and lock out but I re-transplanted into fox farm strawberry fields, with some mykos and she turned around pretty nicely
Bubblegum auto, GYO seeds
Complete hung dry and second week of cure with boveda pack 58 and in a Cvault
4 years ago
Ducatiboy 58?! Why so low? Curious i dont use those packs due to their meant for storage but once my bud dries it stays at a 60-62% for me and my area its a sweet spot!! That bubble gum looks good! Did it get the bubble gum smelling pheno?
Joshin_yah Yeah a little bit.. has a sweet musky smell, hard to describe, I might have fumbled the first two days I was hanging the Rh went under 55.. heard that the cure will die if it goes under 55.. but I let it dry at the right Rh for a week and then to the cvault .. I learned my lesson this fruit punch will have a better yield I'll be able to cure it better
Joshin_yah Oh and about the boveda at 58 yes it's the new best RH to keep your trees at according to boveda .. but it's whatever it's honestly up to the grower, I leave it up to the strain if it's a more dense flower I'll keep it at 62 and more airy strains at 58
View 2 additional comments
I just stuck her in the dark for two days, she looks about the same to me.. I flushed her twice got the ppm down to 280, but I think it was reading high because of the soil.. I never added synthetic nutrients the whole time she grew, only once in flower I added a tiny tiny bit of bud candy and big bud, and it basically just spiked her K, idk they always say it's better to wait longer then to cut too soon.. debating if I give her the snip snip
4 years ago
Ducatiboy Chop it! What are you waiting for?! Looks good! Hows the smell?
She's got a heavy flush yesterday in the bathtub, with RO water and terpenez, the trichomes are cloudy, I'm thinking next Sunday she will be ready, maybe sooner!
4 years ago
It's like a bad car accident, you know it's bad but you still gotta look! Lol.. she's packing on the weight, now just determining when she ready to get the snip-snip! The trichomes are starting to look a little cloudy, which is supposedly when she's at her peak potential, but I hear to cut when they become an amber color.. I know I know the plant will let you know.. welp there's levels to this shit and I'm trying to figure out the best way to go about it..
4 years ago
ClandestineWestOz Nah bro only leave to go amber if you like a real narcotic stone, around 10% amber is good then you can be sure the other 90% will be cloudy.
She was watered with RO water and 1ml of terpenez, yes I know her leaves looking like shit, but them buds look fire! I'm just shocked that this plant has made it this far, and produced a beautiful looking flower, I would say "flowers" but this auto looks like a bud on a stick, lol.. but still very dense bud sites.. I think maybe another week of flower and I'll start a mild flush
4 years ago
The bud candy and big bud and nirvana, might have been too much on her, that strawberry fields from fox farms is very hot, when it comes to nutrients, so be careful! Either way she is looking good, next week I will start flushing with terpenez, to help the resin production, and flavor of the flowers, she already has a bubblegummy smell going on!
4 years ago
So I decided on giving her some liquid nutrients yesterday Bud candy 1/2ml Nirvana 1ml Big bud 1/2ml She looks to be flowering nicely, but what concerns me is her leaves are clawing down, don't mind the tips that happen in the beginning weeks with super hot super soil mix I didn't cut enough with coco, anywho she got a beautiful bubblegum smell any suggestions will help thank you
4 years ago
ClandestineWestOz I did a bit of snooping and I believe it's heat stress. The shiny leaves help me come to this conclusion. You can make them shiny spraying neem oil on them to rid pests but I don't believe you have a pest issue?
ClandestineWestOz Bro what's the secret to growing auto seeds? Half mine won't germinate and the ones that do only pop open then nothing!
She is getting really frosty! I love it! The little engine that could has turned around! Yes it's going to be a small harvest on this one, but I'm just happy to see her looking good! The buds are really forming nicely, and a lot faster than the fruit punch, (which is for sure going to be a 10 week auto).. This one will be cut way before! Looking good!!
4 years ago
She also has her own tent along side the fruit punch auto, under the Optic 2 COB led!! She got a fresh watering of just RO water, still debating if I should give her a little nutrients? Either way she's look good..
4 years ago
Looking good!! Can't wait to put her under the optic 2 COB , should be delivered tomorrow
4 years ago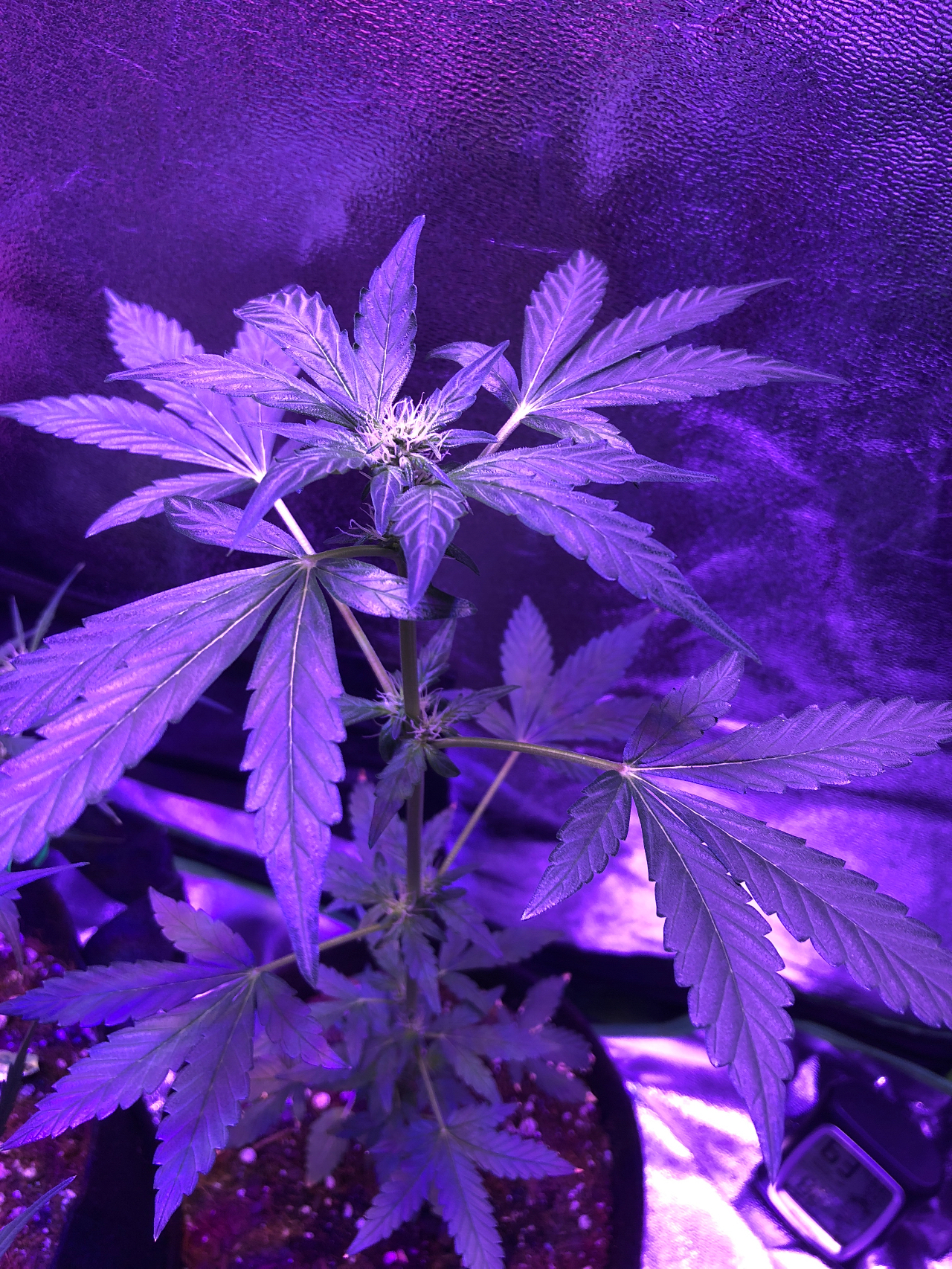 Ohga chuga ohga chuga the little engine that could is chugging along nicely, considering she had problems with a nutrient lock out in the beginning I'm not sure if I wanna give her anything to help her flower.. she's in fox farms strawberry fields which has some nutrients in it but don't know if she Needs a kick in the behind .. it's whatever
4 years ago
ClandestineWestOz Which breeders Bubblegum is this? I just got my Auto Bubblegum beans yesterday from GYO seed co.
ClandestineWestOz Sorry bro i just saw that I got the same as you, I can't read for the life of me.
Joshin_yah It's a GYO seed .. love that seed bank they have the biggest selection and the best deal..
View 3 additional comments
Look at that growth spurt !!
4 years ago
The little engine that could ..
4 years ago