Royal runtz
Greenhouse Grow Photoperiod #1
Starting to germ the second batch. This will be my first photoperiod. Thinking I will squeeze this in as a greenhouse grow before light changes but might start inside.
Growing nicely, they realized there was no room left to stretch and stopped just short of the lights. I take back my praise for neem oil and thrips, still battling them. Few more weeks.
3 days ago
zer0applied Dude. For thrips… captain jacks dead bug. Get a 32 ounce spray bottle at Walmart and use 15ml of the dead bug mixed in the bottle with water. Spray all plants all spots top and underside of leaves. Also spray the soil. It's fine to use as long as harvest is a week away. TRUST ME.
zer0applied Also get permethrin and spray the tent walls and the floor etc and all your stuff including the top of the soil a nice little mist. Don't get it on the buds though. It's in products for head lice and bed bugs so you can get it super cheap at the dollar store it kills them on contact and is safe for humans and animals etc.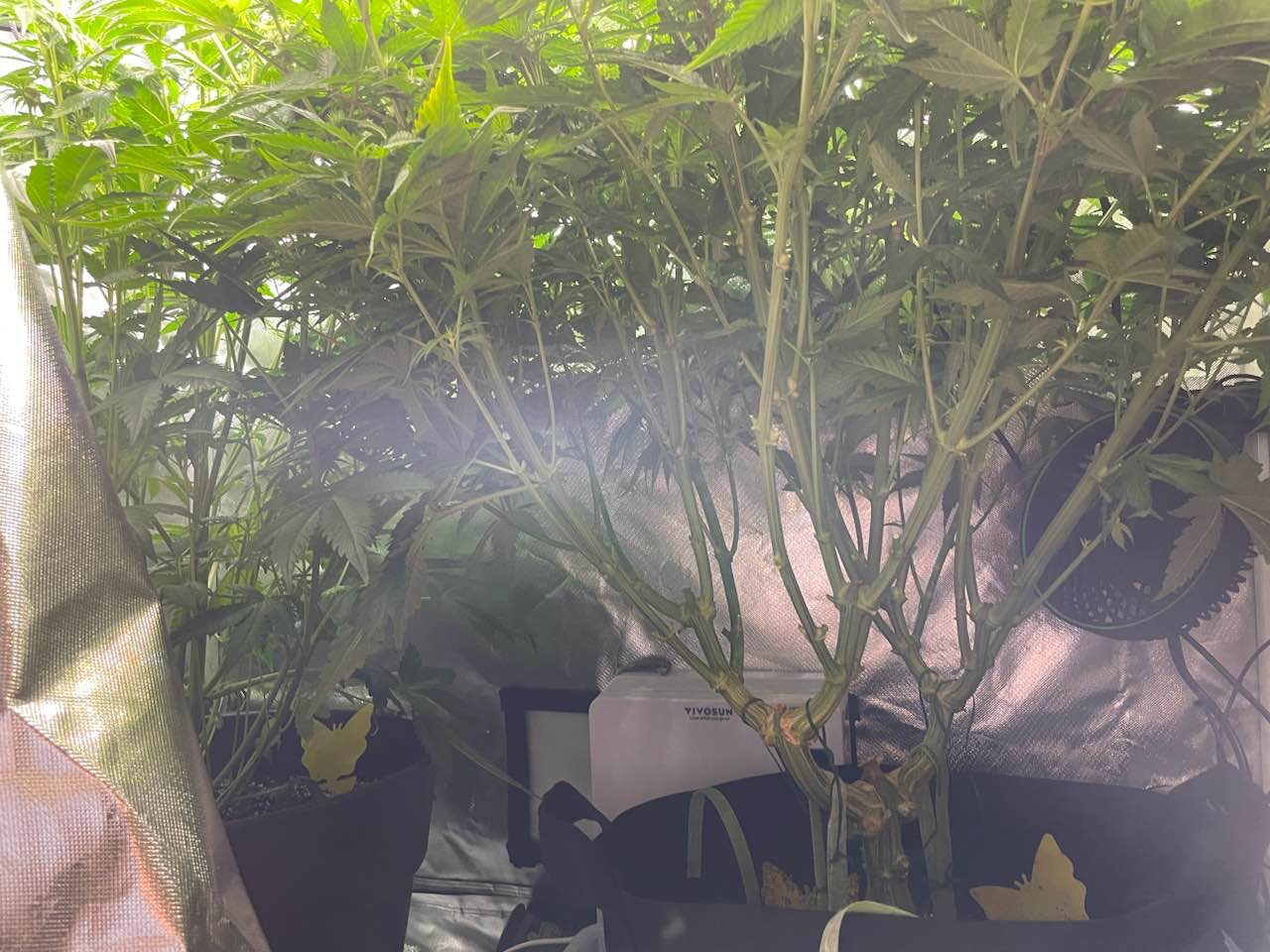 Did a defol today. Think all the thrips are gone, homemade neem oil spray is a million times better than the captain Jack stuff. Fed them today also. Small guy actually hit the light before the big one, got a little torched on the main cola. Had to get rid of the light pulleys and just tied the lights directly to the top support bar. No more room after this… otherwise looking good, 5 more weeks or so.
15 days ago
Fed today. Big guy runoff at 500 ppm and 6.2 Ph
20 days ago
amithus You got that tent filled out nicely. Awesome stuff.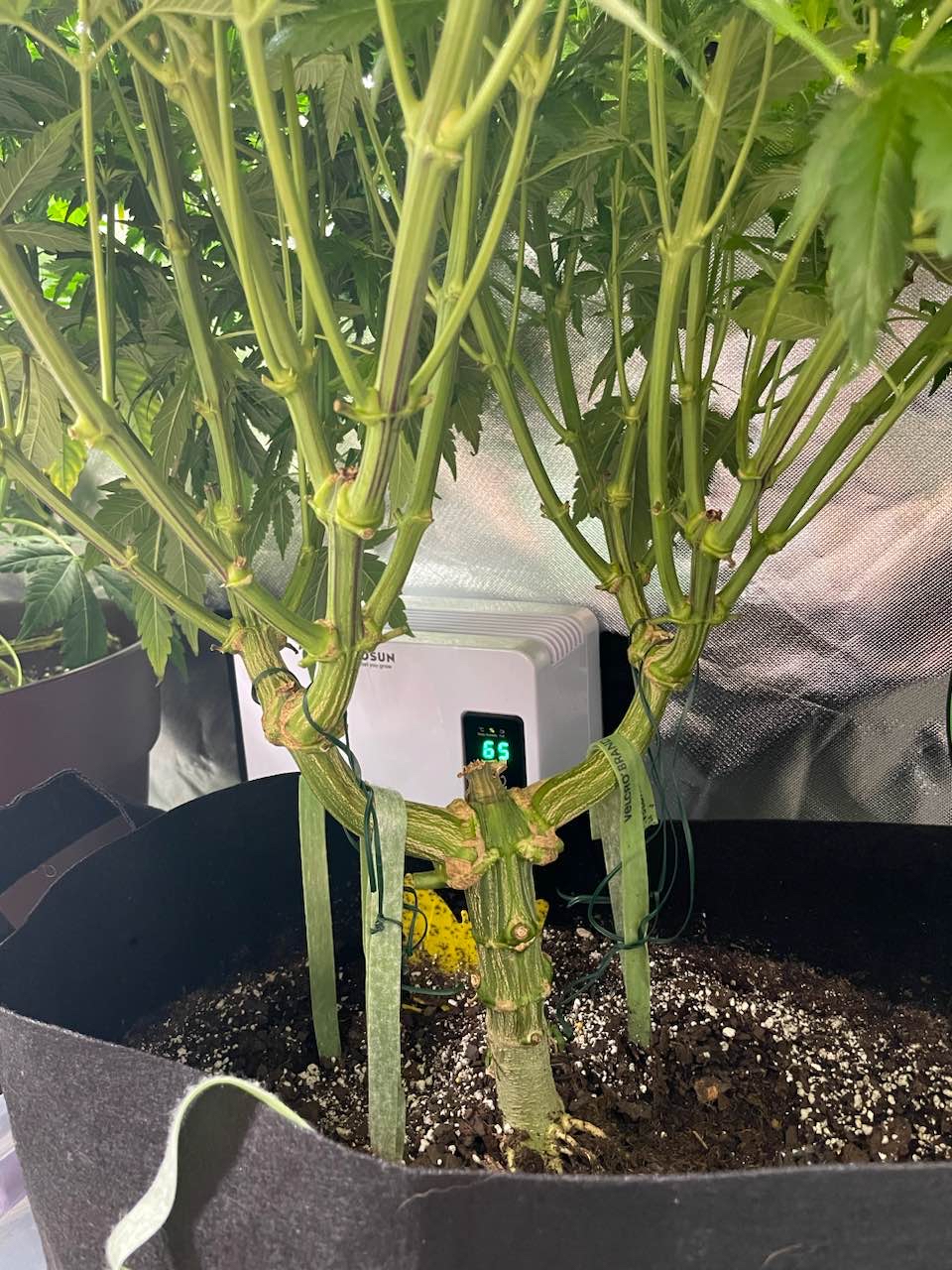 Yeah they blew up. Big one is barely staying contained in the tent. Wondering if this will lead to denser nugs up top
21 days ago
HokieHigh2011 Yeah definitely going to trim, waiting until week 2-3 of flower so I think next week I'll get in there. Unfortunately got some thrips that migrated from the greenhouse so doing some neem treatment now.
View 3 additional comments
Just switched over to flower. Worried she gonna outgrow this tent but had to wait for the little guy. Fed first flower dose. Runoff 5.7 ph 980 ppm. Ph was 6.5 going in.
a month ago
ig:@eaegifts I'm anxious to see this big girl flower like she's mine 😂.
zer0applied I have a CBD plant that I am in love with since she's so beautiful and symmetrical like yours so I made her a mother plant and I just keep letting her grow. If you flip that one she'll easily outgrow that tent!
HokieHigh2011 They both exploded. Another update coming shortly. She's noticed how little room there is and seems to have stopped stretching for now….
View 1 additional comment
Recovered from the lack of water. Think I'm gonna flip them Sunday when I get back. Little bit of spotting on the leaves got me a bit worried. Watered ph of 5. Came out at 5.6 with 710 ppm
a month ago
Yikes, delinquent on watering and she's mad at me. Just gave about 2 gals hope she perks up in the morning.
a month ago
Really want to flip but this damn seedling is going so slow. Single tent problems. Fed today. Also another topping on the highest colas to even out.
a month ago
Did 2 toppings but feel like I need one more trim here to just leave the big colas. Waiting for the seedling to catch up also so I can flip both to flower at the same time and avoid a divider panel. Leaves got a little weird today.
2 months ago
amithus Yo I know this is a older post but is this picture of the one that got topped at the third node back a few posts ago?
HokieHigh2011 I did several toppings on this one waiting for the little one to catch up before I switched the lights. It's also the only one I've topped so must be the same.
Fed first nutes today. Half dose of ff trio - 1 tsp bb and 1/2 tsp gb with 1/2 tsp calmag. Ppm runoff 2725. Ph in 6.5 out 5.1. May do a couple plain waters next.
2 months ago
Topping #2 of the mainline. Tied down the branches without breaking one this time. Picked up some ocean forrest soil and added that to the top, one of her roots was showing.
2 months ago
Broke one of the buds at the 4th node so decided to chop down to 3 and completely defoliate below, the lower buds were crowding and hidden under these giant fan leaves anyway. Hopefully didn't over stress her.
2 months ago
She started shooting up recently so seems to have recovered from the transplant. Decided to top her at the 4th.
2 months ago
Definitely moving slow still after the transplant. Fat ass fan leaves and stem is a little shaky but thick. Was planning to top it but worried after the stunted growth. Will give it a couple more days
2 months ago
Transplanted her on Tuesday, she was in shock until about an hour ago when she finally started growing again. Was worried because she looked a little root bound coming out of that pot. Going to give this one plenty of time to veg, planning to try mainlining.
3 months ago
Looking for some advice. I live in DC and am wondering if I should move this photoperiod plant out to my greenhouse, or if it's too late being early July? Just worried that if I take the photoperiod out now it won't spend enough time in veg. I could move my autoflower out to the greenhouse and keep the photo in the tent, just eventually going to run into a light schedule issue if one of these two doesn't move outside. Thanks for any feedback!
3 months ago
Dropping the seed
3 months ago