clos23
2 Fast 2 Vast Auto 1st Grow
Summer 2019
Storage bin grow box Mylar lining 6 100(23)W Phillips daylight CFL bulbs 3 mini 4in fans 3 gallon pot Fox Farm ocean Forest Down to Earth Bio-Live 5-4-2 Fertilizer Bottled Spring water Mini Sense humidifier Running lights 18-6 She out grew the box. So now in a tent 2x2x4 Vivosun tent Optic 1 XL 3500k dimmable cob light Vivosun oscillating 6in fan 9in fan blowing at bottom port
2 Fast 2 Vast Autoflower Heavyweight seeds
Trimmed after 5 days of drying. It got a little a couple days this week which caused the quick dry. Also I think the fan I had point at the wall under the buds was a lol to powerful as well. So they're in jars curing. Waiting for my scale to come in. I'm guessing a lil under 2oz
3 years ago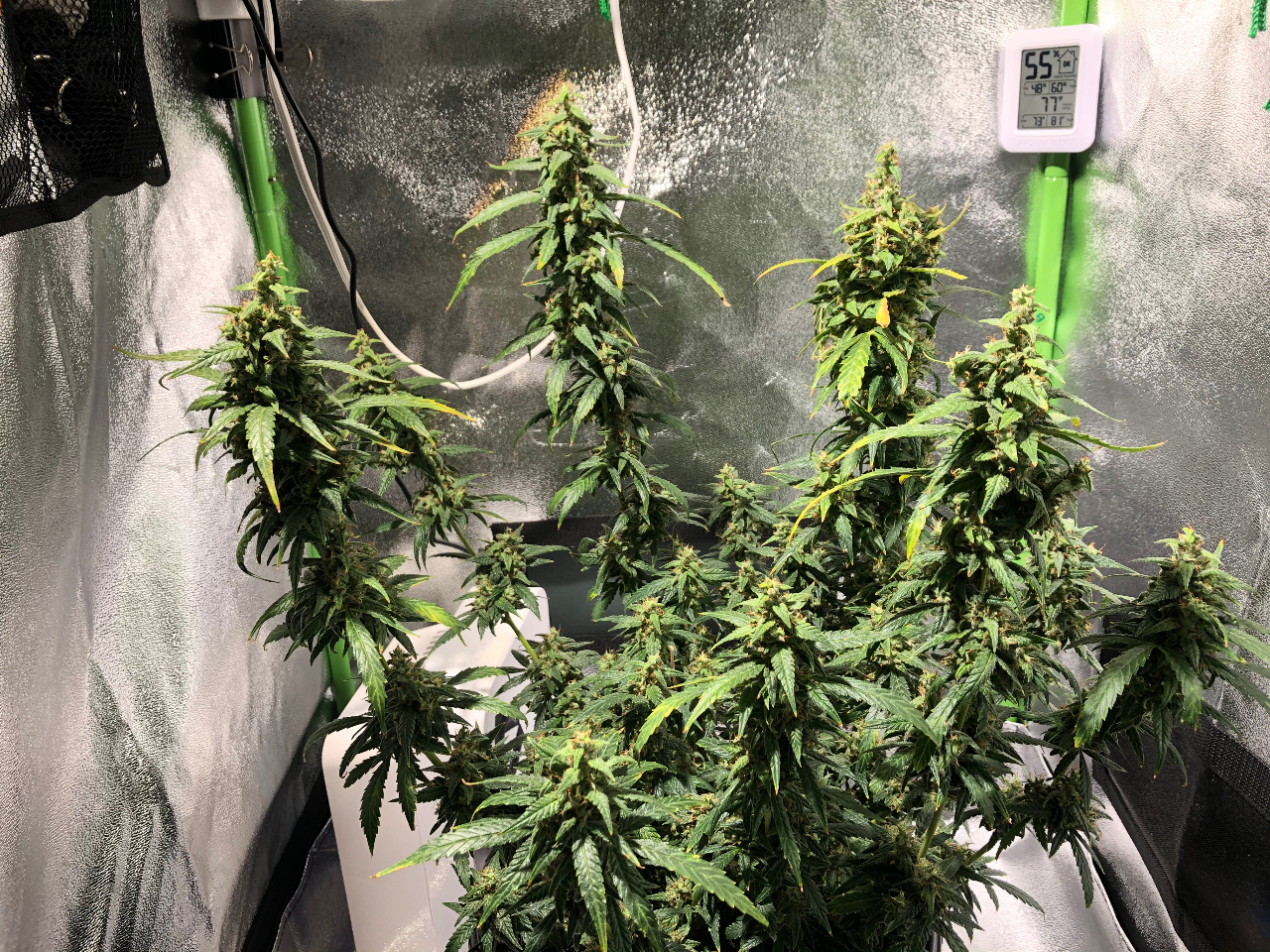 Densing up and leaves are starting to fade. Also lots of fox tails. Gave her 12 cups of water with just under 1tbs of molasses for a flush. Next one will be straight water. Few more days until chop. Also found a lil hermie banana on one of the lower nugs. Learning all kinds of stuff on this first grow
3 years ago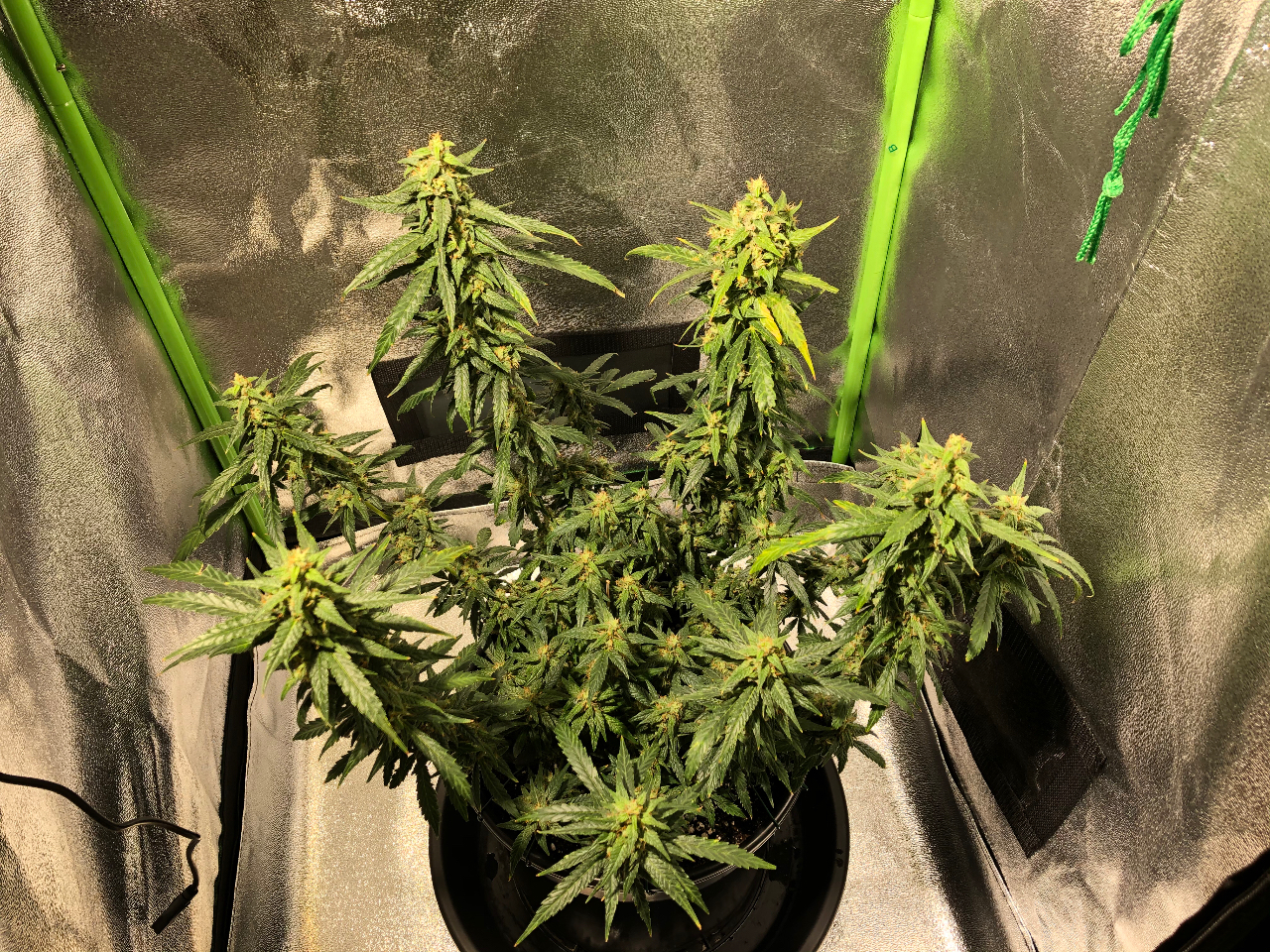 Coming close to the end. Was still deali my with fungus gnats, so I have her a Doctor zymes soul drench yesterday. I still see some here n there. But got most of em I guess. Next watering I'll do a molasses flush and keep flushing until the end. Which is about another 1 1/2 weeks to 2
3 years ago
Coming dow to the end. Flushed with 12cups and just under 1 Tbs of black strap molasses. Homie told me it works wonder at the end during flush. We'll see what happens. Also sprayed Doctor zymes on the soil for prevention and sprayed all over when lights were off. Highly recommend for an organic pesticide, fungicide and foliar spray.
3 years ago
Gave her 12c water w/ 20ml of nutes took a couple leaves off that we're blocking some lowers and moved the light to the corner so it can point diagonal to give it a little more distance. This angle seems to work great and gives me just the minimum distance of 18-24inch away. Also I still have it dimmed a bit. She's still putting on weight daily. I also checked the ph of the run off and it was pretty good 6.3ph. We're having a heat wave so the temps are a lil high. RH has been pretty spot on.
3 years ago
Gave her a major cut today. Also I noticed the top leaves were starting to turn light green, and some had some brown spots. So I believe it's light burn, due to the powerful optic1 xl cob. I tied it an inch higher (max height) and dimmed the light a bit. We'll see how she reacts. Also she seems to enjoy the bloom nutes.
3 years ago
Gave her 12cups of water w/ 1tbs of bloom nutes. She's fattening up day by day and starting to smell a bit
3 years ago
Week 7 started yesterday. Watered with 12 cups today and added 15ml Botanicare pure blend pro bloom. It's been hot. 84-86. Also the leaves ended up dying on the broken stem, so I took it off. I didn't tape it right and it didn't attach. Trichomes are coming in :)
3 years ago
Got a new set up, put her in there. I was defoliating a few leaves, when I bumped into one of the stems and broke it. Pretty bummed, but she was hanging by a thread, so I put some first aid tape around it and propped it up as much as possible. Hopefully it turned out alright. So many mistakes. Anyways. First time, I'm learning. Got 2x2x4 Vivosun Tent. Optic 1 Xl Dimmable led Cob Vivosun 6in oscillating fan.
3 years ago
Didn't do much. But she's putting on flower, and the main stem is about 1 1/2 ft tall. The phot shows where the bend start at a lil over 12in
3 years ago
Gave her 10 cups of water, and re tied her. Weathers been hot so it been getting a lil warm at times. Luckily I got it down to 79 right now. She's recovering from her Nute burn pretty well. Also took of a couple leaves that were dying at the bottom or blocking bud sites.
3 years ago
Ran into some problems this week. When adding the Bio-Live 542 to the mix, the next day I seen my plants curling and burned at the tips. So come to find out I have the wrong nutes for flower and have a Nitrogen toxicity. Also was dealing with a few gnats. So I let her dry out and sprayed with "The Amazing Doctor Zymes with lights off 4 days in a row and seems to have done the trick. I will spray at least 1 maybe twice a week from now until the end. Today I flushed her with 2 gal of water and defoliate some dying leaves at the bottom and took some off the top that were covering his sites. Fuck it. Love n learn
3 years ago
Untied, added 9tbs of Bio-Live 5-4-2, watered w/ 10 cups. Re tied and changed the light bulbs from daylight to soft white for flowering.
3 years ago
Un tied. Watered w 8 cups and re tied her. Flowers are coming in 💚
3 years ago
Just adjusted her tie downs, tucked some more leaves, Brought the RH level down to about 50-55%. She's definitely started her flower stage 😃 prob water tomorrow
3 years ago
Untied her, let her breath a bit, gave her 8 cups of water and re tied her 😈 she's looking good. Next time I water I might add Some Bio Live 5-4-2 on the top soil.
3 years ago
Did some more LST. She looks a little messy, but she'll grow out. Still not sure if I wanna defoliate those big fan leaves because, this is my first grow. So for now I'm tucking away to keep the budsites open. I think she's started flowering?
3 years ago
Did some more LST. She's getting bushier. Maybe another day or 2 until I water again.
3 years ago
Re wired, Anchored and tucked some leaves, opened her up wide. Think she's starting to show some pistils? Feel better with this LST 🙃
3 years ago
Decided to skip watering yesterday, because top soil was a little wet still. So watered today w/ 8 cups of water. Next water will be with 12 cups. Thinking about starting LST this week.
3 years ago
Decided to start LST after all. Made some mistakes. First mistake, Not enough soil. Could've filled more to the top which would've made it easier for me to tie down. Also accidentally tore off a small leaf and ripped 2 tiny holes in one of the fan leaves on top. Kind of stressful working with the wire. Hopefully she won't stunt or take too much to recover.
3 years ago
Watered w/ 6 cups of water. Keeping my VPD pretty close to on point. Between 60% RH and 78-82 Degrees Feh. Will water w/ 8 cups on day 19
3 years ago
Just gave her 4 cups of water. Gave her 2 cups on day 11. I'll give her 6 cups on day 16
3 years ago
Coming out nicely. Did notice a yellow spot in the small lower leaf. Anyone know what that can be from?
3 years ago