Diesle Berry / Purple Stilton
Autoflower
2 auto seeds germinating. One Purple Stilton and one Diesel Berry both auto flowers in 5 gal fabric pots. My medium is FFOF perlite mix. Using one 600w LED
11/28/18. Harvested Purple Stilton today, should have been germinating some more seeds but I need to buy some more soil and a few more pots.
4 years ago
11/26/18. Just started flushing Purple Stilton. I think it might be a little late, because I'm noticing a few amber trichomes. Diesel Berry is now in jars curing. I tested some after drying, it was harsh but it tasted alright. It also shrunk up quite a bit.
4 years ago
ClandestineWestOz Looks top shelf, well done. Hopefully you get it before too many more ambers show up
Be42ohh Thank you! And yeah I think even if I'm not done with the flush I am going to chop her if I notice much more.
11/22/18. Chopped the Diesel Berry, wet trimmed and hung to dry. Also fed the Stilton 1/2 dose of bloom nutes. Purple Stilton still needs another couple of weeks.
4 years ago
Be42ohh I do, I'm still trying to figure out what I want to do next I have some chem dog seeds and I think freeze berry.
11/18/18. Flushed Diesel with 6.0 ph water (2 gal), and gave the Purple Stilton a tsp of molasses with one gal of water. Trichomes on the Diesel are starting to turn milky I would say 50-60% so I am still going to be harvesting in 4-5 days. Temp 72.2 30% RH
4 years ago
11/14/18. Fed Stilton 3/4 bloom and 1/4 grow nutrients, and then just ph water for the diesel. I noticed a bunch of amber trichomes on the diesels sugar leaves, no sign of any on the actual buds. I hope I didn't start flushing too late. I am planning on harvesting the diesel berry on thanksgiving. Depending on bud growth I am thinking about starting to flush the Purple Stilton in about a week.
4 years ago
11/10/18. Just started flushing the diesel thinking I will be harvesting her around the end of the month. Gave 1 Tsp of molasses to the Purple Stilton. Temp 72.5 F , 31% RH.
4 years ago
11/05/18. Fed bloom nutes to the Diesel and half bloom half grow for the Purple Stilton. The Stilton's Fan leafs are still looking pretty yellow, especially under the LED. Not sure what I can really do about it other than just wait. The Diesel Berry is starting to reek, and frost up nicely. I can't wait to harvest this stinky plant.
4 years ago
11/01/18. Watered with one tsp. molasses. Temperature is at 73.6 31% RH. I did notice some lightening in color on some lower leaves on the Purple Stilton, also I think I might have just messed up the PH on her tonight as well. So I'm going to have to keep an eye on her.
4 years ago
10/27/18. Fed the diesel 1/2 recommended dose of bloom with a little molasses. And the Purple Stilton got half and half bloom and grow. Temps 76.1 RH 39. Starting to frost up a bit.
4 years ago
10/21/18. So I went ahead and did some lst on the Purple Stilton and cleaned up some fan leaves.
4 years ago
10/19/18. Fed 1/4 flora nova grow and a 1/4 flora nova bloom, also tied down some side branches on the diesel.
4 years ago
10/14/18. One month old, will water tomorrow with 1 tablespoon of molasses. Diesel Berry is showing tons of bud sites, and the Purple Stilton responded well to tucking her fan leaves.
4 years ago
10/11/18. Fed 1/8th floranova grow, tucked fan leaves on the Purple Stilton. 75.6 F 41% RH.
4 years ago
10/10/18. I have removed all of the leaves on the diesel that had yellow spots. I have been doing a lot of research and have come to the conclusion that this is leaf septoria. Hopefully removing all of them has stopped this from spreading. I am also going to clean the fuck out of my tent. Purple Stilton is looking like she is trying to stretch a little but still very short and bushy. I'm not sure if I should get in there and prune a little to get some more light coming through. I kind of want to just leave her alone and let her do her thing.
4 years ago
10/8/18. The lst looks good to me, side branches look like they have grown quite a bit in 24hours. I might try to pull her down a little more so she bends at a 90 degree angle. But other than that I am happy so far.
4 years ago
SMEHTHESMEH Gonna follow this grow since I really wanna get purple Stilton. Looks like a great plant!
10/7/18. The yellow spots have not gotten worse so I think I am going to use a little less nutrients, also bought some molasses which I will be giving when I water. The diesel is starting to show a lot of bud sites. I have noticed a few white hairs on the Purple Stilton, I just don't understand why she refuses to grow taller. I'm thinking about maybe putting the light a little higher to encourage some stretch. I will be watering later tonight around 6PM with 1 tbs of molasses. ***update*** Started LST on the diesel berry. Temps are at 75.2 55% RH
4 years ago
10/5/18. So I am pretty sure that it was to early to give these girls nutrients. I came home from work today to find some yellowing on the lower leaves on the Diesel. To me it looks like it could be nute burn, I'll be doing a little more research to see if I can figure out the issue here. I would greatly appreciate some opinions on what this could be. Thanks.
4 years ago
10/3/18. The Diesel looks like she grew about an inch in 24hrs. I'm going to start LST in a week or two. I'm thinking I'll water tonight and might give them their first feeding, about 1/4th the recommendation on the bottle.
4 years ago
10/2/18. They seem to both be growing pretty well. I'm thinking that I will be watering tomorrow. Still no nutes, and probably won't use any for another week or so. 82.2 F., 29% RH Also I might start training the diesel in a week. Depending on growth. ****update!**** First signs of sex with the diesel! Very excited now!!!
4 years ago
10/1/18. Seem to be happy.
4 years ago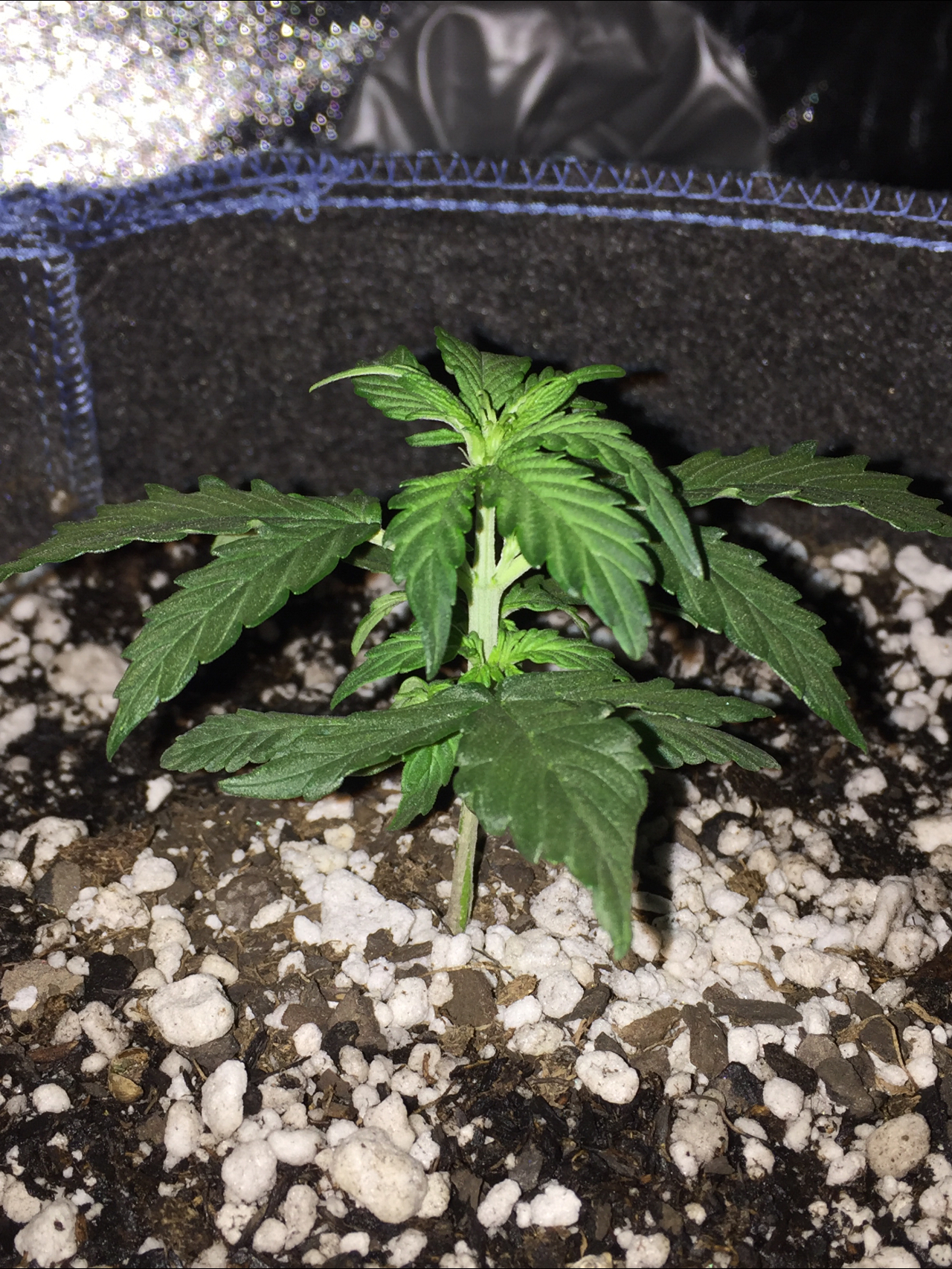 9/30/18. Watered with 1 liter each. Ph 6.3-6.5 Temps are at 75.2, RH 43% Purple Stilton I'm thinking is just a runt. I don't expect her to get very big.
4 years ago
9/25/18. The Diesel looks like it's starting to droop, so I am going to go back to watering with 1 liter each. I am pretty sure it was to early to start watering the whole pot. I am really starting to regret starting in the 5gal. But what can you do...
4 years ago
9/23/18. Watered with half a gallon each. Not sure if watering the whole pot is cooling down my tent but it is at 75.6 and humidity is at 38%.
4 years ago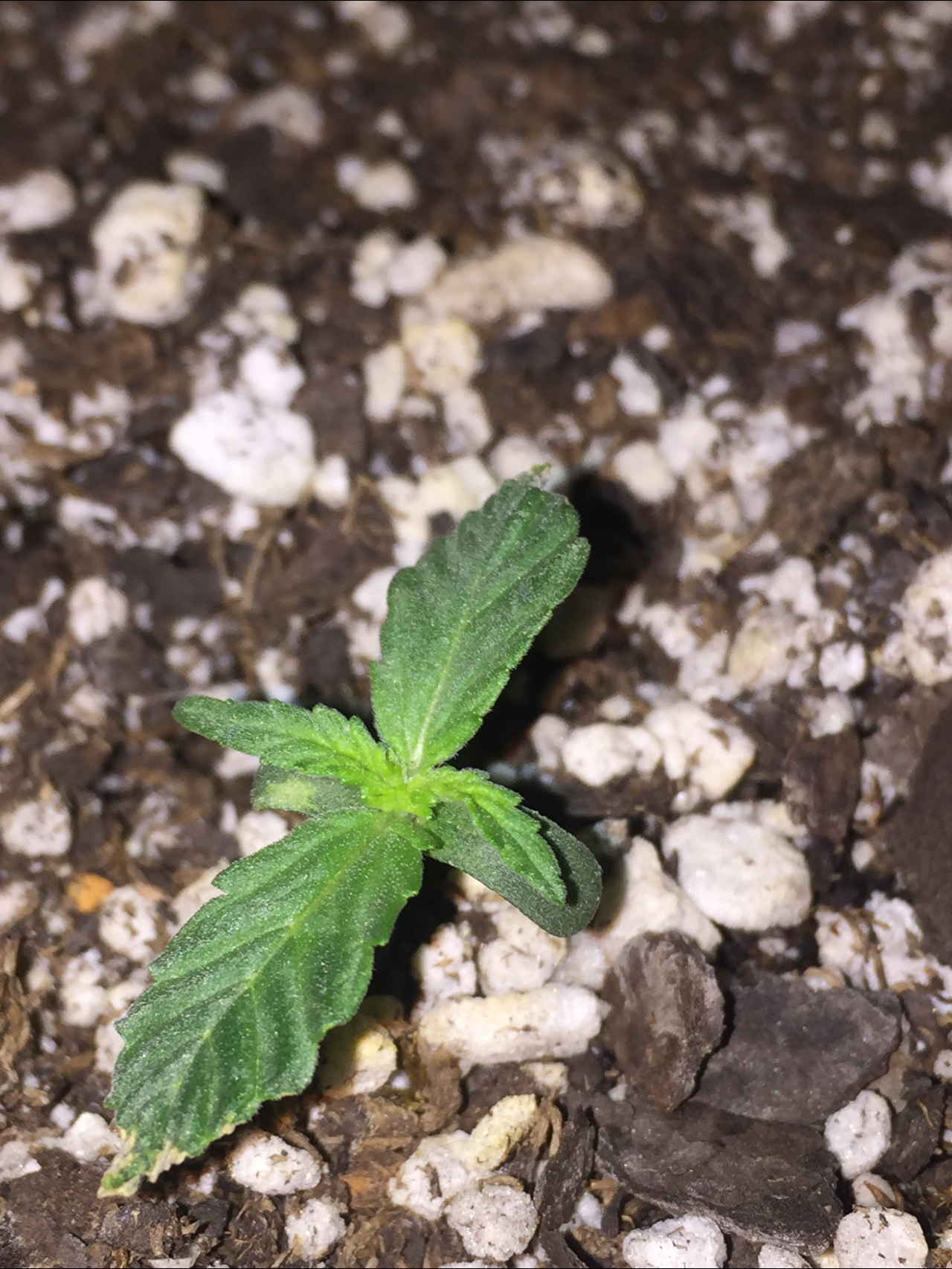 9/21/18. Watered last night half a gallon each, 6.0-6.2 ph. Second set of leafs on the Diesel are just about the same size as the first now. Also I was looking at the first pictures of the Purple Stilton, and I noticed that the discoloration on the first set was there from day 1. So now that the second set of leafs have started growing, and there is no sign of this issue on them, I am starting to feel a little better.
4 years ago
9/20/18. Second set of leaves on the Diesel are growing well. The Purple Stilton is still not growing very fast, I think the FFOF is a little hot for this strain.
4 years ago
9/19/18. Starting to notice some weird discoloration on the Purple Stilton. Looks almost grey... I'm going to be keeping a close eye on this.
4 years ago
9/18/18. Temps are still pretty high they get to 90 during the day and at night they are around 82-87. RH has been around 20%. I have also switched from 24/0 to 20/4, in attempts to cool my tent during the hottest part of the day.
4 years ago
9/17/18. Seem to be doing well...
4 years ago
9/16/18. Going to be looking into getting an a/c unit. But experimenting with fans, lights, exhaust and intake to try and get these temperatures down. At about 87 tonight.... other than that they look healthy to me.
4 years ago
9/15/18, true leaves on both plants seem to be getting bigger. Watered with about 50 ML of 6.0 PH, each.
4 years ago
9/14/18. The Purple Stilton has sprouted, took humidity domes off. Not sure if it is a little early for that, but we will see. Also watered with 6.0 PH water. First picture is the Diesel Berry, Second picture is the Purple Stilton.
4 years ago
9/13/18. Berry Diesel just popped up from the soil. Still no sign from the Purple Stilton. But I am sure she will be right behind. Temps are at 82.8 and RH is at 15% I covered with Tupperware for humidity. I am also spraying with PH'ed water 2-3 times a day.
4 years ago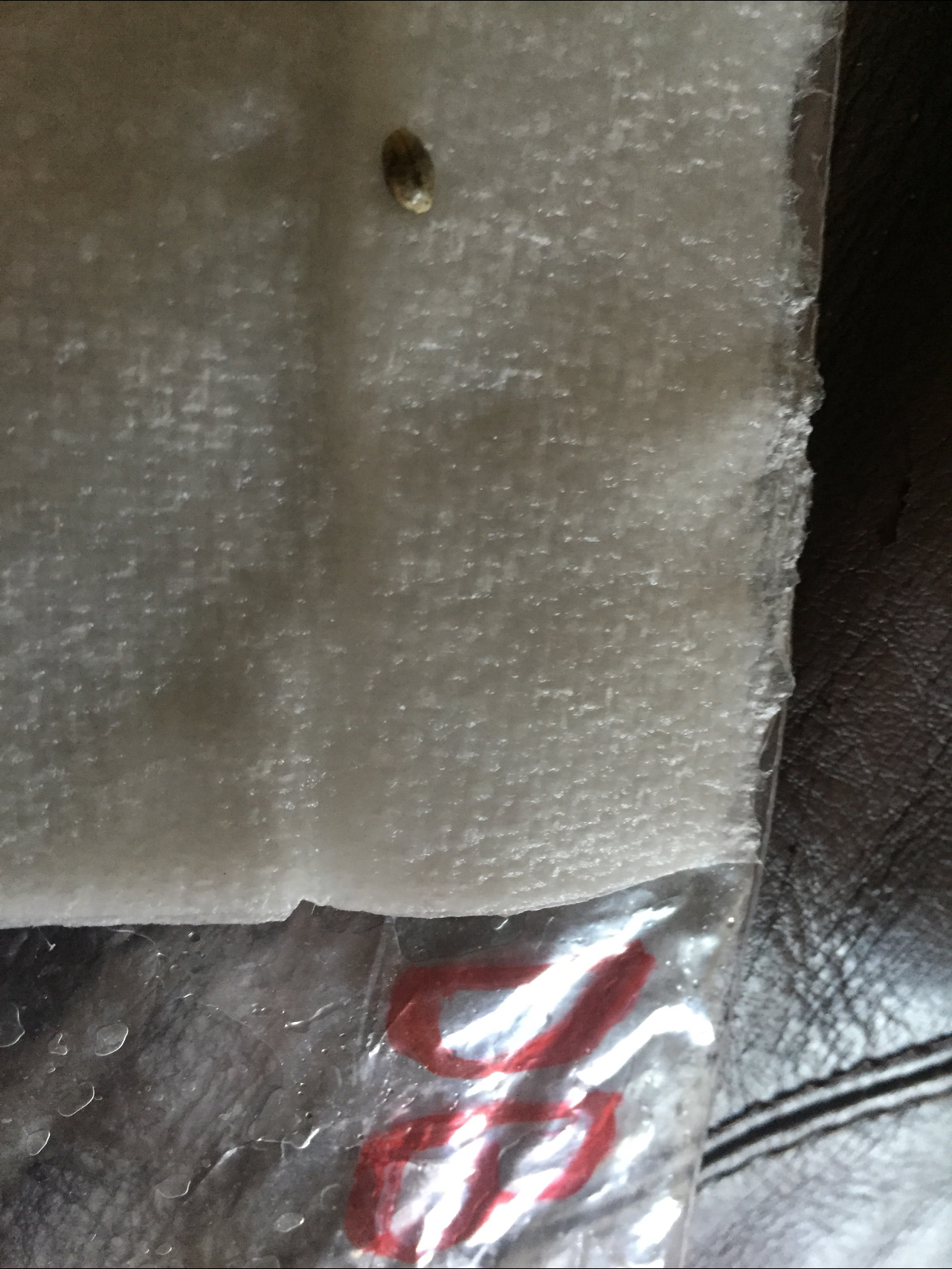 Seeds just put into paper towels at 2:30pm, will be checking periodically. 9/7/18
4 years ago
Just planted germinated seeds, sprayed with ph'ed water. At 7pm on 9/11/18. Temps are still a little high and RH is low like usual. 84% 31 RH.
4 years ago