aztec300zx
Mephisto Mystery Seed
Mephisto Mystery Seed
Mystery Mephisto plant. Came in a 7 mystery pack. One of 2 plants in a 4x4x80 tent with a Bloom Plus 3000. I am using Happy Frog in a 5 gallon fabric pot. The pots tucked down a little bit, I didn't want to introduce new soil when she is doing so well as is.
aztec300zx Thanks! MegaCrop has been making it super easy so far.
Removed a couple lower leaves that were dying off. Sprayed with Sea K (kelp extract) foliage spray from Green Leaf Nutrients. Fed her yesterday, 3g of MegaCrop, 1G of Sweet Candy (3/4 gallon of water) gave The banana hammock 1/4 gallon at the same ratio.
3 years ago
herbhorder Did you spray while the lights were on? Or before they turned off cause there's a chance that the light could burn the leaves due to the water droplets magnifying the light intensity on the leaves
aztec300zx Sprayed with the light on, I'll watch for burn marks- haven't seen any yet. Keeping my lights about 30 inches from the canopy and turned down about 50% right now since they are in a tiny tent. Thanks for the comment, I always appreciate suggestions/tips.
I've got some aggressive lst going on. I should defoliate but I don't know what I'm doing so I'm gonna let it grow 70s bush style.
3 years ago
bgeezy Nooo take the fan leaves off that have good growth in front of it
aztec300zx I'll have to do some googling to make sure I don't pull the wrong ones.
Joe Dirt voice "Danggggggg"
3 years ago
She is thiccccccc as all hell.
3 years ago
Tried to let some of the lower leaves get some light. Letting the pots dry out a little bit before I give them more water. The lights at 30" now.
3 years ago
Lost a leaf from aggressive lst but she will recoup
3 years ago
Mephisto Mystery Seed. Fox Farm soil, bloom plus 3000 light
3 years ago
Mephisto Mystery seed. No nutes yet. Bloom Plus 3000 light at 100% 20" from canopy. I'll probably need to raise the light today. Just growing two plants in a 4x4x80. Have a carbon filter to keep the smell down. Infinity fans. I'm a first timer. Mephisto is making this look easy. Probably need to start some LST soon
3 years ago
Can't believe I'm thinking about LST already.
3 years ago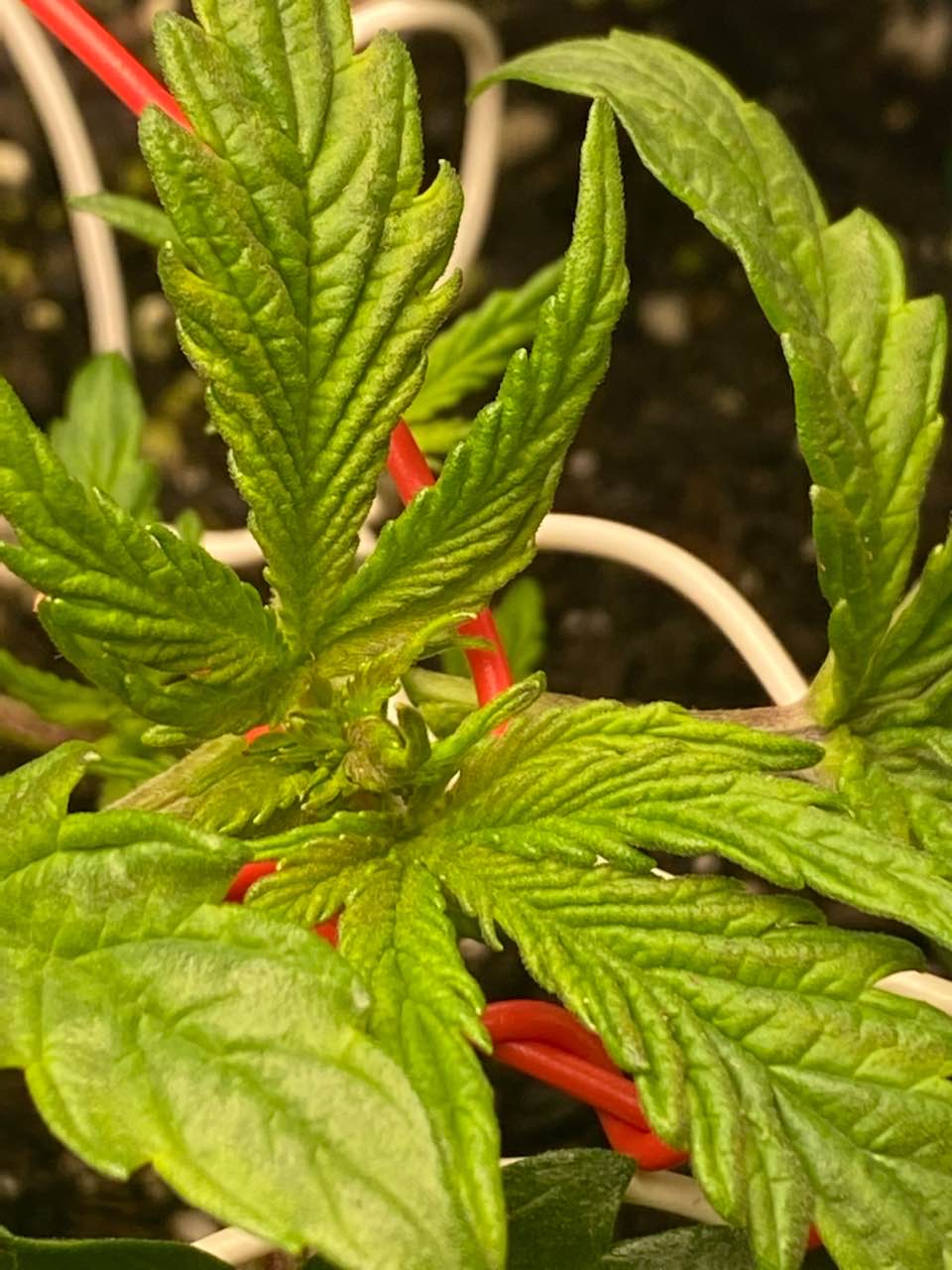 Taking a gamble trying to do some "low stress" training on this thing. I really hope I didn't mess it up 😅
3 years ago
This was the day she really started to grow. Between the morning and the evening the triple set of leaves grew probably 300%
3 years ago
Beginning of day 11. Only been fed water. Fox Farms Happy Frog soil. No Nutes yet.
3 years ago
Amazing just to see the progress of one day.
3 years ago