Frosted skywalker 2020 Christmas Buds!
Frosted Zin and Skywalker OG auto
MarsHydro 4x4 with TSW 2000 grow light and an AC infinity T6 air system. General hydroponics Maxi grow nuts with Tea.
Frosted skywalker OG Auto
Harvested last night.
2 years ago
yeswecanabiss Ok for first grow 6 jars bud and 1 1/2 jar of sugar and larf.
Buds fattened up nicely going to start 48 hours of darkness tonight
2 years ago
Buds are fattening up trichomes are still all white. Just going to continue Regular watering until I see more amber trichomes. Then I will start the 48 hours of darkness.
2 years ago
yeswecanabiss So before cannabis is about to die and complete its lifecycle it starts producing more trichomes. A way to stress out the plant and produce even more trichomes is by  leaving it in 48 hours of complete darkness before you harvest. More trichomes = higher potency
Things are coming along nicely. Trichomes are mostly white on large colas and half white on smaller buds. Continuing with just watering with molasses. I pollinated one lower branch going to maybe let that one see if it makes seeds after i harvest rest of the plant.
2 years ago
Did a pre-water today going to feed with molasses later and all throughout flush. Plants are still putting on weight looking good showing signs of nutrients being eaten.
2 years ago
Did a flush today on three of the bigger plants. Hopefully that'll help with the yellowing.The smaller plant is the one that took longer to sprout and its hairs are mainly White still probably gonna let that one go longer debating on pollinating the smaller of the three big plants which is the one that I took the pollen off of hopefully I can make Pollen by soon.
2 years ago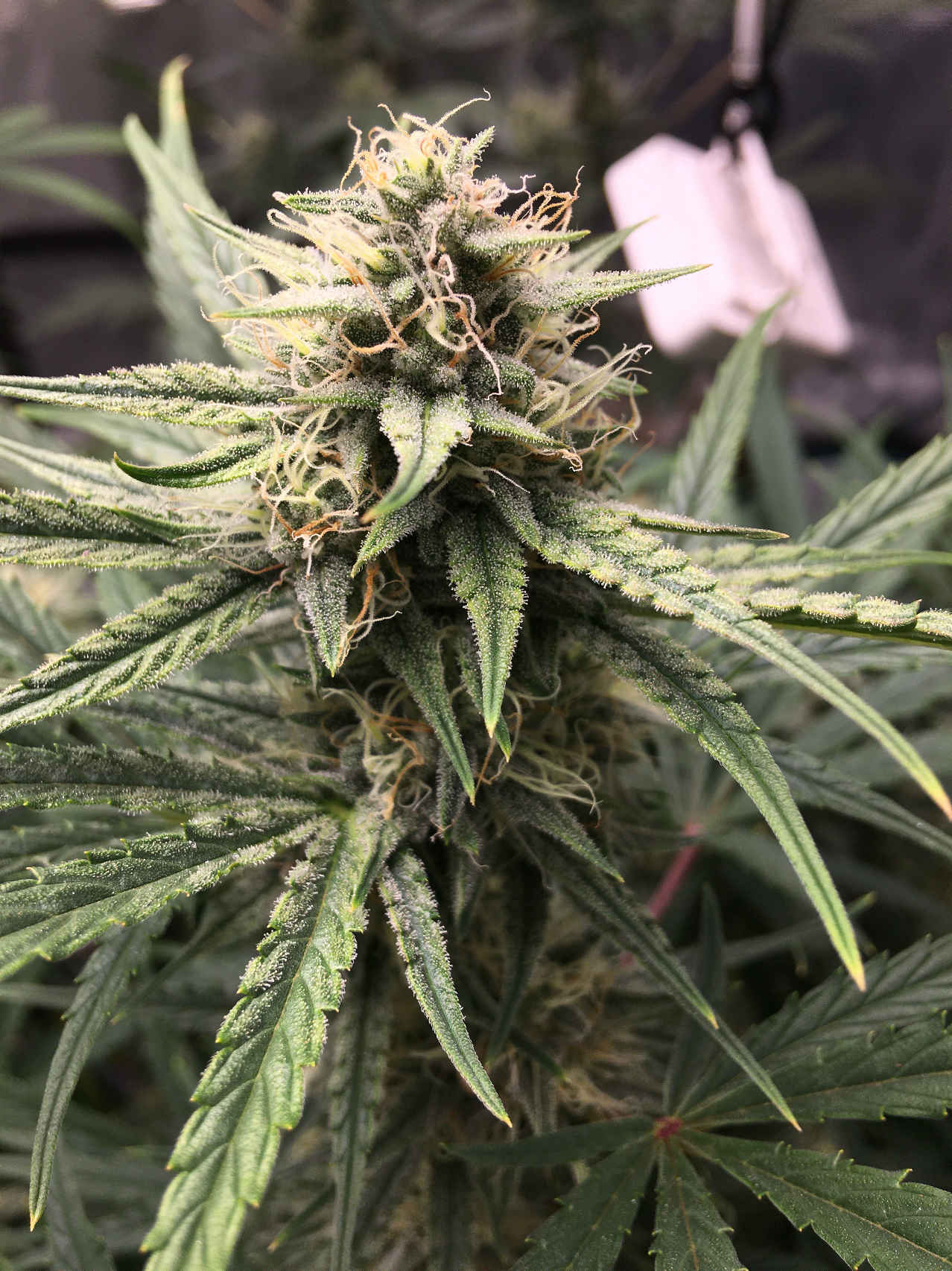 Plants are starting to mature pistols are starting to turn orange. Male pollen sacs are maturing and getting larger probably going to to cut the branch off tonight near lights off. Then put it in a jar of light nuts and wait for pollen sacs to burst. Hopefully I can pollinate the female I have gotten the pollen off of because I heard that makes stable seeds.If nothing Happens in the next day or two I am going to have to wait until the next group.
2 years ago
It's looking good politics still have not opened up on lower branch of plant continuing colloidal silver today.
2 years ago
Plants are continuing to put on weight. Continuing Claudio silver. Appears one or two male Pollen sacks tried to open I'm going to leave it until tomorrow morning and check if for sure one or two have open I will be removing treated branch. To try and save full crop from seeding.
2 years ago
Girls are looking good putting on more weight it appears some of the lower leaves on two of the plants are turning yellow I'm hoping it's not a nutrient excess or toxicity we will see. This is a 60 day plant supposedly and we are on day 50 so I'm hoping it's just getting closer to that time but we will see.
2 years ago
Girls are budding up well. Did a feeding yesterday plants seem to be letting off a lot of humidity turned off humidifier. Going to water normally tomorrow and then two days later feed. I Will Continue spraying with Claudio silver until male pollen sacs mature.
2 years ago
Plants are still burning nicely using Colloidal silver still. Male pollen sacs of growing.
2 years ago
Plants seem like they have stopped growing up words and started budding more. Today was a late feeding of seabird guano amendment with Fish and Kelp, Cal Mag, Armor Si and molasses. As well as continue treating with Claudio silver and one branch. The silver I am using is a 50 ppm I use the hired as to make sure it takes a fact some of the lower ones do not sometimes. I am spraying a lot on the lower branch but it appears to be working as now I can see Mel pollen sex growing through the body itself as well. I will continue doing until I see the first pollen sack open. Even after adding more Cal Mag, silica and more phosphorus it appears to still have red stems. I am hypothesizing that that might just be a trait of the strain.
2 years ago
Girls are looking good continuing with Claudio silver. Today was just a water. I've noticed some of the fan leaves narrowed but I'm figuring it's just from a light defoliation and the strong bloom nutrients. Starting to fill out well. Smell is becoming more pungent.
2 years ago
Plants looking good putting on weight. Started feeding them Maxi grow series koolBloom. Still continuing to use Claudio silver to produce male pollen sacs. It's kind of hard to see but on the last couple of pictures it looks like they are there and growing.
2 years ago
Plants are coming around beautifully. Did a feeding today. Probably going to switch to something with a bit more phosphorus might try KoolBloom by GH I seem to be having a bit of pink or red stems looks like a phosphorus/ cal mag deficiency.
2 years ago
Plants are growing a lot trying not to do anymore defoliation or stress training. They are growing about a pace of 1 to 2 inches a day during the flowering stretch.
2 years ago
Plants are coming along nicely @ 20" and put on buds now that I'm in flowering all I do is water and feed once a week continue and Claudio silver still waiting for male pollen sacks to appear.
2 years ago
Feed day today she's growing nicely, adjusted the humidity down to 40 to 55%, light schedule remains the same and now is the time for the stretch to begin.
2 years ago
Plants seem to be recovering nicely from defoliation. Did a feed of Maxi Bloom with silica and Cal Meg and 1 teaspoon molasses for my soil. Plants look like they're getting ready to start pre-flower
2 years ago
YesWeCanabiss Filter update. Mounted new filter that was taken apart cleaned and dried. It works great good airflow and starting to pull smell out already was having an issue with them going into flower. Shout it from the rooftops. If your filter gets clogged due to moisture it is salvageable. With a Little bit of work it will save you money!!!
The filter rebuild went good. Did some defoliation today and a light water with some Cal Meg and GH Armor si for repairs
2 years ago
Continued low stress training and tucking large fan leaves. Today I'm going to fill up the filter would be a dried activated carbon and screw it back together with self tapping sheet metal screws. Also with it being very dry in my grow room I have had to water again today.
2 years ago
you live and you learn. So I had my exhaust fan and filter running during vegetation as to help control the humidity well I had fallen asleep one night before my light turned off with the automatic switch and forgot to turn down my humidifier which popped up my humidity all the way past 90%. Long story short I noticed today that my filter was completely clogged and not allowing any airflow because my heat and humidity kept rising and would not come down. So in an effort to save some money I took off my filter and drilled the pop rivets,emptied out all the active carbon, thoroughly washed it washed the screen and micron screen inside the metal container as well as the metal container. Then started the process of baking all of my active carbon at 350° for what is taking basically the entire day. I will be filling The filter back up and securing with sheet metal screws. As for the plants they are doing well it is a non-water day so I'm just going to let them chill. For future reference if you don't absolutely have to have your filter running during veg as to keep the humidity and smell down I would highly recommend against it. You only really need it during bloom.
2 years ago
Plants are responding well to LST. Leaves are looking kind of dark green so going to feed a bloom nutrient today. I'm going to use Maxibloom with a little bit of armor si(silicate first strong steams)and molasses (for my soil). Bare in mind vegetation fertilizers and all around fertilizers have lots of nitrogen as well as most Cal Mag which is why I believe I am having a slight nitrogen peak
2 years ago
YesWeCanabiss I also continue to treat 1-2 times a day the branch marked with a white elastic cord With my Claudio silver
YesWeCanabiss Just a sidenote fill the pots completely with the soil up to the rim Because after multiple watering the soil compacts a lot as you can see some of my parts are more than almost halfway down I am going to have to trim them
YesWeCanabiss After looking at plants I decided to remove excess air pot due to soil levels being low. I am much happier with the room airflow and light penetration I have been able to obtain by doing this.
Plants are looking good responding well to LST continuing to tuck big fan leaves or pull them aside with Staples and exposing node sites Also started colloidal silver on one of the branches of the bigger plant
2 years ago
Water day today continue tucking leaves or using ground staples to move large fans away from node sites. I have noticed the sex on the three larger plants And I am going to make some female pollen so I can make some Feminized auto seeds. On day 21 I will begin spraying one or two lower branches with nodes in order to make them produce male pollen sacs. I will be spraying it with colloidal silver at 50 ppm. If all goes well within approximately 2 to 3 weeks I should have some pollen sacs forming and between 5 and 10 days after that they should begin to split.
2 years ago
Fed plans today with Maxigro 1 scoop per gallon waited 2 hours then fed With water with cal mag and Silicate. I'm going to start LST soon. Waiting for first true leaves to reach edge of pot so I know roots are grown enough to keep it grounded So I can start LST.
2 years ago
YesWeCanabiss Plants are about 6 inches tall applied first LST and transplanted seedling
Plants are approximately 4 inches tall today. Today is a no water day. Debating on starting LST soon. Probably in the next couple days.
2 years ago
Did a watering and lowered the light to 20 inches
2 years ago
YesWeCanabiss Still have humidity between 65%-90% and Temperature between 65 -85 Degrees
I might've went a little too aggressive with the watering/feeding. stock is kind of bending so helping stabilize with clay pellets on two of them next time I try waiting another week or two before feeding Or maybe taking 2 tablespoons of fertilizer out of Tea.
2 years ago
Applied a compost tea made out of worm castings and down to earth vegetable garden 4-4-4 azomite 0-0-0.2 and seabird guano 0-11-0 molasses liquid organic fish in kelp and a small amount of Maxi grow 10-5-14. Let all brew for 24 hours then applied to soil. I put 6 cups of tea in every pot instead of Main watering.
2 years ago
YesWeCanabiss Remaining seeds in small greenhouse never sprouted. Going to remove peat pellets and see if they just weren't viable.
Flowers are growing well battling humidity being low have a humidifier to try to raise that more towards seedling standards. One of the seeds that didn't pop sprouted three days after initial plan of other three trying to do a different method with it.
2 years ago
YesWeCanabiss Train Kratky method with MaxiGro nutrient solution tapwater and a little bit of Cal Meg
I had three sprout in roots already started growing through The peat pellets so I transplanted three of them still waiting on others.
2 years ago
YesWeCanabiss For future reference always pack your flower pots to the room with a little bit of Dawn fours to make sure the Soil is completely full. I left a Q a couple inches under the room free of soil and throughout the growth of soil levels kept dropping until now they're only a little bit over half of the air pot
Started soaking seeds till sink and pet pellets over heating pad water at 76*
2 years ago
YesWeCanabiss After about nine hours all my seeds sunk then I transplanted them into Pete Pallets and put into a window seal greenhouse with the lid shut on top of a warming mat. Closed up grow tent with no lights and waited for seedings to sprout out of dirt.
YesWeCanabiss Note to all if you are using anything I say for your grow be sure to read the entire grow before you instill the techniques i talk about because somethings did not work out the way it was Supposed to. This was my first grow and everything I am talking about is based off of information I have studied about.