scorpius
Runtz 1st Grow ever
New to this 😎
I found about twenty seeds in a pack of Runtz that I had and bought everything you needed to grow two months before that. So in the process of trying to buy seeds I guess I lucked up lol
This is the second plant of the first grow...late bloomer but Wow!!!😲
3 years ago
Curing starting to smell nice
3 years ago
Chopped and dry
3 years ago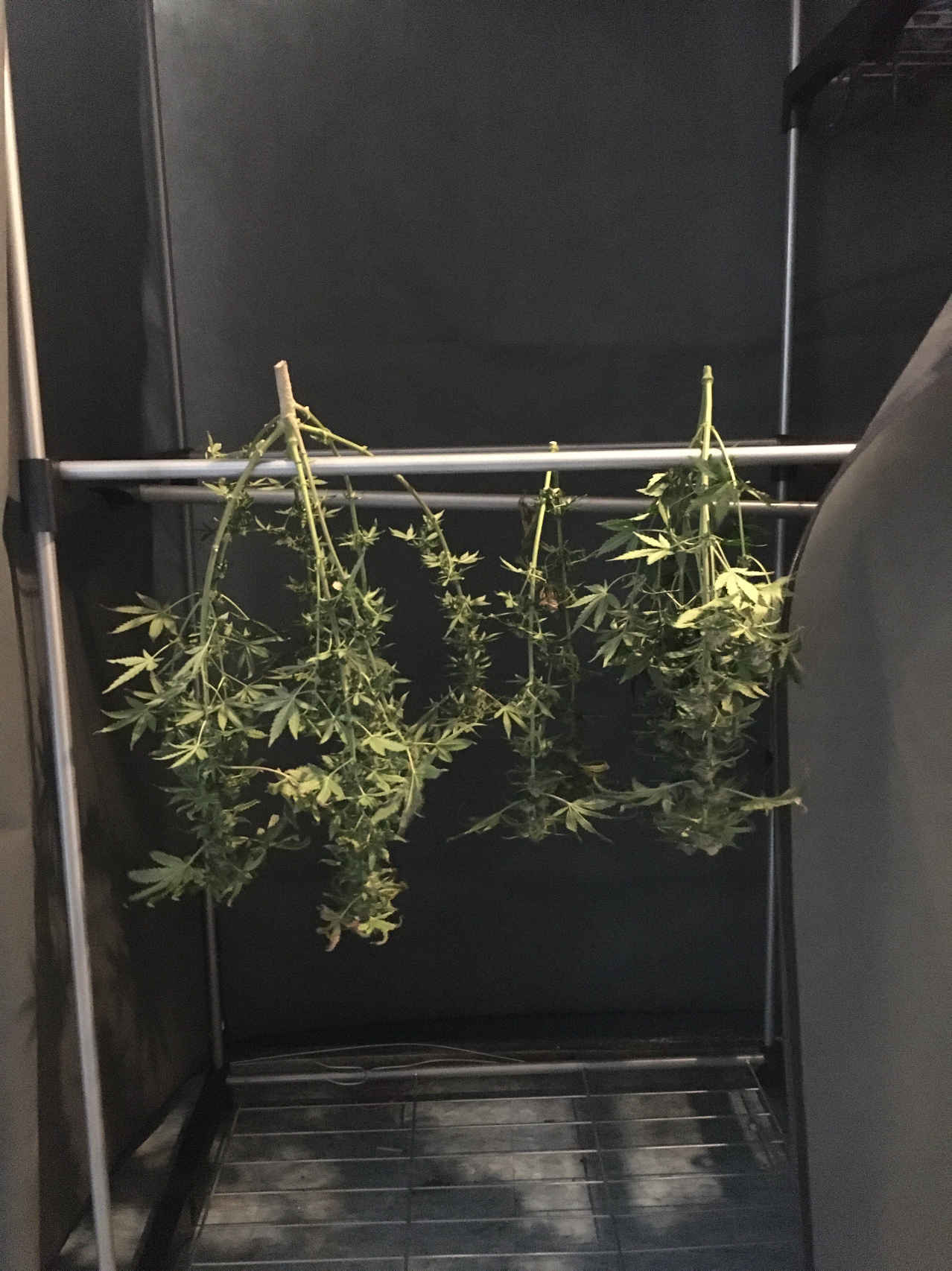 Chopped and drying I hope I did this right 🙄😂
3 years ago
Transplant day I sent two of four girls into flower a bit early and it's almost harvest time for one of the first two!!! I'm excited
3 years ago
Last bloom feed just to give an extra boost, flowers look and smell fantastic
3 years ago
Plant is really starting to bud
3 years ago
Heavy pruning done and started my clone wars. Not really sure if the time was right for all of this but we shall see
3 years ago
Gave last nutrient feeding last week
3 years ago
One plant experiencing quite a bit of nutrient burn. I may I have over did it 😑
3 years ago
Been going through some changes. Got a new tent, moved my outside girl back to the inside, now all three are back together. Did some pruning. Hope they make it
3 years ago
After the nutrient feeding plants came back with a big boom
3 years ago
This last week has been trying for me and my energy to keep up my plants. Changed over to a 12-12 light cycle: Bloom here we come.... hopefully 😂😬
3 years ago
Finally found some catch basins
3 years ago
Pots starting to feel light in weight. Time for more water 💦
3 years ago
Gave the plants their second nutrient feeding a couple days ago, they've taken to it nicely
3 years ago
Awesome morning and WnB just some growth
3 years ago
Got a lot of rain last night. Looks like it loved it 😊
3 years ago
Still flushing but they already look better than last night
3 years ago
Im lowering water pH for the next week to see if that helps. My soil ph was close to 8 yikes 😬 so I have some configurations to do
3 years ago
Light top spray looking ok today seeing a bit of color on the leaves 🍁
3 years ago
Scorpius Oh remember that 3rd tiny seedling in the peet pot? Well here it is
KibaTron Oh she(🤞) looks pretty! The yellowing do you know what it was from?
Scorpius @kibatron I haven't a clue I think it may be from the hydrogen peroxide I sprayed on the leaves smh or nutrient burn I'm still waiting to see if it heals or becomes worse
LST, plants took well to first nutrient feeding, they're getting really big. Still don't know the sex
3 years ago
Checked to see if there were any pistols really don't know yet plants look healthy and happy
3 years ago
Plants looks happy 😃 I'm relieved. This is a stress and joy I've never felt before lol but satisfied I am. Watered plants with a ph of 6.5 today no nutrient feeding.
3 years ago
Not sure what week you can tell the sex of the plant. If anyone has any pointers or see anything out of specs please let me know. All comments are welcome. I just gave these plants their first nutrient feeding on day 19. They've blown up over night it seems WOW
3 years ago
Mystrain420 It's way to early to tell the sex but u should check out growweedeasy.com if u knew most of the questions u gonna have u can see answers there. Btw it shows pics of the sex on there too.
Two randoms are thriving great but the my poor child on the left isn't. Not sure if it was leaf burn do to the light being to close or what but it wasn't looking good
3 years ago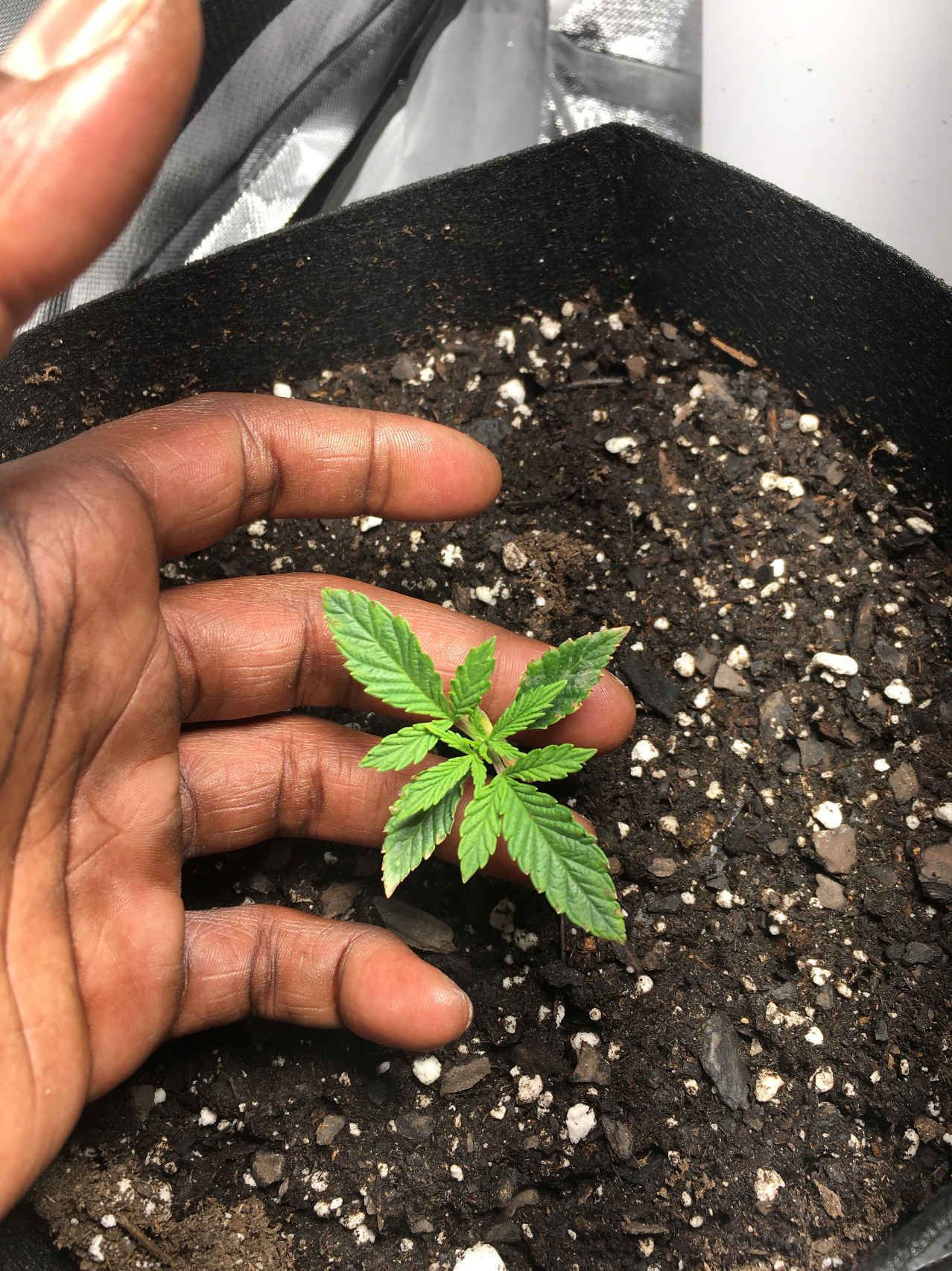 The leaves seem a bit burned can anyone help. Have any of you growers experienced this before?
3 years ago
The plant is currently about 3im tall and on an 18-6 light cycle. Trying not over water my seedlings
3 years ago
Scorpius I'm also noticing early signs of deficiencies in the plants. Slight discoloration. I may have to check the PH in my soil