highhopes
Eddy the 2nd and 3rd
Only failed grows so far. Hoping this time will go better.
Harvest day! Will be a challenge to keep the humidity at 50% as it's around 30% RH in the tent. First grow in the winter and I can't count how many 1L bottles of destilled water has been needed, and hanging wet towels in the room where the tent is. It's almost always too hot and too humid or too hot and too dry in the summer, and too cold and too dry or to hot and to dry because of the sun in the winter. The room is facing south and that just makes it so much more difficult in spite that I'm only running LEDs. I think growing in doors is more a headache than a pleasure. But so much money and time has been thrown into it that it seems kind of beyond the point of regret
2 years ago
highhopes @fastintrepid97 Fast Eddy Auto from RQS
Giving them a little extra time to finish up. I think the right one is still gaining a little weight. Trichomes on the flowers isn't quite there yet.
2 years ago
The older leaves on the right one has yellowed a lot since last feed. Been decreasing the Grow dosage to 0.5ml/l. EC and PH out was 1.21 and 7.0!? The PH has been increasing and won't decrease. The newer leaves beneath looks pretty healthy and the flowers are growing. Gonna give one last light feed next time I think. The left one is what it is. PH out was on point and EC was 1.15 but not much is happening. Strong citrus scent filled half the house when I opened the tent to take the picture :)
2 years ago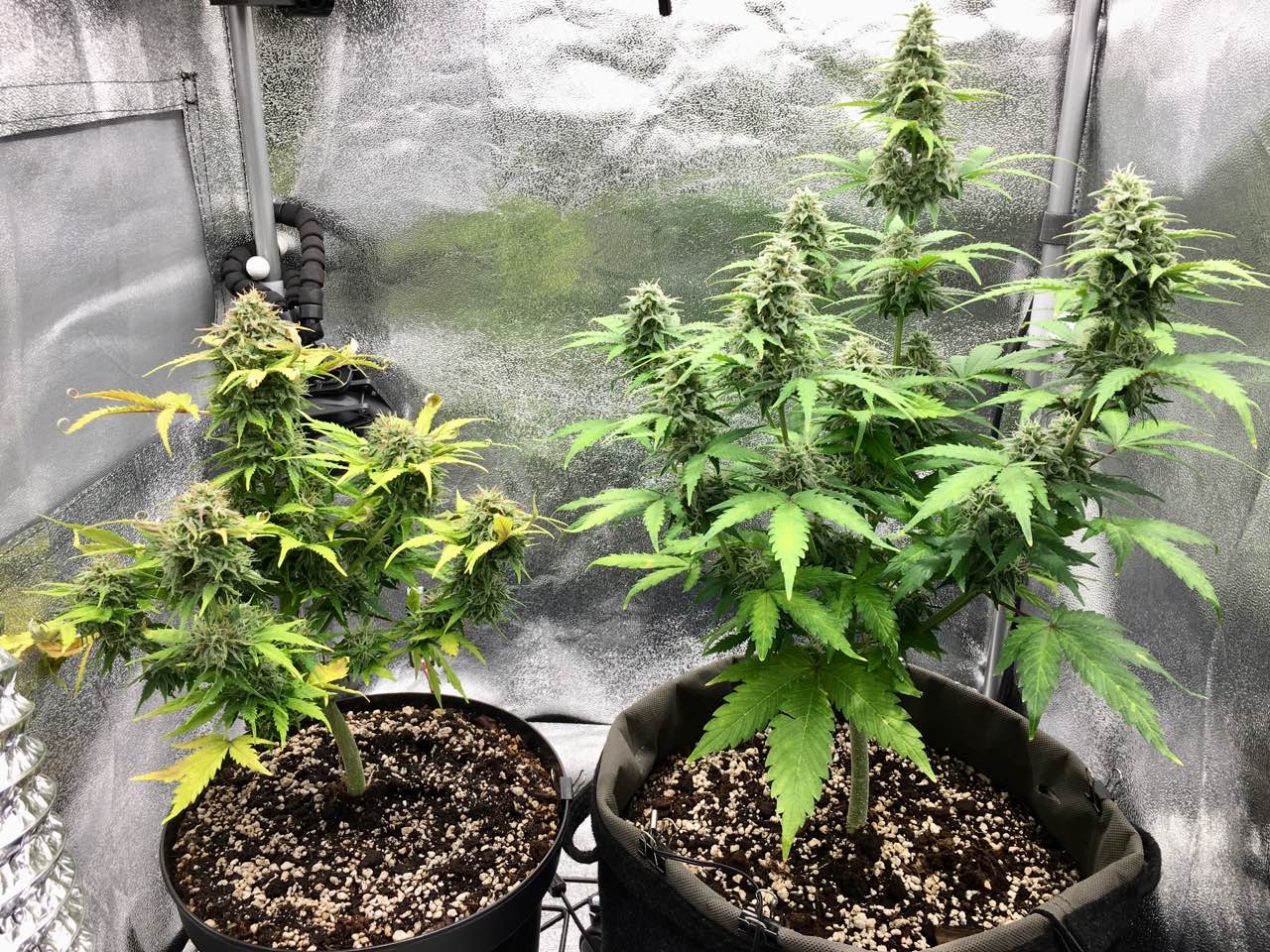 The left one took a day longer to dry than the other and the runoff EC and PH yesterday was 1.4 and 6.3. Gave a mild flush with nutes and got the EC down to 1.0 and PH to 6.4. The right one is doing better. The new leaves has a healthy green color and the few symptoms it has had has stopped, so this is the healthies plant I've grown at this point.
2 years ago
The left one has been dropping quite a few leaves all with dark purle stems. Top leaf tips all curled up, yellow and dried. Did a mild flush on both four days ago, but didn't add nutrients in the last portion. Both are still a bit heavy so I can't feed them yet. The EC runoff went from 1.00 to 0.85 and PH at 6.5. I've lowered the light intensity and the flowers do grow but the leaves are getting worse. All though the new leaves beneath looks ok. Tempted to do a light feed with 0.5L for each but I'm afraid to overwater.
2 years ago
Jaycorrupt It's supposed to happen when it's near it's end. The leafs will stop pull nutrients and focus on buds
The one the left has a phosphorus deficiency that has progressed a bit too much. I've fed them today with increased bloom dosage. I've started using 50/50 tapwater and bottled water and that brings the water EC down from 0.84 to 0.5-6. That makes it much easier to not overfeed but at the same time easier to underfeed as Biobizz nutes that generally has a low EC and are not based on salts and autoflowers is a true balancing act as the official feeding schedule is designed for photos. The one on the right is at a wopping 44cm which is the tallest I've grown so far and it still has no brown spots, so I'm pretty happy about that :) I think another failed grow would've made me give up so I'm extra relieved!
2 years ago
No brown spots or yellowing leaves which is a real achivement for me. All previous plants was showing symptoms at this point. They grow well but I don't know why the one on the left has streched so much compared to the one on the right. I'm just happy they look like they're doing well
2 years ago
It's going ok so far except for the one on the right. I found out a little too late that the plant had used up the nutes in the Light Mix and started showing deficiencies. It's looking much better after feeding yesterday. The one on the left has leaves that are a little too dark green but otherwise it looks happy.
2 years ago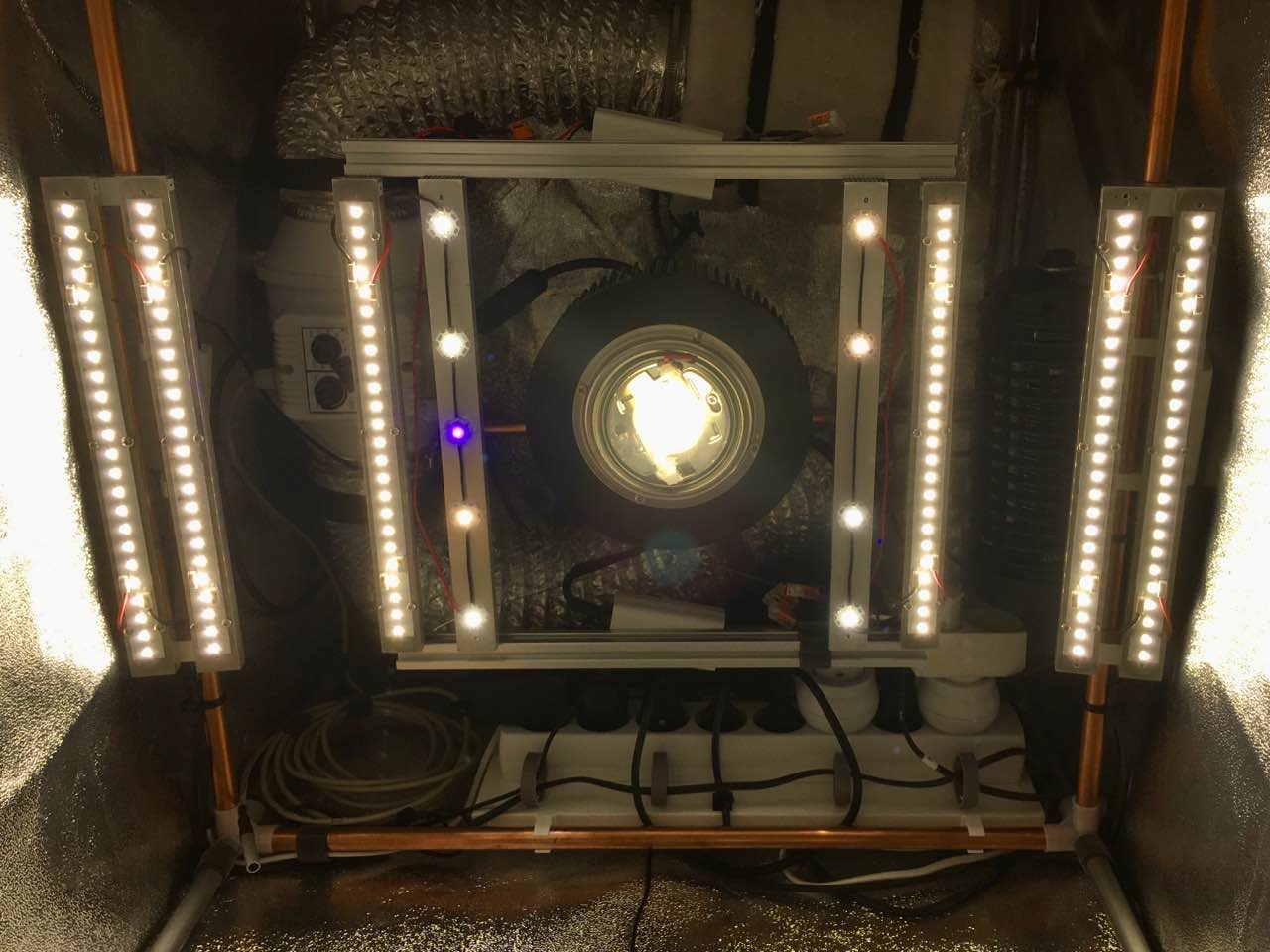 It looks like they're doing well. Gave first feed two days ago. Half ml pr l Fish Mix in 400ml water each. Keeping the lights at around 470-500 PPFD.
2 years ago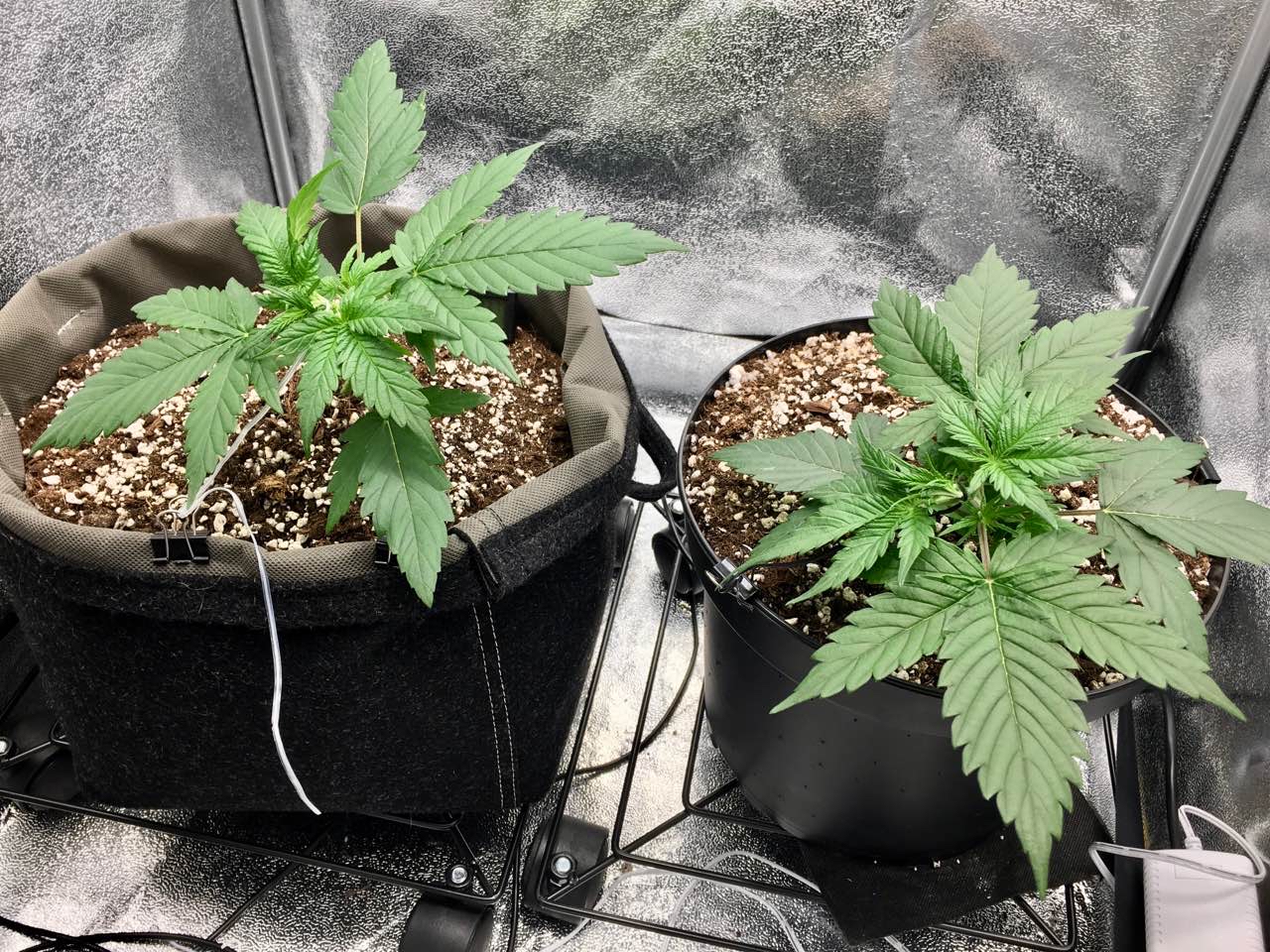 They're growing fast and looks healthy so I feel good. Have only fed them water so far. Good thing I started the training early. Otherwise I do my best not to disrupt them, cause it looks like on my timelapses that when I open the tent and gently doing whatever, they begin to droop after I've closed it and after some time slowly recovers until the lights fade out. Also I found that the supplemental spectrum had too much blue and red. Redesigned the lights few times and are putting them back together after sanding each LED star pcb. Two for veg and two for flower easy to swap and mix. Will stick to different white LEDs and relax with the monos. But will add one 420nm to one of the veg lights to widen the blue spectrum slightly
2 years ago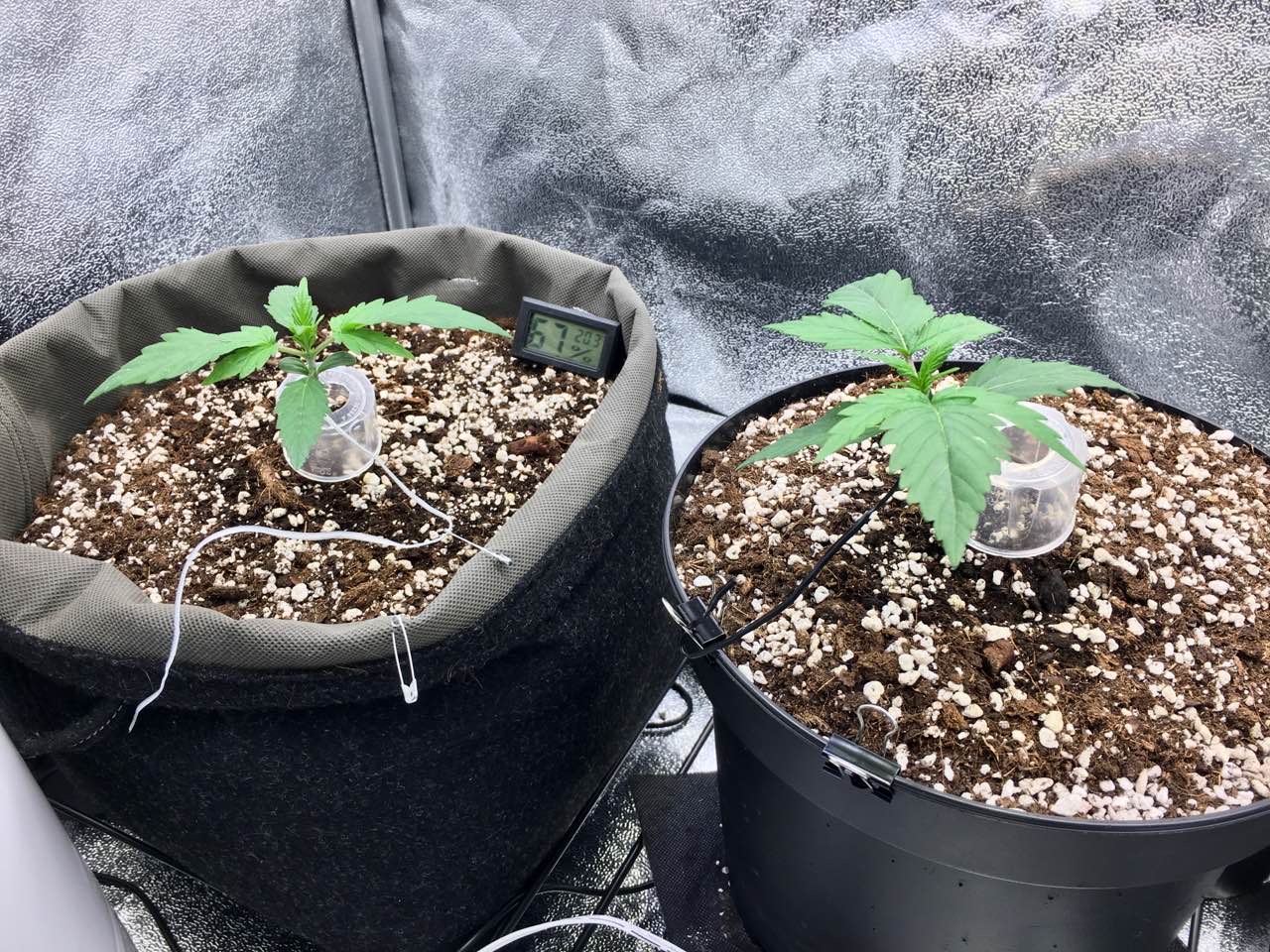 Leaves are twisting a bit. Slowly increasing the light intensity. Started training early this time cause they have stretched a little but seems to like the daylight cycle imitation so far.
2 years ago
mystrain420 Twisted leafs can be from a fan being to close or if it has white veins and purpling petioles then it's a calcium deficiency. They look good 👍🏾
highhopes @mystrain420 Thanks a lot man! Vil move the fan up a bit right away! It's Biobizz Lightmix with 20% perlite and I think the soil PH may be too low from the bag. Been watering two times three days apart with 250ml. PH in 6.9 and tapwater EC is 0.74. Humidifier keeping the RH above 55% and temps around 22.5 C
mystrain420 No problem. Haven't grown in soil in a while, wondering what makes you think the soil ph is too low?
View 8 additional comments
A little stretchy but I'm being careful about the light intensity in the beginning. Trying out the homemade supplemental LED setup to simulate dusk and dawn. So far so good
2 years ago