ndevgrows
Chemdawg
Indoor
Got a 50W full spectrum LED grow light lying around and am interested to see if I can grow a plant using it. Made a small grow box and used a seed found in a nug of chemdawg. Update. Built a bit of a bigger setup equipped with a 300W LED
Couldn't help myself and gave her the chop today! Bugs aren't very dense and yield is small but it's super frosty and smells gorgeous!
3 years ago
So close. Lights are going off tomorrow for a few nights before the chop
3 years ago
All pistils have browned and turned in now and the trichomes are just starting to cloud up. Going to start a week long flush now and aim to harvest next Friday!
3 years ago
All the pistils are browning and turning in now but the trichomes are still clear, will keep feeding until I see them going milky then flush for a week
3 years ago
Moved up a couple inches closer to the light yesterday and switched the veg lights on as well as bloom to try encourage a bit more budding before she gets the chop. Buds are currently looking super frosty, smell gorgeous and pistils are all browning and turning in, but the buds aren't very dense at all right now. They'll shrink to nothing once dried if they don't fatten up a bit
3 years ago
Big trim of the fan leaves today and a little topsoil added. Hoping to see those buds fatten up a bit!
3 years ago
Week 10 done and those buds are starting to form up nicely now!
3 years ago
New fans good but a little strong so I've bought a speed modifier to tone it down a little. Also switched off the veg setting on the light to see if it has any effect
3 years ago
Fan arrived today and the setup is complete. Starting to feed this girl quite heavy now to try encourage some more budding
3 years ago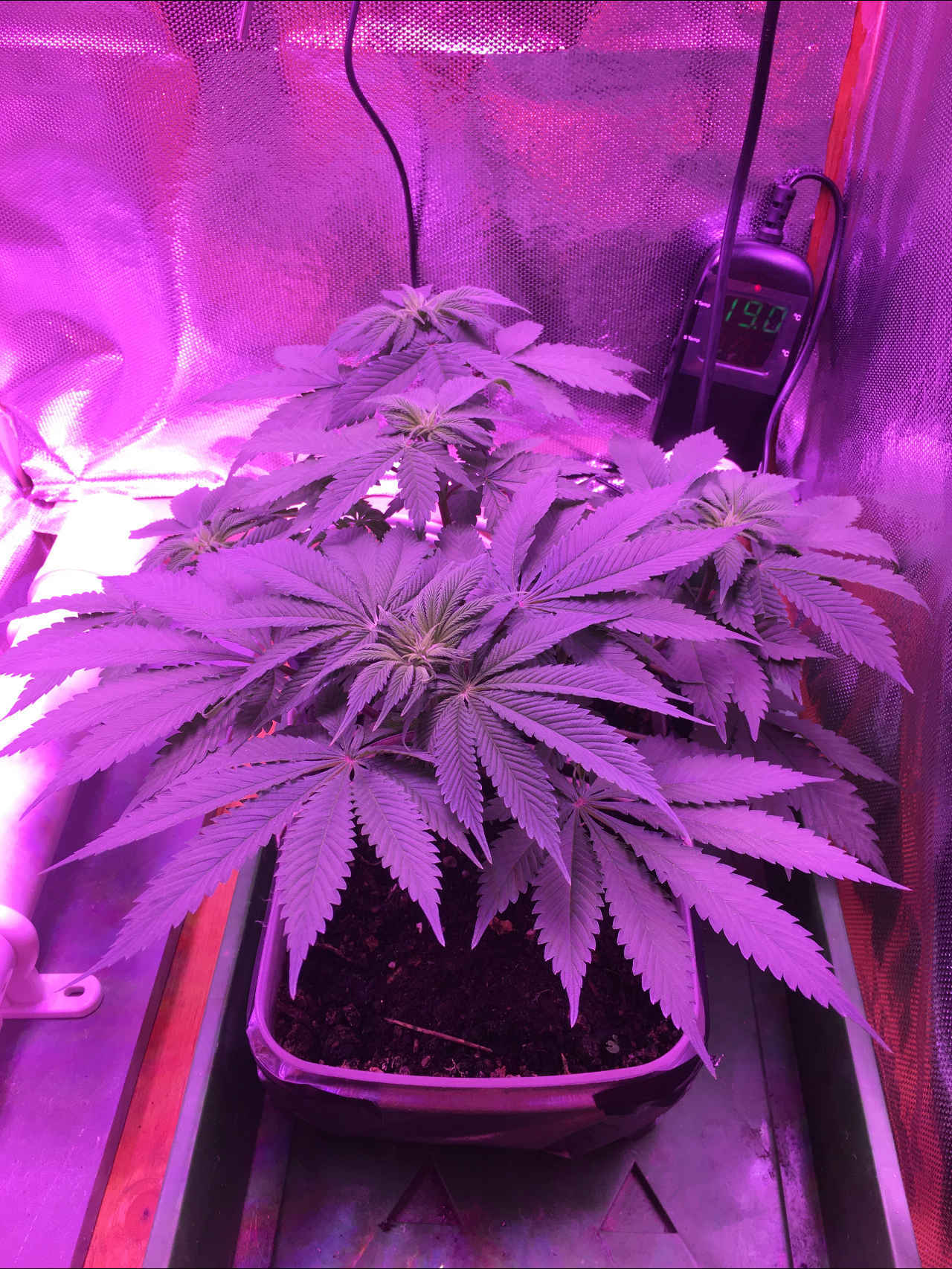 Got some definite little buds starting to show up now. Think the temperature change going outside shocked the girl for a few days and really slowed her growth. The little tube heater is keeping it up between 15-20C at the moment which will have to do. Also upped the feeding a bit which has helped. Using a home blend compost tea with a little added liquid seaweed and a teaspoon of dried and crushed banana peel.
3 years ago
Spotted the first little pistil today 👌
3 years ago
Looking a little perkier today. Heater has arrived but I'm going to wait for the thermostat before I plug it in
3 years ago
Ordered a tube heater and thermostat last night. Hopefully they'll arrive in time to perk this girl up!
3 years ago
Leaves are struggling to pick themselves up a bit today under the light and I'm guessing it's because it's a little too cold for it in its new location. Need to invest in a little heater!
3 years ago
Built her a new home! 300W LED grow light and way more room to stretch out now
3 years ago
Switched to 12/12 today and will start some light bloom feed soon. Took a little cutting for a friend too
3 years ago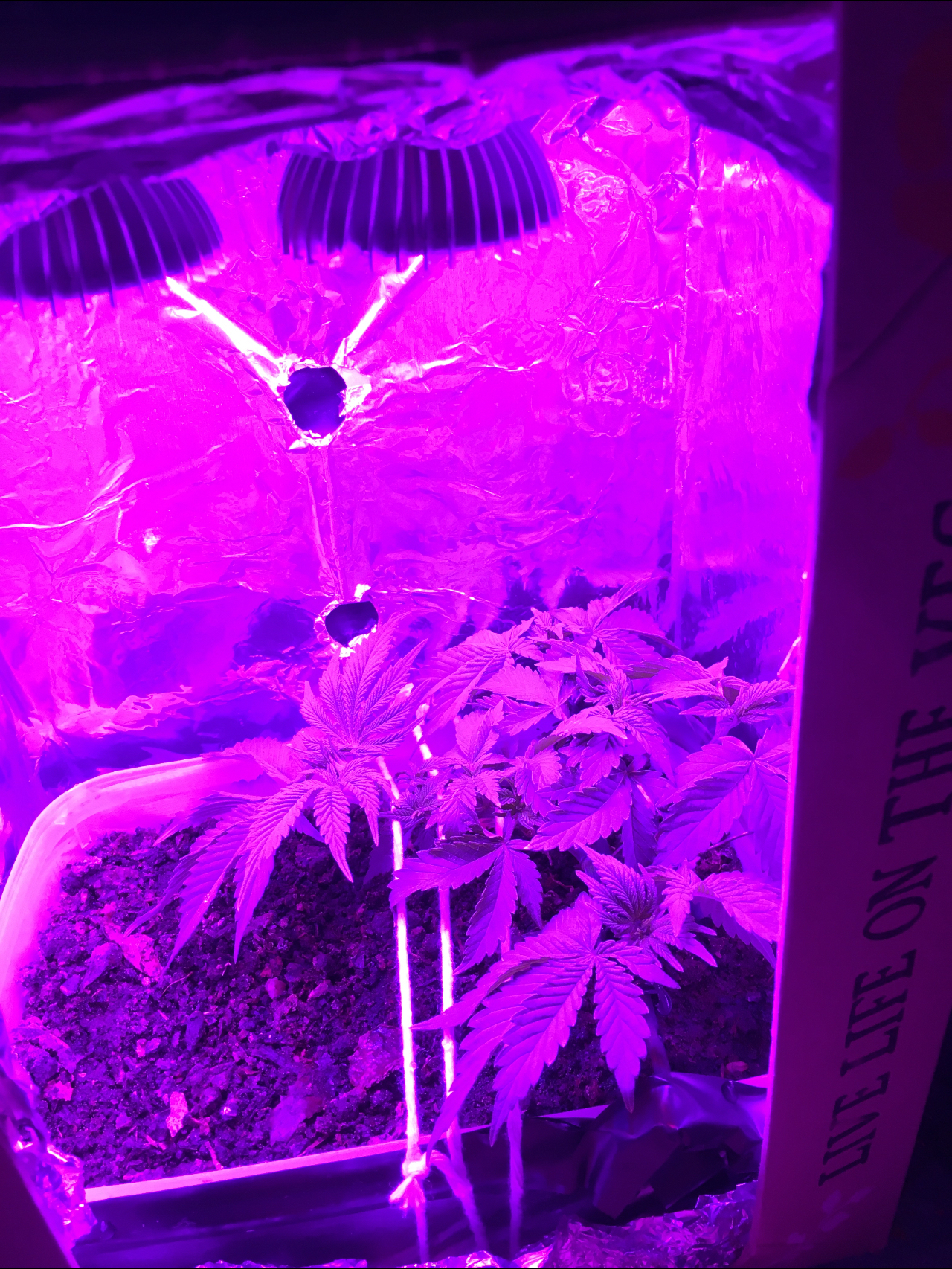 Heavy trim today
3 years ago
Bit more trimming and training tonight, should be perked up again tomorrow. Not too much further to go now and I'll be able to leave her to grow up and switch to flower
3 years ago
Week 4 and she's going strong! Couple more weeks and she'll be ready for 12/12
3 years ago
More trimming. Side shoots are starting to stretch a bit now
3 years ago
Perked up nicely today
3 years ago
Fan leaves are getting a little big now so time for a trim and a bit more lst.
3 years ago
First little trim of fan leaves today getting ready to bend her over
3 years ago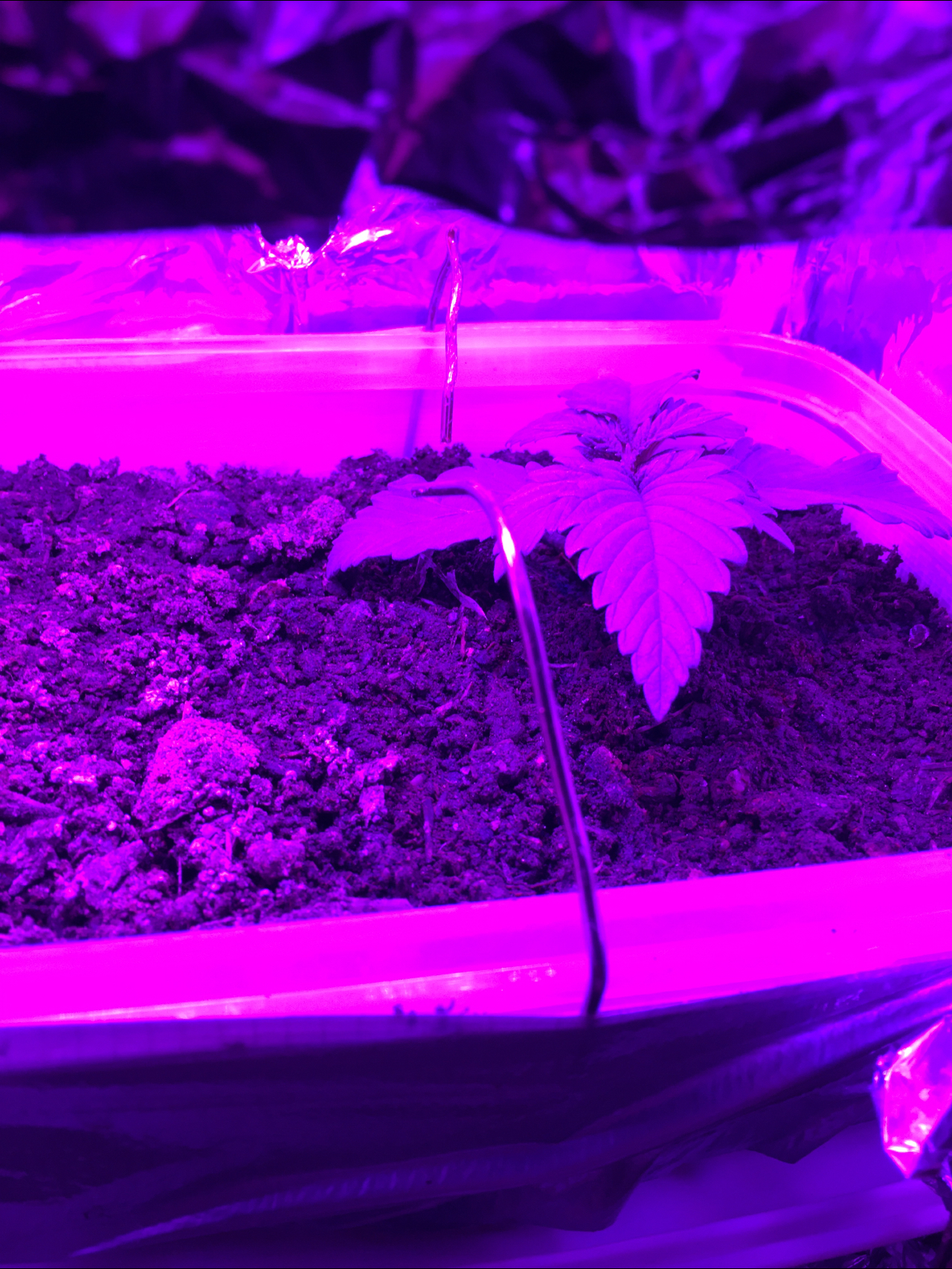 Topped up with a bit of compost today
3 years ago