ndevgrows
Hollands Hope Geurrilla grow
Summer 2020
Fancy trying to grow a big ole outdoor plant somewhere this year so have been prepping this bed the last few weeks. Completely hidden through a tunnel into thick gorse and brambles. Getting two seeds on the go in pots for the first couple weeks until they're a little stronger. Strongest one will be planted out and the other is going to a friend.
Hollands Hope Fem (Dutch Passion)
Just starting to flower
3 years ago
Big. But still no signs of it starting to flower yet. Needs to hurry up before winter creeps in
3 years ago
Getting big now and looking like it's gearing up for flower. I reckon she's going to get some serious weight!
3 years ago
Bit more bending outwards today and she's looking vigorous now! Hopefully should start flowering in the next couple of weeks
3 years ago
Bushing out. Leaves are still looking a little dry but it's definitely getting better
3 years ago
Looking a little better than last time I saw it and still stretching up! Today I've removed all the big curled fan leaves, trained out the side branches, and topped the plant. Hoping it'll start bushing out quite vigorously now.
3 years ago
First check in two weeks. Growing quick but the leaves are very clawed! I imagine it's something to do with the soil ph so will have to check that and try to rectify it
3 years ago
Little liquid seaweed feed today after a week of rain. Put some grass over the topsoil to mulch down as well
3 years ago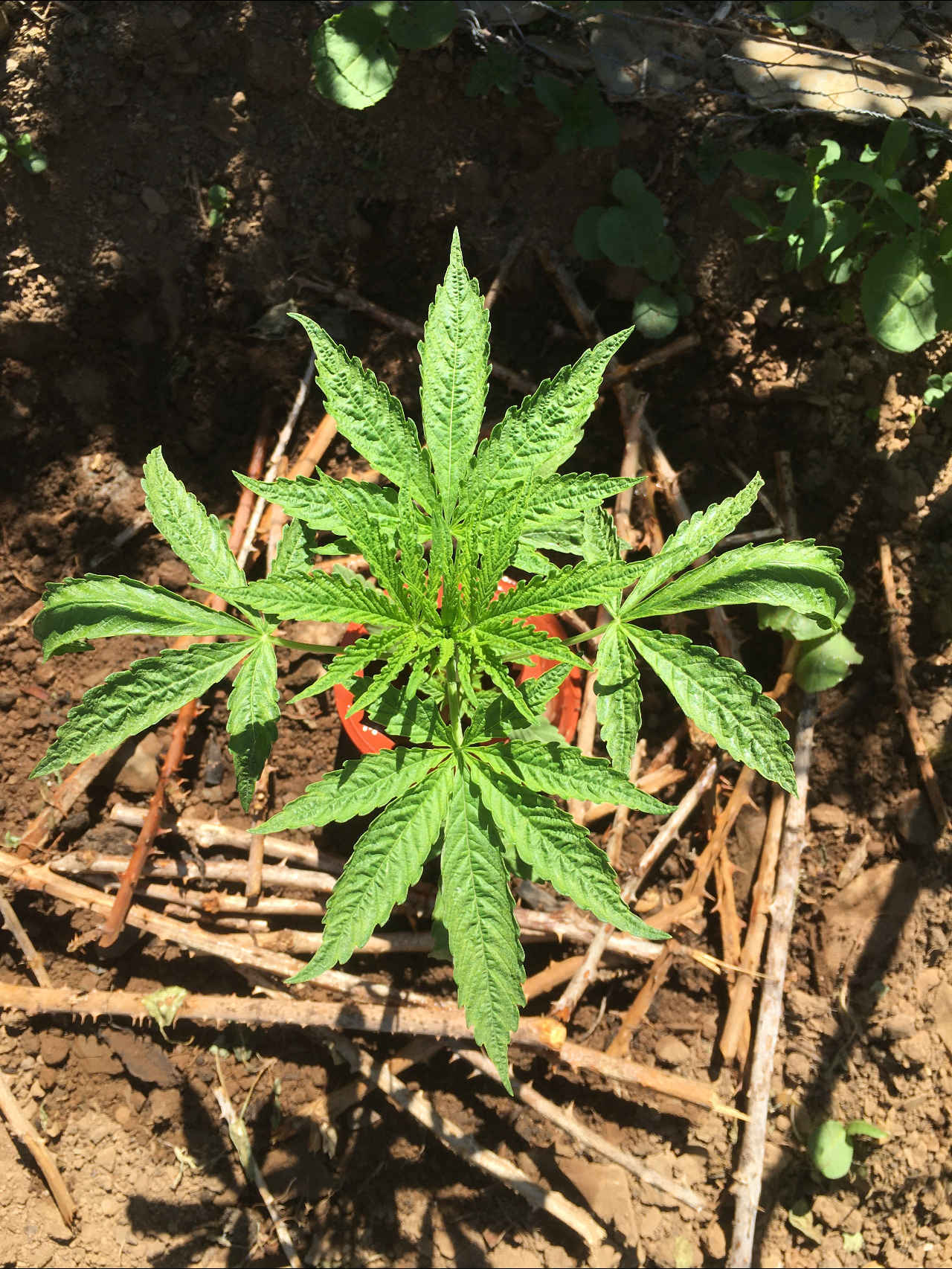 Went up to check on her and give a watering this morning. Doing all good so far!
3 years ago
Stronger of the two plants went up to the patch this evening. Weathers looking real good on the forecast so I'll have to drop up every two days or so to give her a water
3 years ago
One of the plants is doing well, going as it should. The other as you can see has pointed its first two leaves straight up and stopped growing. The new growth is pale yellow. Don't think there's a lack of nitrogen in the soil so something must be effecting the uptake at the roots. Good job it was just a backup plant for up at the patch! Will give it another two weeks I reckon before it gets planted out
3 years ago
Week in and looking good. Righty is winning the race to go out in the patch so far!
3 years ago
One up yesterday another today 👍
3 years ago
Anxiiouz Dope! Was looking at this strain. How is your light cycle and climate where ur from? Hope she is a healthy one!
NDEVGROWS I'm in the South of the UK so it's not ideal. Plenty of daylight hours in summer and temperature is generally between 15-25 degrees C during the day, but come September when photoperiod strains are budding the weather can vary a lot and cause bud rot. I usually stick with autos for that reason
Anxiiouz Ahh, okay gotcha. I'm in the tropics with a 12-12 photoperiod year round. High humidity. Just started my first grow and hope it turns out well. Same with yours. Gonna be following your journal!