Pineapple Express
Fall 2020
Autoflower Pineapple Express Fast Buds Genetics Fox Farms Ocean Forest Soil
Auto Flower Pineapple Express
Flower day 65. Went to darkness for the best 48 hours then I'm going to chop
2 years ago
gorilamachn Do you chop right before lights are set to go on???
breal01 Wow nice training on that big girl looks amazing!
danhydro Did you defoliate at all on this grow? I just started the same strain, and have never grown autoflower before. I'm hearing mixed reviews on what to do. Whatever you did looks amazing. What Kline of setup do you have
Flower day 57
2 years ago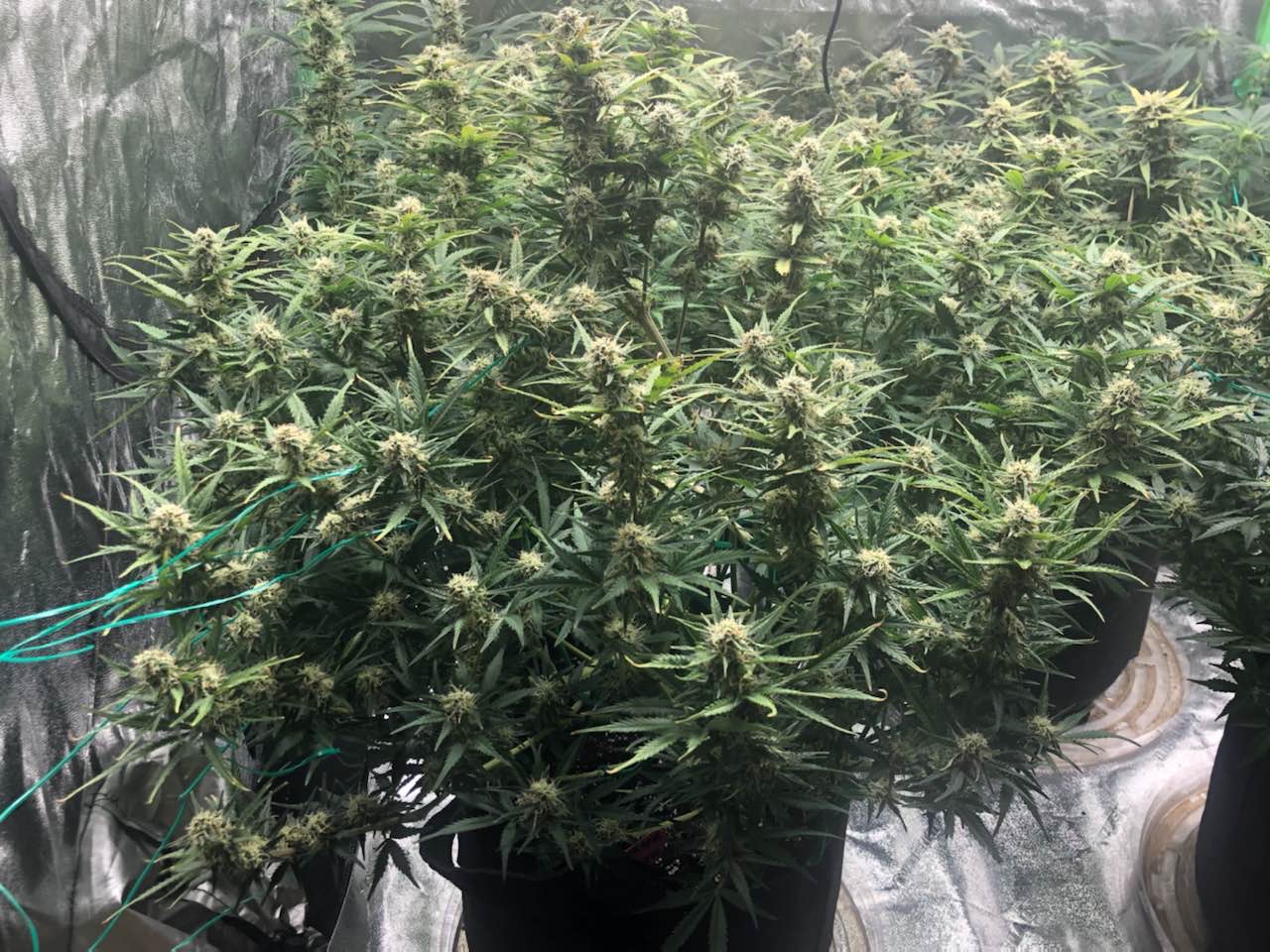 Flower Day *40* Ph water 6.68
2 years ago
breal01 That's a big thick girl nice bro!
Flower day *33* 1ml Tiger bloom 10ml big bloom Ph water 6.68
2 years ago
Flower day -*31* Ph water 6.01
2 years ago
Flower day *30* Ph water 5.98
2 years ago
Flower day *26* Calmag 2.5ml Water ph 6.39
2 years ago
Flower day *21* Tiger Bloom 5ml Big grow 2.5ml Big Bloom 15ml Calmag 2.5ml Ph6.31
2 years ago
1.5 ml Tiger Bloom .5ml big grow 15ml big Bloom Calmag 2ml Ph 6.3
2 years ago
Day 12 Flower * 2ml Calmag Ph -6.38
2 years ago
Day 10 Flower for the pineapple, banana blaze, and the do si dos. Cut back on nutrients because I burned the shit out of them 1ml Big Grow 15ml Big Bloom 1ml Tiger Bloom 2.5ml Calmag
2 years ago
Tiger Bloom 2ml Big Grow 2ml Big Bloom 25ml Calmag 1.5ml Ph 6.38
2 years ago
Fox Farms Big Grow 3ml Calmag 2ml Ph-6.23
2 years ago
Chillen. No water nothing Temp 78 Humidity 66
2 years ago
Fox farms Big Grow 3ml 1.5ml Calmag Ph-6.27
2 years ago
Growing. So far held up from the snapped main stem
2 years ago
LST today I snapped the main stem when bending her over. Used some scotch tape. Oh well, see what happens. 😢
2 years ago
Fed 2.5ml Calmag 2ml Fox Farms Big Grow Ph-6.35
2 years ago
Light water. Ph- 6.3
2 years ago
Temp 79 Humidity 59 Few sprays with the water bottle kick the humidity up
2 years ago
Transplanted PH water 6.30 Temp 79 Humidity 63
2 years ago