dotz313
Mephisto Autoflower
Mixed seed pack
2 Plants 1 Plant Way stronger than Other (Random 2 maybe photos I know I should Toss)
Mission Almost Complete... Curing starts now... Idk about Plant 2 I think I pulled it way too early. But here's Plant 1.
3 years ago
Doing a mix of wet and dry trimming... Day 4 of drying. 50/50 Temp/Humid
3 years ago
Alright last day of flushing and the big chop next 💔.
3 years ago
Sorry for the delay... Both been getting feedings with the fox farms and regular Ph'd water... Looking like they almost ready. I Have a microscope for Trichromes mostly cloudy. Time to flush soon.
3 years ago
Both Fed today Fox Farm Nutes
3 years ago
Watering of 6.5 tap water... Def about to install my filter, getting Dolamite funky in this MF... Can't wait to start my Zkittlez 🐍
3 years ago
Both plants received a feeding of Fox Farm Nutes... Plant on right is really starting to smell of mango. Both growing great.
3 years ago
Just got a good Feeding of very lite Nutes.
3 years ago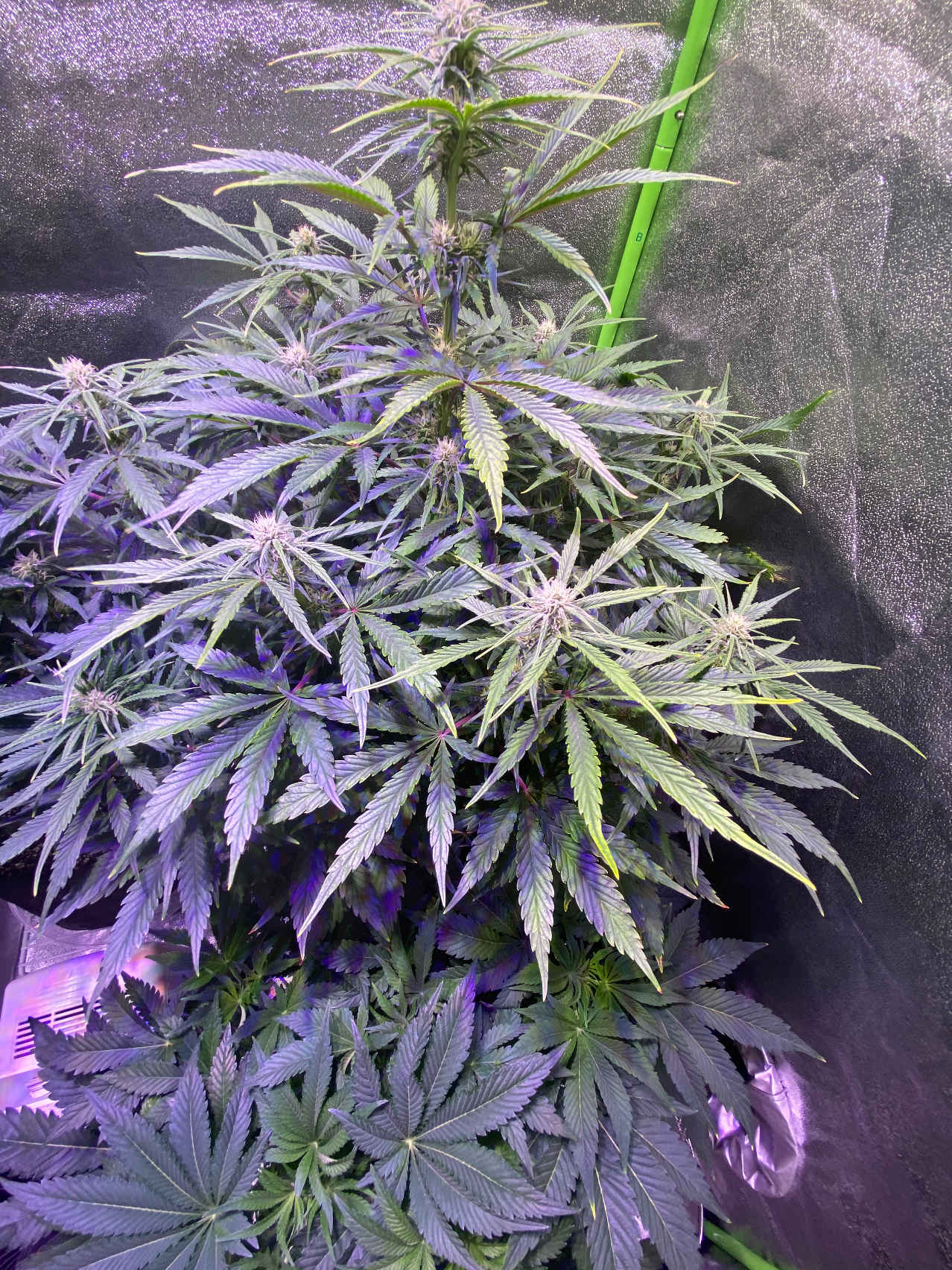 All plants got Ph'd water of around 6.5... gonna give a feeding tomorrow.
3 years ago
Until my new seeds get in... Imma just keep it going I only have 2 plants I'll just stay on top of them tough. Cut them balls off daily lol
3 years ago
Plant 1 on right been growing great... Only been getting 6.5 water same with Plant 2. Tonight I'll be giving both a 1/3rd of nutes. Added Dehumidifier and a new fan growing beautiful.
3 years ago
Both lady's looking huge... Elevated both plants off basement floor. Waiting on new Humidifier. No nutes only pH water of 6.5.
3 years ago
Looking Beautiful
3 years ago
All plants about to get Ph water of 6.5 (Found out last night my autoflower seeds was from a Mephisto Mix pack... Idk what TF I'm growing anymore... Imma just research every seed and follow grow diaries and see if anything look familiar 🤔... Some high az stuff... 🤷🏿‍♂️😂. )
3 years ago
Macadelik Lookin like two indica dominates and one sativa!
Plant 1 (Back Right) Growing Good... Very light Nutes and Ph'd water of around 6.3 Plant 2 (Back Left) Gave same feeding as plant 1 very light Nutes... But I gave them extras because I was 💨 and didn't want to save a minimal amount of Nute Water lol... Thought it would be okay... Seems it's not leafs def turning downward on me. Might have to flush. (The 2 maybe Autos around still Just existing for now They Growing good)
3 years ago
Didn't know my profile was public until now lol... I'll take this a little more serious. Plant 1 back right-no food, only got Ph'd water of 6.3... wanna wait out for Cal mag to come in. Plant 2 back left got less than half of a serving of Fox Farm Grow Big and Fox Farm Big Bloom. (Random plants in front just doing they thang got Ph'd water I'm sure they gonna get Tossed 🤷🏿‍♂️😭)
3 years ago
Plant 2 (Left) seemed to started Flowering Already... Plant 1 still going strong.
3 years ago
First Feeding Happened last night all 3 Pots enjoyed it by the growth and looks.
3 years ago
Plant 1 still growing Strong Plant 2 Growing... But way slower. Random 2 plants still around May toss later... Don't think they Autos.
3 years ago
All plants growing good.
3 years ago
18 days in plain to see this is the best grower... I trimmed the bad leaves off the second Mephisto.
3 years ago
Added 3rd pot with with random seeds might throw out later. Want to trim molded 2nd Mephisto plant Auto.
3 years ago
1st plant going well... 2nd sprouted but leaves seem molded. 😔
3 years ago
Dotz313 December 6th First Sprout Of Plant 1. Plant 2 came a day later.