First Grow
Summer 2022
Two clones in smart pots with Happy Frog. Grow Space is 4'x2' scrog. Spider Farmer SF1000D LED. First grow.
Decided to give them one more week. Harvesting at the end of week 10.
5 months ago
Waiting for amber. Start of week 9 of flower.
5 months ago
End of week 7 of flower, still not quite ready.
6 months ago
Sticky and stinky. Fattening up a bit.
6 months ago
After a bit of a clean up, the Capstone is looking better than the Mac & Punch. Capstone is stacking up and smells like apricot. M&P seems a bit leggy, I'm hoping it catches up in a week or so
6 months ago
Starting week 4 of flower. As this is my first grow I'm not sure if they're going to fill out or just be little popcorns?
7 months ago
Week 3 of flower
7 months ago
Week 2 of flower. So far so good I think?
7 months ago
Something's happening?
7 months ago
Hope I'm doing this right… 🤔
7 months ago
Day 1 of flower!
7 months ago
Flipping to flower today!
7 months ago
View 3 additional comments
Going to flower soon I think. Any suggestions or tips before I switch?
8 months ago
Is this K deficiency?
8 months ago
Dreadcandle Have you tried adding cal-mag to your nutrients?
DuganNash I have, but have primarily been focusing on K with Grow Big and banana peel tea. Maybe more focus on the cal-mag.
Caliban Check your ph runoff. You may have a nute lock.
View 5 additional comments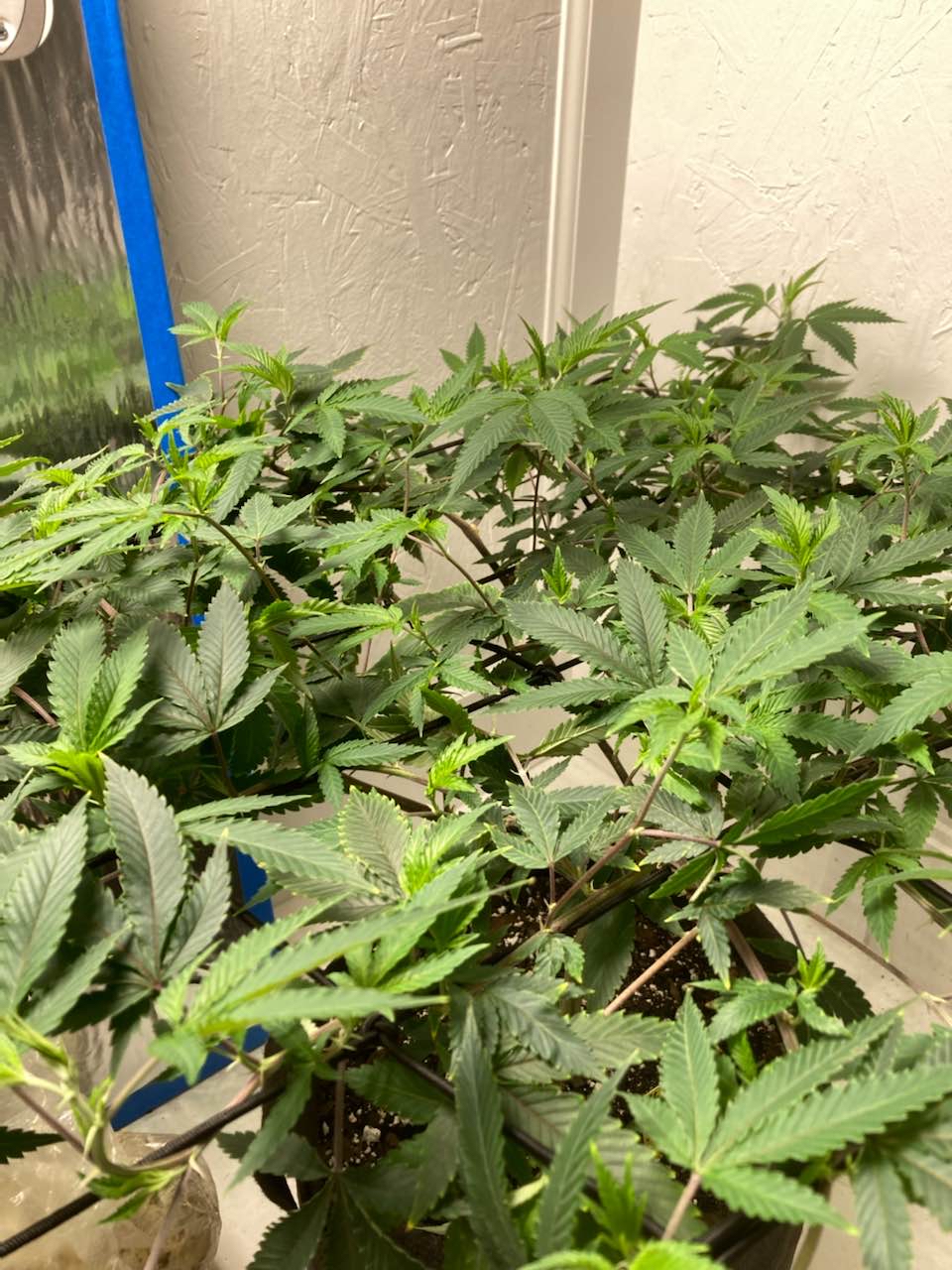 The screen is really filling out after the most recent crop. Capstone has hopefully recovered from her deficiency. Not seeing any new damage to leaves. Probably time to switch to flower soon?
8 months ago
FatBuds101 Looking good. Great job for this being your first grow. Less is more all you gotta remember. You can always add more but you can't take 98% of things out. If ur doing organic when I flip I'd add a nice layer of worm castings then kashi blend followed by compost I add sum insect frass under compost but it will boost the fertility of soil and make food easily accessible when the plant needs what it wants. Somthing I do every time b4 flowering. U will see what looks like white mold but it's Pseudohyphae which is beneficial fungi which is excellent for plants.
Starting to fill out the screen. Hopefully the deficiency has been sorted out.
8 months ago
The girls have been growing well, but I was late to add nutes. Some sort of deficiency going on with Capstone and starting to show in Mac & Punch. Hoping I have the problem sorted out already.
8 months ago
DuganNash Thanks for the info! I've been feeding grow big for a week now. Will that be enough to pull her out of it?
View 1 additional comment
The girls were moved into the room. I was pretty disappointed with the net that I got, so I ordered another.
8 months ago
gpurps Dog is like "wtf are you doing?" 😂
DuganNash 🤣 She looks like she knows more about growing than I do. And she might..
HeritageSecretGarden Nice little setup once you iron out the kinks and find your stride you could definitely fill that real estate out with a nice canopy of nugs 😎
View 1 additional comment
Returned from vacation and the girls have exploded!
8 months ago
Turning the dirty old crawl space into a tiny room for the girls.
8 months ago
Capstone started showing a twisted leaf? Work started on crawl space GR.
8 months ago
The girls were transplanted into smart pots with Fox Farms Happy Frog on 5/12/22. They were moved into a temporary grow space while I built my crawl space GR.
8 months ago
This is Capstone and Mac & Punch when I first got them as clones. This was around 5/7/22.
8 months ago
Any idea what's going on here? Only on the bottom leaves.
6 months ago
bionicerick It looks like u got mold or mites u should check the hole plant before it gets worse
DuganNash I haven't seen a bug for the entire grow, the other plant in the room is not showing this, and the humidity has been 35-45% for over a month now. This plant did have what looked like N deficiency so I added some, is it possible it's N toxicity from adding too much?
bionicerick There this app called growdoc u should get it n it's free tells u alot for the bud plants n it is good I recommend it