Fifth LED grow
Winter 🥶
Went with something that has smaller, stockier genetics. In the hopes the RDWC will get the most out of it 🪴
Week 12 - Managed 1.63 grams a watt this time, considering the size of the overall grow. I'm happy with that, definitely one I want to do again & veg for a little bit longer ☂️
4 months ago
Week 11 - Harvested today, only took four hours & a half, the trimmer works wonders ✂️
4 months ago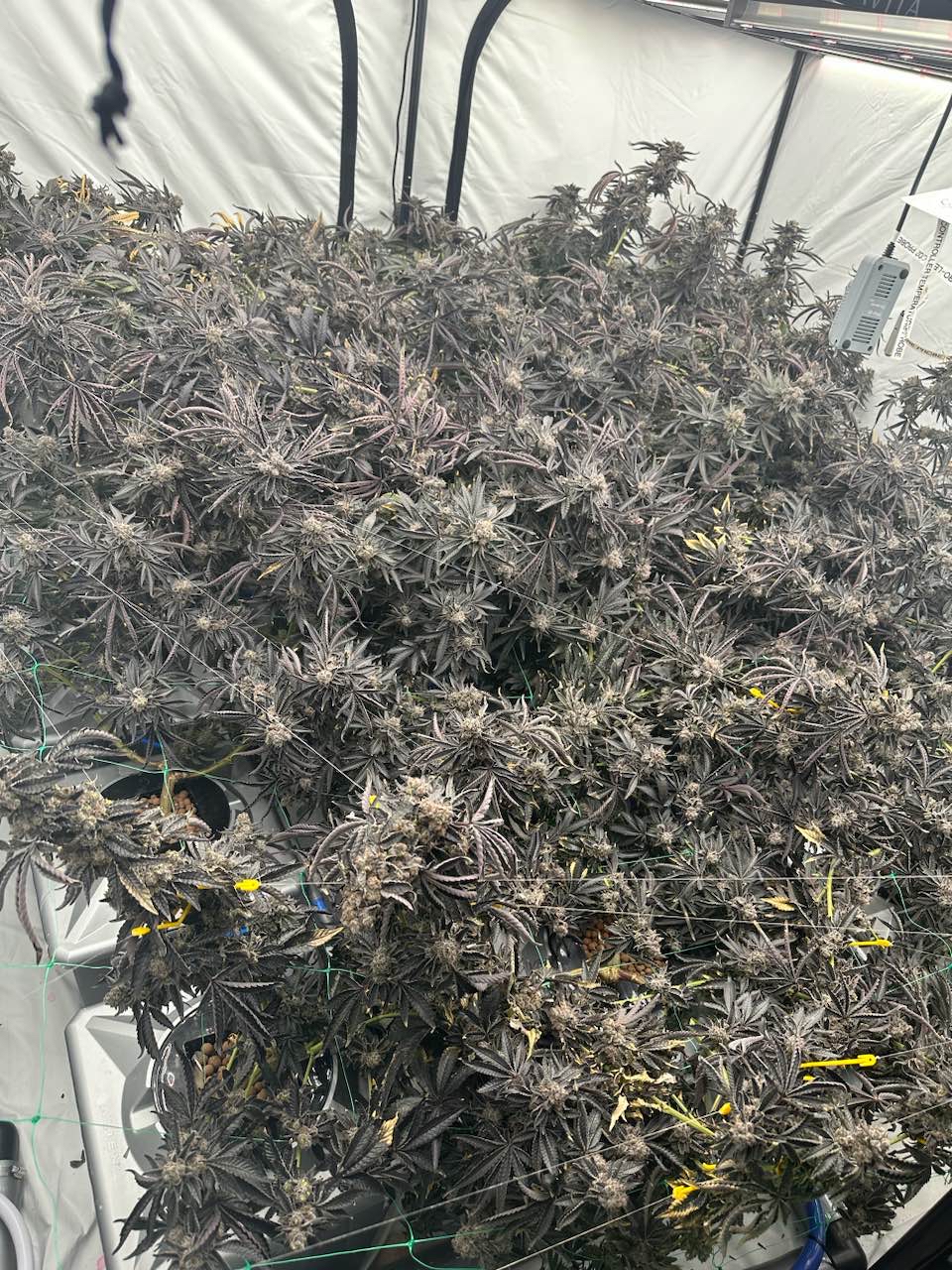 Week 10 - Approaching the final flush 🌾
5 months ago
Gavita Jay Very much looking forward to the final results. Don't think it's the best I have ever done. But the weight will be interesting ☺️
View 1 additional comment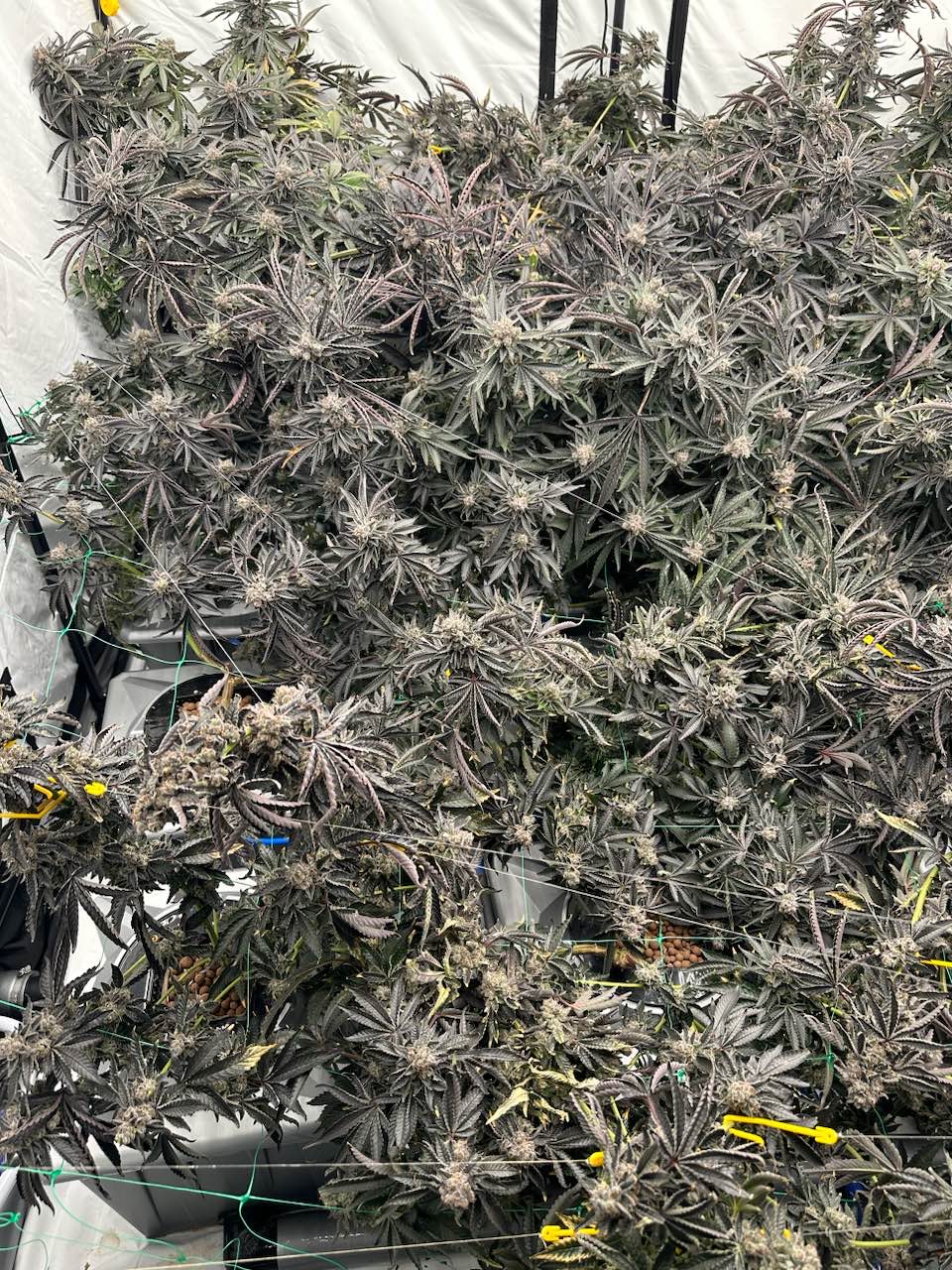 Week 9 - Started to ripen a few days ago, hopefully should finish them off, before the final flush 🍂
5 months ago
Week 8 - Feeding to 1.8EC & boosting with PK to 2.1EC for one week. Hoping to put some more size on in this final push…
5 months ago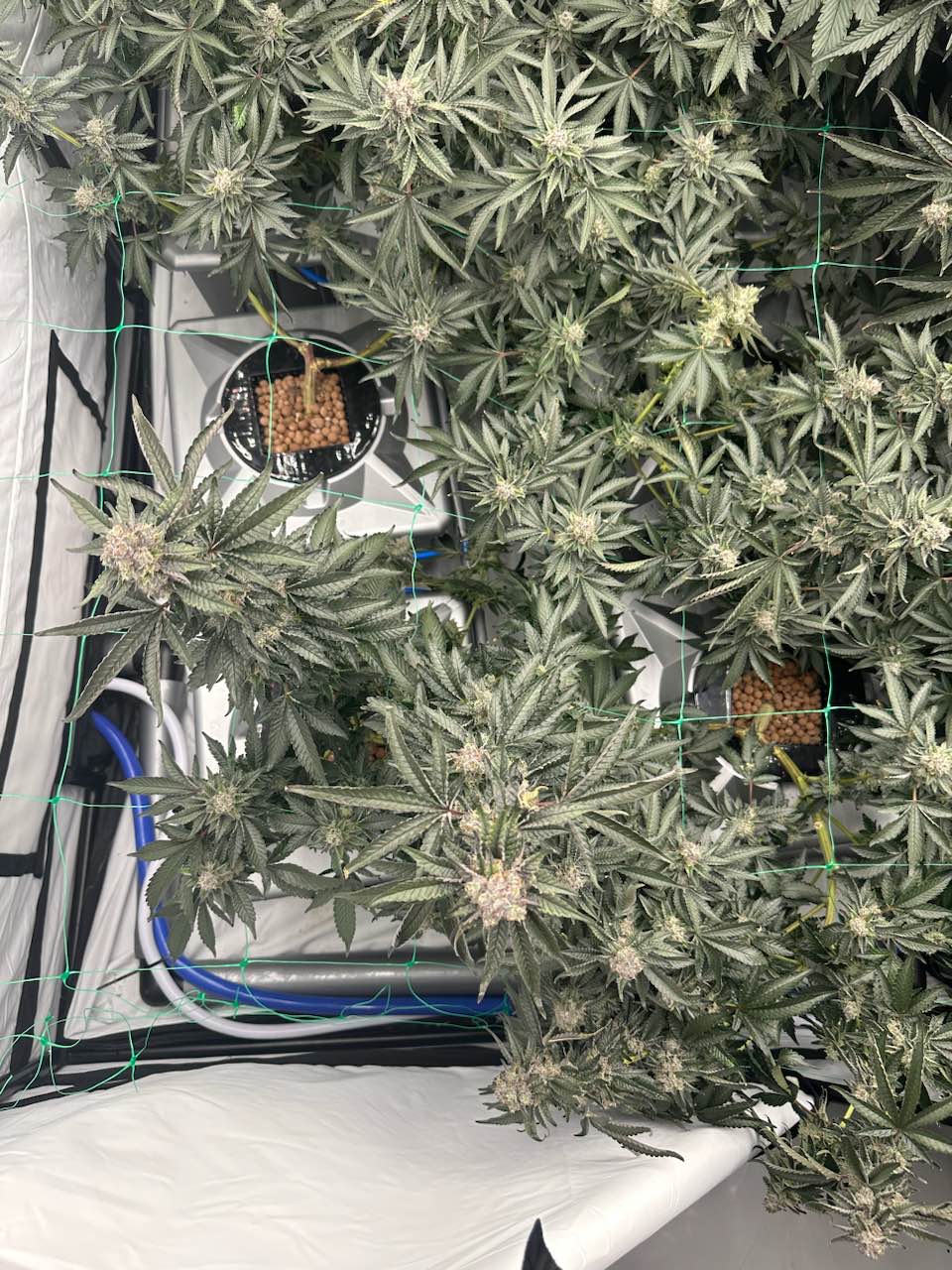 Week 6 - Just doing it's thing now, few colas starting to fall 🌳
5 months ago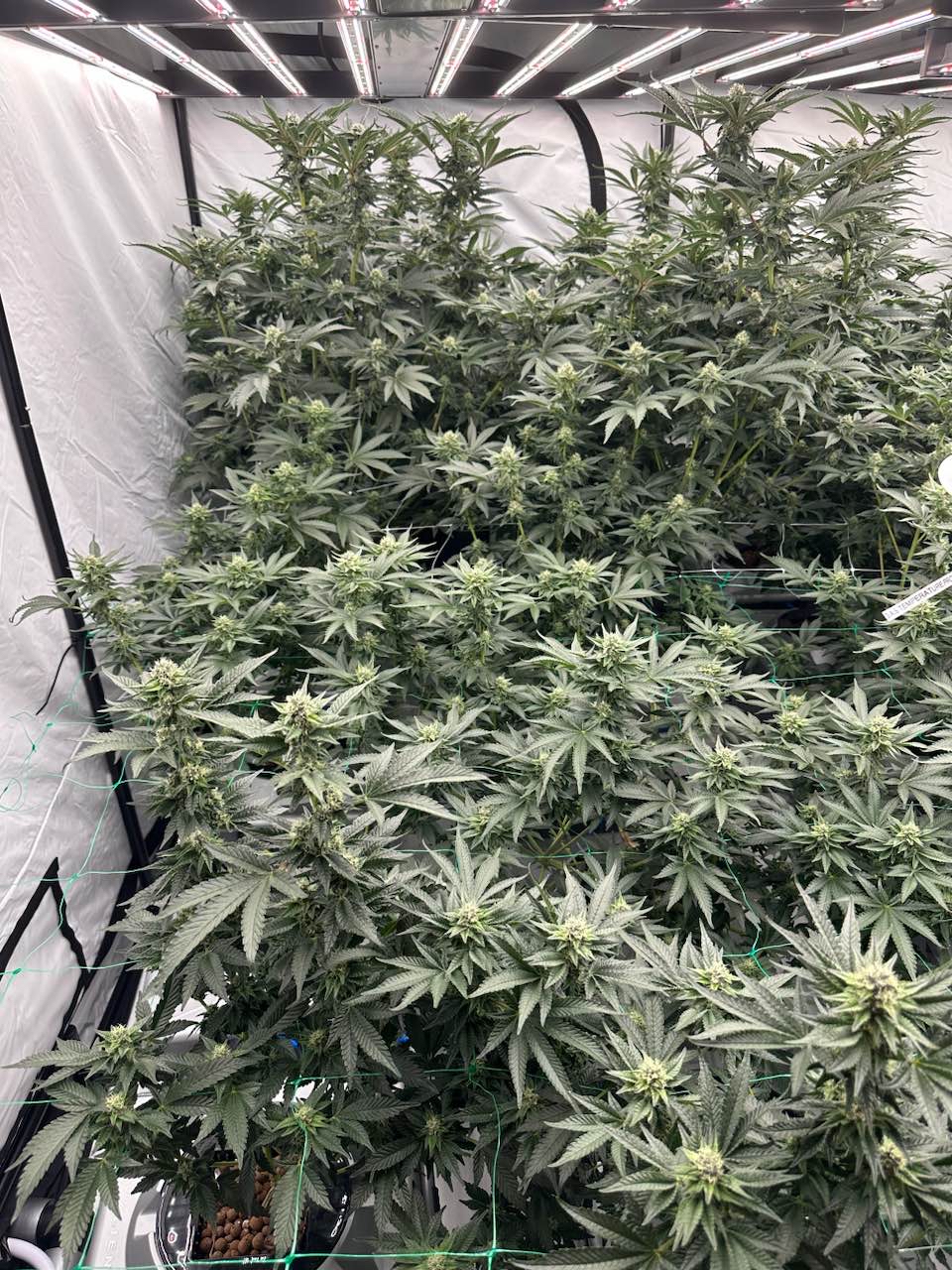 Week 5 - Starting to stack up nicely, aroma is getting really pungent as well. Some purple colours on the ones closer to the light 🪴
6 months ago
ig:@eaegifts Looking great as usual, I'm tuned in for that coco run btw
Gavita Jay Appreciate the support. I've just updated the Coco run as well 🌱
Week 4 - Starting to stack up nicely, recovering from the defoliation, lollipop and netting as well 🪴
6 months ago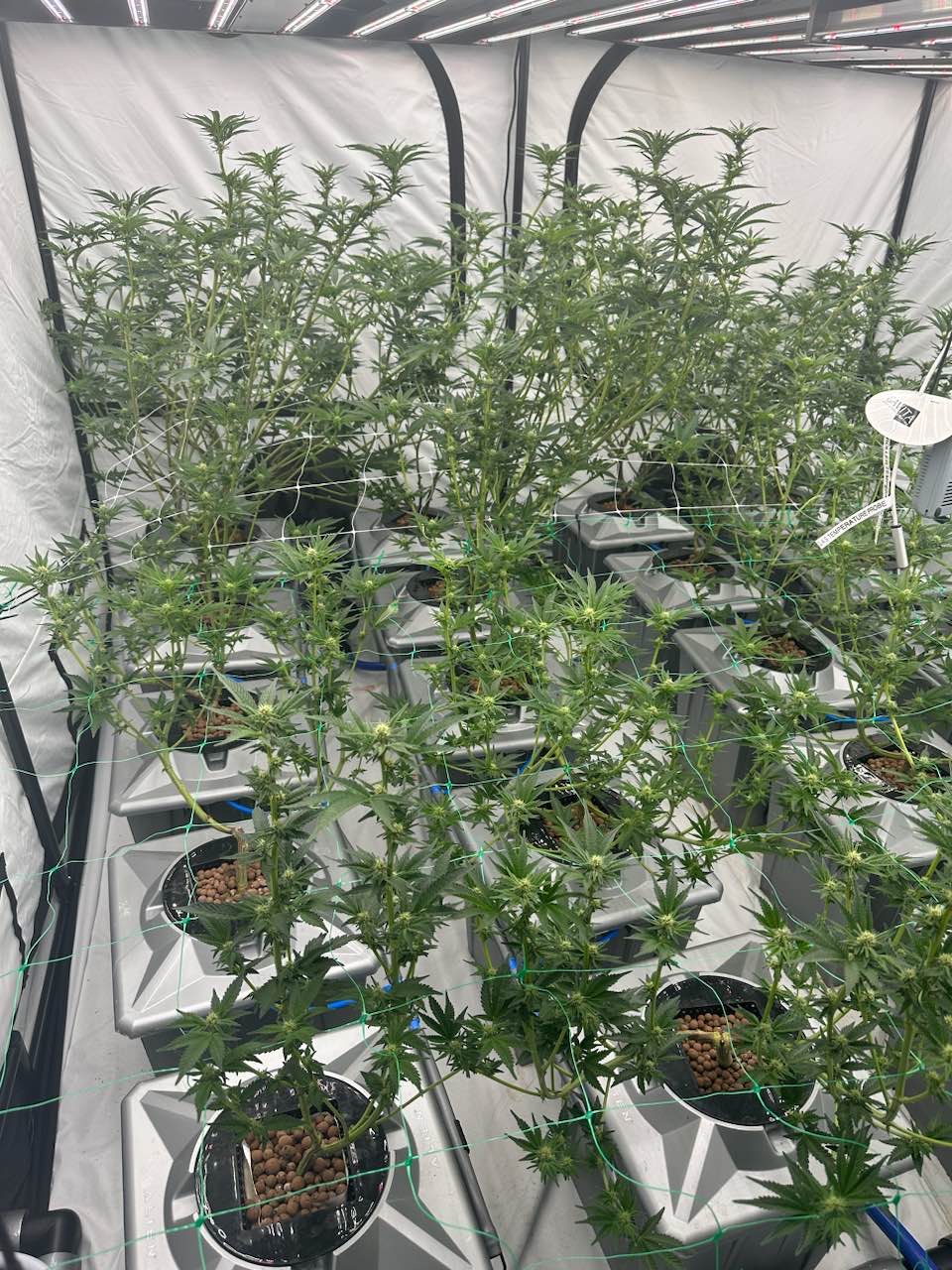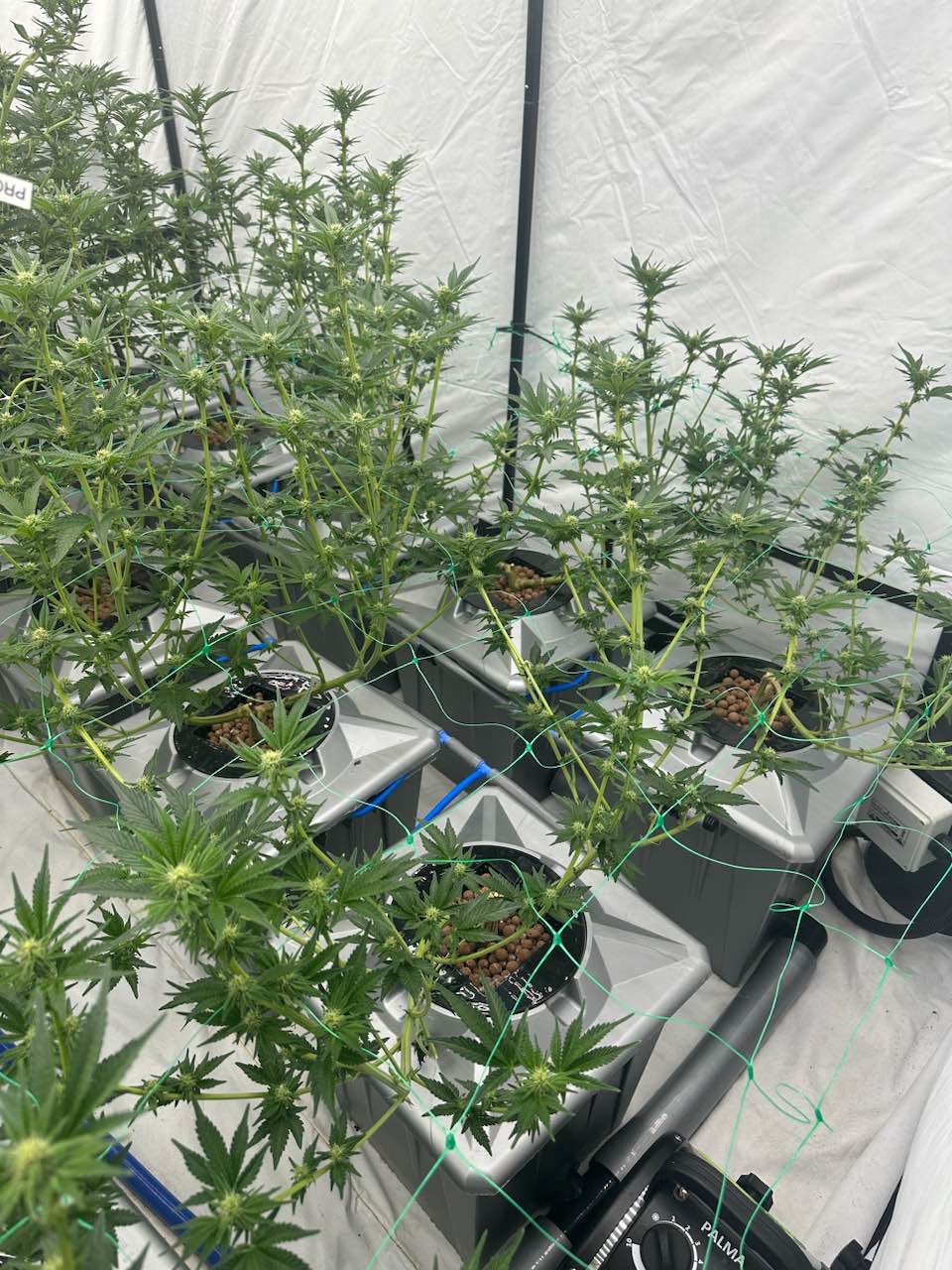 Week 3 - Final bit of training finished. Support in place in preparation for the heavy buds, come late flower. I've relocated the smaller plants to the back & the smaller ones to the front. Most have great structure, very happy with the progress so far. I chose not to super crop because the plants were quite fragile & broke quite easily when just defoliating & moving around 🪴
6 months ago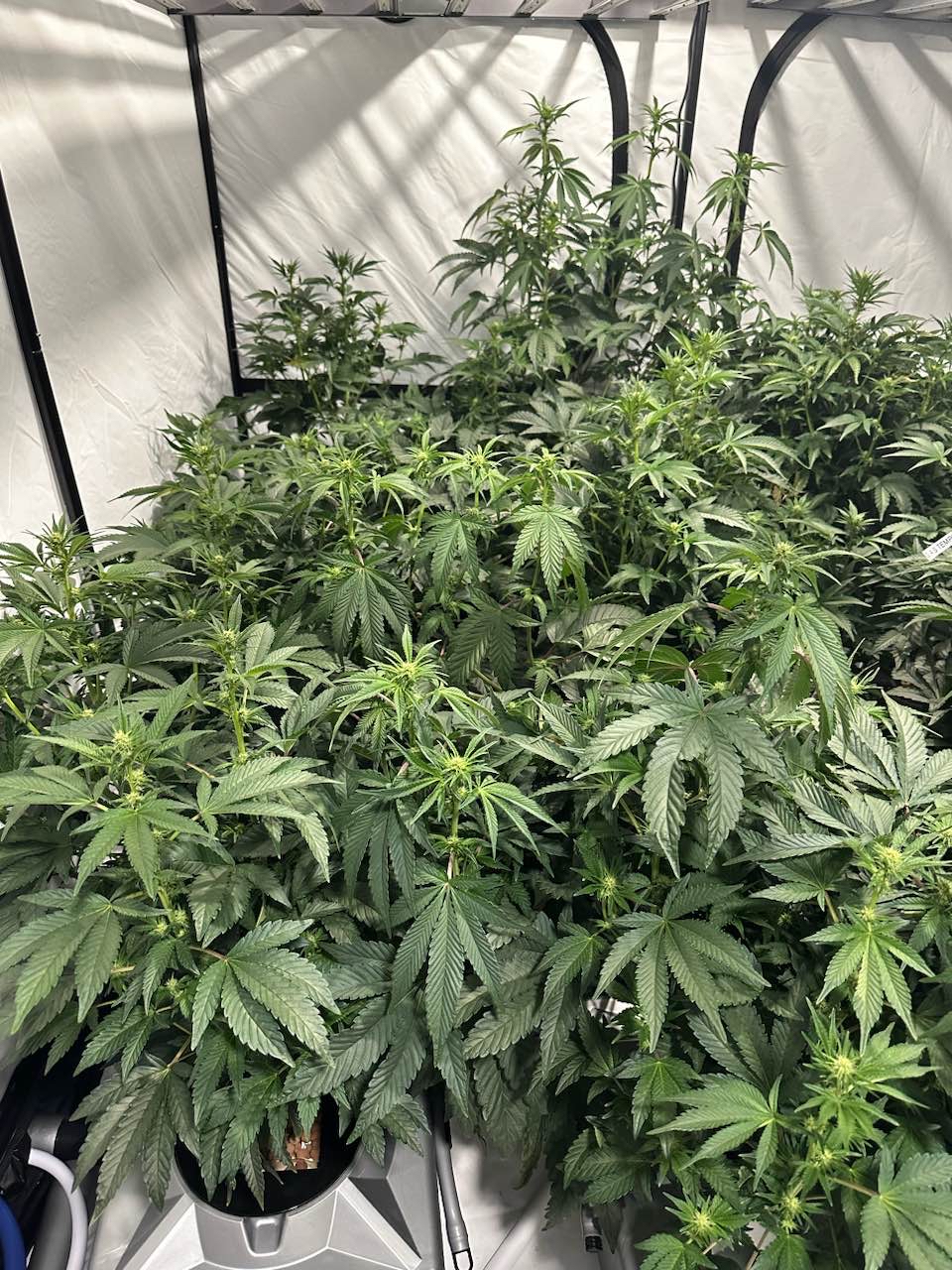 Week 2 - Last day of week 2. About to do a big defoliation, lollipop & net. Most of the taller ones have fallen over & need support 🌳
6 months ago
Week 2 - More & more of the plants are starting to fall over. I'll net them some point this week & do a defoliation 🪴 
6 months ago
Week 1 - Things are moving nicely now. Some of the stems are a bit weak & have turned down with the weight of the secondary branches. May have to find a solution for this if they don't get stronger 🪴
7 months ago
Week 1 - Switched to flower yesterday 🪴
7 months ago
Week 4 - Topped & defoliated some last night. May have to do some of the ones I never later this week. I'll be switching to flower by the end of this week 🪴
7 months ago
Week 3 - About to top some of the bigger ones again, so some of the smaller ones can catch up. I'm happy with the rate of growth & roots underneath them now 🪴
7 months ago
Week 3 - Topped & defoliated! It's been a while since I used this technique. Forgot how wounded they can look after🌱 
7 months ago
weedlax Been going through your grows, great work really admire your set ups. I see your upgrades as grows go on. What are surrounding these pots, or are they specific pots? I know you use/ used coco coir and fabric pots so curious on your watering setup
Gavita Jay Thank you appreciate it, this is a RDWC system Alien Hydroponics . Plants are in rock wool cubes suspended over a reservoir, which has an air stone inside, to keep it oxygenated.
View 2 additional comments
Week 3 - Starting to pick up now, some have bent over for some reason. Probably due to the extended period of time. They were in the propagator, while I was waiting for my grow area to be ready. I'm going to top them at the bend on those ones & the others at a suitable point 🪴
7 months ago
Week 2 - Defoliated lightly today, wanted to refocus some of the energy towards the growth I want. Didn't actually take off any stems, just old growth and any new growth that wasn't growing properly. Give it a few days to a week, then I may top some of them. As I don't want them getting to tall 🌱
7 months ago
blazinherb Im in love with how clean this setup is. 😍
SuperCheeseDude Dont be in hurry to top them let them recover first. Give them a week or so. Not sure how it works with hydro. But i also had some ugly looking clones on my previous grow which had to recover.. but from rich premium soil they bounced back pretty nicely.
View 1 additional comment
Week 2 - Replace the cutting that was dying, not much has happened so far. Just adjusting to the new conditions. Hopefully things will pick up next week 🌱 
7 months ago
View 3 additional comments
Week 1 - Went with something that has smaller, stockier genetics. In the hopes the RDWC with get the most out of it. Had these cuttings in a propagator for around two weeks, due to some maintenance at my location. Unfortunately lost one during the transplant. I will replace it with something else this week. They are a a little bit stretched due to the length of time they were in the propagator with the lighting. Should pick up over the next few days 🌱
8 months ago