Auto Run White Cookies 🍪
April 22
Auto white cookies (Red bearded seeds) 5 gallon fabric pot. Fox farm ocean forest soil. Fox farm (trio) nutrients. 18/6 Light Cycle. Germinated in water bottle for one day until fully submerged and put into paper towel/ziplock bag for 24 hours until tap root visible planted straight into soil on 4/18/22.
She's looking and smelling lovely buds are getting thick and frosty 🥶 a nice watering on the agenda for tomorrow 🙏🏾
a year ago
Gave her some h20 man she's looking happy and her buds are getting real chunky 💯 🤩🔥 smell is kind of sweet but earthy 🙏🏾🙏🏾💨
2 years ago
Feeding/water she's fat and she's drinking a lot of water. Smelling real dank and her buds are starting to fill out nicely 🌱 🔥
2 years ago
She was dry gave her a little tlc and fed her 🌱 💧seeing some 🍊 hairs can't wait for these buds to fatten up 🤩
2 years ago
Smelling pretty dank 🔥 🌲
2 years ago
Looks like she enjoyed her feeding and watering the other day. Tied her down a bit and did a little defoliation 🌱 smelling 🔥
2 years ago
Took her out to feed and water. Gave her some calcium and low dose of nutrients with some regular ph'd water. She's back in her tent now let's see how she feels after a nice good feeding 🌱 smells so dank and flowers are starting to form 🔥 also did move some of the branches tied them down to try and get more air flow and light penetration 🤩🍪
2 years ago
Man she's getting wild in there 🌱 ⭐️ noticed from last feed that she was still a little deficient in calcium. Brewing a special homemade calcium mix to give to her with some regular water. Will give her the mix and h2o later on to see how she takes to it. My question is should I defoliate at all? She's an auto and don't want to shock her at all 🤔
2 years ago
@eaegifts Looks great, I'd lst to see what reaches up and after about a week trim the lowest stuff that didn't catch up. My 2 cents 🤣
krispie420 Appreciate the input was thinking about doing some Lst tbh but wanted to maybe get some opinions I think honestly that's the best and safest route. I've heard some say defoliation doesn't affect autos and some say don't do it past a certain point. I'll start with a little lst for the time being 🤙🏾😎
View 5 additional comments
Just fed her at about 50% strength on nutes with regular h2o a little bit of banana tea added with some molasses she was showing a little bit of deficiency haven't fed her any nutes until today. Planted in OF soil and using FF trio nutrients 🌱🤙
2 years ago
Started to show some signs of deficiency, not too sure what but guessing calmag, trying to keep this grow natural while learning so fed her a special brewed tea with a little molasses and regular filtered water. Let's see how she does 🌱
2 years ago
mystrain420 _@eaegifts Calmag can't be a deficiency growmie because it's a mixture of 2 nutrients, it's either calcium or magnesium deficiency not calmag 👍🏾
krispie420 Well thank you for clarifying that I always hear everyone referencing "calmag" which I know is both calcium and magnesium I guess I get all mixed up in the lingo lol but I appreciate you man first grow so trying to learn as I go saw a few other little spots on her so figured maybe it's time for a little feeding. Haven't fed her only water since she popped she's in OF soil.
View 3 additional comments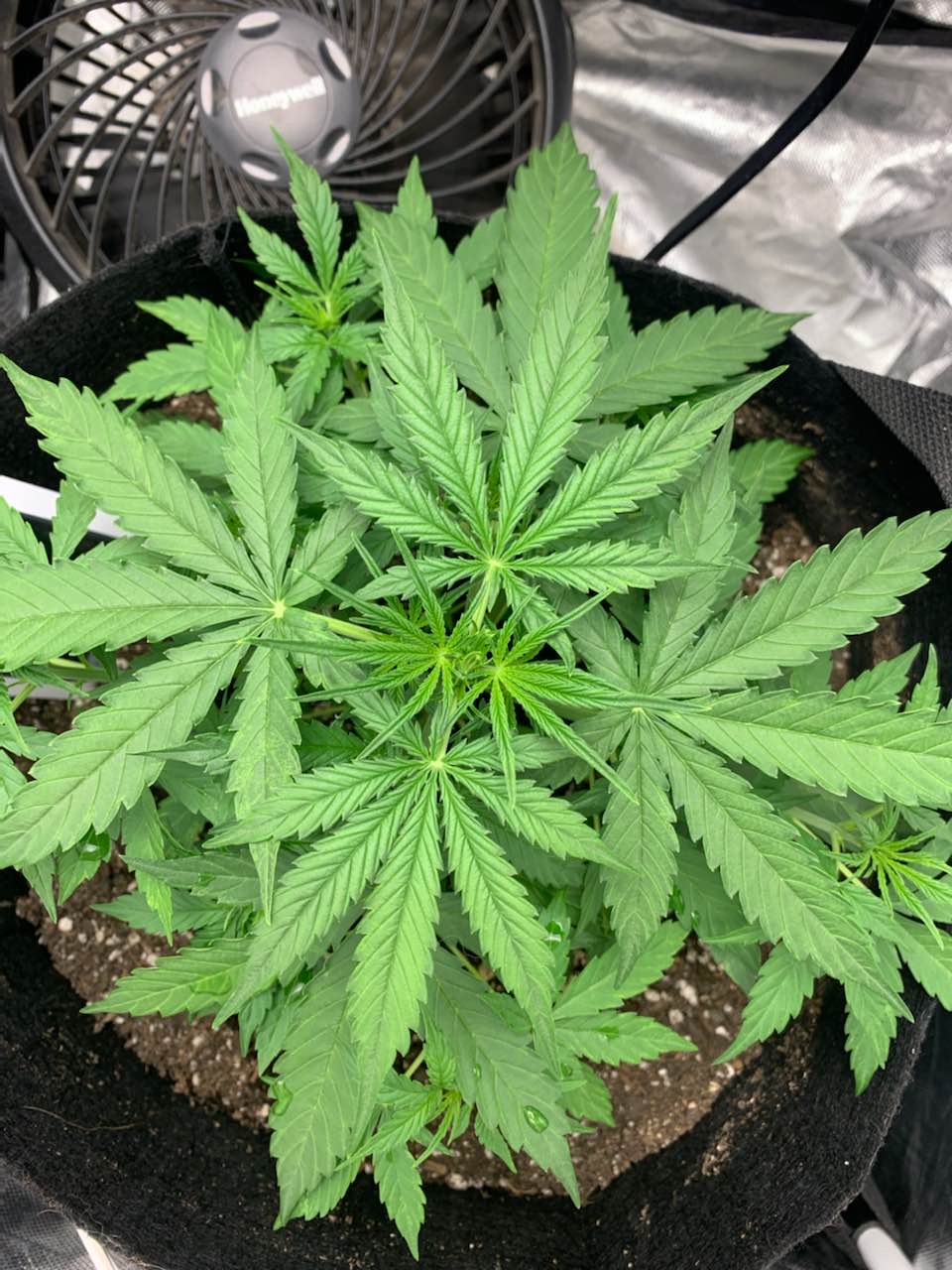 18/6 keeping soil moist still just h2o 🌱 smelling a little bit dank 🔥
2 years ago
the-archaic-revival 111 So pretty! I'm on day 19 and have been letting my soil dry out, so you recommend I keep misting the surface??
View 3 additional comments
Just keeping her moist regular bottled water no nutes yet still have her on 18/6 she's looking pretty 🤩 thriving so far 🌱🤙🏾
2 years ago
Keeping the soil moist regular bottled water added a little unsulphered molasses nothing more. Girl looks happy 😊 🌱
2 years ago
She's coming out nicely light watering just to get the soil moist using regular bottled water still 18/6. Auto run will stay 18/6 all the way through. No feedings yet going to give her about a month in of soil and then begin feedings. 🌱
2 years ago
View 1 additional comment
She's a happy camper. Light mist 💦 still 18/6 💡
2 years ago
She's thriving already 18/6 turned on exhaust inline fan to control humidity a bit. A little water to keep her moist.
2 years ago
She popped thru today 4/20/22🤙🏾 #happy420
2 years ago
Seed finally into soil Foxfarm (OF) no sprout just yet but humidity is up and soil is moist also light cycle already on 18/6
2 years ago