Biscotti & Gushers
Spring 2021
4 seeds, Spider Farmer SF4000, General Hydro Rapid Rooters, Happy Frog, Fox Farm Ocean Forest Biscotti- Indica Dominant Hybrid (Gelato #25 X South Florida OG) Gushers- Indica Dominant Hybrid (Gelato #41 X Triangle Kush)
Another Harvest Completed 🍃🤞🏾🎊🎊 smells great! Currently curing in jars and turkey bags! Yielded approximately 19.9oz Waiting on another biscotti to finish up. She'll be getting chopped today!! Overall, learned a lot from this grow and plan to make the next harvest even better!! 💯🙏🏾
a year ago
View 2 additional comments
Week 10 Flower 🎉🎉🎉 2 plants are just days away from harvest!! Extra excited! Gave them their last watering and now just waiting for their pots to dry up and I'll be chopping them down! I will start the flush on another plant tomorrow and the 4th plant should be ready in a few weeks!
2 years ago
kolchak707 Very pretty, bet they smell as good as they look
View 3 additional comments
Week 9 Flower 🔥🎉🎉🔥 decided to start the flush on 2/4 plants! 1 biscotti and 1 gushers i feel will be ready to come down in 2 weeks! I'm seeing amber and milky trichomes! Overall, they smell great and are soooo sticky! I can't wait to cut her down ! I'm going to let the other 2 plants grow a little longer, they're definitely not as ahead as the others but that's okay! Perfection takes time lol
2 years ago
View 1 additional comment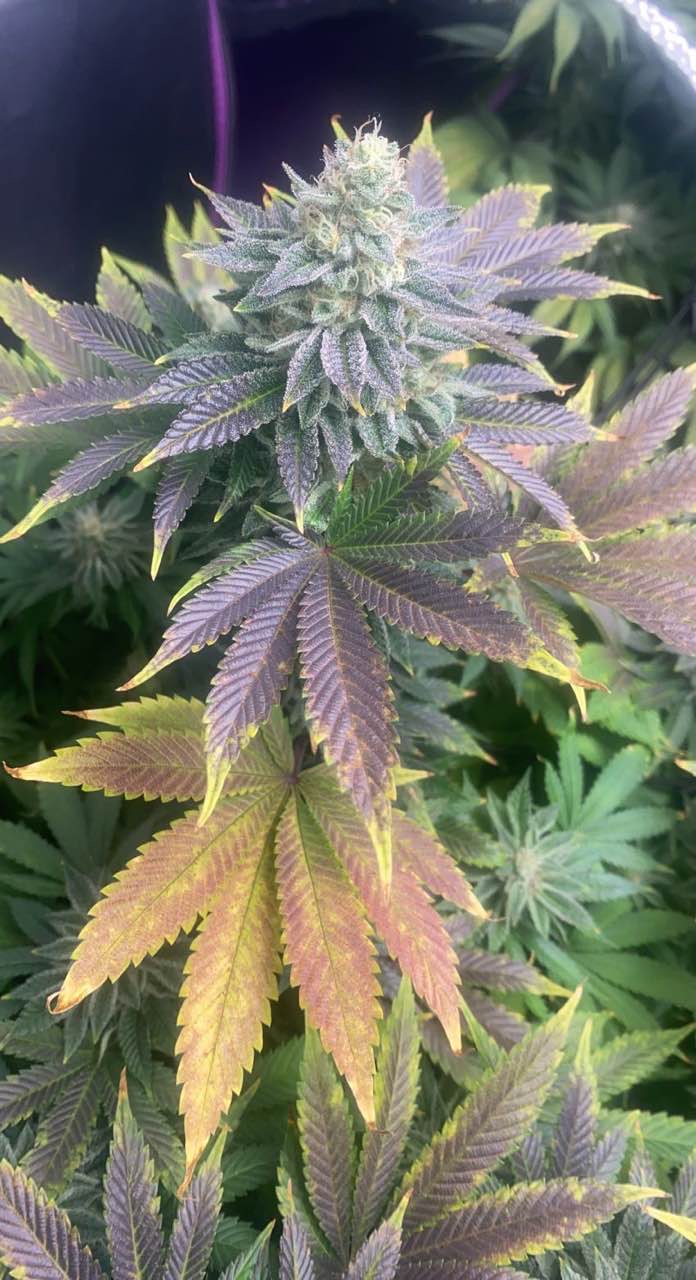 Week 8 Flower 🎉🎉🎉🎉 almost 9 weeks! Nice colors on the biscotti here! There is one biscotti that seems to be much younger in appearance but it's thickening up nicely! The biscotti is estimated to be done between 8-9 weeks! Still seeing some white hairs so I'm going to give it another week, see how it looks and begin the flush if I believe she's ready! The gushers is estimated to finish at 11 weeks! Let's hope they're all fire 🔥 no rush lol
2 years ago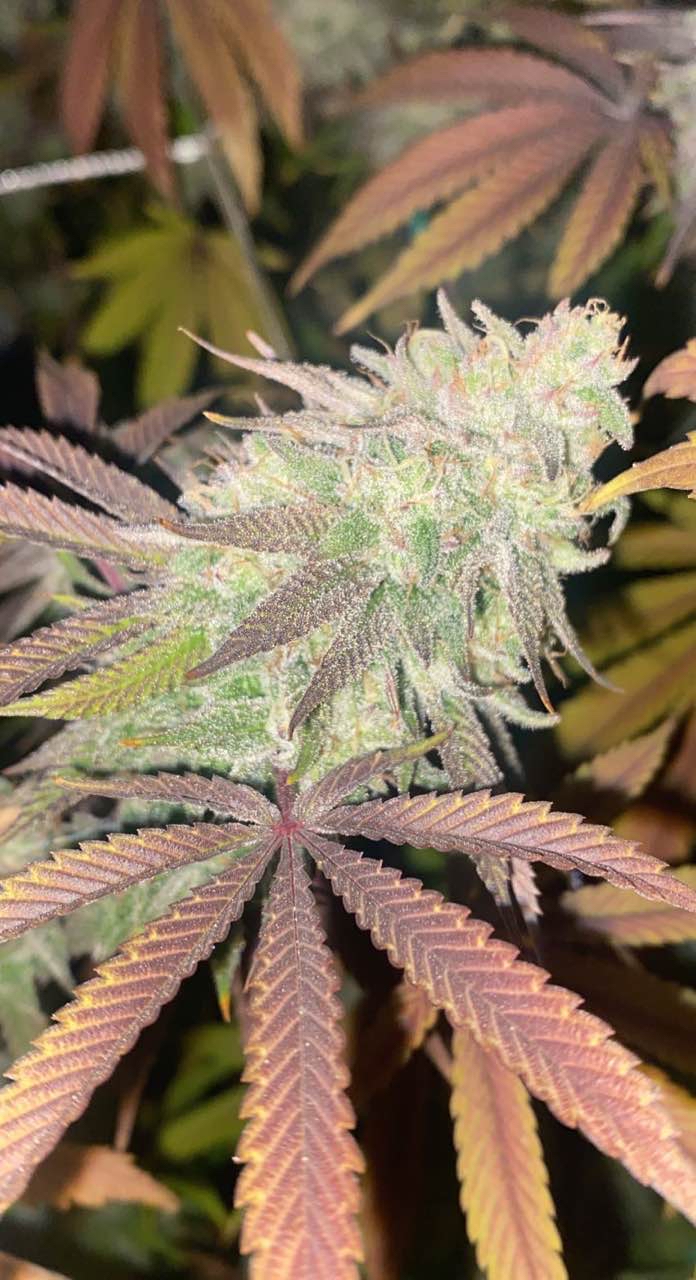 Week 7 Flower 🎉🎉🎉 I believe they have recuperated very nicely! Some plants are further alone if comparing looks! Still feeding them nova flora and water with molasses. Keeping their pH within 6.3-6.6! Water ppm is testing between 1000&1200 every other watering. Currently on a 2 day water schedule! Has a few more weeks but looking good so far! 💪🏾💯🔥😍
2 years ago
Week 5 flower - Not much to say but the buds on all plants are thickening! I believe I have one plant that looks to be about 2 weeks behind the others but they're all doing very well and seems a lot happier! I wish I would've caught my mistake of the feeding a little earlier so that the leaves would look greener but I've learned my lesson for next time! Can't wait to see the end results 💯
2 years ago
Week 4 of Flower 🌺 😊 they are all blooming nicely! The yellow isn't getting any worse so that is a good sign! The Gushers is the biggest in the back. I'm making sure to spoil them all since I feel I neglected them for a period of time during veg. Fed them all pH'd water with molasses this week! Other than the yellowing from before, they seem to have recuperated 🙌🏾 the finish product will tell it all! 🤞🏾
2 years ago
Week 3 of flowering 🎉🎉🎉 the count down until harvest begins!! In the beginning, I estimated that the biscotti would finish first based off their flowering time compared to the gushers but the gushers have definitely bypassed the biscotti in terms of growth. Will continue to monitor! But feeding is much better and they're looking healthier
2 years ago
Okay so I finally realized what the issue was!! My truncheon wasn't calibrated correctly! The ppm has been completely off smh. I have calibrated and have been feeding them all correctly (or much more than usual) I'm already seeing improvement in my gushers! They're really yellow but look soooo much better now that they aren't starving (such a rookie mistake smh) Anywho, I've been feeding them all flora nova flower and they starting to preflower as well! I have seen hairs sprouting on all but 1 so far. I flipped the lights to 12/12 last week so I would assume this would make for week one of flower officially. I hope I haven't stressed them out too much! Only time will tell! Fingers crossed!
2 years ago
Still having issues with yellowing. going to continue to feed in hopes of seeing a healthier recovery during flower. I've checked pH and have upped the feeding. Any advice is recommend!
2 years ago
Been very business these past few days! Been behind on uploading but I'm back at it! My girls have gotten a lot bigger. I went ahead and did a super prune and some lollipopping. The gushers in the back won't have much room after a while! Going to do another week of veg then flipping to flower! They've been through a lot of stress but I'm confident they'll bounce back
2 years ago
This week wasn't too bad! They're definitely getting bigger. They're drinking a lot more water than before. I had be giving them all at least half a gallon every 3 days but now it seems they all need at least 1 gallon of water. The bigger one (Gushers) back there is starting to utilize a gallon and a half. Thinking about flipping them soon.
2 years ago
These four girls are doing well this week. I went ahead And did some lollipopping and pruning. Wanted to open them up a little more! They were all fed flora nova veg for the first time. I was seeing deficiencies in the biscotti so figured now was a good time to introduce nutes. I started off with less than the recommended tsp per gallon. 2 gushers in back/ 2 biscotti in front. I want to keep them all the same height but that 1 gushers is getting much taller. I topped them all once again to bring the lower branches up and slow down the growth at the top just a little.
2 years ago
Mystrain420 Like how they looking 👍🏾, I followed u on ig
Doing well this week! Watered with molasses and they have all been transplanted into 5 gallon pots 🎉 They have also all been topped between the 4th and 5th nodes
2 years ago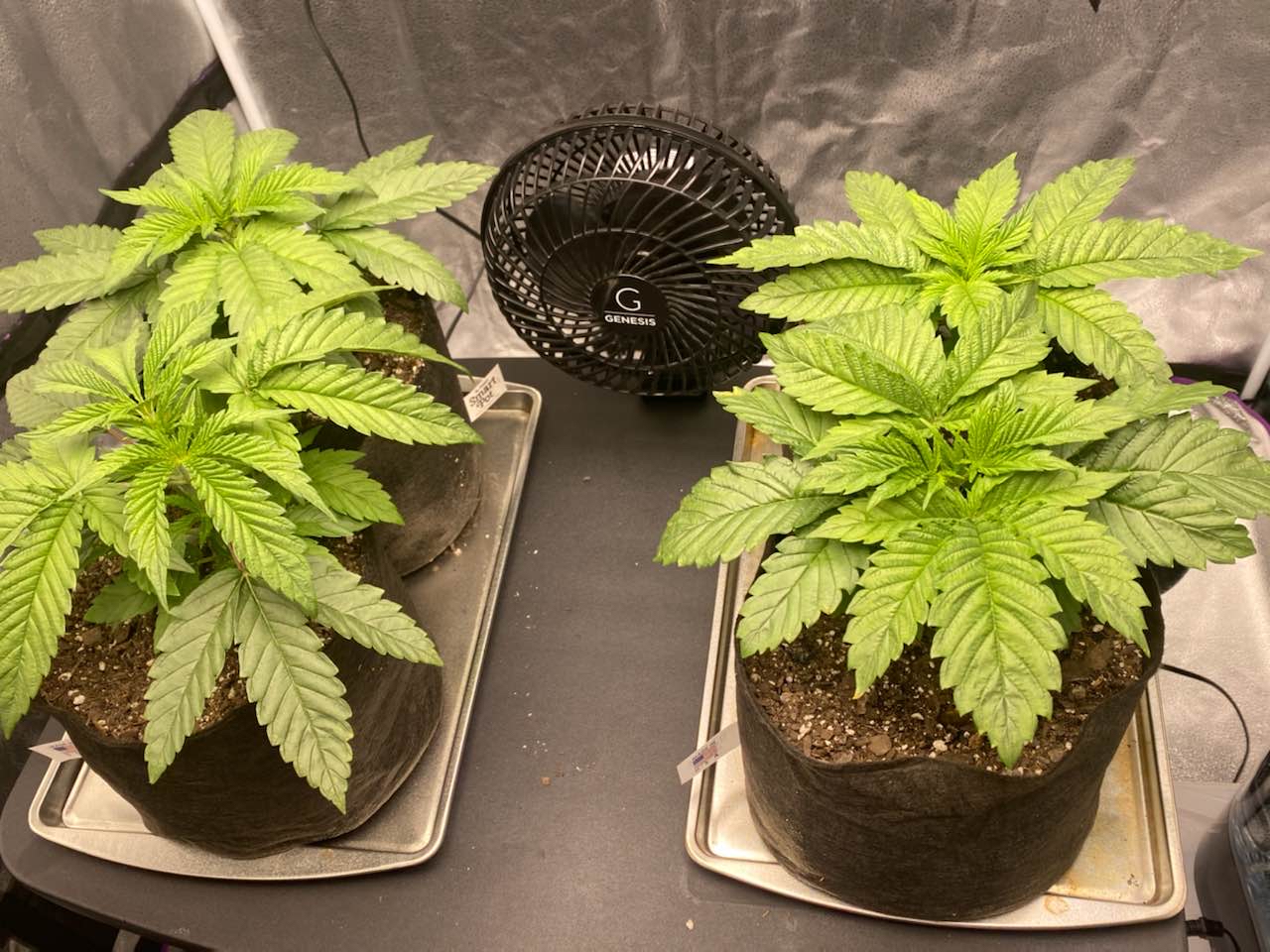 They've been through a lot this week! Gave them all calmag and it seems the biscotti were a little more sensitive then the gushers. Both biscotti showed issues but I was able to quickly fix the problem (flushed and pruned damage leaves) and they're looking better than ever!
2 years ago
A little over 2 weeks old
2 years ago
Getting bigger 🎉
2 years ago
Happy Mother's Day to all my female growers 😁💚🍃 My babies looking strong! One biscotti is a week younger than the others. General Hydro Rapid Rooters- 4seeds! 2 Biscotti, 2 Gushers
2 years ago