ogstress
Maiden Grow
Experimental
This is my first ever cannabis grow. I'm starting them in an aerofarm xl. I'm experimenting with nutrient levels to find the best schedule and measurements for my next grow in the aerofarm xl since I don't know anybody with a set nutrients schedule.
3 Purple Glue, 3 Dos Uvas
Been werking a lot of overtime, can't check the plants everyday because of light cycle vs my werk schedule. Purple glue cola cannibalizes leaves in the meantime, started the flush last week
4 years ago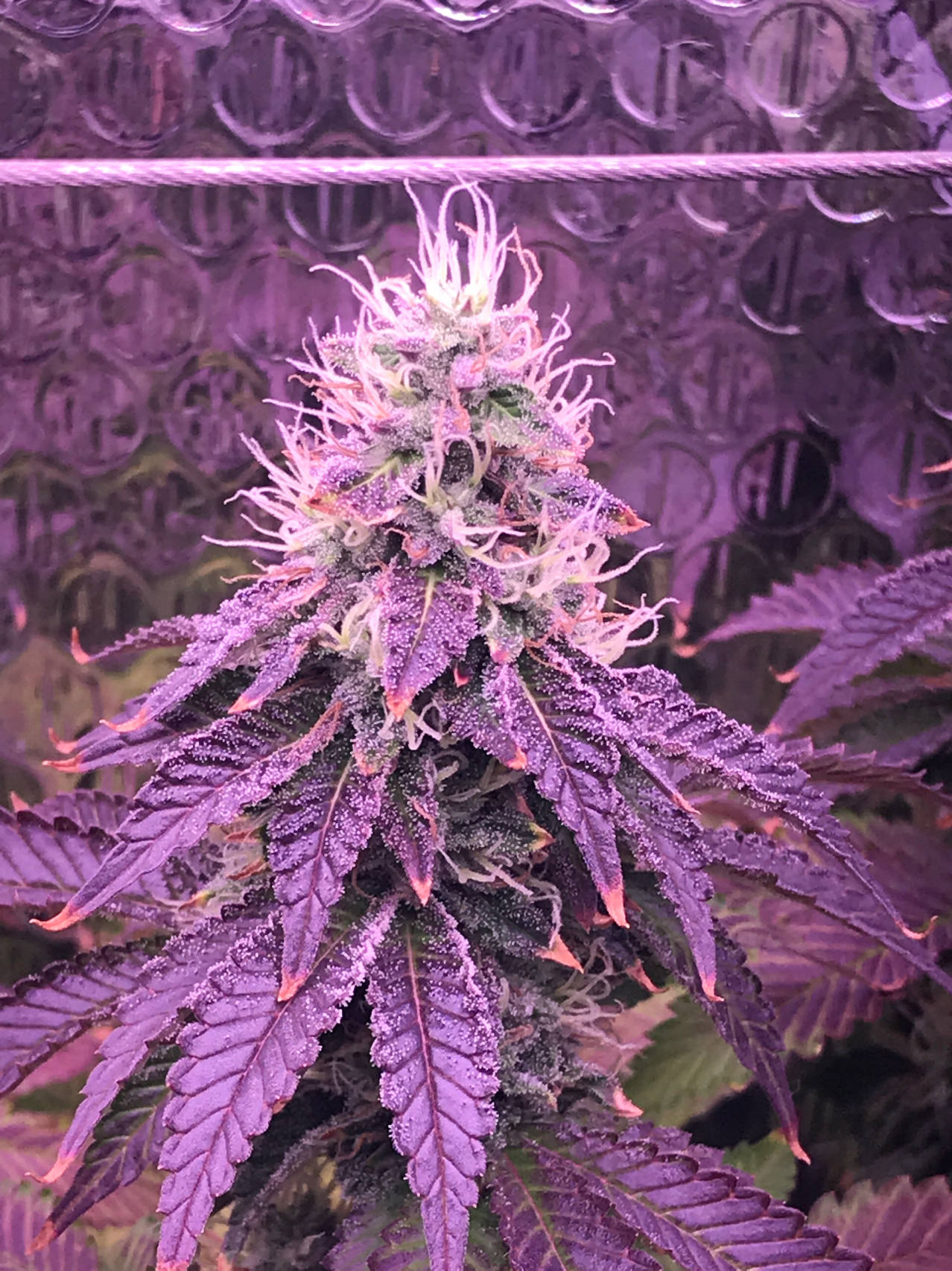 Two diff colas, same plant, two diff color variations
4 years ago
The dos Uvas was growing out of control and really giving me anxiety, I decided to supercrop the plant (which also gave me anxiety) because it was pushing against the lights. I fucked up a couple of the tops on the purple glue adjusting the trellis. Fingers crossed the supercropping werks or the plant is fucked? Sort of bumming me out right now. Purple coming in nice tho.
4 years ago
Dukeshaba I thought you just slightly bent it over for supercropping not break the plant
OGStress No, that's the low stress training, that's initially what I did, but I did it late so there wasn't much wiggle room. But with the super cropping or high stress training I was supposed to massage the stalk between thumb and index until the fibers were loose and broken without breaking the outer stalk, then manipulate the weak joint to alter the height of the plant, but I broke the outer stalk, so here we go
Still doing its thing, gonna consider HST on the Dos Uvas, growing out of control
4 years ago
Getting frosty, not worried about the nite burn, it never spread.
4 years ago
Purple coming in nice
4 years ago
Budding is strong on the Purple Glue
4 years ago
The dos uvas plant is shooting up quicker than expected. it has basically forced the left side lights to its limits. Seeing as how I didn't practice LST early into the process, does anybody have any suggestions to temper the growth without damaging the plant?
4 years ago
Dukeshaba I'm a newer grower dude but super cropping or something it's called where you just slightly bend over the tall ones. Look on youtube
OGStress Thanks, I actually did it the day after I posted this, it werks for now but I'm still gonna look up sum vids cause I got about 3 weeks left on this grow
Proud of the progress of the Dos UVA.
4 years ago
Both plants are confirmed female.
4 years ago
Purple glue showing female, Dos Uvas still unknown
4 years ago
Still trying to identify the sex
4 years ago
Second day of flowering
4 years ago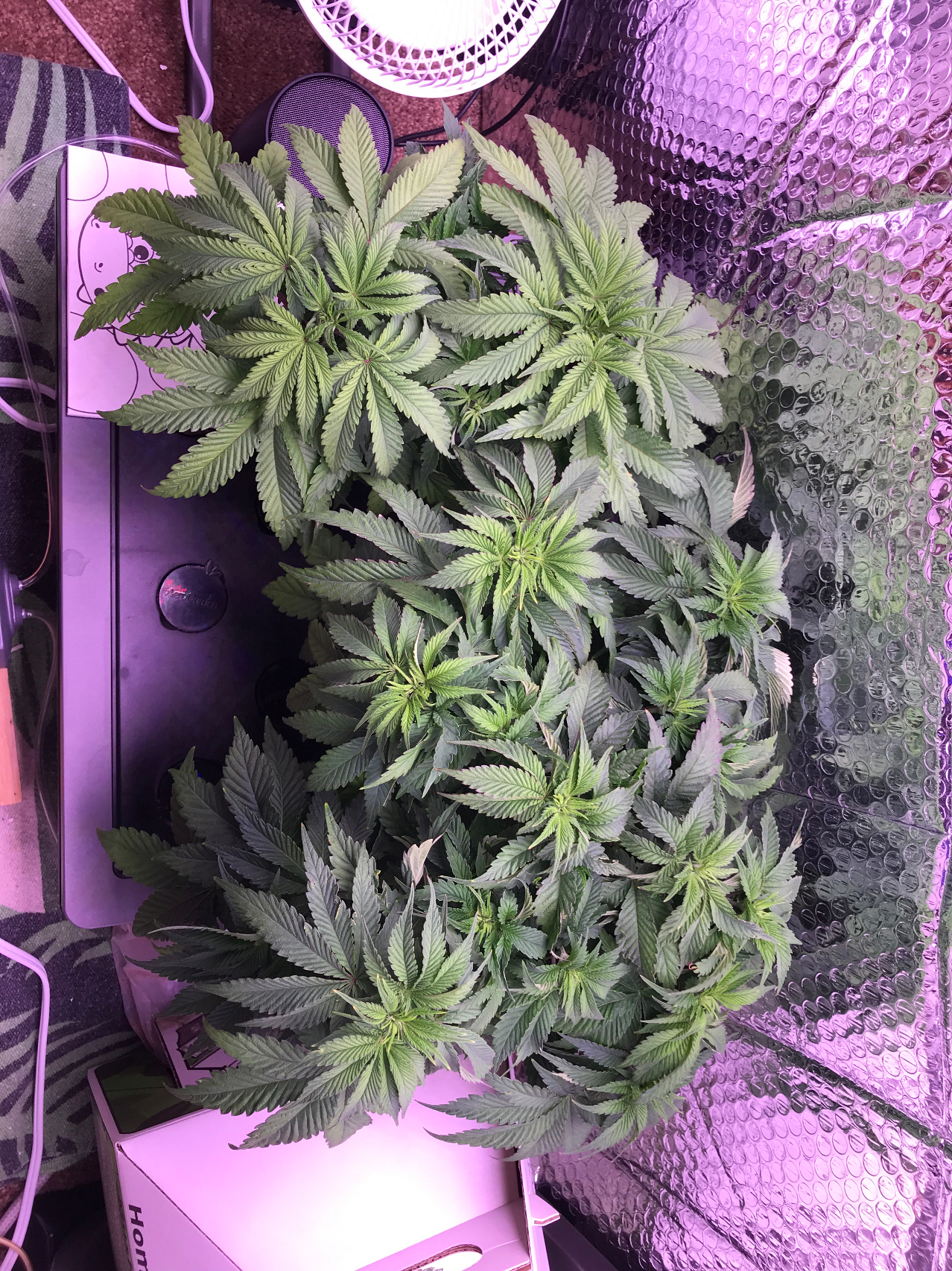 Just flipped the light cycle to flower, fingers crossed.
4 years ago
Waiting for sexual maturity to flower these
4 years ago
Drinking lots of water
4 years ago
Not seeing a dramatic change with the Co2 box. I fixed the angle of the stem on the dos uvas plant so it sticks traigjt up towards the light. It topped it self so I only have to worry about pruning. I won't prune again till before I start the flowering.
4 years ago
Introduced a fan to the environment at expense of 24hr music, I also added a Co2 box
4 years ago
Lyndsey0218 Purple tap roots mean you need a bigger pot.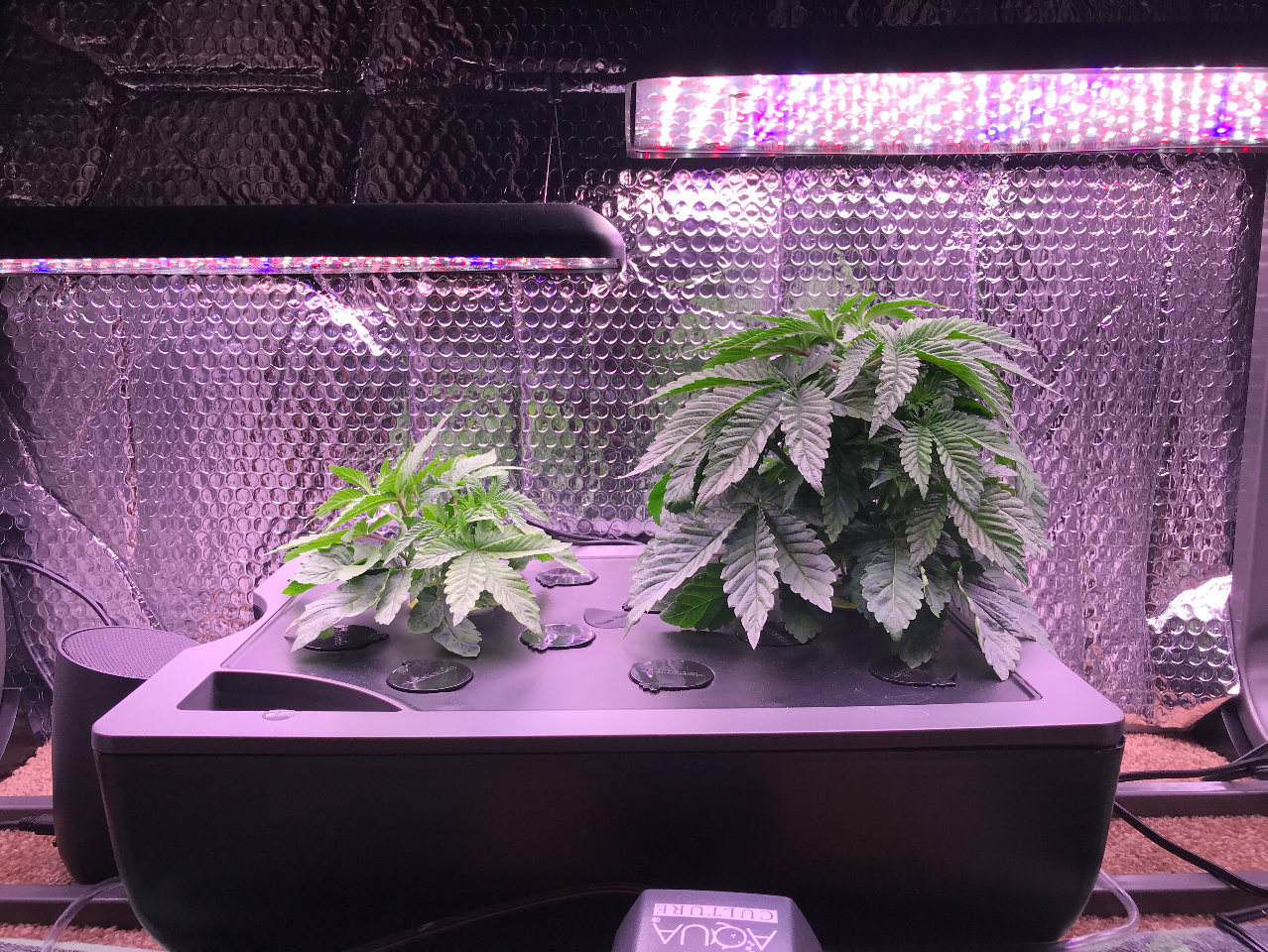 I topped the purple glue and removed a couple fan leaves. The Dosi plant it seems after all has topped itself, Which is welcoming. I'm really excited to see what comes of this dosuvas
4 years ago
Purple glue plant is growing at what seems like a rapid pace. I'm am considering topping it in a couple days, just to keep it short. It's starting to stink up the room, but I don't mind, smells better than my daughters diapers. Dosi is continuing to do its own thing, it's getting stronger tho so I'm more intrigued than worried at this point. Seems like the leaves are starting to untwist as well
4 years ago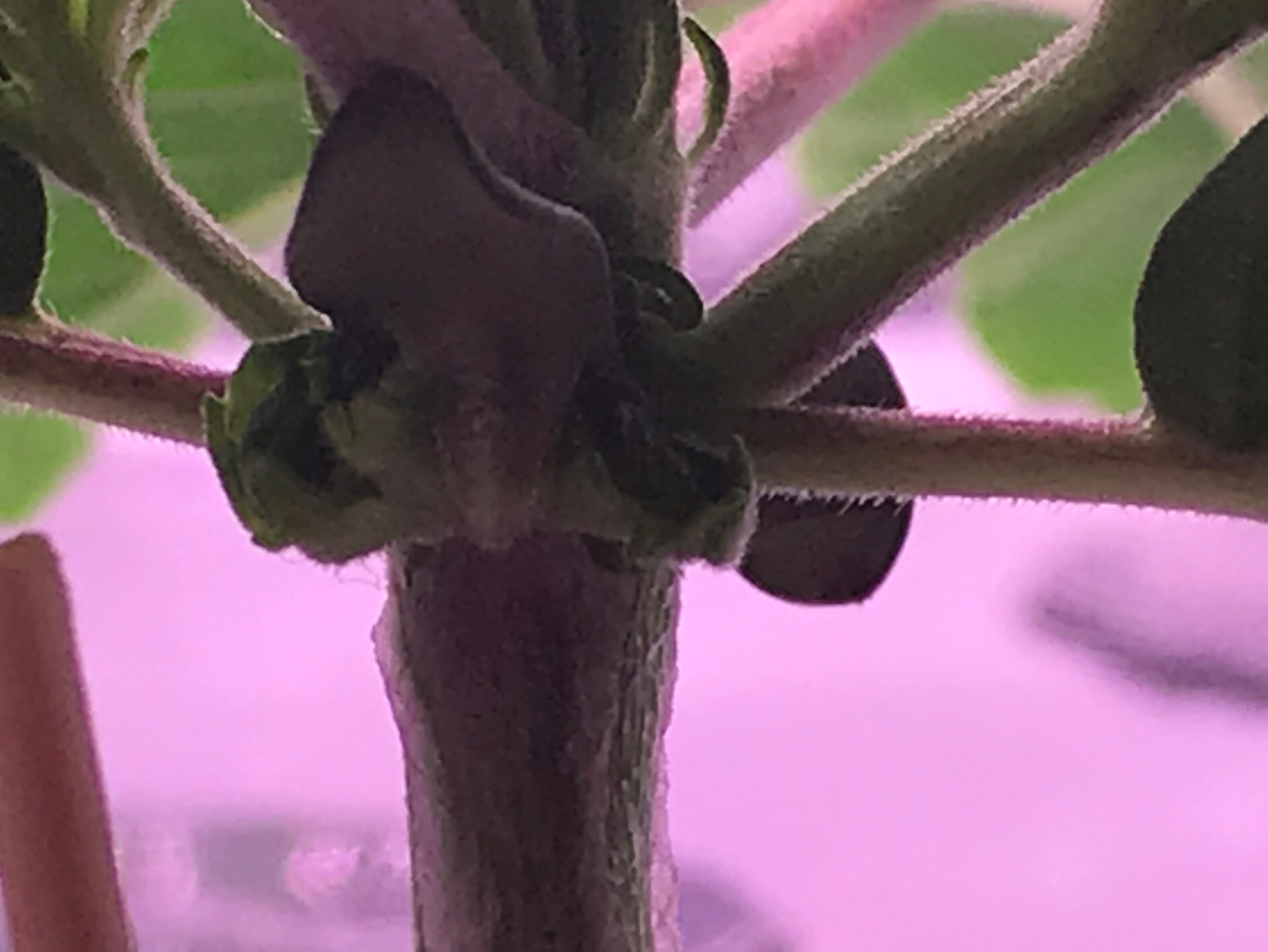 Both plants are keeping a steady growth pace. I'm Impressed by both for different reasons. My PG plant looks as healthy as could be, I'm still in the dark about pruning to get light to lower limbs if anybody could give sum pointers. My Dosi plant looks really gnarly. These leaves are growing in a twisted upward motion, really interesting to look at, I'm excited for this plant more so than the PG now that I see it taking on its own personality
4 years ago
I took the right reservoir offline due to underproduction. I also removed Dosi #2 from the left reservoir due to lack or seeding. My last purple glue plant is still as healthy as can be. My Dosi #1 seems to have deformed leaves or so, not sure if it's just a bad trait, cause the roots look healthy.
4 years ago
I love the way this purple glue is coming along, very stong plant. Hopefully it's a female. My dos UVAs plant is coming along a little slower but the root growth is pretty good on both. I'm gonna put the second air stone from the right reservoir in the left reservoir to increase the air to the root systems.
4 years ago
Pg 1 and Dosi 1 are the only flourishing plants right now, all updates will be about those two until further notice
4 years ago
PG 1 is growing good topside but it keeps leaning, not sure if this is gonna be a problem down the road if anybody knows that would be a big help. Dosi 1 has a strong stem and is growing slow but looks good so far.
4 years ago
The left reservoir is doing well. 2/3 plants have sprouted with the third seed becoming dislodged during germination. I have replanted it in hopes of salvage. The right reservoir is failing after a few promising signs early into germination. All three have sprouted from the growing soil, but have yet to make any more significant progress. I have changed the nutrient feeding levels to mirror the left reservoir in hopes that the stalling sprouts can resume growth. I also added a Bluetooth speaker for 24 music stimulation.
4 years ago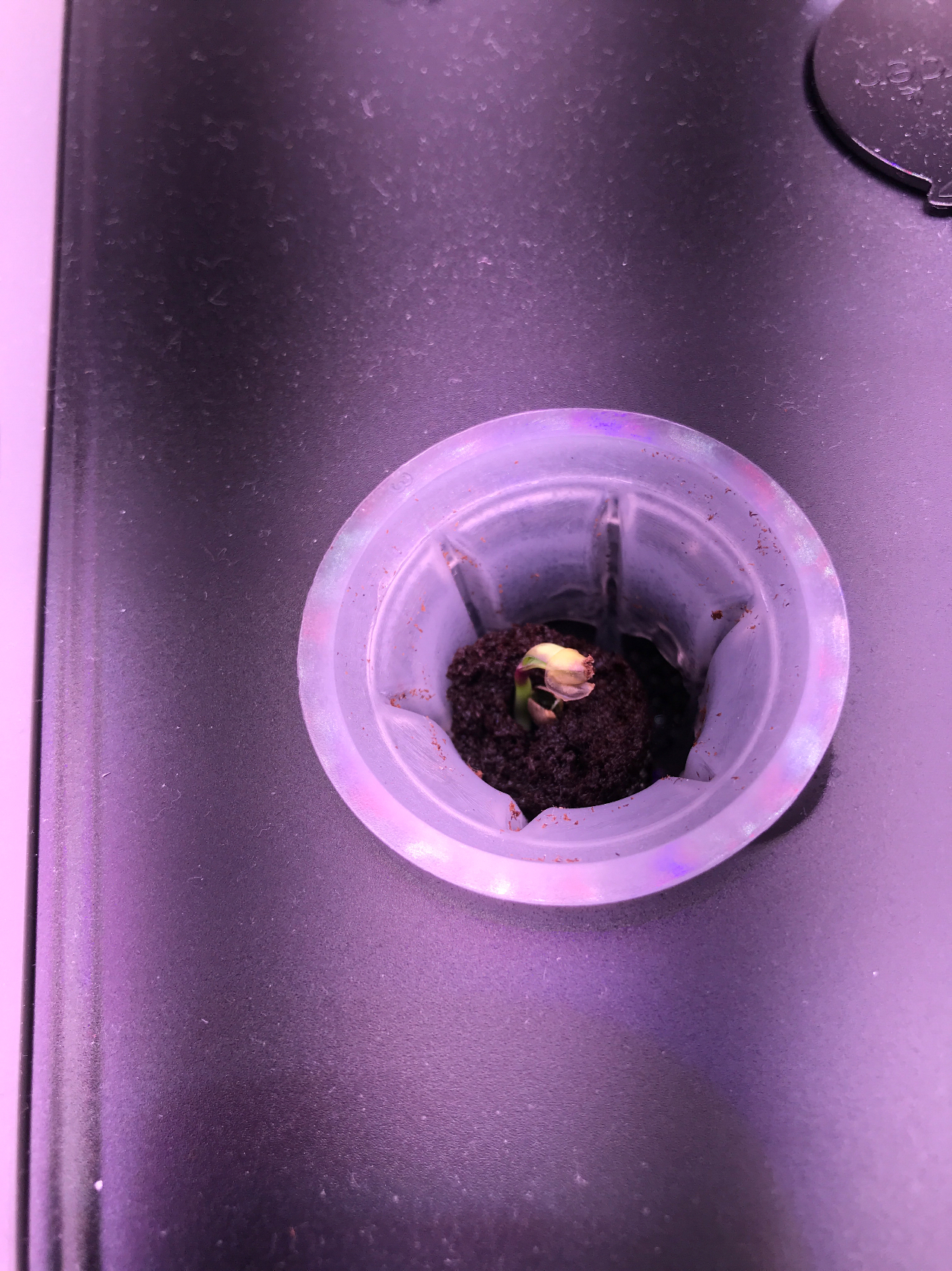 PG #1 continues to flourish, new leaves have sprouted since this morning, the three in the right reservoir are sprouting as well. No activity from Dosi #1 yet, can't tell if dosi #2 is responding either yet. I'll just wait till morning
4 years ago
Purple glue #1 has sprouted strong. Almost reaching the top of the dome. There are some really fuzzy white hairs in the stem that I'm not familiar with, maybe Simone can help me out. The others are still germinating more or less
4 years ago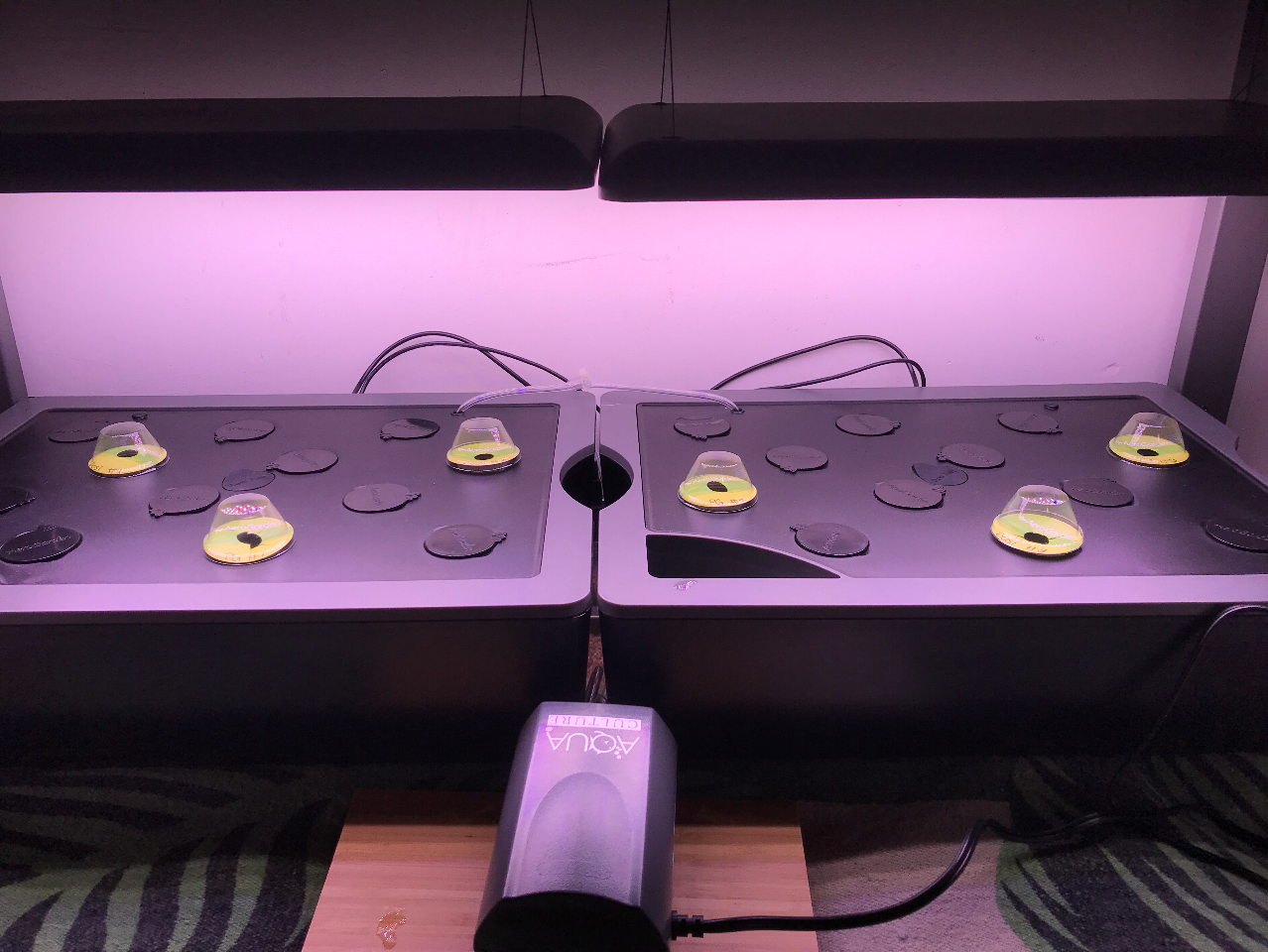 These are my starting pods. Alternating from left to right dos 1, pg 1, dos 2, pg 2 etc.
4 years ago