Banana Runtz, Mimosa, Apple Fritter Runtz, Wedding Crasher
Outdoor 2022
10 Banana Runtz Cloans(9 in 5 gal. fabric pots, 1 10 gal. Fabric pots), 3 Mimosa in 10 gal pots from seed, 2 apple fritter in 10 gal fabric pots from seed, 1 wedding crasher in 5 gal fabric pots from seed (may be male). Potted in Pridelands potting soil. Ph to 6.8 with cal mag
Banana Runtz, Mimosa, Apple Fritter Runtz, Wedding Crasher
Outdoor deck grow looking good. Getting frosty 🥶. Jealousy and Banana Runtz are the frostiest but they are all super healthy.
7 months ago
Explosive growth the last week or so. Heavy defoliation last week but grew hella fast. Gonna do another defoliation this weekend. 1st week of flower.
8 months ago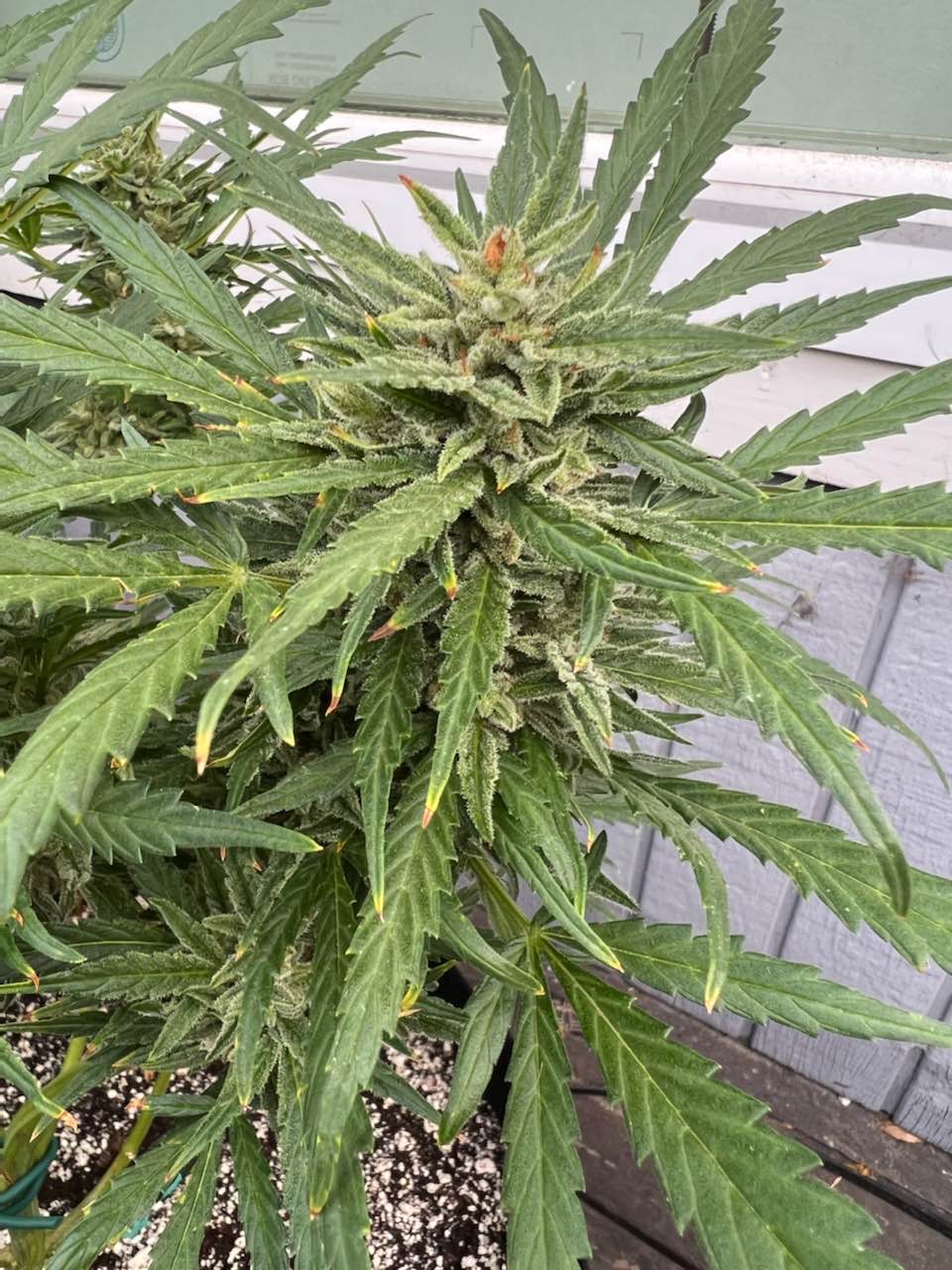 Mysterious auto flower. Thought this was a photoperiod mimosa but now I don't know wtf it is. Whatever it is is hella frosty and will be ready in the next couple of weeks.
8 months ago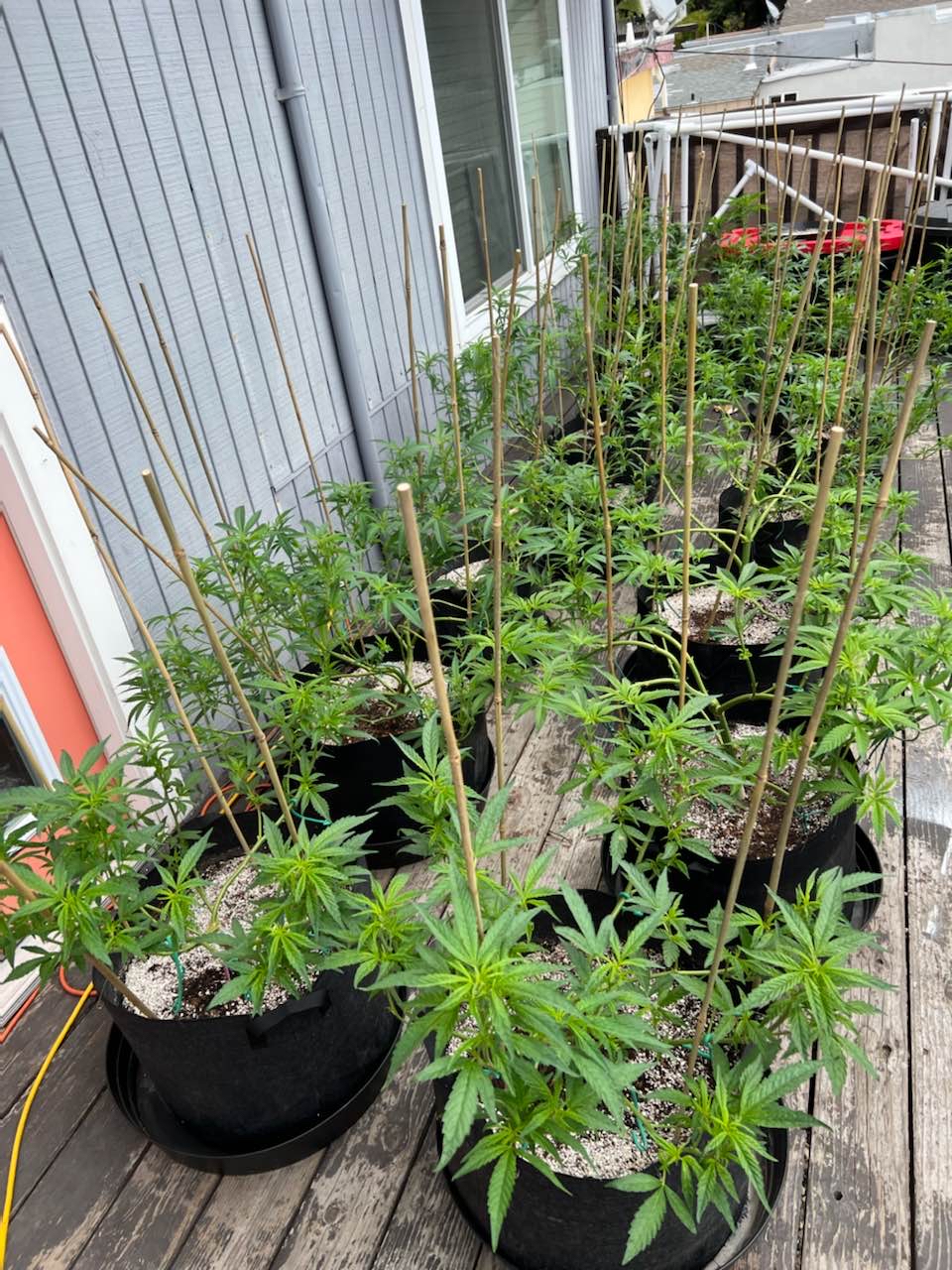 Did some defoliation and put in the bamboo stakes for bud support during late flower. Put them in at veg so the plants can recover from the root trauma.
9 months ago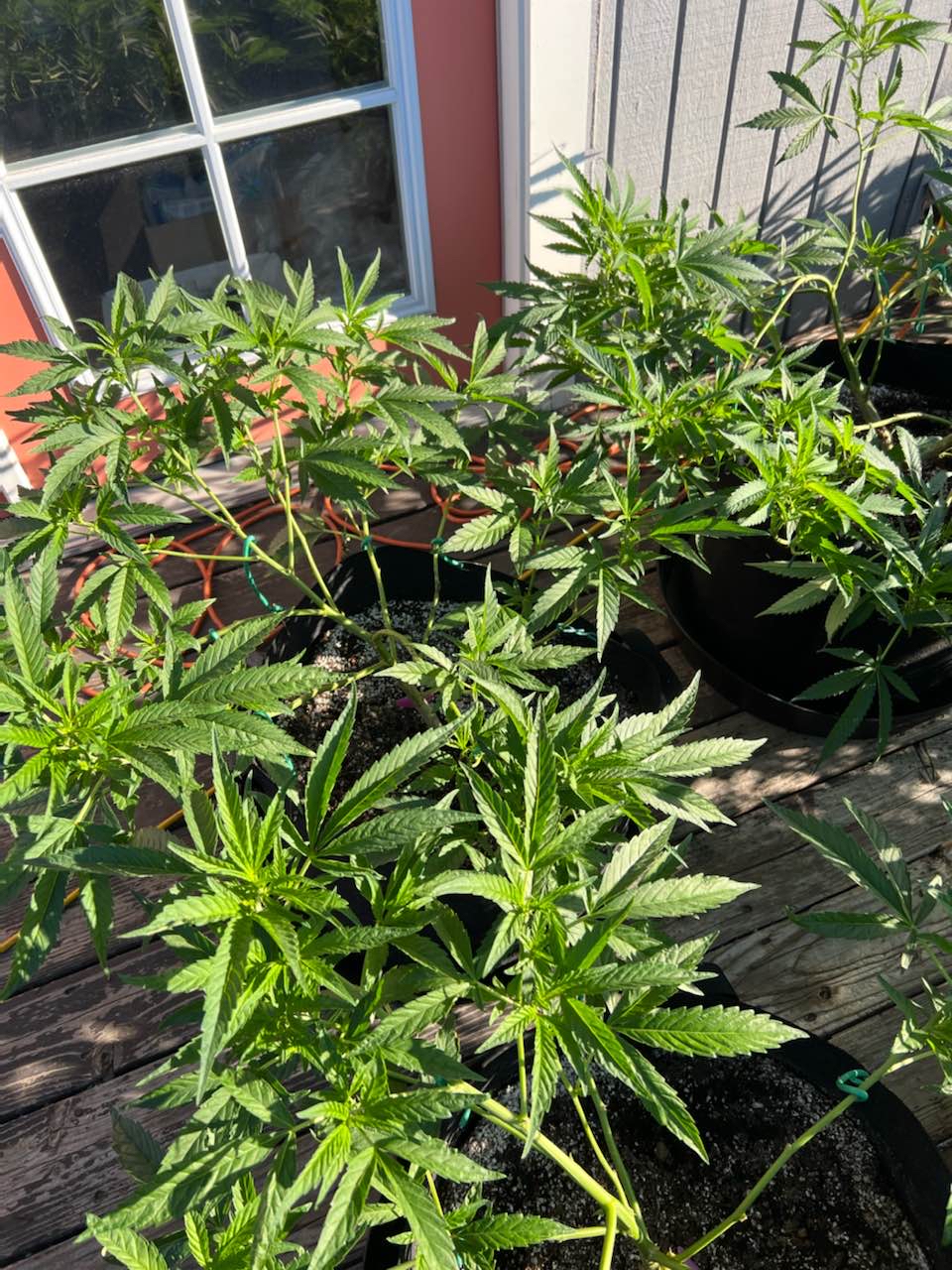 Did some heavy LST and defoliation. Trying to keep these girls short. I don't want them to grow over the deck railing. Gonna put some bamboo stakes in to help support the big ass buds that will come in the next month or so. Trying not to use a net.
9 months ago
meggerz007 Thanks guys. Outdoor grows are dope. - taking advantage of all this free light
View 2 additional comments
Girls are looking good. Haven't given anything except cal mag and pH to 6.7. Gonna start feeding next week. For some reason, these girls are already in early flower. 😒 I'm hoping that they slow down!!!!
9 months ago
shiz Which mimosa did you get Barney farms mimosa evo ??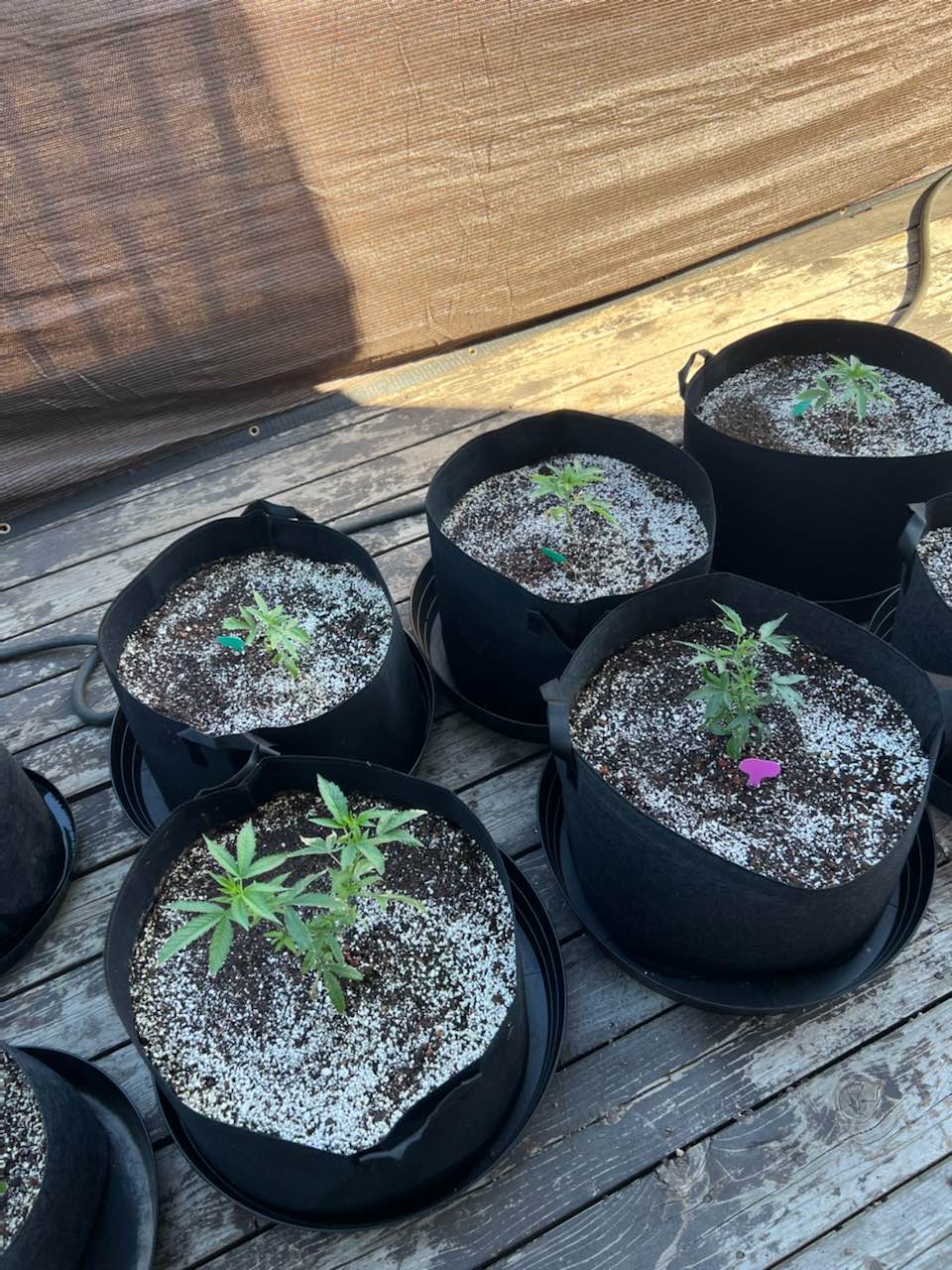 The 2 Apple Fritter Runtz didn't make it. Replaced with 2 clones of Jealousy. They are all looking good. It got to be about 85 degrees today and it's now 73. Watered with cal mag at a pH of 6.6. Sprayed with pure crop.
10 months ago
Early morning water with just cal mag and pH at 6.8. One of the seedlings 🌱 looks like shit. I think it's the Apple Fritter Runtz from Elev8. I hate their genetics. I will never get seeds from them again. The mimosa seedlings from nukeheads are looking better. The Banana Runtz clones are looking great. Will start LST next week. IPM for right now is pure crop. Sprayed twice this week. Will switch it up next week with neem oil.
10 months ago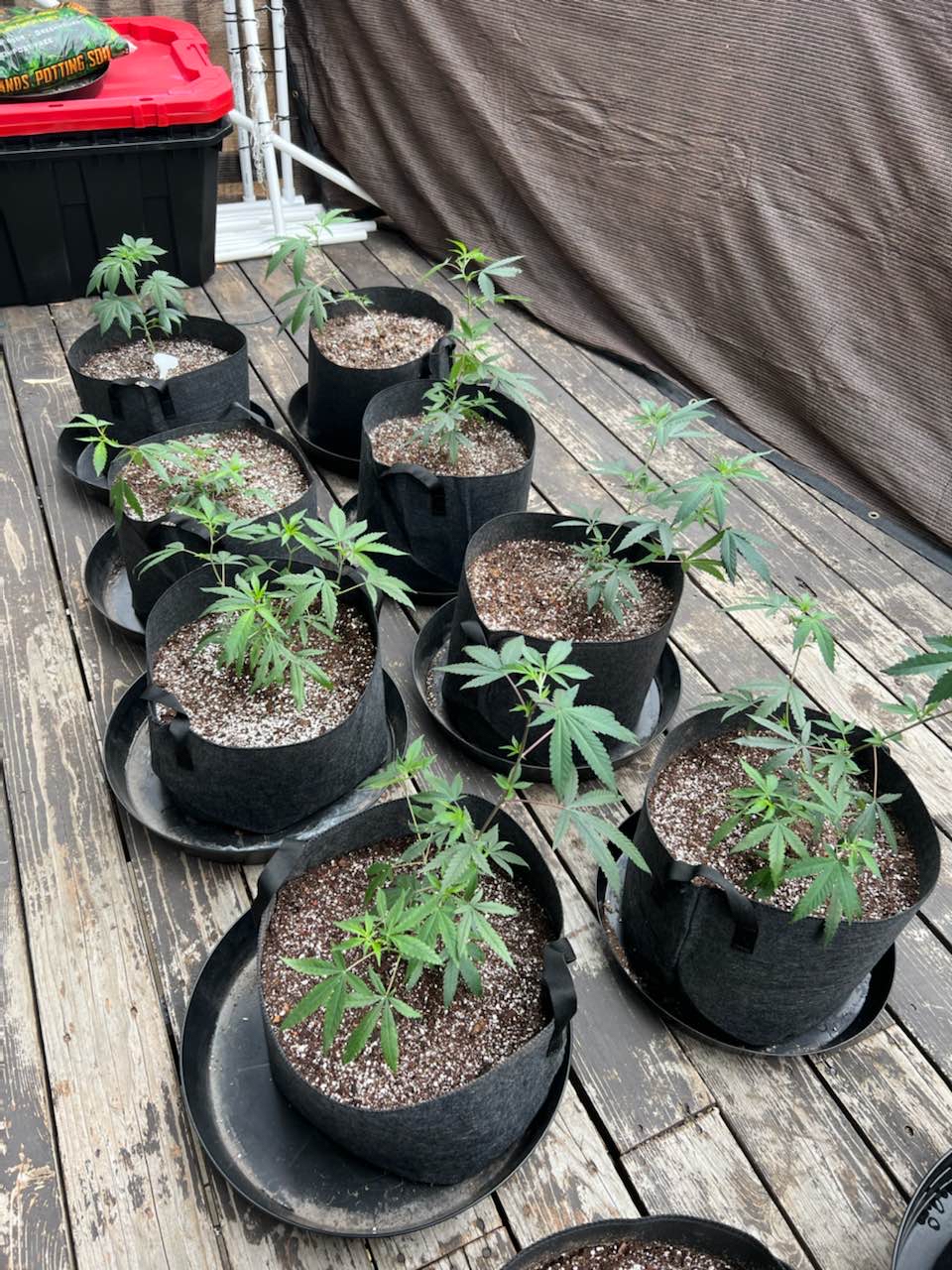 Transplanted and watered. Kinda cold this morning but the plants seen to be ok.
10 months ago