2X3' Scrog
23' Run #1
Mother plant being scrogged and flipped, this cultivar is not a big cola plant but I wanna see how she does in a scrog with focus on a even canopy vs lots of bud sites the way I've flowered her a few times before. Flipping at about 75-80% health but the trellis is efficiently full. 1/30/23 Day1 12/12 3/25/23 Harvest
Moved to bag to finish curing. 🔥🔥
6 months ago
I hate trimming so as usual I half assed it. I filled a big jar that I usually get about 3-4oz into depending on density and my small half oz jar, I also took off the larf for trim and filled my rack with smaller stuff I was too lazy to trim. The tray of larf/trim will be used for Green Dragon, the rack will be trimmed as I smoke it, the big jar will cure and the small will half ass cured as I sample smoke. Definitely NOT scrogging her again.
6 months ago
Day3 drying, going for 7. I love dialing in a plant with multiple runs
6 months ago
Day57 Chopped today @7:15am Any advice or nice comments along the way where much appreciated, thank and Happy Growing!
6 months ago
View 5 additional comments
Day53 Chopping soon.
6 months ago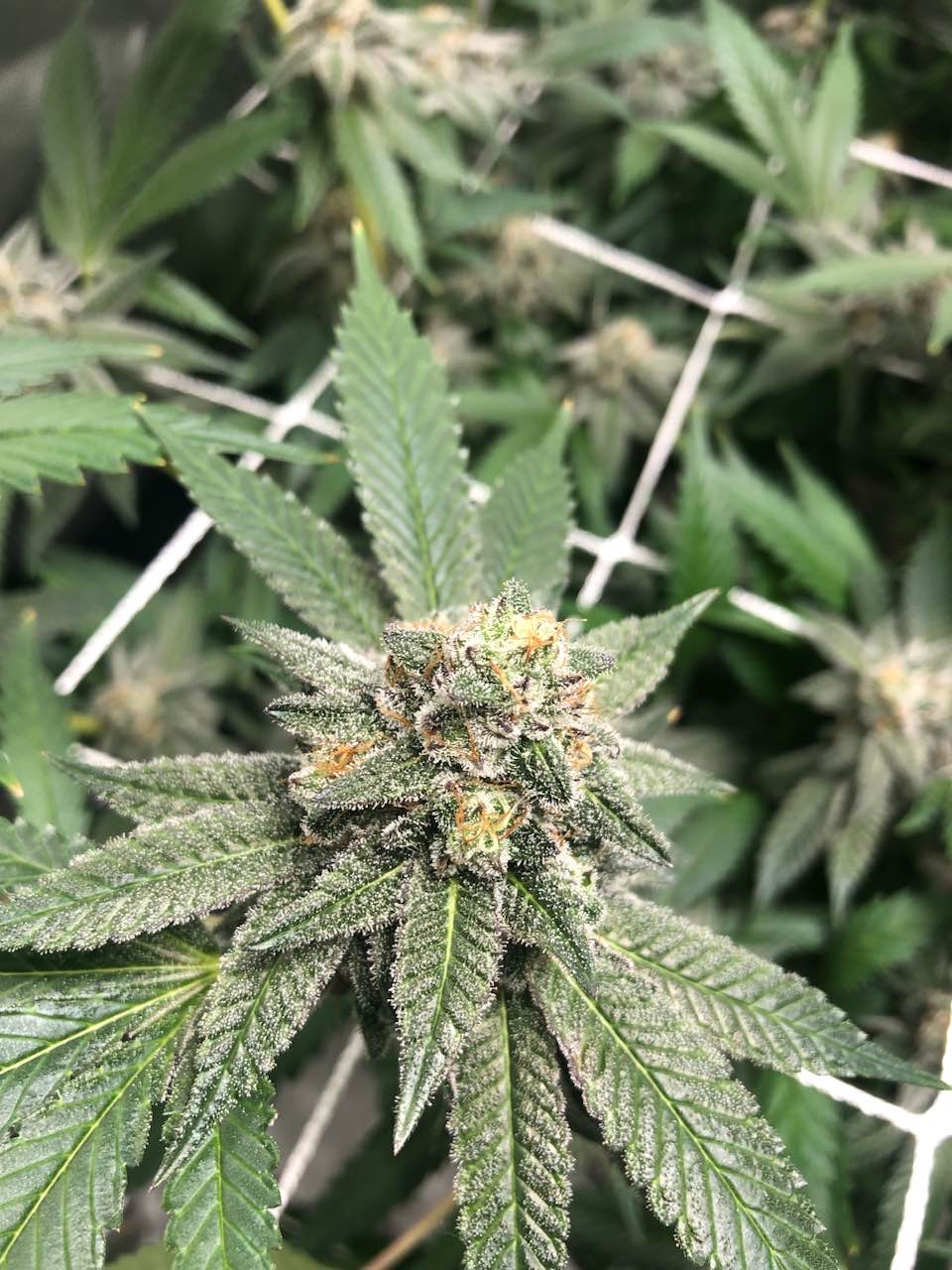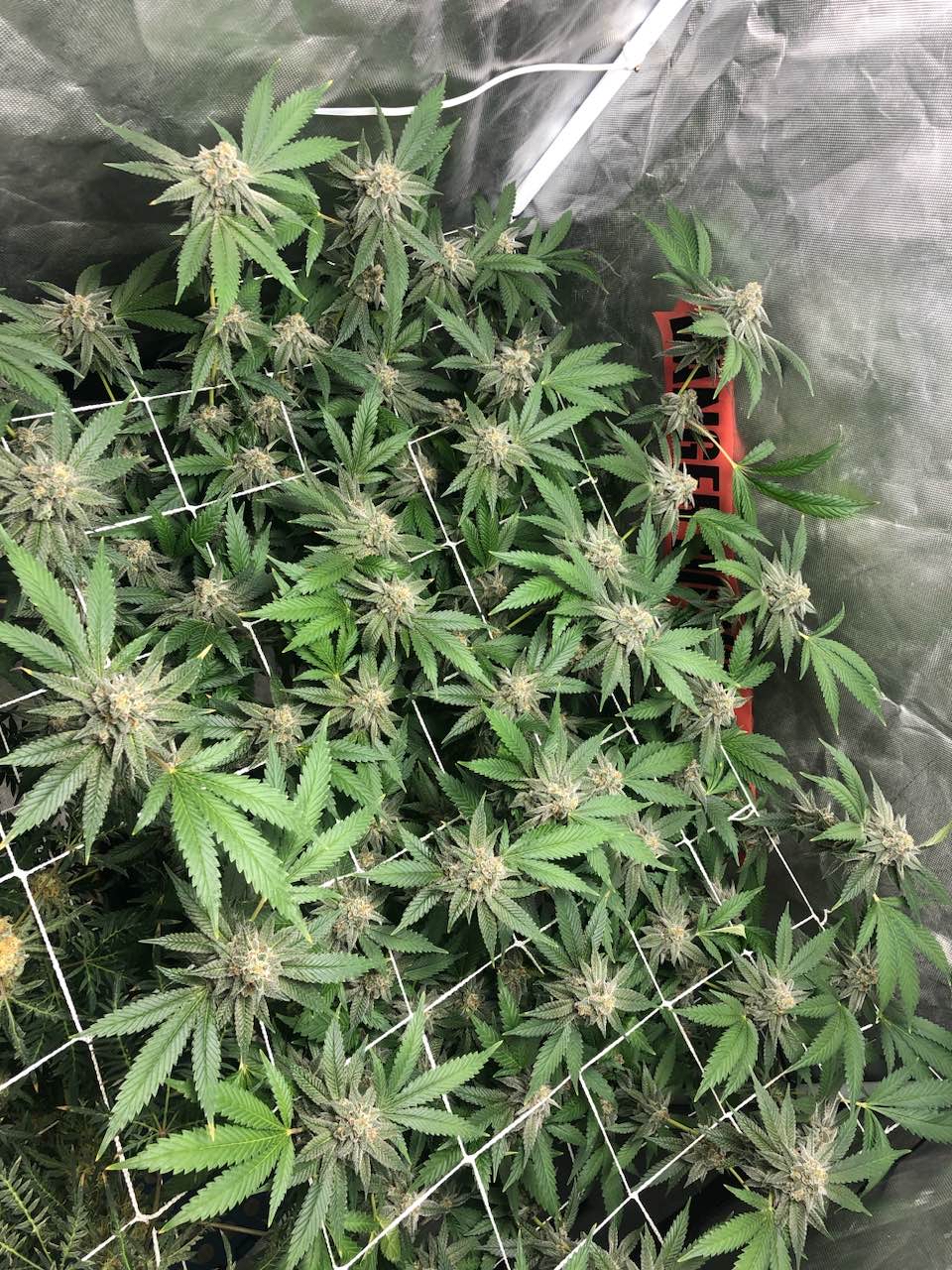 As Farms 🔥☠️ I like the way you keep your grow, I keep looking & trying to get where you at!!🌼🔥🔥☠️
ig:@eaegifts Thanks but I can't take all the credit it's a great pheno. For the setup I use Jacks321 nutrients, Hlg lighting for flowering and I'm a stickler for proper ph ranges.
As Farms 🔥☠️ I use hlg lights rspec 600 (2) they are great. Nutrients I used GH. I want to try them jacks321.. I hope you be there for help..lol☠️✌🏾
View 7 additional comments
Day48 Cruisin'
6 months ago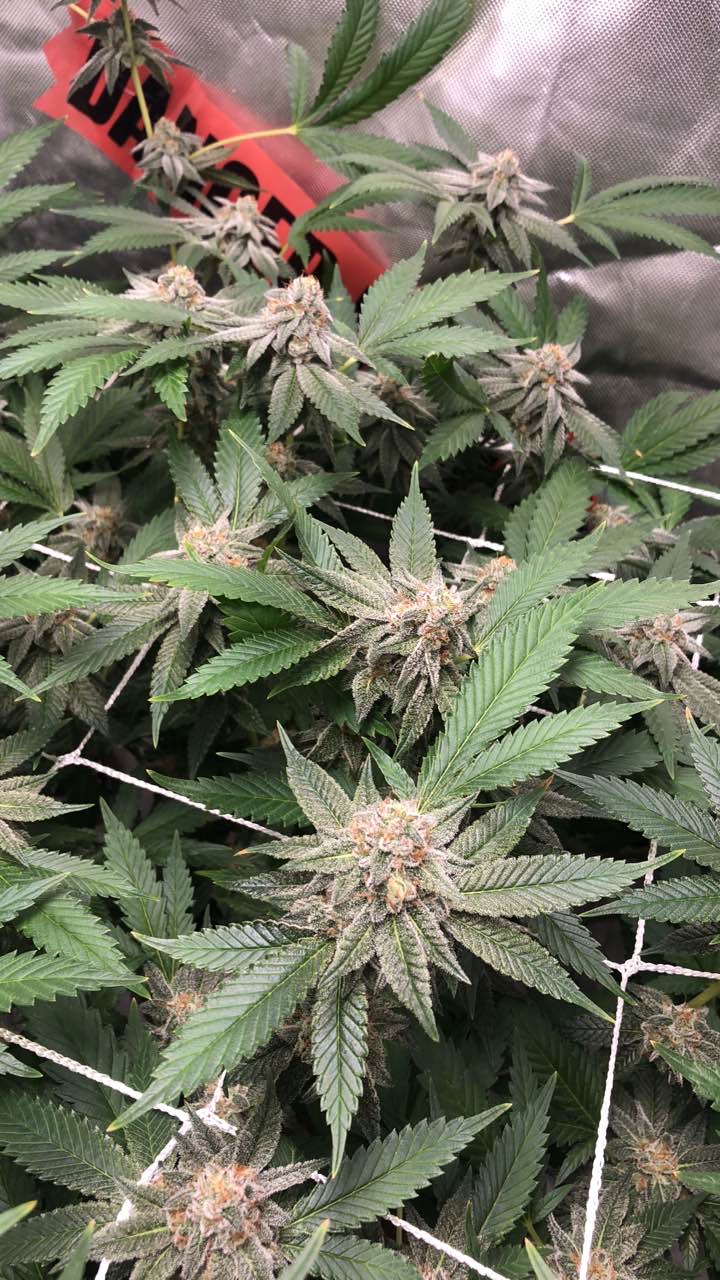 ☀️Spectrum experiment 03/14/23 I'm gonna experiment with this run in these last 3 weeks. Nug shots 😋
6 months ago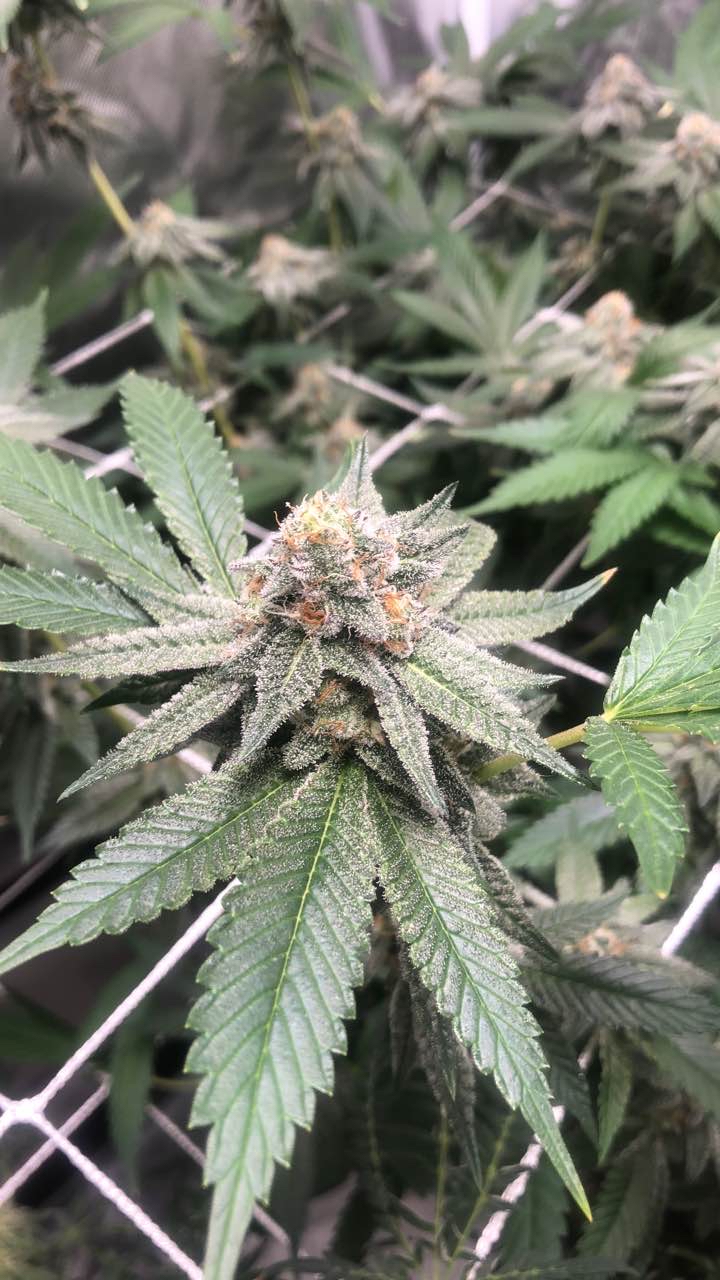 Not much happening except a minor defoliation. Todays day 1 of 13/11 for her daughters so I'm mixing up a big feed for everyone tonight.
7 months ago
She's not as great as her first run but better than her second so far, smoking will say for sure. Gotta lower rh since it climbed to 45-49% from bud development but otherwise coasting with 3 weeks left. Big feeds today for her & her daughters who are killing The 2x2x4👇🏾
7 months ago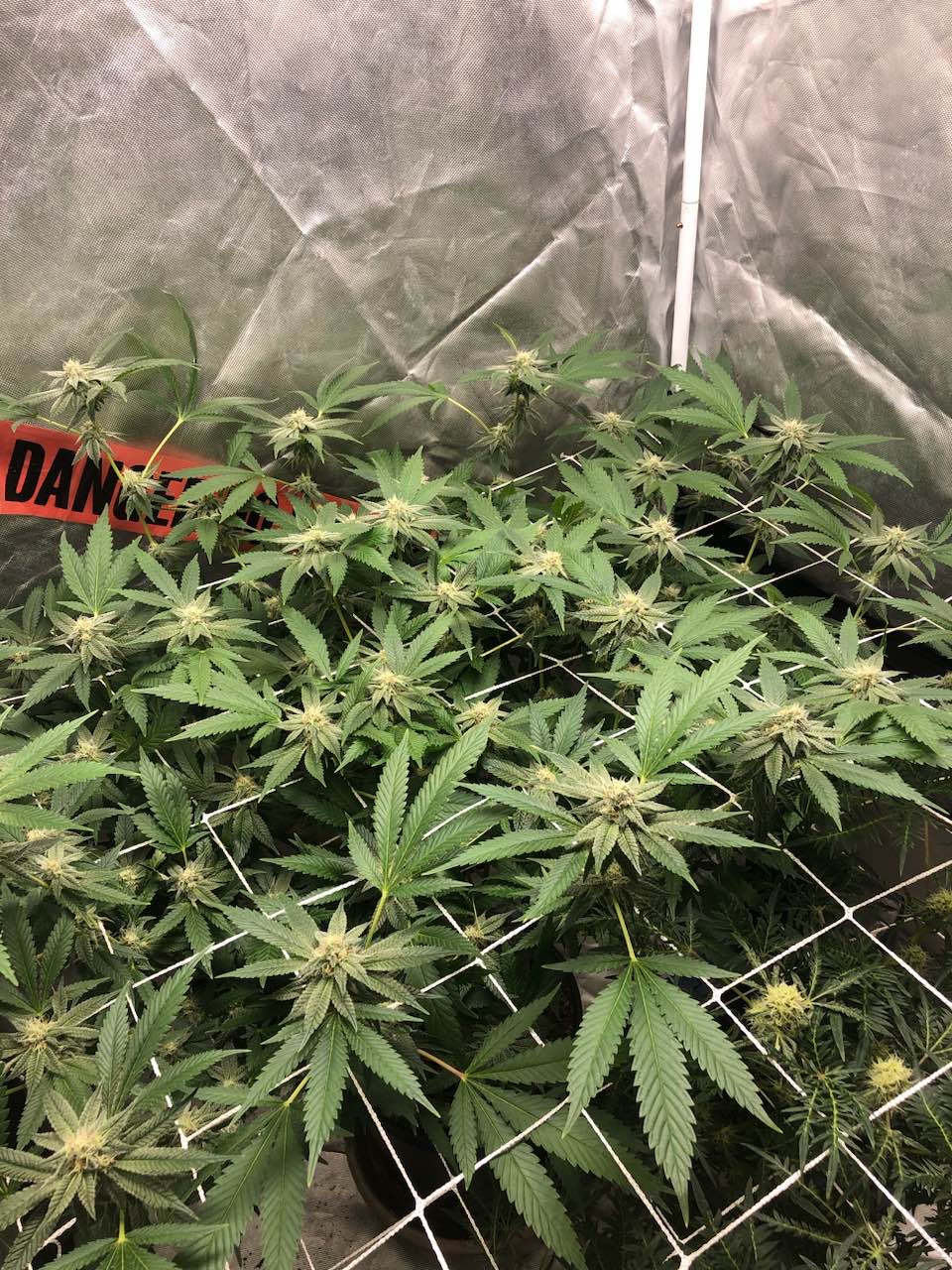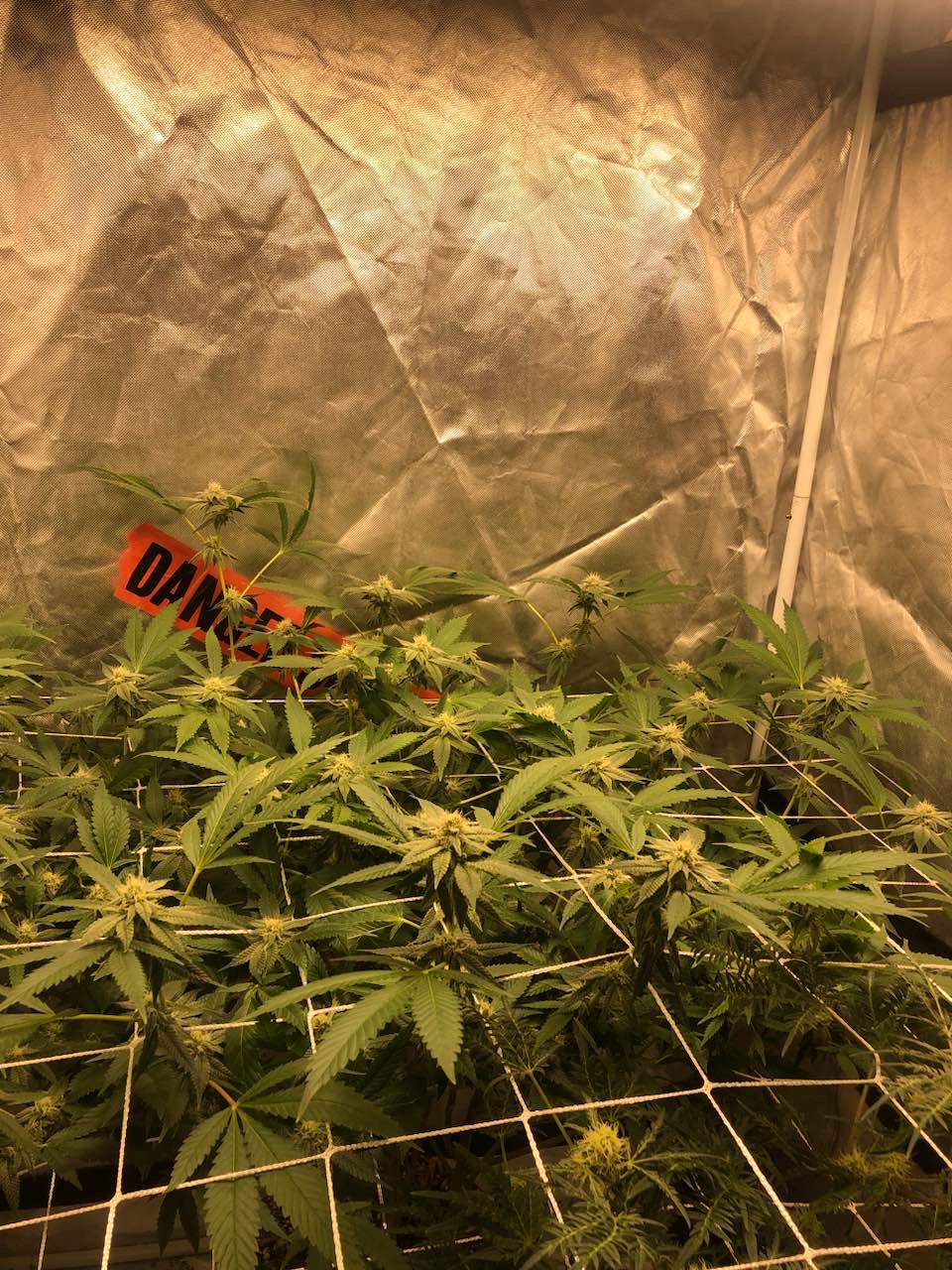 PK Boost 🥶 Raised light 2"
7 months ago
Increased temp by 2F Increased airflow which decreased rh 5%
7 months ago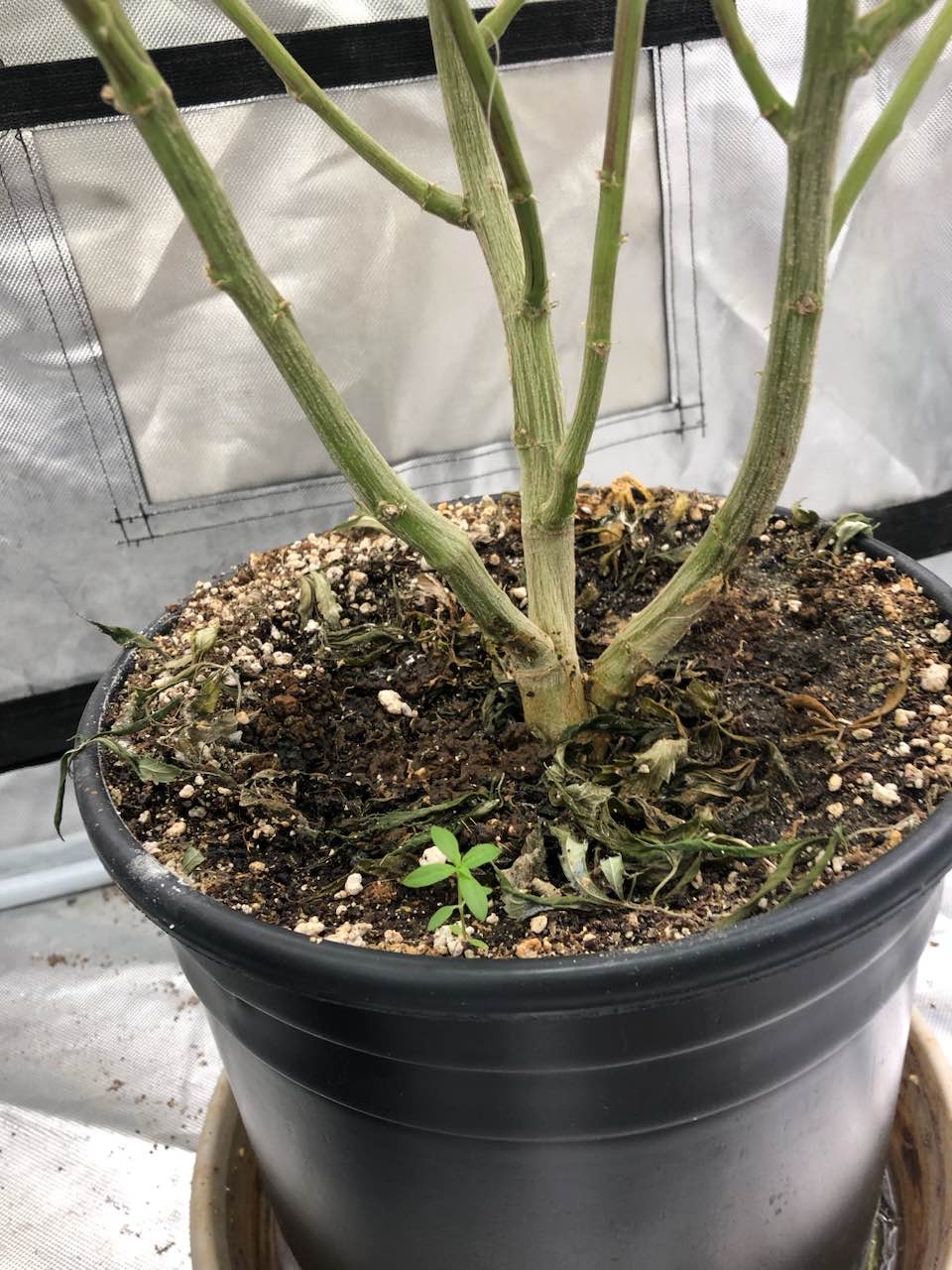 Fed 4L @100% 6.2ph 🥶 She smells so strong already!
7 months ago
Lights 24" @100% Temp 70F(night)-77F(day) Rh 35%(dry) & 40-45%(wet) I feel the environment is dialed in good with that 10% swing of wet/dry so I'll try to maintain that, I let rh stay above 50% for the first 3 weeks for rapid veg/transition growth then decreased as stretching slowed for faster drybacks. Yesterday I removed 1 of the 2 plants under the other 1x3' part of the trellis then moved the other to front center. The rearranging increased airflow under and around her canopy so the bottom fan is off for now with intake on medium. Side Note-Only real complaint so far is I should've added Co2 🤦🏾.
7 months ago
King420Too 5'X8'X7' day temp 82f Night 68f Lights 1000WMH and a 1000W HPS above canopy 18" @100%
ig:@eaegifts Nice. How many plants you got under that? You running co2 and air cooled hoods?
ig:@eaegifts You running the MH for Veg and hps for bloom or simultaneously?
View 8 additional comments
Frosting up a few days behind schedule but she's looking beautiful nonetheless. I did lots of leaf tucking, bending and also moved some branches around on the right to accommodate another plant then gave a nice feed.
7 months ago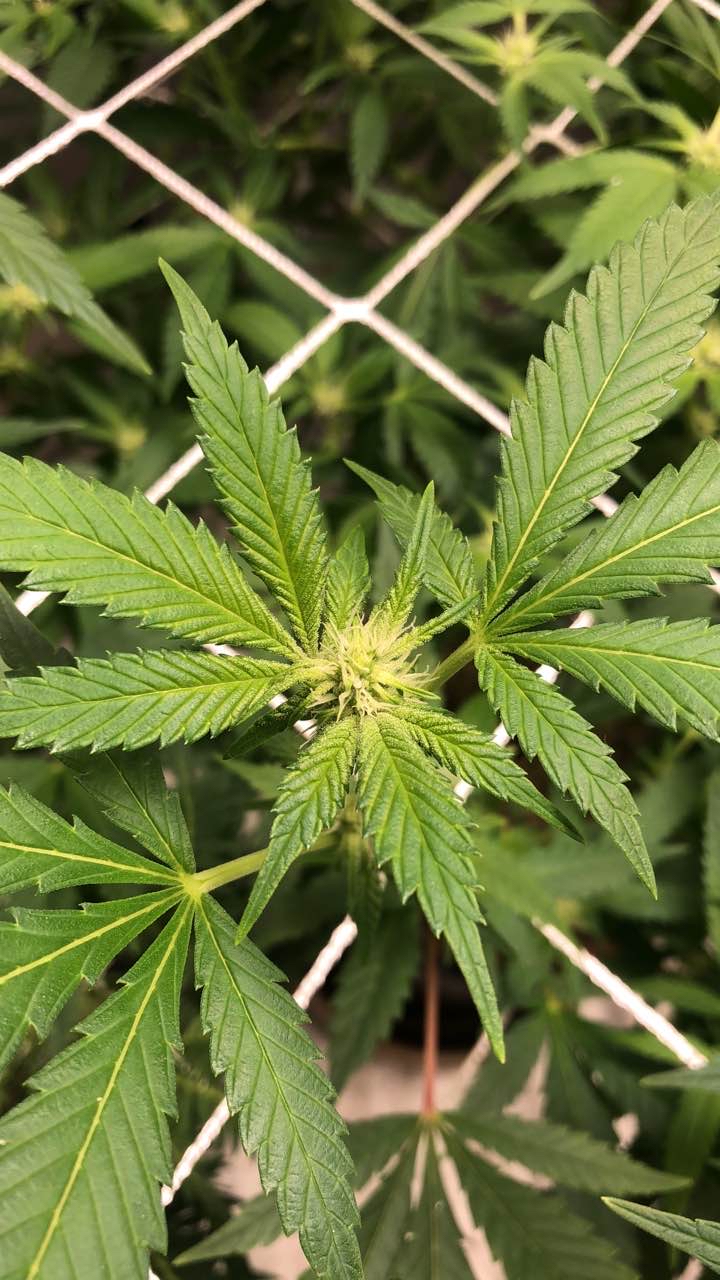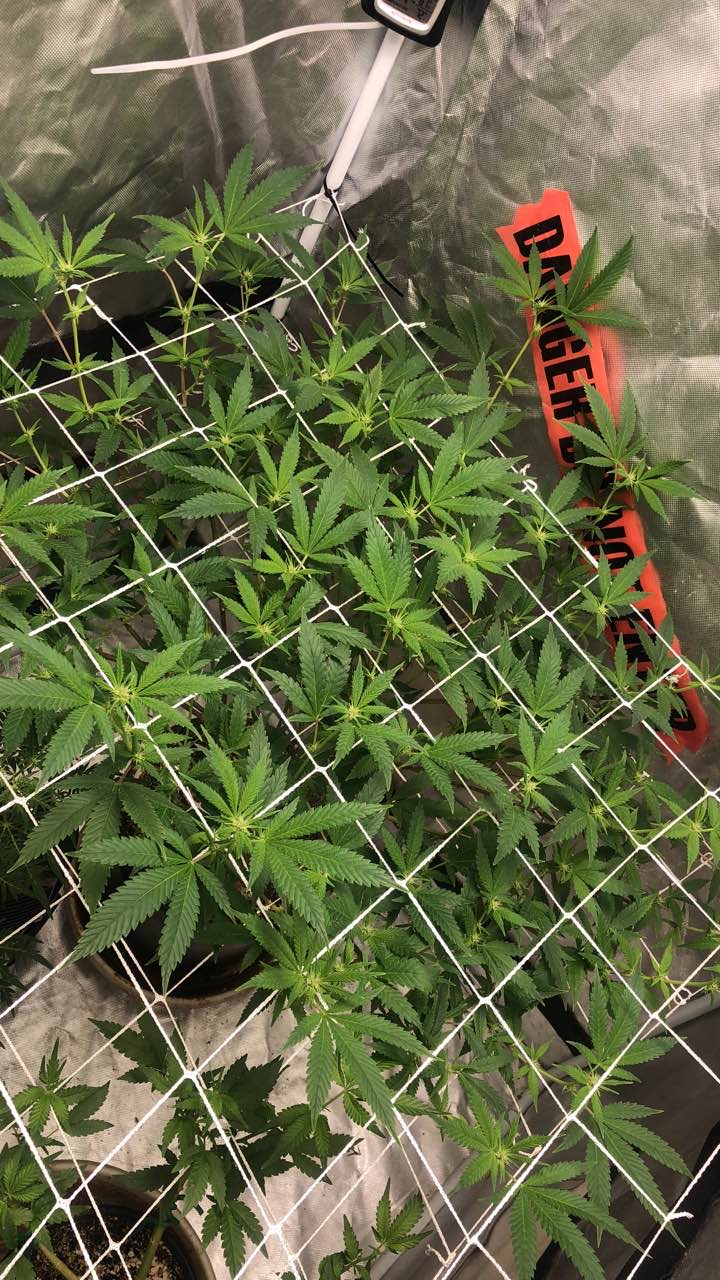 She's doing great, lots of bud sites
7 months ago
-30 Top dressed and lowered top trellis, I don't expect to fill the top but it'll help airflow and light penetration. Nothing to do from here but maintain feeds and pluck leafs, she's behind compared to all previous runs including reversal
7 months ago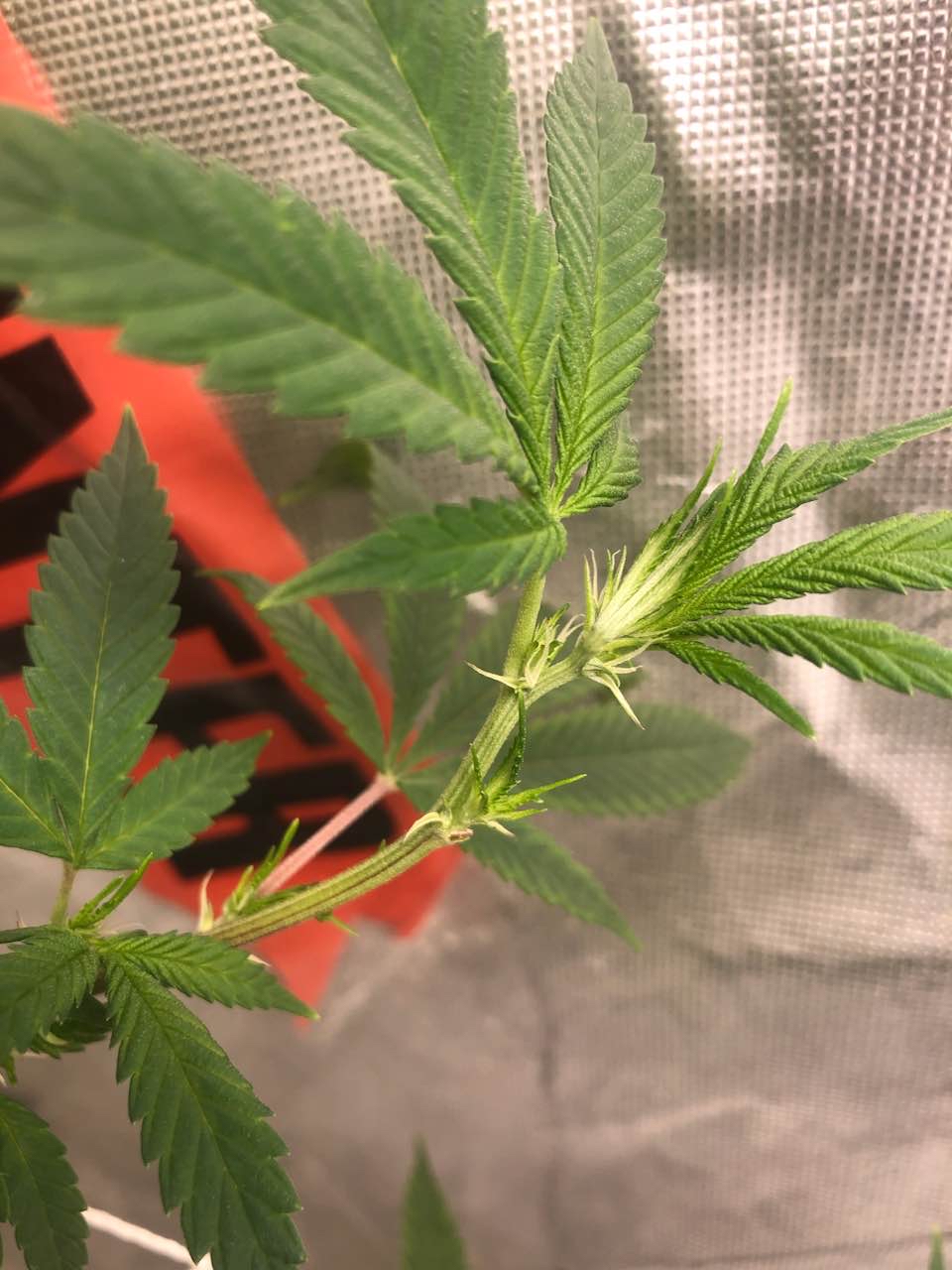 Day11 Big defoliation yesterday and probably the final bit of tucking. Pistils sprung up after that first bloom feed and stretch is kicking in also. No more Ca in her food, fed her heavy @3L and no Mg either.
8 months ago
ig:@eaegifts She's on day 11 of the 12/12 cycle here but I just updated day 14. She was gonna a mother plant but I just keep taking a new clone
-15 I gave her a nice feed with P&K increased because I'd been doing old skool bro science on her feeding Veg for the first week of flower to see how she reacts-her flowers are slower to progress than normal and overall growth is slower than usually. Dialing back Ca/Mg and she got her last foliar feeding.
8 months ago
Last regular feed and last bit of tucking complete along with removal of a few leafs. I'm still foliar feeding kelp and the organics in the medium should be broken down now to begin feeding her as well. Turned bottom fan back on and hooking up the temp/rh controls today, exhaust will stay off for now since there's no smell yet and max temperature is 81F which is great for early flowering. Estimate 2oz dry
8 months ago
Day5 Tucking more foliage and I adjusted to make her take up less space in the scrog for another plant. Also re-tucked some stuff in the middle 8hrs later where I want things to catch up and gave her a good feed.
8 months ago
Day3 She's doing great, showing lots of growth. I'll probably trim her a bit under the Scrog when stretching kicks in but otherwise nothing happening just a feed. Temp-81F Rh-56%
8 months ago
SnowDog_X1 Hey there, where did you get that SCROG netting? Nice 🌱
ig:@eaegifts Lol yea that tape been in there a good year now 🤣🤣, got some yellow "hard hat area" tape in the 4x8'
View 1 additional comment
Day 1🌺 (1/30/23) I'll add a support trellis in a week or so when stretching kicks in but for now just focusing on filling the scrog. She had a serious calcium deficiency that I believe is tackled enough to move forward with flowering but I'll also continue foliar throughout this first week. Pics 1&2 are today and pic 3 is Thursday after defoliation and tucking.
8 months ago