King Sherb IX
In House Genetics
Yessire, NASC freebies
King Sherb #11 X King Sherb #29
Just started trimming, but this will be last update. Just snagged 5 slurriking(slurricane x king sherb) for $5 a seed @NASC, won't be my next run but still excited because of the aroma on these buds.
2 months ago
I tediously pulled every ballsack and nanner from this man woman , I think I actually managed to NOT pollinate the Sugar cane right next to it. Hoping for the best
3 months ago
Excitement destroyed. King sherb turned out to be king herm, but at least I will get some unique King Sherb IX x Sugar Cane. Another seedy harvest has me craving for sinsemilla, my last harvest looked amazing but seeds, even after I removed nearly all of them, made it smoke so harsh and always found immature seeds in my grinder :( considering buying a freezer and turn it all into fresh frozen bubble hash, it's the best way I can think of to still get excited for this harvest. Popped some twenty20 mendo beans, hopefully they will be the breeder that finally provides me with some FUCKING SINSEMILLA.
4 months ago
ig:@eaegifts Hey growmie just a tip, you should check for light leaks and be sure all of your equipment is in working order and without lights on them individually. Multiple seeded harvest from different breeders is usually grower error. Good luck with the future harvest 👍🏾👊🏾💚
alander I did that after the last run. Tent is in a closed closet with no other sources of light. Unless low RH can cause it. My only other thought is my security cam in tent at night emits IR light when I check it. Last run was a true herm and this run has female budsites with random balls. Thank you for the tips tho growmie✌🏼
ig:@eaegifts Cams in tent at be causing it. Plants do use ir in small amounts
View 2 additional comments
Now for the exciting part!
4 months ago
Defoliating as we speak, will post the update tomorrow :)
4 months ago
Been AFK growing cuz of the holidays, but tent is looking great ! King sherb is dominating the tent. Wish I put a trellis net up
5 months ago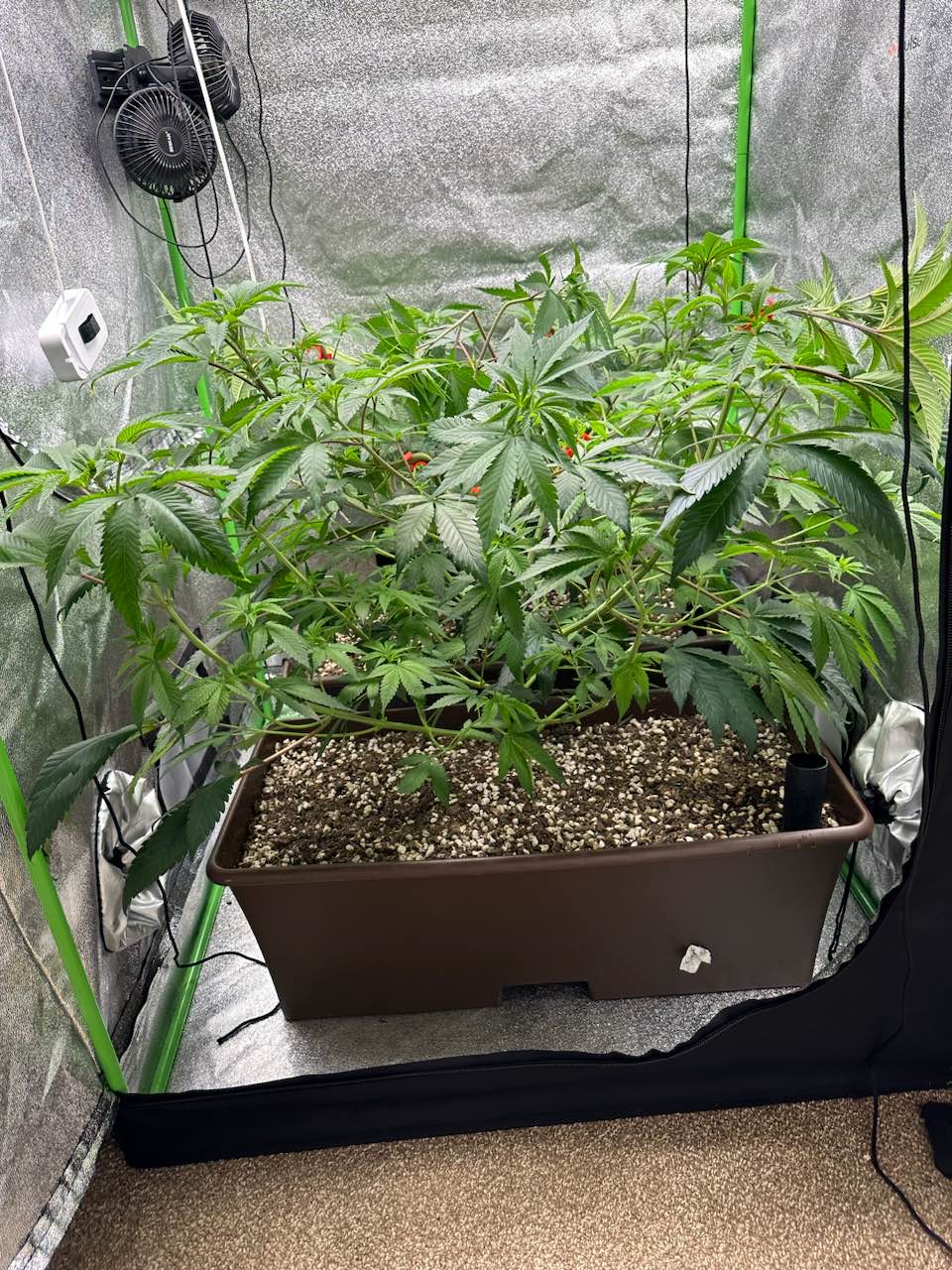 Who needs a trellis net when you can super-crop! Defoliated a bunch and evened out the canopy by bending a few into the 90* trainers and just super cropping some of the others. Last picture is just awesome, I *unintentionally* trained the plant to make an emerald shape 😅
5 months ago
Sugar cane not catching up. May add myself a veg room so I can flower this beast before I lose control. Also want to take some clones so works out
5 months ago
Burst of growth!
6 months ago
Spreading out beautifully, no LST yet
6 months ago
Better picture
6 months ago
In final home now, lookin pretty!
6 months ago
Transplant soon
7 months ago
Caliban She is ready for her big girl home!
Wavy leaves - N fox? Just have it in happy frog atm
7 months ago
Anyone grow out in house stuff?
7 months ago