bearfoot
Red Velvet Cookies
Summer 2019
Seeds found from Rocktop grow.
Day 61 of flower
4 years ago
Fox farm grow Packing on some decent weight now. Coming to the end of flower. Late week 8 Leaves are fading out from the bottoms up. Feed straight PhD water. Gave molasses a few times a couple weeks ago. Also had the bigbud and bud candy during flower. Ran in ocean forest with fox farm nutes for all base nutes.
4 years ago
Week 6 of flower
4 years ago
Day 16 of flower Same feeding and environment as SSH at the moment
4 years ago
Looking healthy
4 years ago
Looking more healthy. Temps and height Aprx to the SSH clone. Water 3/4 gal. With small dose of mammoth p. Looking healthy
4 years ago
Mid week 1 of flower Down to 1 RED VELVET COOKIES (due to lack of space). Lesson learned. aside the SSH clone. * Went into flower on September 26th on Day 59-60 Aprx 21 inches tall. After being late on pulling most of her branches down with LST the first day of flower. She was also topped 3/4 through veg. Aprx 75 degrees at night and 80 during the day. (Give or take). Aprx 40% RH. Watering when dry (about every other day). Watered once this week with FF bloom combo. 1/10 of recommend dose. ***Top dressed today with 1 3/4 tsp of Root Organic's bloom, and watered about 1.4 gallons of water with .5 ml of microbes from Mammoth (samples from canna con)*** Maybe a bit of light burn from veg room on one or two top leafs. No major signs.
4 years ago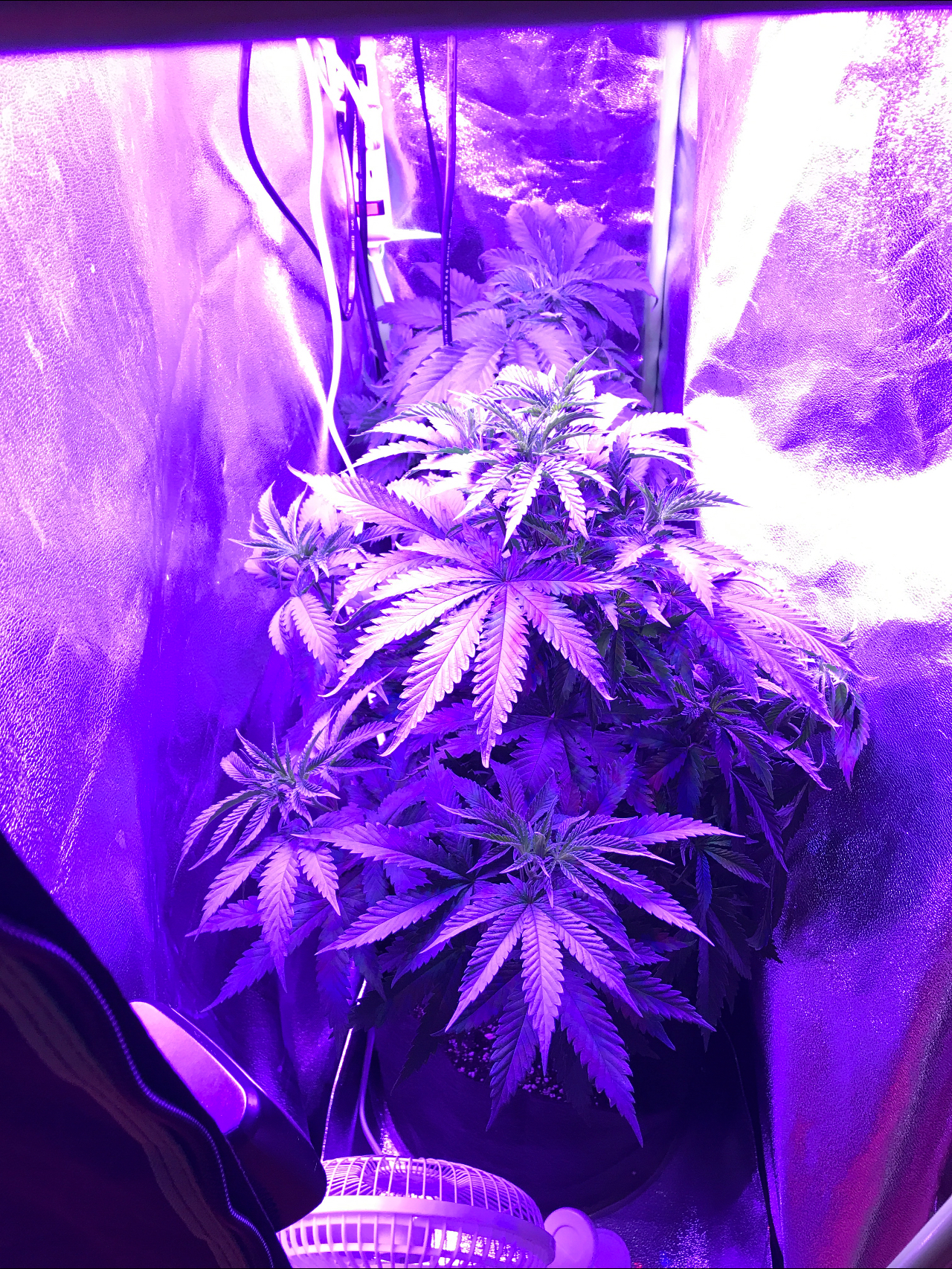 Moved into 1x4 with 3 OH and YD
4 years ago
Two of them topped back left.
4 years ago
Transplant is doing well!
4 years ago
Watered about .25-5 of a gallon. Trying to get in every other day schedule with watering.. Gaining some height after the transplant but, showing some yellow spotting on bottom leaves.
4 years ago
Transplanted into 1 gallon fabric pots.
4 years ago
Tent has been around 80 degrees 20-50% RH About 5 " tall Water about every day around noon. Pots get dry Growth is looking great. Massive looking stems on these babies
4 years ago
Ben under the rob LED 4" tall big fat leaves, lots of growth Gave seeding mix of FF nutes yesterday Aprx 80 35% RH
4 years ago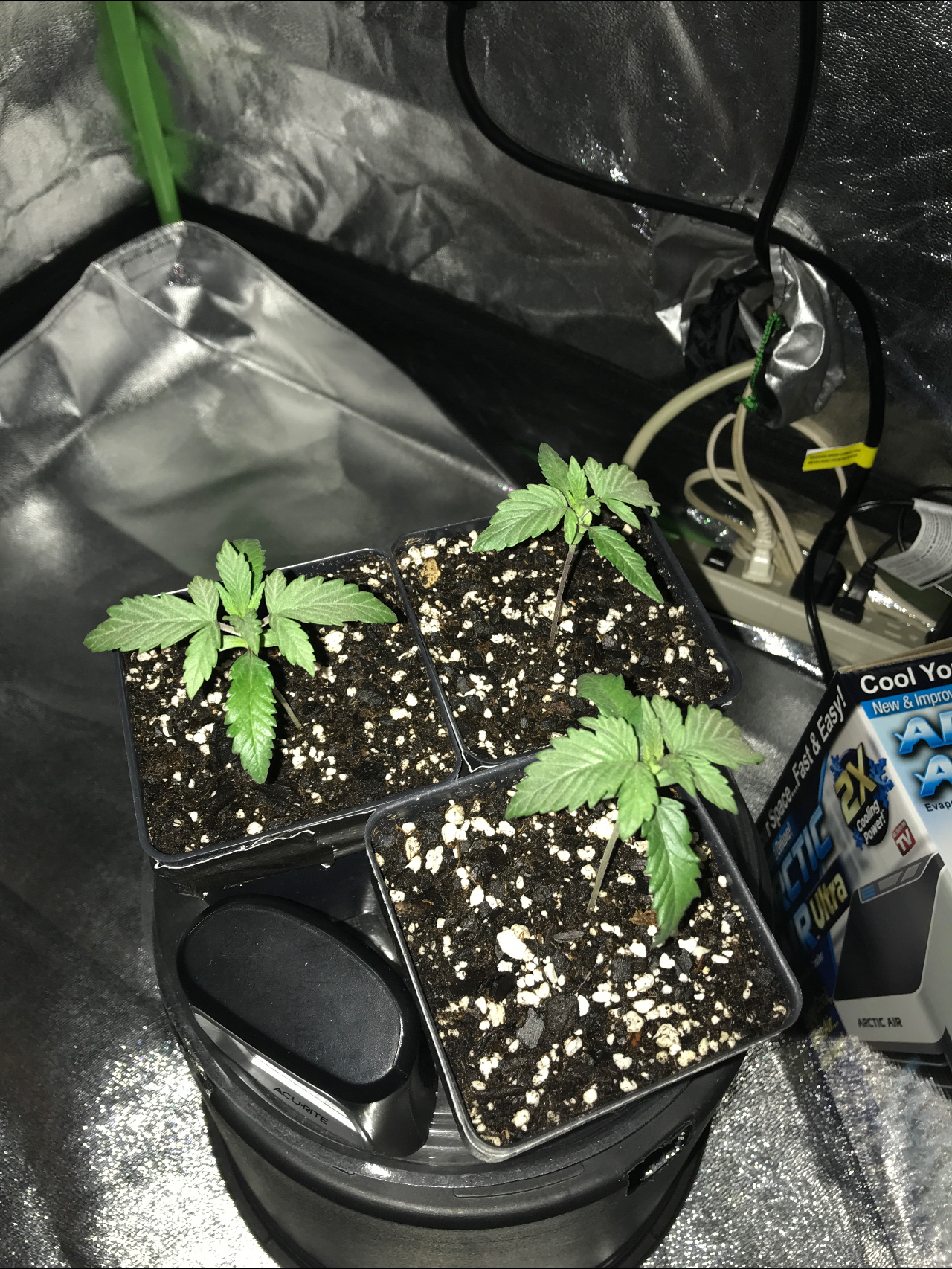 Looking good! Temp and RH running about the same..
4 years ago
About 4" tall 25-60%Rh Aprx 80 degrees
4 years ago
Moved into big room with LED's Big room runs a little warmer *FF Nutes YESTERDAY. 1ml GB 1.5 ml BB* Good growth overall.
4 years ago
Extend pots to add about a inch of soil on top. A bit of fuzzy on stems but had a humid day... Looking well overall.
4 years ago
Marloc416 Higher humidity for seedlings cause they have no roots they need to be established, therefore more water in the air
Noticed stretching? Moved light down to about 4-6 inches from seedlings Growing fast but worried about stretch Tall and lanky? About 3-4" tall, with leaves getting wider and a nice slightly dark green Gave water about 25-30 seconds with spray bottle.
4 years ago
Switched back to fluorescent light for another week or two. And moving to big room 2-3" tall Put a little more soil on top and gave about 1 1/2 hours of sunlight and air today Gave small amount of water 18-6 light schedule
4 years ago
Installed the LED and small fan until we move to the big room this week. 1-2" tall. Gave a little water. Worried about tent being hot.
4 years ago
Moved into tent (small room) under 13w fluorescent light with one small fan. Going into big room with 1000w LED after GSC dry. Soil is still moist from first water yesterday
4 years ago
3 seeds in medium (ocean Forrest) 4th seed behind 3 sprouted up overnight. Watering with spray bottle By windowsill for a bit and then will move to grow light.
4 years ago
4 RVC DROPPED. Throwing them in the dark 7:30 p.m.
4 years ago