Acid Dough and Alani skunk x Gluey
Winter 2023
2 Acid Dough plants by Ripper seeds and 2 Alani skunk by TechnicalCultivators x Gluey testers by Brothers Grimm…2x2 ViparSpectra XS1500 150w Quantum Board light. Acid dough is fox farms ocean forest soil cut with fox farms happy frog soil 1:1 ratio alani skunk x gluey fox farms ocean forest 100%. won't feed nutes til around week 6
No water today. Alani skunk x gluey is looking a lot better today…
21 hours ago
Fed grow big and big bloom and ph water to 6.2. I also rotated the plants
2 days ago
No water today.. LST the alani skunk x gluey.. topped the top left acid dough
3 days ago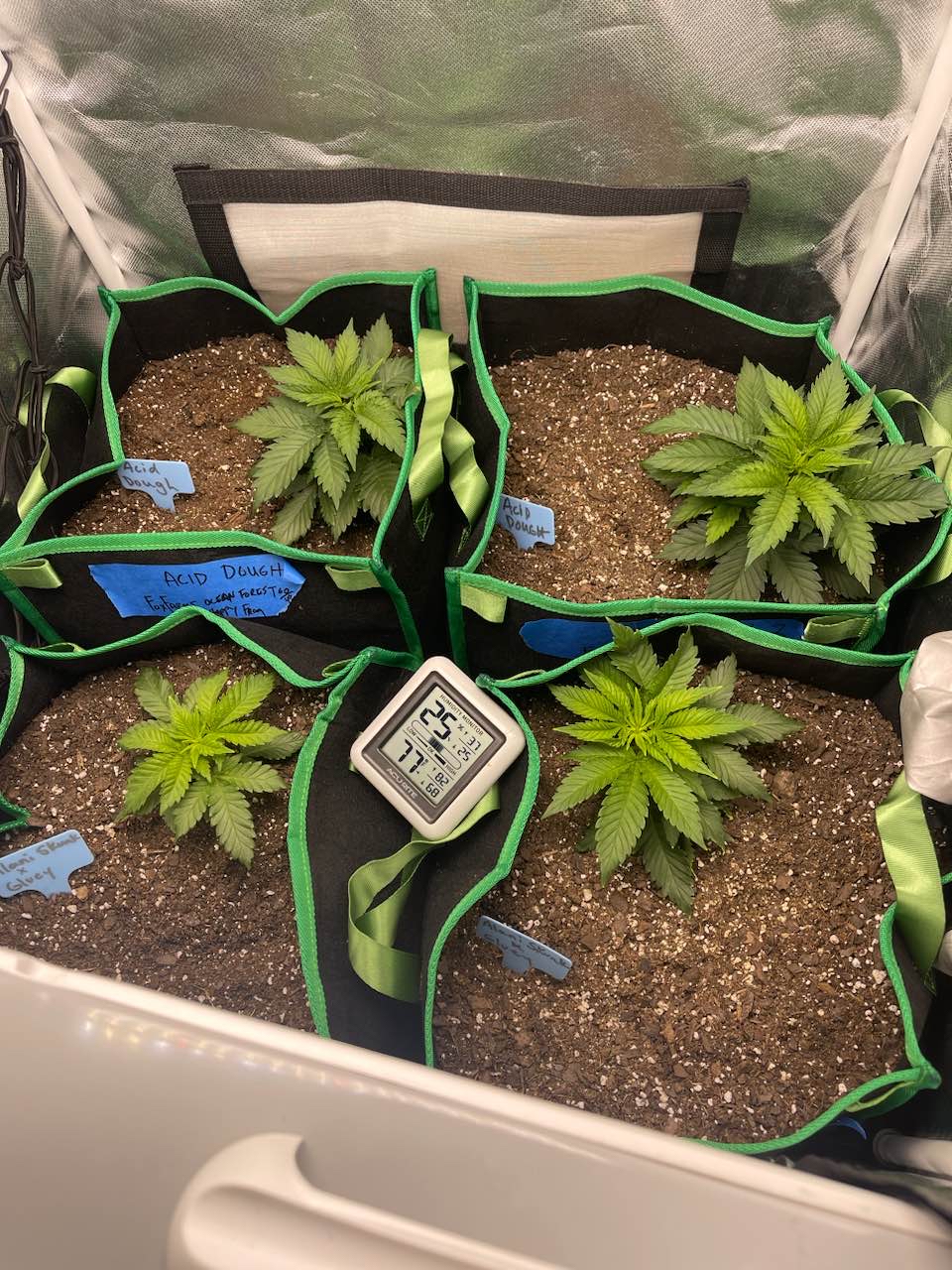 No water today or yesterday
5 days ago
MrBlack Why you got them at the sides like that?
Watered with regular water … still no feeding. Next watering will be PHd properly.
7 days ago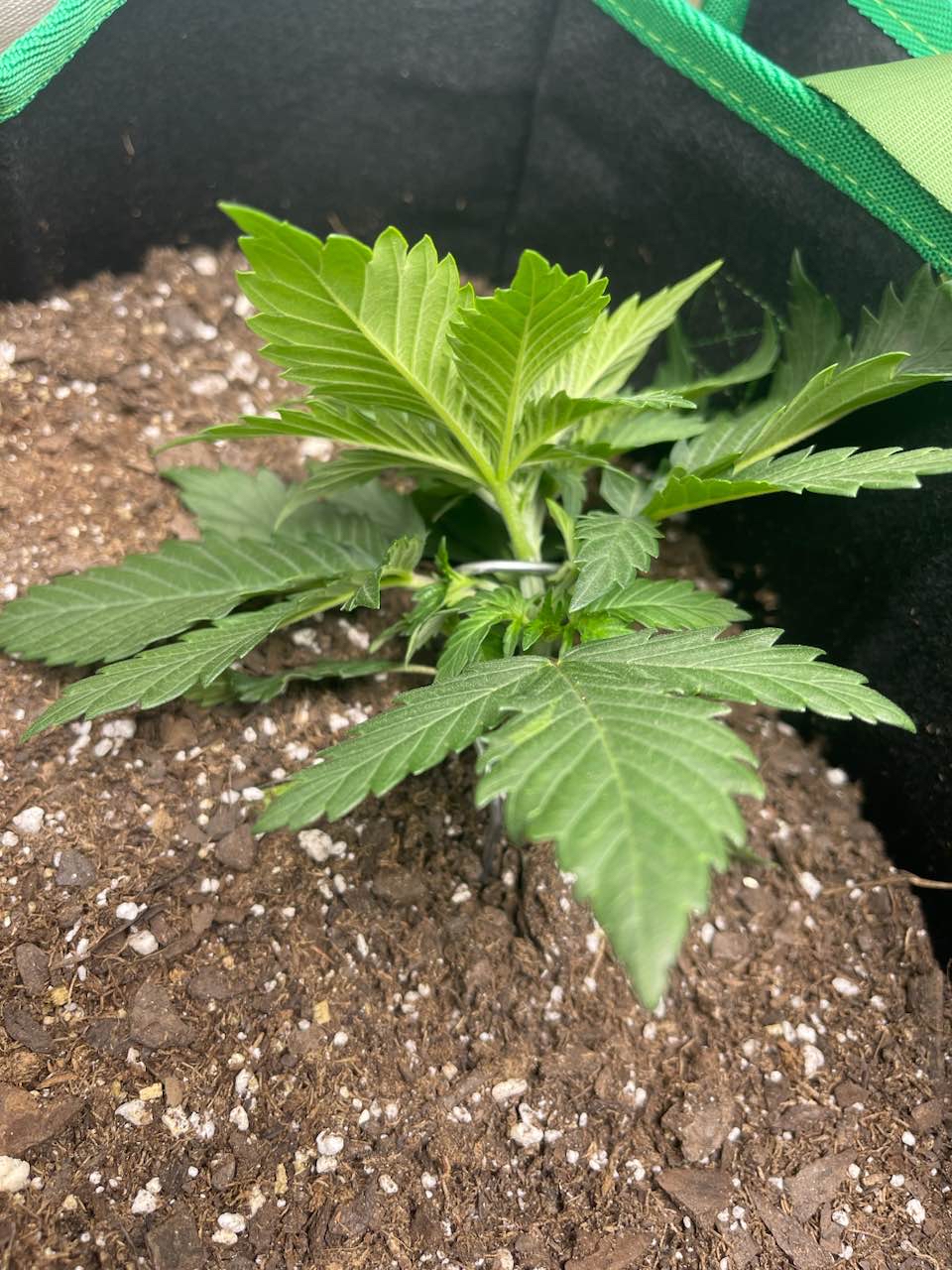 No water today more LST
8 days ago
No water today
9 days ago
No water today temp 77F
10 days ago
No water today
11 days ago
Watered today regular water Rh40 Temp 77F the 2 burnt ones are still growing
13 days ago
ZaddyXL Wow they really turned upward after the lst!
No water today.. started LST on the ladies temp 79 RH 30
14 days ago
ZaddyXL Forgive my ignorance, but isn't this too early to lst? There are no other shoots that need to get light yet
No water today and turned the light from 60% to 100%
15 days ago
No water today temp 77F rH 41… 2 up front are still struggling with too much nutrients in the Ocean Forest soil so I'm hoping they eventually rebound
16 days ago
Light was changed to the Viparspectra xs1500 @ 60% All 4 plants watered today.. temp 75F RH55
17 days ago
Acid doughs are looking good but the alani skunk x gluey is looking like nuts burn or something… shouldn't have planted in ocean forest 100% I should've cut it like i did the others… oh well I learned a lesson but still gonna see if they bounce back
21 days ago
Both AD's look good but the Alani Skunk x Gluey, one's looking sad they both don't look optimal but I did use 100% ocean forest on those so could be Hot soil… that's my fault but we'll see how this plays out… no water for a day or so to see if overwatering was the issue.
23 days ago
All plants are growing misted a little water around the root area.. one seedling still has leaves fused together after the casing fell off but I think it'll be okay.
25 days ago
The last acid dough from ripper seeds finally shed its casing so All 4 are good and growing.. I am running to get some soil today so when the time comes the 5gallon cubes will be ready for the technical cultivators Alani skunk x brothers Grimm's Gluey…
a month ago
Seed casing of one of the ripper seeds fell off but still getting opened up.. one casing still on.. Alani skunk x gluey looking fine and got the lights closer to the plants…
a month ago
Seed casing on the ripper seeds still on though growing fine… alani skunk x gluey stretched a bit too much for my liking so I moved closer to a light source.. need to do this for all of them but I'm still unable to bend over or lift after my surgery.. waiting for my wife to have time to help.. misted with 1oz water each keeping soil moist but not soaked or dry…
a month ago
Caliban Fluorescent lights make great seed starters. You can move the light very close and it won't burn the seedlings.
The 2 ripper seeds AD in the 5Gal squares still have their seed casing on them… gonna let that happen on its own. Over all they're Looking like greener sprouts. Misted with a shot glass worth of water💦 ..temp 72 .Rh low 40s and could come up.. but I just had surgery so I can't lift the humidifier full of water.. we'll see 🤔
a month ago
Today they've popped through the soil.. here we go
a month ago