DrFerny90210
Blue Cookies
Round 2
Second grow, trying new starter cloth bags. Learning from first time mistakes. Water in lower amount, same frequency.
Finally get to chop these ladies down. They looked amazing, and were incredibly sticky when trimming.
3 months ago
Looking frosty ❄️, few more weeks to chop.
3 months ago
Looking so lovely, really getting ❄️.
3 months ago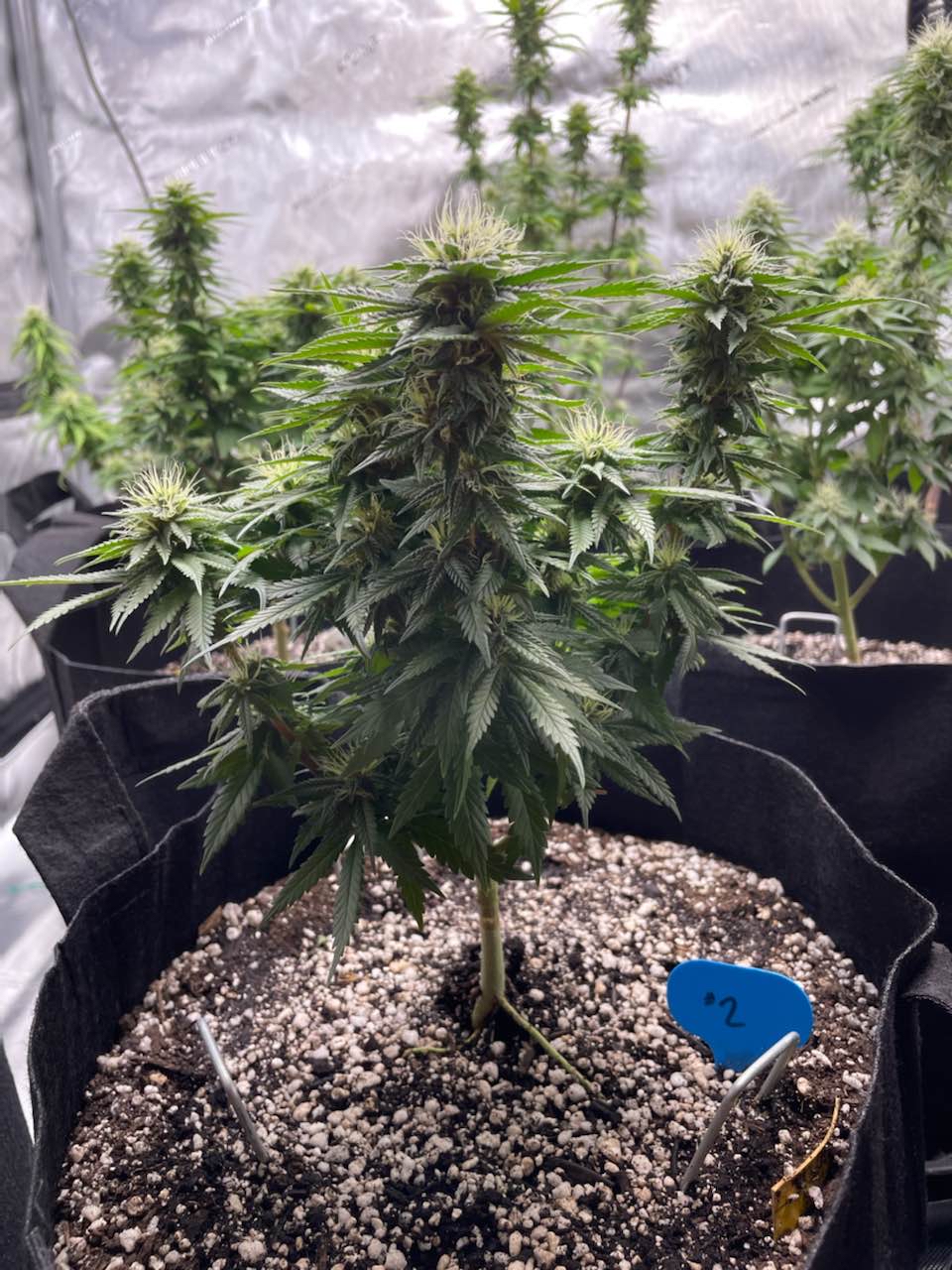 These girls are starting to get frosty!! The greens look more vibrant than my first round of plants. Smell is amazing, noticing the terps profile has a sweet/fruity/vanilla smell, I love it!!! Probably have about 4-6 weeks left of flowering before they are ready!!!
4 months ago
Girls have been growing very nice, due for one last heavy defoliating. Afterwards routine daily light defoliating will continue for another few weeks. Plants have been reacting very good to Nutes, this time I learned not to add too much at once or risk lockout. Excited to continue watching these girls get frosty!!!!!
4 months ago
Starting to show signs of flowering. Going to do a heavy defoliating in the next day or two, expose more light to the lower canopy and allow them to stretch. Have to do a flush as well, to get the PPMs back in line, nothing too crazy. Excited to see more flowering take place!!!
4 months ago
First week after flipping to Flower, did a heavy defoliating leading into it, and already noticed substantial growth. Going lite on the nutrient feedings, noticing #7 has been giving me a hard time looking sad at times. Going to wait a few more days before I defóliate again.
4 months ago
Going to do one final heavy trim, and flip to 12/12 cycle this coming weekend. Happy with the results so far, looking forward to watching them grow more!!!
5 months ago
Another round of defoliating took place, exposed more light to lower nodes. #6 is coming along nicely despite last weeks accident. Showing plenty of growth. #7 is looking a bit sad, got to figure out what's wrong with her. Likely going to flip to flower in the next week or two 🤞🏼
5 months ago
LST looking good, had a bit of an accident with #6 while training. Stem snapped off and I wasn't able to properly recover, lost out on about 3-4 pairs of nodes... Leaving #6 as is, no LST done to it. Despite breaking, #6 continues to show positive/new growth. Defoliated all major fan leaves to expose more light/airflow. Added more LST ties where needed. Very happy with the progress so far 😄
5 months ago
Trimmed the lower leaves on all my girls, added more soil up top (1/2"-1"), the roots were showing on some plants near the stem, just wanted to avoid them becoming unstable before doing a round of LST.
5 months ago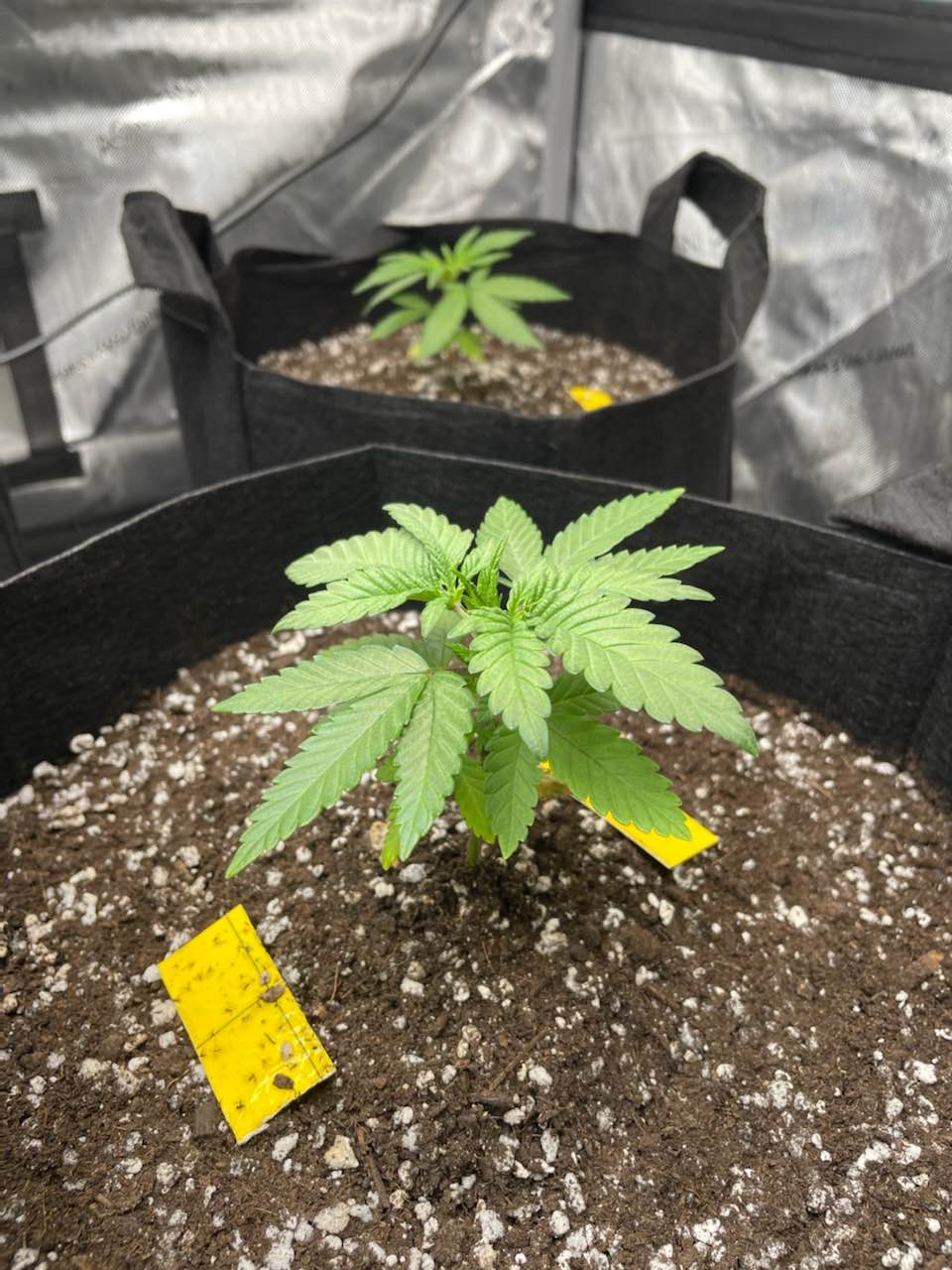 All plants coming along nicely, going to start doing some LST soon to expose more branches.
6 months ago
These girls were looking sad in their old homes, transplanted to new forever home and they have started looking better. Foliar spray has been helping as well. Top dressing will be added in the next few days.
6 months ago
Started foliar spray past week, girls look to have reacted well to it. So far only been adding CalMag to every other watering. Plan on transplanting to final home in one week.
6 months ago
1 plant did not survive germination, down to 8 plants this round (down from 9).Gave a light dose of calmag today to get started with nutes in the coming week. 1 plant showing signs of spotting, unsure why. Have not given any additional nutes yet (nute burn unlikely?), hopefully the calmag will correct this. Slowly been increasing light intensity every 6-7 days.
6 months ago
ig:@eaegifts They're looking good but a bit hungry, try mixing up a foliar spray with the calmag if you're not gonna feed yet.
ig:@eaegifts They'll green up faster as the foliage takes up the nutrients faster that way
DrFerny90210 @eaegifts Interesting, I had no idea that might help. Going to look into it and go buy one. Any recommendations on how to apply? Or do different products have their own set of directions?
View 2 additional comments
9 new plants in soil, 1 is still lagging behind by a lot, failed to fully crack out of the shell. Giving it one more week of waiting before deciding to keep/discard. Been better about the amount of water per feeding I'm giving, avoiding keeping the soil so damp. Caused me fungus gnats the first time around, lesson learned... trying these new breathable pots, supposed to be able to transplant into new pots without having to remove them from the old liner. If anyone has experience with these please let me know if that is true.
7 months ago
demib69 Hi how did you get rid of your fungus gnats please?
Caliban Neem oil. Yellow sticky tape. Nematodes for the soil. 👍
DrFerny90210 @demib69 To deal with the fungus gnats I bought Mosquito Bits, and brewed them into a tea. PH balanced Hot water and mosquito bits sitting for about 20-30 minutes, strain and save the water. That will be what you water your soil about once a week for the next 2-4 weeks or as long as your problem persist. Made a huge difference for me, still have some leftover gnats, but drastically cuts down on it. I feel every week it keeps getting better, I plan on making this a regular maintenance thing.
View 6 additional comments
New seeds in soil. New cloth planters, should help with drainage/oxygen. Aiming for 6-7 plants this round. Waiting on seeds to finish germinating.
7 months ago