shelbert008
Creme De La Chem
Mephisto Genetics
Two CDLC, HyperGrow Organics hyperstart and teas. Sunshine #4 soil. 2 Maxsisun PB1500s in a 2x4
Chop day for this girl. I'm disappointed in myself for letting them dry out too much too often during flower, lesson learned. The other one is still alive and wasn't damaged as badly, I'm going to try and finish it out the best I can
a year ago
Quick update. Need to start checking the trichs, one of them is looking pretty close to done. Getting nice and frosty, and packing on some more weight
a year ago
Starting to fatten up, the slower one is getting some kind of deficiency or lockout. Will do a slurry test tomorrow
a year ago
HammertimeAZ Almost looks like iron deficiency? I would take a handful of worm castings and cover the top of the soil and water see that from now on
Did some very much needed heavy defoliating. The bud sites are going to get a lot more light now. Girls will get a tea tomorrow. The one further along is starting to put on weight
a year ago
Did some more defoliation and a little more LST to open things up more.
a year ago
Oof, been a while since an update. Was feeling under the weather and the girls missed a feeding by a couple of days, and the one further in flower got pretty hungry. She's doing alright now and making some sticky buds
a year ago
I still can't get over how they're in completely different stages 😅
a year ago
SmashDaB As a grower who fights humidity constantly I noticed you have a humidifier in tent, my question is what is the ideal humidity you are going for in your flower stage? I'm asking cause i stop using humidifier in flower. Great looking garden growmie
combatmedic81 I try to shoot for about 30-40% humidity during flower
View 3 additional comments
Did a little defoliation. Girls were still hungry after their tea so I gave them a watering with some synthetic nutes, so that should hopefully stop the damage from progressing. It's interesting how they're in very different stages but the same age. The bushy one is finally going into flower
a year ago
Caliban Are you mixing synthetic with organic
shelbert008 No, not mixing together. This was my second try at going all organic using HyperGrow, but they keep going hungry halfway through. I think I'll probably try something different next grow
Girls are a bit hungry 😬 been sick the past week so haven't had much energy, but they'll be getting a nice compost tea tomorrow. The one in flower has a bunch of bud sites opening up. The bushy one has been a pain in the ass to train, and she's taking her sweet old time to really go into flower 😅
a year ago
weazzyefff How much do you want think your yield will be?
shelbert008 I think I'll probably get 3-4 oz per plant based on past autos
The one girl is well into flower, the other girl is taking her time. It'll be interesting to see how the finish product differs
a year ago
Finally got around to training the second girl tonight 🙈 hopefully she'll start catching up soon. Overall, looking pretty good so far. First two are one girl, last 3 are the before and after of her first LST session
a year ago
Need to get the girls going with their LST tonight or tomorrow. The slightly bigger one looks like it's starting to flower already, while the shorter one is just beginning to throw out pistils
a year ago
SmashDaB Dang I must be doing something wrong, this is day 20!!!!!!! Wow my auto is still looking like your day 10 did. I'm going to go cry now lol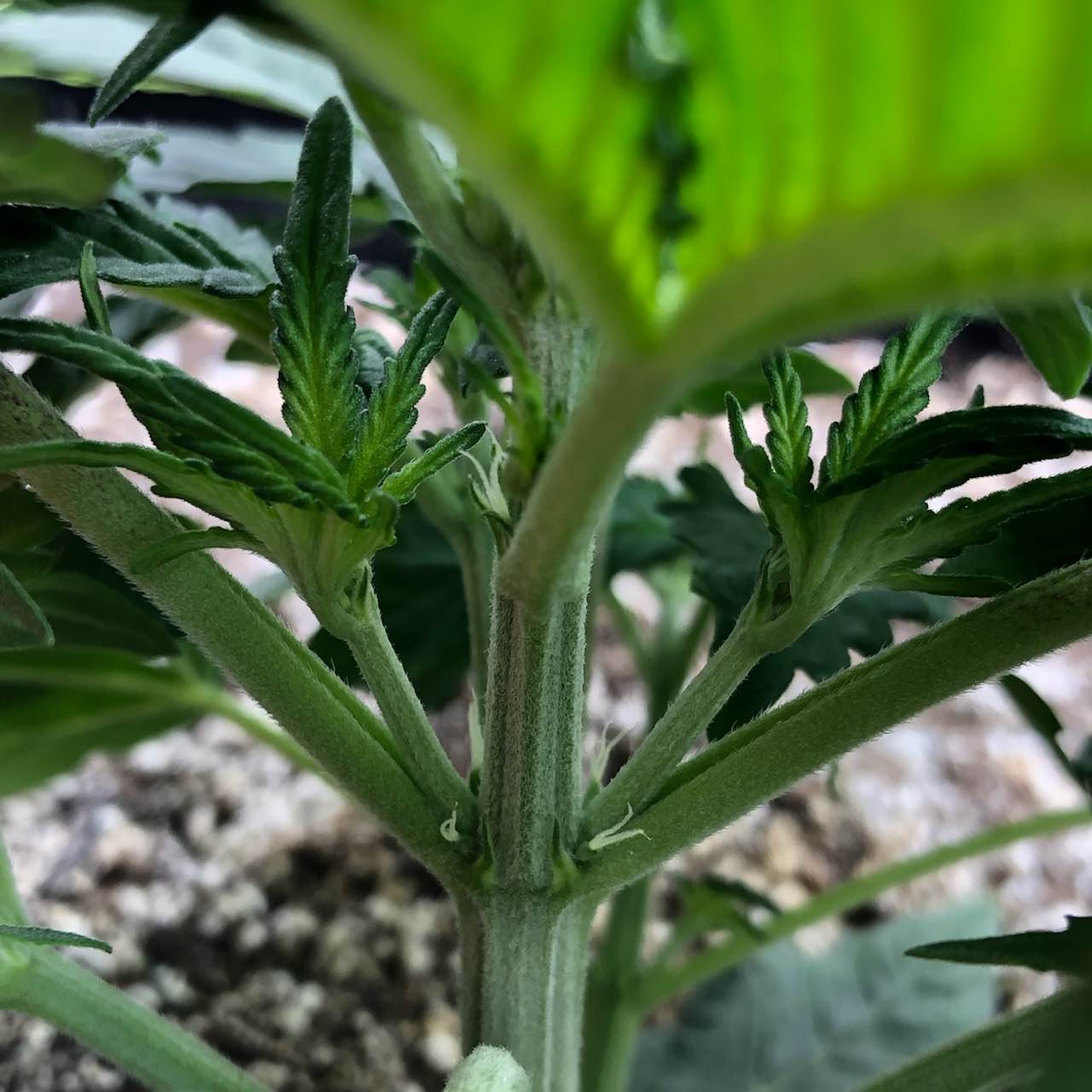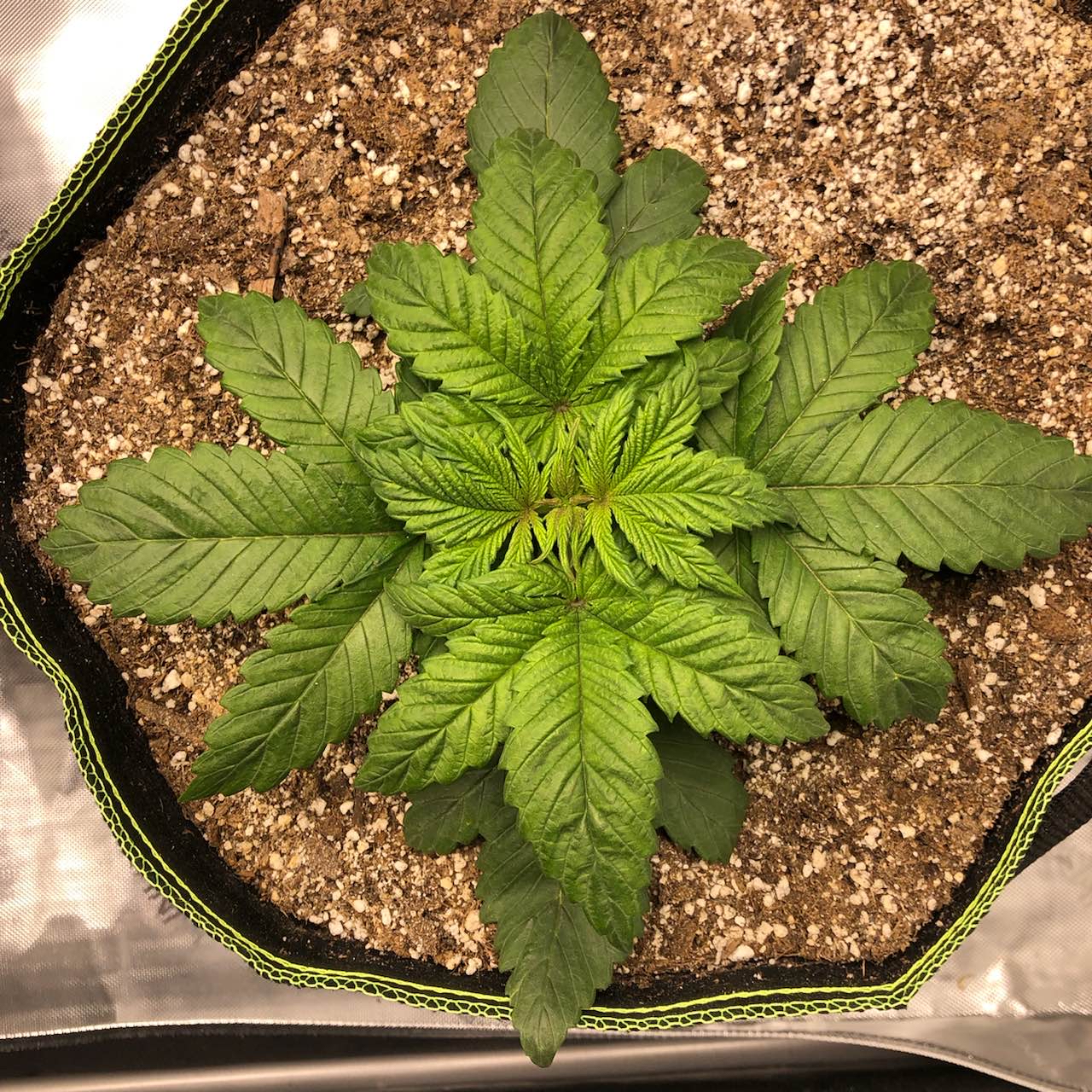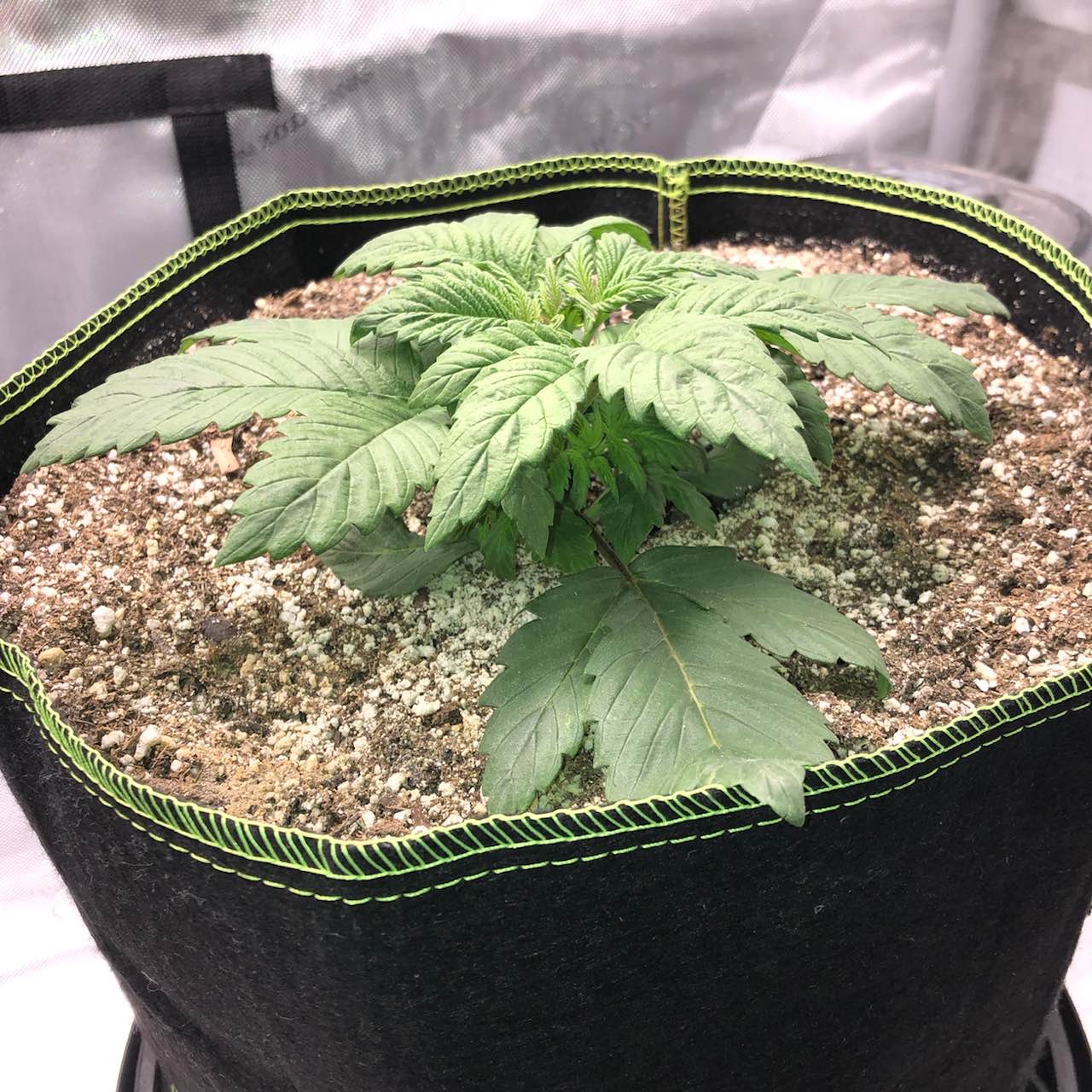 Girls are moving right along, bigger one has already decided to start showing her sex 😍 going to have to start thinking about doing some LST soon
a year ago
Caliban She is very short. How close are your lights? You might benefit from letting her stretch a little so that the fan leaves aren't touching media. Otherwise really healthy !
shelbert008 The lights are about 20" above them right now, started at 24". The recommended height for veg is 18", I have thought about raising them though
Caliban Hmmm. Sounds like you are ok with light height but raising is something to consider. Maybe 5 inches or so and see how she responds. She should shoot up at some point too especially weeks 3-5
View 2 additional comments
They're starting to grow a lot every day. On Monday I saw a couple of gnats flying around so I made a quick tea with Mosquito Bits. Haven't seen any since so I'm hoping that took care of the larvae. Turned off the humidifiers to let the soil dry a bit more quickly. Tuesday they got their first compost tea. Today, Wednesday morning, they got their first spray with Trifecta
a year ago
Smaller one is showing some leaf deformities, will be interesting to see how it grows out
a year ago
Everyday they grow a little more 🥰
a year ago
Little gals are starting to grow 🥲
a year ago
Into their big pots they go, the smaller one only had one root sticking out, but I decided to go ahead and put some myco on them and rehome both. They look so cute at this stage 🥰
a year ago
PouceVert Just my experience, small plants in big pots give me issues. I started doing them in an intermediate sized pot and get less issues. Watering a 5+ gallon pot with a seedling was the juggle. Nice roots on that cube!
View 1 additional comment
Added a little more water to the dry one, but both seeds sprouted so I'm officially marking this as day 1! Excited to try these genetics
a year ago