masscangrow
Three Gallon Grow
Winter/Spring 2020
HLG LED 150w 4K for veg in 2x2x4 tent; 2-250w 3K for flower in 4x4x6 tent; Aurora roots organics original potting soil in 3 gallon pots; three plants on ILGM Bergman nutrient hydro schedule, one Mowie Wowie on Aurora Soul nutrient schedule, all pH'd to 5.8 and watered to runoff; heater/humidifier/ventilation set to 78 day/68 night, 70RH.
ILGM Fem Chronic Widow, Cali Dream and 2 Maui Wowie
The end is near
3 years ago
Last feeding today. 1-2 weeks left
3 years ago
Defoliated due to aphids
3 years ago
Running out of space!
3 years ago
Bloom week2 nutrients today.
3 years ago
They were thirsty and had droopy leaves. Straight watered.
3 years ago
Dasilva1991 Did you ever try defoliation because in the middle of your plant their no air and no light! And in my mind these fat ass leafs suck to much energie from your plant! Hey and nice job buddy!
First day of 12-12 light cycle. First watering with bloom nutrients. Turned on second set of quantum boards for ~500w of true power.
3 years ago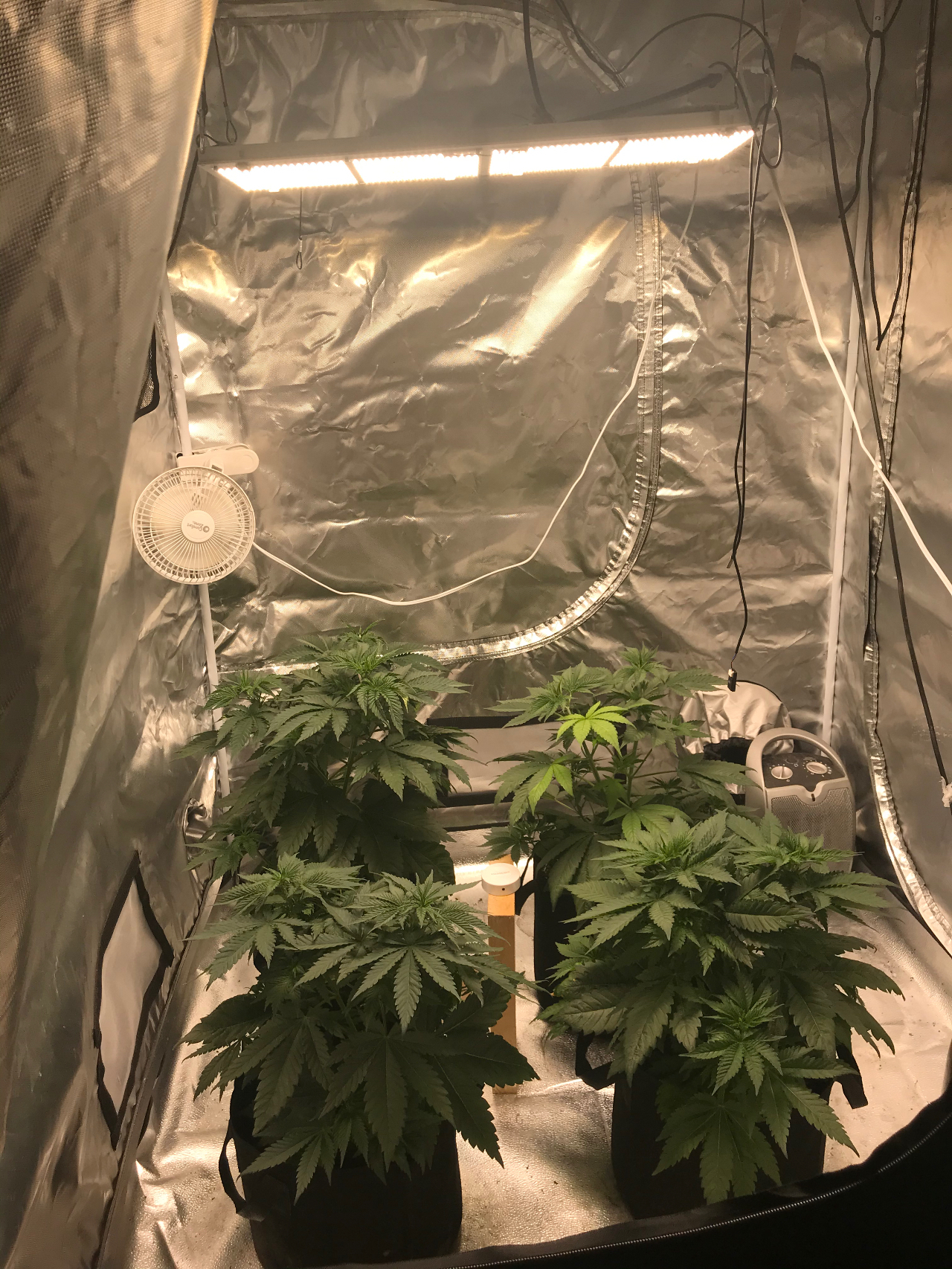 Getting ready for the stretch!
3 years ago
In the big kids room now under 2-288 quantum boards from horticulture lighting group.
3 years ago
Getting stuffy in there. Time to move out of the little kids tent.
3 years ago
Low stress training has started. I am using tent stakes.
3 years ago
Watering day. If the plants stretch a bit this week I'll fill to 12/12 next weekend, if not I'll wait another week.
3 years ago
Plants a very stout. I raised the lights to get them to stretch a bit.
3 years ago
Starting to show some vigor now that the roots are established and my VPD is on point 78F and 70RH
3 years ago
One Maui Wowie has three shoots per node
3 years ago
Watered with nutrients yesterday, only third time they've been watered since planting. Today the fifth node and the first nodes lead and shoots were removed. This should result in six main shoots on each plant.
3 years ago